Wondering which one's a better food choice between edamame vs soybeans. As a nutrition expert, let me help. 
Soybean and edamame both come from the same plant but differ in terms of their nutritional value, uses and benefits. So, before you make a choice you must understand the difference between edamame and soybeans.
Edamame Vs Soybeans: The Ultimate Nutritional Duel!
Before we can discuss the differences in detail, let's take a quick look at edamame vs soybeans nutrition facts and other attributes: 
SOURCE
Edamame

Soybean Plant

Soybeans

Soybean Plant

TASTE
Edamame

Nutty & Firm

Soybeans

Earthy & Beany 

DAILY INTAKE
Edamame

100-150 g

Soybeans

Up to 50 g

CALORIES
Edamame

122*

Soybeans

173*

CARBOHYDRATES
Edamame

10 g*

Soybeans

10 g*

FAT CONTENT
Edamame

5 g*

Soybeans

9 g*

PROTEIN CONTENT
Edamame

11 g*

Soybeans

17 g*

FIBER CONTENT
Edamame

 5 g*

Soybeans

6 g*

NUTRITIONAL DIVERSITY
Edamame

Excellent

Soybeans

Excellent

ENVIRONMENTAL IMPACT
Edamame

Positive

Soybeans

Positive

ORAL & BONE HEALTH OUTCOME
Edamame

Good

Soybeans

Good

TUMMY HEALTH OUTCOME
Edamame

Very Good

Soybeans

Very Good

ALLERGY FRIENDLY
Edamame

Average 

Soybeans

Average

VERSATILITY
Edamame

Good

Soybeans

Excellent

PRICE & AVAILABILITY
Edamame

Good

Soybeans

Very good

SHELF LIFE
Edamame

1-2 Days

Soybeans

6 months
*Source: USDA; Quantity defined is 100g  
How Are Edamame & Soybean Sourced?
Edamame and soybeans, both come from the soybean plant. They are sourced at different stages of growth and harvesting. 
Edamame are young soybeans that are harvested at the peak of their green, tender stage. The pods are then either steamed or boiled before consumption. 
Soybeans are harvested when they are fully developed and hardened within the pod. After harvest, the soybeans are generally dried and used for other purposes. 
Difference in Taste & Texture of Edamame vs Soybeans
The firm yet tender edamame has a mild, slightly sweet, nutty and fresh flavor. I would say these green coloured beans taste somewhat like a cross between pea and a green bean. 
Mature soybeans have a more pronounced earthy and nutty flavor. In terms of texture, they are firm. Mature soybeans are generally gray, tan or brown in colour. 
How Much of Edamame or Soybeans Is Good Enough For A Day?
As a nutritionist, I would say that incorporating about half a cup to one cup of cooked edamame into your daily diet can be a beneficial and nutritious addition. 
For mature soybeans you can consume around 1/4th of a cup of dried soybeans which is almost about half a cup of steamed soybeans. 
This recommendation is valid for healthy individuals with no allergies. 
Difference in The Calorie Content of Edamame & Mature Soybeans
For the sake of comparison here, I am comparing edamame with boiled soybeans. Edamame, which is the young and tender stage of soybeans, has a lower calorie count compared to mature soybeans.
So, if you're trying to cut down on calories, edamame can be a great choice. 
Edamame Beans Vs Soybeans: Food WIth Lower Carbs
Edamame has fewer carbohydrates when compared to mature soybeans. This is because the young edamame does not accumulate as many carbohydrates as mature soybeans.
This makes edamame a more suitable choice for  people looking to reduce their carbohydrate intake. So, if you wish to manage your carbohydrate levels or follow a low-carb or keto diet, opt for edamame instead of soybeans.
Which Has a Lesser Amount of Fat: Edamame or Soybeans?
Edamame contains a lower amount of fat compared to mature soybeans. The fat content increases as the beans fully develop and dry. 
So, if you wish to limit fat intake, you might opt for edamame as a lower-fat alternative.
Which Is a Better Source of Proteins – Edamame or Soybeans ? 
Both edamame and soybeans are excellent sources of plant based protein especially for vegans and vegetarians. Edamame and mature soybeans provide high-quality, complete protein containing all essential amino acids necessary for the body.
However, the concentration of protein between the two differs. Edamame being the young and tender soybeans, has a lower protein content than its mature version. 
Which is Higher in Fiber: Edamame or Soybeans? 
Edamame and soybean both have high fiber content. In the table above, I have compared the boiled versions of soybean and edamame and the fiber in them is almost the same. 
So, if you wish to increase the fiber intake, you can include these into your meals. 
Which is More Nutritionally Diverse: Edamame or Soybeans?
In terms of richness of nutrients, mature soybeans may have a slight edge over their younger counterparts. 
Mature soybeans have a higher concentration of essential nutrients due to their advanced stage of growth and development. On the other hand, edamame, while still nutritionally valuable, has a slightly lower nutrient density compared to mature soybeans.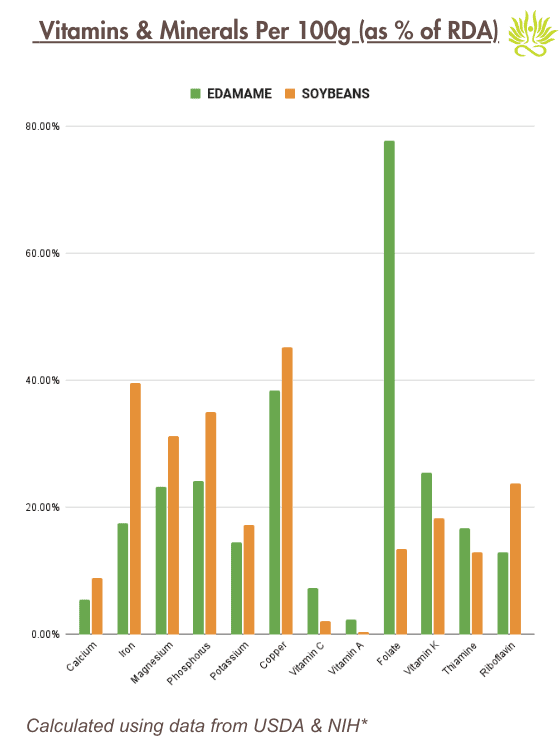 Better for the Planet- Edamame or Soybeans?
In terms of sustainability, since both edamame and soybeans come from their impact is similar.  They can be considered relatively sustainable choices depending on the method of cultivation.
Edamame and soybeans are part of the legume family. The soybean plant is nitrogen-fixing plants, which means they have the ability to convert nitrogen from the air into a form that plants can use. This process enriches the soil with essential nutrients, reducing the need for synthetic nitrogen fertilizers.
Additionally, soybeans, including edamame when harvested at an early stage, are versatile crops that can be used in various ways, minimizing waste. 
What is Better for Oral & Bone Health: Edamame  or Soybeans?
Both edamame and soybeans are rich in minerals crucial for oral and bone health, such as calcium, magnesium, phosphorus, and vitamin K. These nutrients help in strengthening bones.
Overall, including soy-based foods, including edamame and soybeans, into your diet can be beneficial for overall oral and bone health.
Easier to Digest: Edamame or Soybeans?
Edamame may be slightly easier to digest compared to mature soybeans. This is because it has a softer texture and milder composition. But if you haven't tried them before limiting intake is a good idea to see how your body reacts.
Soybean can be harder to digest for some people and can cause bloating and gas. So, in case you are not used to eating soybean start with small portions of well cooked soybean
Which is More Allergy Friendly – Edamame of Soybeans?
Edamame and soybean come from the same plant. Therefore, if you have a soy allergy, you should avoid all kinds of soy products.
Edamame or Soybeans – The More Versatile Option?
Compared to edamame, soybeans are the more versatile option due to their mature form. At home, I generally buy raw soybeans to make tofu, tempeh, soy milk, etc. I also use it for making curries, salads and plenty of other snacks.
When it comes to edamame, it is less versatile. In many parts of the world, it is primarily consumed as a snack or a side dishIn case you have come up with some exciting recipe, do share for me to try in the comment section. 
The More Affordable and Accessible Option: Edamame or Soybeans? 
Here again, soybeans are generally more affordable and accessible compared to edamame. Dried soybeans are low cost and commonly available in most grocery stores. 
Edamame is more of a specialty item and is often sold fresh or frozen. So, it tends to be relatively more expensive than dried soybeans and may not be as readily available in some regions.
Overall, I would say, you can include both soybean and edamame in your diet regularly, provided you are not allergic  to it.