Feta vs blue cheese, wondering which one to buy a new next Supermarket visit? Choosing between the two popular types of cheese can be a daunting task, which is why I am here to help.
Feta and blue cheese not only differ in the way they look but they also differ nutritionally and how they impact our body.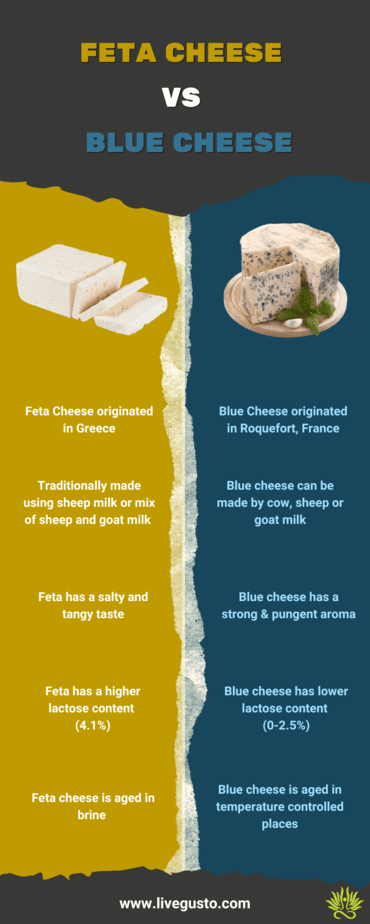 PEOPLE ALSO READ
| Feta Vs Mozzarella Cheese – Which one is a Better Choice? | 
Feta Vs Blue Cheese: Nutrition Similarities & Differences
Before I can get into the detailed difference between feta and blue cheese, here is a quick look at the same – 
BASE INGREDIENT
Feta Cheese

Sheep/ Sheep & Goat Milk

Blue Cheese 

Cow/ Goat/ Sheep Milk

TYPE
Feta Cheese

Soft 

Blue Cheese 

Semi -Soft 

TASTE
Feta Cheese

Tangy & Salty

Blue Cheese 

Sharp & Tangy

AGED
Feta Cheese

Yes

Blue Cheese 

Yes

CALORIE CONTENT
Feta Cheese

75*

Blue Cheese 

100*

CARB CONTENT
Feta Cheese

1.2 g*

Blue Cheese 

0.7 g*

FAT CONTENT
Feta Cheese

6 g*

Blue Cheese 

8 g*

PROTEIN CONTENT
Feta Cheese

4 g*

Blue Cheese 

6 g*

CALCIUM CONTENT
Feta Cheese

140 mg*

Blue Cheese 

150 mg*

SODIUM CONTENT
Feta Cheese

316 mg*

Blue Cheese 

396 mg*

NUTRIENT PROFILE
Feta Cheese

Very Good 

Blue Cheese 

Very Good

ORAL & BONE HEALTH OUTCOME

Feta Cheese

Very Good

Blue Cheese 

Very Good

TUMMY HEALTH OUTCOME
Feta Cheese

Very Good

Blue Cheese 

Good

VERSATILITY
Feta Cheese

Very Good

Blue Cheese 

Very Good

SHELF LIFE
Feta Cheese

Up to 2 Weeks

Blue Cheese 

4 weeks
*Source: USDA; Quantity defined is 1 ounce (28.4g)
Let us dig deeper into each aspect – 
Is Blue Cheese Made the Same Way as Feta Cheese?
Feta cheese has a much simpler method of production when compared to blue cheese. Sheep milk or a mix of sheep and goat milk is curdled using rennet and culture. Once curds are formed,  they are cut and transferred into moulds for draining out the whey. Later the curds are transferred in brine to age.
Blue cheese can be made using any type of milk – cow, sheep or goat. The method of preparation involves the infusion of the mold Penicillium into the cheese which gives it its characteristic colour and smell. In some cases, the mold is added before the curd is made, in others it is done once the curds are obtained and strained.
What Type of Cheese is Feta Vs Blue Cheese?
One of the most important differences between feta and blue cheese is the presence of mold. While feta is mold free, blue cheese has mold Penicillium. 
Feta is a soft cheese, whereas blue cheese is best categorised under the semi-soft category. 
Is There Any Difference in Feta vs Blue Cheese Taste & Texture
Feta cheese is soft and crumbly in texture and is usually white coloured. Taste wise it is  slightly salty and tangy.  The taste and texture of feta may vary with the kind of milk ratio being used. If goat milk is used along with sheep milk, feta will have a more tart flavour.
The taste and texture of blue cheese will vary with its type. It can be mild and creamy or salty and tangy. It mostly has a crumbly texture or soft and smooth texture. It has bluish green mold veins throughout. 
Is There a Difference Between How Feta & Blue Cheese are Aged?
The method of aging of blue cheese and feta cheese is another major difference between the two. Feta cheese is generally aged in brine.  It can be aged for a time period of 2 to over 12 months. 
Blue cheese is also aged . The aging can last anywhere between 2 months to 18 months. The aging is generally done in temperature-controlled environments such as caves.
Which is Lower in Calories: Feta or Blue Cheese?
Feta and blue cheese, both like other cheese types, are high in calories. Blue cheese comparatively has a higher calorie content.
The maximum calories in feta and blue cheese come from their fat content. Since they are high in calories, make sure you do not consume more than the recommended limit which is 1 ounce or 28 grams per day.
Following a Low Carb Diet, Feta or Blue Cheese, Which One Would Be Better?
One of the main advantages of consuming cheese is that they are low in carbs. This is why they are a good fit for people wanting to follow a low-carb diet.
If we compare the carb levels of feta and blue cheese, we find that feta has a relatively higher carb concentration. So, blue cheese would be a better choice if you are limiting your carb intake.
Which Has a Better Fat Profile – Feta Or Blue Cheese?
Blue cheese and feta cheese are both high in fat content. Blue cheese however, has a higher fat content in comparison to feta cheese.
The fat levels in blue cheese may vary with the kind of milk used, so make sure you check the labels before making the purchase.
What to Opt for A Protein Rich Content: Feta or Blue Cheese?
The quality of protein in dairy products is quite good. This is because they contain all the essential amino acids (amino acids are the basic building blocks of proteins).
Blue cheese has more protein per ounce when compared to feta cheese. Therefore, if increasing your protein intake is your main goal, blue cheese is a better option.
Which Cheese Boasts of Higher Calcium: Feta or Blue Cheese?
Calcium is a mineral that is needed by our bodies to aid muscle functions and strengthen bones & teeth.
Both feta and blue cheese fare well when it comes to their calcium content. They have almost similar amounts of calcium. 
What to AVoid on A Low-Sodium Diet: Feta or Blue Cheese?
One of the major disadvantages of consuming feta and blue cheese is their high sodium content.  Therefore, both need to be consumed in moderation.
People who are trying to cut down their sodium intake because of health concerns should either avoid it completely or consume it in moderation once in a while.
Which Has More Nutrients: Feta Cheese or Blue Cheese?
Feta and blue cheese being dairy products are quite rich in essential nutrients including vitamins and minerals. Feta cheese is a rich source of vitamins including B vitamins  (B1, B2, B6, and B12) . Blue cheese is known for its high concentration of Vitamin A, D and B5. 
When we talk about minerals, blue cheese is rich in zinc and phosphorus whereas feta has more iron. Overall blue cheese has a slight advantage over feta cheese nutritionally.
Better For Your Bones & Teeth: Feta or Blue Cheese?
Cheese including feta and blue cheese are rich in calcium and phosphorus, which are needed for stronger bones & teeth. 
 Calcium helps in making teeth and bones stronger. Phosphorus plays an important role in the absorption of calcium. 
Which Cheese is Easier to Digest: Feta or Blue Cheese?
Feta cheese contains probiotics which are good bacteria that not only aid digestion but also help fight infections of the digestive system. 
Although blue cheese does not contain probiotics, they contain enzymes that break down the fats and proteins more easily. Aged blue cheese also contains very less lactose which makes it suitable for lactose intolerant people who can tolerate small amounts.
Which Cheese Can Be Used in A Number of Ways: Feta or Blue Cheese?
Feta cheese is very versatile. You can cook it, bake it or grill it. It is mostly used in Greek cuisine and salads. It can also be used as a table cheese and eaten along with fruits.
Blue cheese also has numerous uses. It can be used as a table cheese and paired with fruits and nuts. You can also use it in the preparation of dishes such as sauces, burgers, pizzas, baked goods, etc. 
Storage & Shelf Life of Feta Vs Blue Cheese
Feta cheese has a short shelf life. After opening, you can keep it in the refrigerator for a couple of weeks. The best way to store it is to place it in brine or lightly salted milk so that it retains its flavour and texture. You can also freeze it to increase its shelf life.
Blue cheese once opened, can be used for up to 3 weeks. It has to be wrapped in foil or parchment paper or can be frozen in an airtight container. Frozen blue cheese can be used for months.
So, circling back to the question – Blue cheese vs feta which is healthier? The answer –  both very nutritious but also have a few flaws. The choice between the two comes down to your personal tastes, preferences and availability. 
Which one are you going to buy?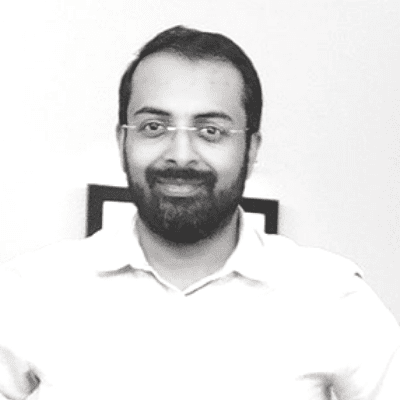 Hi! I'm Integrated Nutrition Coach Rohit Panwar. I hold twin Certifications from IIN, New York & SAFM, Massachusetts. I am a passionate vocalist of holistic lifestyle and have fully committed the past several years to educate & empower people towards their wellbeing. Despite a successful yet hectic corporate stint of 21+ years, I have prioritised nutriment in my life. I truly hope my personal journey from illness to wellness helps everybody reading this forge their own path.