Are you a vegan and want an energetic start to your day? As a nutritionist, I am listing down my favorite and surefire high protein low carb vegan breakfast ideas. 
These delicious plant based breakfast recipes are high in protein and low in carbs which will fuel you up for the day without adding unwanted calories. 
31 Nourishing High Protein Low Carb Vegan Breakfast Ideas 
Let's dig into these delicious and quick high protein low carb vegan breakfast options to get lean muscles without any worry of weight gain:
1.
Edamame and Avocado Salad: A Delightful Protein Rich Recipe For Mornings 
This gorgeous salad recipe is filling, nutritious and delicious. Edamame are whole young soybeans which you can find in pod or shelled. 
These green immature soybeans are packed with high protein and low carb. Boil them in salty water. While they cool down, cut avocado in cubes, bell peppers, cherry tomato and cucumber. 
Add edamame and season with salt, pepper, garlic powder, lemon and cilantro. You can also add some seeds like hemp or pumpkin seeds for a crunch and extra protein.
2.
Silken Tofu Scramble: Perfect Protein Rich Low Carb Substitute of Egg Scramble
You won't miss egg scramble after having this delightful tofu scramble. This high protein low carb vegan breakfast can be made with many variations. 
Heat your choice of vegetable oil, I like sesame oil for all tofu recipes. Add chopped garlic, onion, green onion and other vegetables. Then mix scrambled or grated the tofu, preferably silken tofu. Add lemon, salt and pepper in the end to enhance the flavor.
3.
Almond flour Pancake With Peanut Butter: Quick Breakfast Option For Busy Mornings 
You can prepare this toothsome pancake with few ingredients. Add almond flour, peanut butter, tofu, almond milk, vanilla and cocoa powder. For sweetness add stevia or a similar low carb sweetener. 
Start making pancakes in a fry pan with coconut oil or olive oil. Use peanut butter or any other nut butter as topping, You can also sprinkle cinnamon powder and roasted walnuts and pecans for crunchy taste. 
4.
Edamame Hummus With Almond Flour Tortillas: Heavenly Combination to Start the Day Right
This dip is quick to make and as delicious as the original hummus. Instead of chickpeas, use boiled edamame for this recipe for a low carb option.
Put edamame, olive oil, salt, tahini paste, pepper, lemon juice and cilantro in the blender and make a smooth paste. Add some more olive oil and spread on pre-made almond flour tortillas. Roll the tortillas with veggie sticks such as cucumber, bell pepper and zucchini for a wholesome meal. 
5.
Millet Porridge With Seeds: Easy to Make One Pot Breakfast Option
Millets are high in protein and low in carbs. Besides that, these tiny seeds are fast to cook. All these characteristics make it a perfect choice for breakfast. 
Wash the millet such as foxtail millet, finger millet, kodo, etc. I usually make a mix of them and keep in an airtight jar. Cook them in water, once half done add almond or soy milk and bring a boil. Put seeds such as pumpkin, sunflower etc. You can add stevia to give it sweetness. 
Nutritious Breakfast Ideas To Try 
| High Protein Breakfast Ideas No Eggs |
| High Protein Low Fat Breakfast Options |
6.
Stir Fried Tempeh With Vegetables: A Power Packed All Day Long Breakfast Option 
Tempeh is a fermented soy cake however you can find chickpea, lentil or seed tempeh as well. You can choose any of these for this recipe. 
Take olive oil or sesame oil in the pan and add onion, garlic and other veggies like carrot, beans, cabbage, bean sprout etc. In the last ad boil tempeh and mix with soy sauce, vinegar, salt, pepper and finely chopped leeks. This protein packed breakfast will keep you full for longer. 
7.
Tofu Guacamole With Microgreens: Satisfy Your Taste Buds and Nutritional Needs
Tofu guacamole is an excellent dip for vegans. It is made with silken tofu and avocado. Blend tofu, avocado and tahini together to get a smooth texture of this vegan cheese. You can add herbs like rosemary, garlic powder etc. 
In the end sprinkle chopped red onion, lemon juice, crushed walnuts and cilantro to add freshness, crunch and nutrients. Enjoy with microgreens like broccoli, radish etc. or serve with veggies strips like cucumber, bell pepper etc. 
8.
Seitan With Stir Fried Vegetables: A Meat Alternative High Protein Low Carb Breakfast For Vegans
Seitan is an excellent meat substitute for vegans and vegetarians. It is made of wheat gluten. This chewy food makes your breakfast fulfilling and it is easy to make. 
To make this recipe, stir fry seitan in 1 tablespoon of olive oil and add garlic, white onion, bell pepper and zucchini. You can add carrots and beans too. Sauté well and then put little tomato puree to make a thick gravy. Add salt, pepper and curry powder to enhance the flavor.  
9.
Broccoli and Cauliflower Rice With Tofu: Great Way to Limit Carbs & Increase Protein Intake
It is extremely easy to make and ready to eat within minutes. To avoid morning rush, you can also store broccoli and cauliflower rice in the freezer in an airtight container. 
Cook grated broccoli and cauliflower in a saucepan with a tablespoon of olive oil. Add herbs like cilantro, chives, garlic and onion powder to enhance the flavor. Add scrambled tofu and sprinkle fresh lime juice, salt and pepper to serve. 
10.
Almond Flour and Zucchini Fritters: A Delectable Vegan High Protein Low Carb Breakfast 
Almond flour is an excellent way to add protein without adding a substantial amount of carbs in a vegan diet. First, grate zucchini and squeeze excess water. You can use this water to make soups and curries.
Mix grated zucchini, finely chopped red onion, cilantro, almond flour and flax egg. Season it with salt, pepper, cumin and garlic powder. Heat the pan, add olive oil and make your fritter. Serve them with tofu cream sauce or guacamole dip. 
11.
Chia Pudding: A Delicious Protein Rich and Quick Vegan Dessert For Mornings
This easy to make vegan dessert needs minimum ingredients. Combine almond milk, chia seeds, maple syrup and unsweetened peanut butter. 
Add pumpkin seeds, sunflower seeds, walnuts for a crunch and more nutrients. Put it overnight in the fridge and enjoy this delicious treat in the morning. You can add flavors of your choice in it, vanilla, cinnamon etc. 
12.
Protein Rich Seed Bar: Keep Them Ready in Your Pantry To Grab and Go
Seeds look tiny but they are like superfoods in terms of nutrients. They are protein packed, high in fiber and low in carbs. These qualities make them the perfect choice for high protein low carb vegan breakfast. 
Take all your choice of seeds sunflower, melon, pumpkin, sesame, hemp, chia or flax seed etc. You can also add flakes of coconut. Roast the seeds and add maple syrup. Spread the mix on a smooth surface and spread evenly. Cut them in preferred shape and let them cool down before storing in an airtight jar. 
13.
Vegan Protein Smoothie: Blend This Nutritious Smoothie in Minutes
Smoothies are the easiest and healthiest way to beat morning rush. You can make various kinds of smoothies every time adding different ingredients. 
This smoothie is made with kale or spinach, chia seed, tofu or nut butter, banana, pineapple and coconut milk . Blend all the ingredients and you are ready for the day. Use frozen fruits instead of ice cubes for better consistency. 
14.
Stir Fried Tofu and Veggies in Collard Wrap: Wrap All Your Morning Protein Needs in One Go
Tofu is also known as soy milk curd and it is widely known as an excellent source of protein and low in carbs. To prepare this delicious and wholesome wrap, you can either stir fry or grill the tofu along with other vegetables like bell peppers, onions, zucchini etc. Sliced them all lengthwise. 
Spread a vegan mayo or edamame hummus on the collard wrap, load all the ingredients and wrap your breakfast to grab. 
15.
Savory Protein Pancake: Morning Breakfast Rich in Taste & Nutrition 
Pancakes are one of the most versatile and loved breakfast foods. I usually keep the flour ready to make these savory pancakes quickly in the morning. You can store it in the air tight container for months. 
Mix yellow lentil flour with almond flour, coconut flour, flax meal and chia seed flour. Make a batter with almond milk, salt, pepper and spices of choice. You can also add in finely chopped vegetables. Cook and serve with a chutney.
16.
Mushroom and Tofu Frittata: A Pleasant and Easy Recipe for Breakfast
Loaded with veggies, this tofu and mushroom frittata is an excellent choice for vegan breakfast which is high in protein and low in carbs. 
Mix the almond flour and tofu with salt, turmeric, baking powder, lemon juice and add water. Keep the batter aside and stir fried vegetables like onion, garlic, mushroom and spinach. Once ready add them in the batter. Add oil in the pan and spread the batter mix. Bake it in the oven and enjoy.
17.
Carrot Muffin: For Those Sweet Cravings In The Morning
Muffins are easy to grab and quick to prepare. You can also make them the previous night to save precious morning time. 
Grate carrots and add almond flour, protein powder, almond milk, flax egg, maple syrup, baking powder, nutmeg powder, stevia, cinnamon powder, chopped raisins and chia seed or any other seed of your choice. Bake and enjoy these high protein low carb vegan muffins. 
18.
Sprout Salad: Full of Nutrients And Easy to Assemble 
I will highly recommend you to try this nutritious sprouted legume salad which is a high protein low carb vegan breakfast recipe. 
To make this take some whole legume and soak them to sprout. To avoid the hassle you can use the packed sprouted legumes which can be easily found in supermarkets. 
Soak them for 5-10 minutes in boiling water, rinse and let them cool down. Till then chop onion, cilantro, cucumber etc and add with the legume. Add salt, pepper and lemon and your hearty bowl of legume salad is ready. 
19.
Protein Rich Vegan Shake: Easy To Prepare and Filling Breakfast Option
This refreshing and nutritious vegan shake is a good breakfast option for those who don't like to eat much in the morning. Combine vegan protein powder with berries, bananas and your choice of plant based milk preferably soy milk or hemp milk, since they have a higher amount of protein. 
You can add other fruits like mangoes, pineapple etc. Add stevia for sweetness. You can also add vanilla extract or cocoa for more flavors. 
20.
No Bake Buckwheat Granola Bar: Quick, Delicious and Simple Vegan Morning Recipe 
You can make this no-bake buckwheat granola bar with ease. Buckwheat groats are high in fiber, protein and loaded with vitamins and minerals. 
Mix toast groats with a nut butter, cherries, pumpkin seeds, chia seeds, coconut oil and a pinch of rock salt. You can heat up nut butter and coconut oil to mix easily. Keep the mixture in the fridge for 2-3 hours and later cut in biteable sizes. These bars can be stored in the fridge for 1 week. 
21.
Sprouted Breads With Millet and Legume: Breakfast Breads With a High Protein Twist
Widely known as Ezekiel breads, these breads are full of nutrients and loaded with protein.  To prepare these breads you can take your choice of grains and legumes such as wheat, barley millet, soy beans, lentils etc. However to make it low fat, I opted for millets and yellow and green legumes. 
Soak and allow them to sprout. Once sprouted, ground them in batter and bake them just like other bread. Make sure you use flax egg. Your sprouted breads are ready to boost your nutrient intakes. 
22.
Finger Millet Pancake: A Savory & Flavorful Boost of Nutrition 
Finger millet is a tiny seed which is considered as one of the most nutritious cereal. Besides being protein rich it is also an excellent source of adding calcium and fiber in your diet. 
This savory pancake recipe with finger millet flour is a delightful and healthy way to start your day. Finger millet is slightly sweet in taste which makes it a good choice for both sweet and savory dishes. Make the batter with any plant based curd or milk. You can serve them with vegan cheese dip or any other dip. 
23.
Cauliflower, Broccoli and Tofu Casserole: A Hearty Breakfast For Busy Mornings
Casseroles are super easy to prepare and you can never be bored with them. You can use different ingredients each time to add variations. 
For this recipe, I use a vegan cheese by mixing soaked pecans and tofu. I added a small amount of miso for a umami taste. Pour this vegan cheese on top of boiled cauliflower and broccoli. Bake and garnish with chopped parsley leaves. 
24.
Protein Rich Kebabs: Delicious Addition to Your High Protein Low Carb Vegan Breakfast Options
If you want to try something new for your breakfast, this protein rich kebab will definitely be worth trying. Prepare a mix for kebabs by adding tofu, almond flour, garlic powder, onion powder, minced seitan, salt, pepper, cumin and a pinch of turmeric for color.
Make small patties and dip in the flax egg and water mix. Then dust it with almond flour and stir fry in the heavy bottom skillet. Serve with vegan cream cheese or with tahini. 
25.
Delightful, Simple and Easy to Make Breakfast Smoothie 
This super yummy and healthy smoothie recipe can be prepared in 2 minutes. It is a perfect breakfast option for the people who don't have enough time to sit and have breakfast. 
To prepare it, blend all the ingredients in the blender together. I use unsweetened peanut butter, vegan protein powder, chia seeds, almond milk, and vanilla essence to make it. It is my must have breakfast smoothie post workout. 
26.
Buckwheat Porridge: Add Protein Rich Millets In Your Breakfast Menu
This high-protein gluten free low carb vegan breakfast recipe is especially my favorite during winters. This is a fulfilling and hearty way to start your day. 
It is easy to make this delicious porridge. Boil the roasted or unroasted buckwheat groats and add any vegan milk. I prefer almond or soy milk for it but you can choose any.
 Keep stirring for a while and then add stevia. I also like to add cinnamon and nutmeg powder. Add dried berries and seed for extra crunch and nutrients. 
27.
Mix Millet Flour Savory Pancake: A Delicious Recipe For Mornings
This delicious combination has a nutty flavor and a lot of texture. It can be savory or sweet, depending on your preference but for low carbs diets, I recommend savory. 
While making savory, add lots of chopped veggies and salt. Enjoy as such or wit some kind of chutney.
28.
Crumbled Tempeh Sausages: Lucious and Delicious Breakfast Idea
Tempeh is an excellent vegan breakfast option which contains high protein, high fiber and low carb. You can easily find this Indonesian fermented soybeans cake from any local supermarkets or from Asian stores. 
Crumble the tempeh and add water, salt, soy sauce, garlic and onion powder, Worcestershire sauce, paprika and oregano. Let it boil until the tempeh is cooked well. Add 1 tablespoon of sesame or olive oil and stir it for a while. You can make patties with it just spread it straight on your toast. 
29.
Nutritious Seitan Salad Bowl: Satisfying and Quick Morning Starter
Seitan is an excellent source of protein for vegans. It will be handy to roast seitan cubes on the previous night to prepare this incredibly delicious vegan breakfast in minutes. 
Mix roasted seitan, cucumber, cherry tomatoes, grilled broccoli and zucchini. Add tahini, lemon, olive oil, salt, garlic powder and paprika to take the flavors to the next level. 
30.
Peanut Butter Muffin: Mouth watering Morning Treat for Vegans
This muffin is made without eggs, without refined sugar and without grains. After making this, you won't stop making them again and again, just like me. 
Mix almond flour with vegan protein powder, baking powder, almond milk, unsweetened peanut butter, a pinch of salt and choco chips. Put the batter in muffin tins and bake for 10-12 minutes. Try not to use whey protein powder for this recipe as it absorbs the moisture and your muffin can be hard. 
31.
Baked Tempeh Cubes With Lemon and Pepper As High Protein Low Carb Vegan Breakfast Ideas
This flavorful tempeh recipe is easy to prepare and keeps you full for longer. Its preparations start with the marination of tempeh in a mix of soy sauce, lemon, tamari, maple syrup and mustard sauce.
 I will highly recommend to steam tempeh before marinating for a softer texture.   Bake it in the oven for 20 minutes and serve with steamed or stir fried broccoli, green beans and pickled cabbage. Your delicious protein rich low carb vegan breakfast bowl is ready. 
These are my best high protein low carb vegan breakfast recipes. I hope you will enjoy them as much as I do. 
If you have any questions regarding these recipes, drop me a message in the comment section.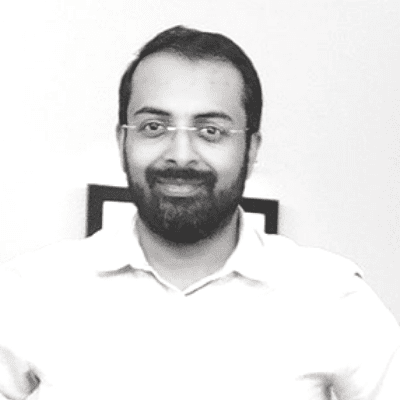 Hi! I'm Integrated Nutrition Coach Rohit Panwar. I hold twin Certifications from IIN, New York & SAFM, Massachusetts. I am a passionate vocalist of holistic lifestyle and have fully committed the past several years to educate & empower people towards their wellbeing. Despite a successful yet hectic corporate stint of 21+ years, I have prioritised nutriment in my life. I truly hope my personal journey from illness to wellness helps everybody reading this forge their own path.