Want to lose weight as a vegan? Skipping breakfast is certainly not an option, choosing a nutritious one is! So, as a nutritionist,  I bring you the best weight loss breakfast ideas for vegans. 
From smoothies to scrambled tofu, the ideas I include in this list will help you attain your weight loss goals without compromising on the taste. 
PEOPLE ALSO READ
| Quick & Easy Breakfast Ideas for Vegans | 
34 Most Effective Weight Loss Breakfast Ideas for Vegans 
So, without any further delay, let's head straight into the best weight loss breakfast options for vegans – 
1.
Oatmeal Applesauce Pancakes
Made with rolled oats and unsweetened applesauce, this breakfast recipe hits all the right taste buds. Rolled oats are high in fiber and filling, and unsweetened applesauce, adds a natural sweetness to your pancake.
Make a batter using rolled oats, plant milk, applesauce and cinnamon. Cook like a regular pancake and enjoy with some berries or cut apples.
2.
Baked Sweet Potatoes
Sweet potatoes can be your best friend in your weight loss journey. They are rich in fibre, low in calories and will keep you full till lunch. For this recipe simply poke holes in a sweet potato and bake it.(with skin).
Once it's done, slice it open in between and put in a filing of your choice. You can fill it up with scrambled tofu, chickpeas or more.
3.
Overnight Oats 
Overnight oats can is one of the quickest and easiest vegan breakfast options. Start by soaking your rolled oats the previous night in a plant based milk.
You can use any plant milk, my favourites are almond, soy and hemp. Add to this chia seeds and peanut butter and refrigerate overnight. Enjoy next morning with your favourite fruits and nuts. 
4.
Moong Cheela
The Indian moong dal cheela is a nutritious and protein-rich recipe which is also gluten-free. Make a batter using soaked moong dal (green gram beans).
In this add ginger garlic paste, chopped cilantro, chopped onion and salt. Use this mix to make thin pancakes. Serve it with some chutney. 
5.
Cauliflower Scramble 
This is among my most recommended weight loss breakfast ideas for vegans.To make this, pulse cleaned cauliflower florets in a food processor for a few seconds. In a pan cook the cauliflower in vegan butter or oil.
To this add salt and pepper and add in your favourite veggies like onion, bell peppers, and mushroom. Enjou a delicious, satisfying and low calorie breakfast.
6.
Bulgur Porridge
Bulgur porridge is a popular breakfast dish in the middle east. Bulgur is a nutritious and versatile grain that is high in fiber, protein and minerals.
To make the porridge, cook the bulgur wheat in hot water till tender. Remove from heat and to this add your plant milk, cinnamon and a sweetener. Serve with your favourite toppings.
7.
Baked Pumpkin Oatmeal
If you are looking for a warm and comforting breakfast for winter and fall mornings, this is it. It is a great way to incorporate pumpkin into your breakfast.
In a mixing bowl, combine the oats, pumpkin puree, alt milk, maple syrup or other vegan sweetener, pumpkin pie spice, vanilla extract, and salt. Add in your favourite toppings like nuts, fruits and seeds, and bake. 
8.
Savoury Veggie Oats
If you want to do something different with your oats, try this. Chop up some veggies and garlic, ginger. In a saucepan, add butter, garlic, and ginger till its sauteed.
Now add in your vegetables and let them cook for some time.  Add vegetable broth or water and bring it to boil. To this add rolled oats along with salt and pepper. Bring to boil and simmer for 5 minutes before serving. 
9.
Chia Breakfast Pudding
This is a really comforting and delicious vegan breakfast that can also help you lose weight.  The previous evening mix together together a plant milk of your choice, chia seeds and a vegan sweetener.
Let sit in the fridge overnight. Serve with fresh fruit or granola on top, the next morning.
10.
Bircher Muesli
Bircher muesli can be a game changer in your weight loss journey. Making this is fairly simple as well. In a bowl, combine rolled oats, cinnamon, nuts, and raisins.
To this add grated apple and plant milk. Combine well and keep it in the fridge for 2-3 hours or overnight. Serve with some added sweetener.
11.
Savoury Spinach Pancakes
Savoury spinach pancakes are a great way to incorporate more greens into your breakfast. 
To make the pancakes blend together oats or millet flour, spinach, water, baking powder, vegan cheese, salt, and black pepper. Now make regular pancakes from the mix. Serve with sauce or spread of your choice.
12.
Peanut Butter Carrot Muffin
These muffins are delicious and quite filling. To make them combine oat flour, flax seeds, grated carrots, peanut butter, vegan milk, baking powder, salt, date paste, and cinnamon.
You can also throw in some nuts of your choice. Bake and enjoy a hearty breakfast. 
13.
Chickpea Omellette
Chickpea flour can be an excellent way to replace your craving for a regular omellete.  To make this, mix together chickpea flour, water, turmeric, salt, and pepper in a bowl.
Heat a non-stick pan over medium heat. Add some oil and pour the chickpea mixture into the pan. Cook for a few minutes on each side until golden brown. 
14.
Sweet Potato Breakfast Bowl
A sweet potato breakfast bowl is simple to put together and gives you the right kind of nutrition to start your day.
Simply peel and chop a sweet potato, and roast it in the oven with a bit of olive oil and your favourite seasonings. Transfer them into bowl and add your desired toppings, like berries, apples, vegan yogurt, etc.
15.
Chocolate Protein Balls
This is a quick breakfast option and can be made and stored for a long time use.
In a blender combine rolled oats, almond or peanut butter, maple syrup, cocoa powder, flax seedsl and your choice of nuts. Roll them out in balls and have a couple for breakfast or as a snack. 
16.
Quinoa Porridge
Quinoa Porridge is a another nutritious weight loss breakfast option. Cook quinoa with your choice of milk and sweetener.
Then add in your choice of toppings like fruit, nuts, and seeds. Enjoy this warm and comforting breakfast.
17.
Flaxseed Pancakes
Flaxseed pancakes are a great option for weight loss. You need to make your pancakes just the way you do any regular vegan pancakes.
But here replace flour with oat or millet flour and to this batter add flaxseed powder. High in fibre and omega 3 fatty acids, flaxseeds are known for their weight loss benefits. 
18.
Savoury Chickpea Flour Pancake
Chickpea flour pancakes are a nutritious and savoury alternative to traditional pancakes.
Combine together chickpea flour, baking powder, and your choice of spices and chopped vegetables. Mix well and cook like a thin pancake. Enjoy this with a sauce. 
19.
Vegan Breakfast Burrito
A vegan breakfast burrito is a great way to start your day. It can be made using ingredients such as diced peppers, onions, tofu, and avocado.
You can also add cooked beans to the mix. Wrap them in a warm whole wheat tortilla and top with salsa and vegan cheese. This should keep you full and prevent any cravings before lunch. 
20.
Ragi Ravi Idli
Ragi Rava Idli is a twist to the regular rava Idli, a semolina based breakfast dish healthy and from South India.
You will need to ferment a batter of ragi flour (finger millet flour) and rava (semolina) with vegan yogurt. Pour them in idli moulds and steam the mixture,  Served it with some peanut or coconut chutney.
21.
Mushrooms on Toast
A simple dish, mushrooms on toast is quick and easy to make and one of the best weight loss breakfast ideas for vegans.
Sauté sliced mushrooms in vegan butter or olive oil with garlic and herbs such as thyme, rosemary or parsley. Serve these  on top of toasted whole wheat bread.
22.
Hummus Breakfast Bowl
Hummus is one of my favourite dip or spread. To make a breakfast bowl, mix hummus with your choice of veggies such as chopped tomatoes, onions, cucumber, avocado, and vegan cheese.
You can also add to this cooked quinoa or bulgur. Drizzle with olive oil and lemon juice and you are good to go. 
23.
Matcha Tea Smoothie
A Matcha Tea Smoothie can be your go to breakfast for weight loss. iYou can make this by simply blending together banana, pineapple,  almond milk, yogurt, maple syrup, and matcha powder.
You can also add other ingredients such as flax and chia seeds. This drink will keep you full without cutting back on the nutrition. 
24.
Vegan Yogurt Parfait
Another quick breakfast option is a yogurt parfait. Take a jar and in this layer vegan yogurt, granola, and fresh fruits.
You can use different types of yogurt, I like peanut yogurt, soy yogurt and almond yogurt for this purpose. Vegan yogurt parfait is high in protein, fiber, and vitamins and a perfect breakfast to keep you satiated.
25.
Kale Spinach Smoothie
The low calorie kale spinach smoothie can be a great addition to a weight loss diet. Blend together kale, spinach,  banana, and almond milk.
You can also add other ingredients like ginger, lemon juice, and a scoop of protein powder to make it more filling. The greens are low in calories but high in fiber and vitamins, making it a great way to start your day.
26.
Scrambled Spinach Tofu 
Scrambled spinach tofu is a quick and easy vegan breakfast option. Crumble firm tofu into a pan and cook until lightly browned. Add in spinach, garlic, and your favourite herbs.
Cook until the spinach is wilted and the tofu is fully cooked. Serve it with a side of veggies like zucchini, mushrooms, etc. 
27.
Nuts & Blueberry Shake
Another great drink for weight loss is this nuts and blueberry shake.
It is quite easy to make as you just need blend together a cup of blueberries, a handful of mixed nuts, a banana, and almond milk or any other plant milk. You can also add some flax or chia seeds to make it more nutritious. 
28.
Ragi Malt 
Ragi malt or ragi porridge is nutrition rich breakfast dish made using finger millet flour or soaked finger millets. Finger millet or ragi are tiny red seeds rich in many vitamins and minerals.
Start by combining the ragi flour with water. Then transfer this to a boiling pan of water and cook well till the mixture thickens. Remove from heat and then add to this plant milk and jaggery.  
29.
Scrambled Chickpea Breakfast Bowl
Scrambled Chickpea Breakfast Bowl is high in protein and fiber and low in calories, and thus a great weight loss option for breakfast.
In a pan, sauté onion, garlic and your choice of vegetables, then add chickpeas and spices such as turmeric, cumin and pepper. Transfer it to a bowl and top with tomatoes, onion, coriander, lemon juice.
30.
Wheat Germ Porridge
Wheat germ porridge can be made by cooking wheat germ, with plant milk and sweeteners. You can also add fruits, nuts and seeds for added nutrition.
The bowl of warm porridge is not only comforting but also provides you fiber, protein and other essential vitamins and minerals. This breakfast will keep you satiated till lunch. 
31.
Zucchini Sprout Salad
Sprout salad is another great option for a vegan breakfast. It is low in calories and high in fiber and protein. Just mix together sprouts of different types like alfalfa, mung bean, and lentil.
To this add chopped zucchini and a light dressing or lemon juice. You can also add other vegetables to this such as carrots, bell peppers, etc. 
32.
Quinoa Upma
A traditional breakfast dish upma, can be tweaked in to include more protein by replacing semolina with cooked quinoa.  The recipe of quinoa upma is the same as regular upma.
Add your favourite vegetables and spices, and you have yourself a breakfast rich in plant-based protein, fiber, and healthy fats. 
33.
Peanut Butter Granola
Granola can come in as a nutritious breakfast or snack option. Although it is available in the market in various flavours, I recommend making it at home. Mix together rolled oats, chopped nuts, and seeds.
Heat a mixture of peanut butter, sweetener and coconut oil, and mix with the dry ingredients. Bake in the oven, until golden brown. You can now use this in parfait, yogurt or good old plant milk. 
34.
Fruit Bowl
A fruit bowl is a simple and nutritious way to enjoy a variety of fruits. Chop up your favourite fruits and add them to a bowl.
You can also add some plant yogurt or granola for added flavor and texture. Enjoy this bowl as it is, or add a drizzle of maple syrup to sweeten it up. 
These were some of my top weight loss breakfast ideas for vegans. All these ideas I shared are incredibly versatile so you can tweak the recipes the way you like. 
Thank you for reading 🙂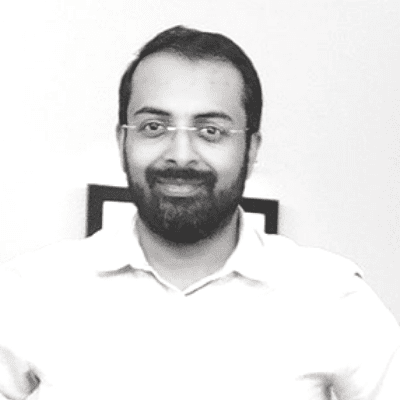 Hi! I'm Integrated Nutrition Coach Rohit Panwar. I hold twin Certifications from IIN, New York & SAFM, Massachusetts. I am a passionate vocalist of holistic lifestyle and have fully committed the past several years to educate & empower people towards their wellbeing. Despite a successful yet hectic corporate stint of 21+ years, I have prioritised nutriment in my life. I truly hope my personal journey from illness to wellness helps everybody reading this forge their own path.