Almond milk versus Ayran- want to know which one is a better beverage? It can be difficult to choose between the two considering the fact that both confer many benefits to the human body and have been a part of our diet for ages. 
In this blog, I will uncover the numerous benefits and differences between Almond milk and Ayran. This will help you understand these products better and make the right choice.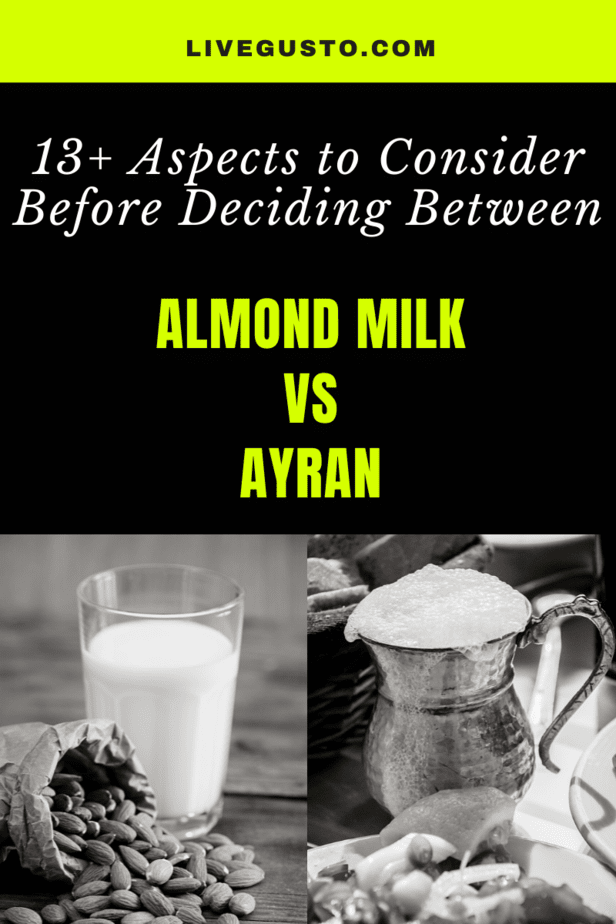 PEOPLE ALSO READ
| Which is Better for You Between Almond Milk & Buttermilk? | 
Know the 15 Crucial Benefits & Differences Between Almond Milk Verus Ayran
Let us begin with an overall comparison of Almond milk and Ayran on different attributes 
BASE INGREDIENTS
Almond Milk

Almonds & Water

Ayran

Curd & Water

TASTE
Almond Milk

Nutty

Ayran

Sour 

DAILY INTAKE
Almond Milk

1 cup

Ayran

1 cup

CALORIES
Almond Milk

39.3*

Ayran

86*

FAT CONTENT
Almond Milk

2.5 g*

Ayran

4.5 g*

PROTEIN CONTENT
Almond Milk

1 g*

Ayran

4.84 g*

CALCIUM CONTENT
Almond Milk

46- 482 mg*

Ayran

171 mg*

RECOMMENDED TIME
Almond Milk

Morning or Bedtime

Ayran

Morning or Noon

ENVIRONMENTAL IMPACT
Almond Milk

Average

Ayran

Negative

VEGAN FRIENDLINESS
Almond Milk

Yes

Ayran

No

ORAL HEALTH OUTCOME
Almond Milk

Good

Ayran

Very Good

TUMMY HEALTH OUTCOME
Almond Milk

Very Good

Ayran

Very Good

BODILY COOLING EFFECT
Almond Milk

Good

Ayran

Very Good

BODILY HYDRATION EFFECT
Almond Milk

Very Good

Ayran

Very Good

ADDITIVES
Almond Milk

Honey, Vanilla 

Ayran

Mint, black pepper
*Source: USDA; Quantity defined is 1 cup
I hope this table helped answer your question Almond milk or ayran, which is better? If not, let me help you with a brief discussion of all the facets below. 
Explore the Constituents of Almond Milk Versus Ayran
Almond milk is an amazing beverage that is obtained from almonds that are soaked overnight. In the morning, they are ground and blended with some water and then filtered off to strain away from the insoluble solids. This filtered, white coloured liquid is Almond milk.
Ayran or doogh is a cold savory Turkish beverage popular in Central Asia and parts of Europe. It can be produced by blending yogurt or curd and some water and then adding some salt to it. Some people also add soda to make a frothy version of Ayran. 
Comparing the Taste Profile of Almond Milk and Ayran 
Almond milk and ayran have been popular drinks for centuries and people just love their taste. A lot of people wonder about the difference in their taste. The taste of almond milk is slightly sweet and quite nutty. Its consistency is thin due to the presence of water. 
The taste of Ayran, on the other hand, is slightly sour, tart, and salty. Its consistency will depend on the amount of water you add to it.
What is the Suggested Daily Consumption of Almond Milk Vs Ayran?
Being a certified nutritionist, I have been asked by many people about the recommended daily intake of almond milk and ayran. Well, the recommended daily intake of Almond milk is 1 cup but you can have a maximum of 2 cups if you want to have more of it. 
On the other hand, you can consume 1 cup of ayran on a daily basis. In summers, however, you can drink up to 2 cups a daily day.
Difference in The Calorific Content of Almond Milk and Ayran
Let us have a look at the calorific content of both the products. The calorie content of 1 cup of almond milk is nearly half that of one cup of Ayran. The higher calories in Ayran is attributed to the fact that it is a dairy product.
So, if you want to include fewer calories then you can prefer almond milk over ayran.
Total Fat Content in Almond Milk Versus Ayran
Let us now compare the fat content in Almond Milk and Ayran. Clearly, since almond milk has lower fat, it is the winner and a great option for people planning to shed extra weight. 
On the other hand, since Ayran is made from whole milk curd,  it contains higher fat content than almond milk. However, if you are looking for low-fat Ayran, you can choose the one made from low-fat curd as well.
 Is Ayran Better Than Almond Milk in Terms of Protein Content?
If we talk about 1 cup as the standard for both the amazing drinks, then the protein content of Ayran is nearly 5 times that of Almond milk. This is because Aryan is a dairy product that is naturally rich in protein. 
It means for meeting daily protein requirements,  Ayran is much preferable to almond milk. If you are choosing Almond milk, make sure you are adding other protein-rich foods. 
Is There Any Difference In the Calcium Content of Almond Milk and Ayran?
If you are pondering about the calcium content in Almond milk and Ayran, then Ayran is definitely the go-to drink for fulfilling daily Calcium requirements.
Homemade Almond milk has less amount of calcium levels, whereas Ayran has a high content of calcium. Nowadays, almond milk is sold in tetra packs which are fortified with a lot of Calcium in it, making it a suitable substitute for dairy.
At What Time Should We Consume Almond Milk and Ayran?
Prior to switching to these nutritious drinks, we should know the best time of consumption of these two beverages.
Almond milk should be consumed in the morning or before bedtime to have a good sleep.  Ayran must be consumed in either morning or noon to make it easier to digest.
Almond Milk or Ayran Which Is Better for the Environment?
Before beginning the discussion of the eco-friendliness of Almond milk and Ayran, let me start by saying that, unlike Almond milk, Ayran is a dairy product. Dairy not only has a negative effect not only on the environment but also on animal well-being. 
Although Almond milk is better than dairy it faces criticism because of freshwater depletion and contamination. Hence, the effect on the environment of Ayran is negative whereas almond milk's effect on the environment is average.
Discussing the Vegan Friendliness of Almond Milk Versus Ayran
While Ayran offers countless benefits to our body, it is a dairy product obtained by the animals hence it's not a Vegan-friendly product.
Almond milk on the other hand is a plant-based beverage that is obtained from almonds. Hence it is a vegan-friendly product and also suitable for lactose intolerant, and dairy allergic people.
How Do Almond Milk Vs Ayran Affect Oral Health?
Ayran being a fermented dairy beverage, contains a good amount of calcium in it, making it suitable for oral health. Calcium is needed to strengthen the teeth and jawbones. Apart from that the good bacteria in them help to keep cavities at bay.
Homemade almond milk somewhat lags behind Ayran in terms of calcium but the market versions are power-packed with calcium and vitamin D, both considered good for oral health. Apart from this almond milk is naturally rich in many vitamins and minerals, like vitamins that enhance overall oral health.
Almond Milk or Ayran, the Better Drink for Healthy Digestive System
Do you know that gulping down almond milk and ayran can offer numerous benefits to a healthy digestive system? Since Ayran is a fermented drink, it contains useful bacteria which help to keep the stomach clean and free from digestive ailments.
Almond milk is easy to digest and is rich in many essential vitamins and nutrients. It also contains fiber that helps in digestion and reabsorption of water.
Almond Milk Vs Ayran: The Better Coolant On a Hot Summer Day 
We all crave some refreshing drinks, especially in the summer season. Almond milk and Ayran can both work as great drinks to beat the heat. 
These two beverages contain large amounts of water and give a super cooling effect when they are consumed chilled.
What Works Better For Staying Hydrated – Almond Milk or Ayran?
When it comes to hydration, both Almond milk and Ayran work well. Apart from the water level both the drinks contain a substantial quantity of essential minerals like sodium, and potassium.
These minerals help to balance the electrolytic level in the body. Hence they are suitable for preventing dehydration. 
Nutritious Additives for Almond Milk Vs Ayran 
Almond milk is a very nutritious drink with a luscious taste. It can be made more nutritious by adding honey, vanilla extract, strawberries, and dates to it. The addition of either of these can add richness and essential nutrients along with flavour.
Admirers of Ayran like to add some fresh mint leaves, black pepper and black salt to make it more nutritious and delicious. Some people also like to add lime juice to it to make it sourer in taste.
I hope now you have absolute clarity about the differences between Almond milk and Ayran,  Both almond milk and ayran surely offer numerous benefits and you could surely have either of them based on your requirements.
In case you have more questions or any doubts, feel free to reach out to me in the comment section.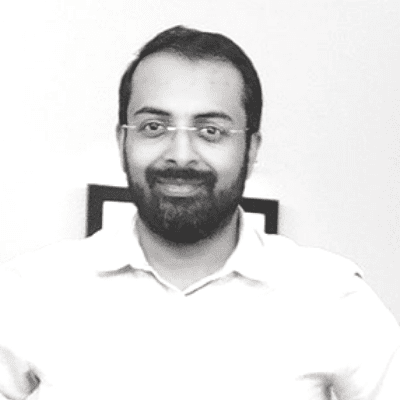 Hi! I'm Integrated Nutrition Coach Rohit Panwar. I hold twin Certifications from IIN, New York & SAFM, Massachusetts. I am a passionate vocalist of holistic lifestyle and have fully committed the past several years to educate & empower people towards their wellbeing. Despite a successful yet hectic corporate stint of 21+ years, I have prioritised nutriment in my life. I truly hope my personal journey from illness to wellness helps everybody reading this forge their own path.