If you are following a plant-based diet, you can easily prepare an anti inflammatory vegan breakfast with just a few changes.
As a nutritionist, I will talk about vegan anti-inflammatory foods which you can have for breakfast.
17 Comforting Anti Inflammatory Vegan Breakfast Ideas
To get rid of inflammation it is crucial to adopt healthy eating habits. Morning meals set the pattern for the whole day. Give a healthy start to your day with these anti-inflammatory vegan breakfast ideas:  
1.
Quinoa and Roasted Sweet Potato Bowl: An Inflammation Reducing Breakfast For Vegans
This quinoa and sweet potato breakfast recipe is soothing and fulfilling. You can make many variations to this easy vegan recipe by adding other ingredients of your choice. 
Cut sweet potato in cubes and put it in the oven to roast. Meanwhile, boil quinoa with vegetable stock or just plain water. Toss both the base ingredients and add toasted seeds, nuts, olive oil, squeeze lemon, sprinkle salt and pepper and sit down to enjoy. 
2.
Rainbow Salad Bowl With Avocado: A Delightful, Anti-Inflammatory And Quick Breakfast 
Avocado is an excellent source of vitamin E, which dampens the inflammation in the body. This colorful recipe is loaded with many other inflammation-reducing vegetables such as red, orange and yellow bell peppers, green peas, cucumber, cherry tomatoes and fresh corn.  
Chop all the veggies in small cubes and add avocado in it. Sprinkle lemon, salt and black pepper, cumin powder and fresh cilantro to add more flavors. 
3.
Hearty Scrambled Tofu With Veggies: Quick Plant Based Soothing Breakfast
Tofu contains vitamin K which has anti-inflammatory properties. Scrambled tofu with veggies is a delicious and easy to make breakfast option. Start the day off right with additional nutrients of bell pepper, mushroom and onion. 
Silken tofu will work best for this recipe however you can use firm too. Add finely chopped onion in the olive oil and once soften add ginger paste, bell pepper, mushroom and shredded carrots. 
Once vegetables are tender, add scrambled tofu and cook for 3-4 minutes. Season with salt, pepper, soy sauce, turmeric and a few leaves of baby spinach to enhance the freshness. 
4.
Avocado Papaya Gazpacho:  Give an Anti-Inflammatory Twist to Your Morning Gazpacho
This cold soup is prepared with many anti-inflammatory fruits and vegetables such as avocado, papaya, tomato, pineapple etc. It is super refreshing and easy to make. You can store it in the fridge for 4-5 days. 
Make a juice with fresh tomatoes and pineapple. Cut avocado, ripe papaya, cilantro, red onion, green bell pepper in small cubes. Mix juice in it and add salt, pepper, lemon and tabasco. Refrigerate it before serving. 
5.
Cherry Smoothie: Inflammation Soothing Nutritious and Luscious Start of the Day
Add frozen or fresh cherries in a high speed blender with old fashioned oats, grounded flax seeds, chia seeds, cocoa powder, dates or other natural sweetener like stevia etc.
In the end add unsweetened pomegranate juice to give it extra tanginess. Instead of pomegranate juice you can add any vegan milk like almond milk, coconut milk etc. to make it more filling.
6.
Savory Oatmeal with Tempeh and Turmeric: A Vegan Anti-Inflammatory Breakfast For You
Oats are a great way to start your day as they keep you full for longer. This savory oatmeal recipe is nutrient rich and helps to diminish the inflammation in the body. 
Cook oats with turmeric, salt, ginger, flaxseed powder and black pepper. Top your bowl with cooked tempeh slices, avocado, tahini and pickled cabbage as the topping. To make a sweet variation, you can add berries, walnuts, peanut butter and sunflower seeds. 
7.
Falafel Pizza With Pumpkin Hummus Filling : A Unique Creamy and Wholesome Breakfast Recipe For Herbivores
This delightful deep dish pizza is full of anti-inflammatory vegan ingredients. To prepare the crust, mix canned or boiled chickpeas with millet flour, cumin powder, garlic powder, red onion, tahini, freshly chopped cilantro and chia or flax seeds. 
Put everything in a food processor and whizz to get a smooth paste. Preheat the oven and pour the crust mix in a deep dish pie tin to bake for 10 minutes. 
For the hummus layer you will need hummus, garlic, tahini and pumpkin puree. Once falafel crust is baked then layered it with hummus topping and again put in the oven for 30 minutes. A delightful falafel pizza is ready. This is also a great lunchbox recipe. 
8.
Amaranth Granola: A Great Go-to Vegan Breakfast for Busy Mornings
Amaranth is a great source of anti-inflammatory oils and peptides. To make it you need to mix puffed amaranth, toasted pumpkin seeds, walnuts, coconut flakes, dried berries and black currants. Add maple syrup, cinnamon, nutmeg powder and a little coconut oil. 
Put it in an airtight container and store in the fridge for a longer crunch. You can have this breakfast with vegan milk, yogurt or as a topping of your smoothies. 
9.
Sweet Potato, Broccoli and Pesto Casserole: Mouth Watering Plant Based Breakfast to Reduce Inflammation
Casserole recipes are one of the most fulfilling  and easy to make breakfast choices. This sweet potato rice casserole is full of flavors and has a creamy texture. 
Spread the pesto sauce on the bottom of the casserole and then add sweet potato rice or finely chopped sweet potato. Next layer it with pesto coated broccoli and then one more layer of sweet potato rice. 
Sprinkle olive oil, plant based mozzarella cheese and put the dish in the oven. Within 30 minutes your hot, creamy breakfast will be ready. 
10.
Pancake With Buckwheat and Brown Rice Flour: An Easy and Fancy Way to Add Beets to Your Breakfast 
This fantastic anti-inflammatory vegan breakfast is loaded with colors, flavors and nutrients. For the pancake batter, mix brown rice flour, buckwheat flour with baking powder, raspberries, boiled beets, maple syrup, flax egg, plant based milk and just a pinch of salt. 
Start making small pancakes with olive oil and serve with berries, peanut butter, roasted walnuts and coconut cream. You can add your own favorite topping for it. 
11.
Matcha Green Tea Chia Pudding With Berries: A Plant Based Recipe Full of Inflammation Soothing Nutrients
Matcha green tea has high anti-inflammatory effects. Its regular consumption promotes your immunity and helps to protect you from various diseases. 
This recipe can be prepared with ease and you need minimum ingredients for it. Mix matcha green tea powder with any vegan milk, chia seeds and maple syrup. You can also use other natural sweeteners such as stevia and dates etc. Keep it in the fridge overnight. Add berries, nuts and seeds as topping before serving.  
12.
Lentil Salad With Veggie: A Delicious Mix of Vegan Anti-Inflammatory Foods
This highly versatile recipe is loaded with many antioxidant ingredients. It is satisfying, healthy and easy to prepare. You can take your choice of boiled lentils for this recipe. 
Put olive oil in the pan and add red onion and ginger garlic paste. Then add french beans, carrot, zucchini and bell pepper. 
Once veggies are softened, add spices like turmeric, salt, red chili powder, black pepper, cumin powder and curry powder. Then mix boiled lentils and veggies and boil with a lid for 5 minutes. Add lemon juice, dijon mustard sauce, cilantro and enjoy your delicious vegan breakfast. 
13.
Golden Milk Overnight Oats: Break the Dawn With This Satisfying and Fulfilling Vegan Breakfast
Turmeric is like a superfood in terms of inflammation soothing food. This overnight oats recipe is inspired by this yellow color magical spice. 
Pour coconut or almond milk in a pan and add turmeric, cinnamon and a pinch of black pepper. Whisk the spices in the milk and bring a boil on low flame. Switch off the flame and add oats, chia seeds and pour it in the mason jar. 
Cover the lid and keep your breakfast in the fridge to grab in the morning. You can use blueberries, nut butter and hemp hearts as toppings. 
14.
Black Bean, Avocado Quinoa Bowl: Make It As Colorful As Possible
This recipe is a combination of many healthy ingredients and mouthful flavors. This tasty plant based treat is a great inflammation reducer. 
You can use canned or pre boiled black beans to prepare it. Mix boiled quinoa, black beans, mango, fresh pineapple, red onion, tomatoes, cilantro and avocados together. Add lemon, tahini, salt, black pepper and relish it as a wholesome breakfast. 
15.
Green Smoothie: Exquisite Plant Based Breakfast to Lower Down Inflammation 
Smoothies are a mix of fruits and vegetables, hence most of them are a great way of packing in lots of anti-inflammatory benefits. 
For this inflammation soothing green smoothie you will need spinach, pineapple, banana, any vegan milk, chia seeds, ginger and a high speed blender. Blend all the ingredients and your tangy and delicious smoothie is ready. 
16.
Edamame Guacamole With Brown Rice: Classic and Healthy Breakfast Option For Plant Lovers
Edamame are green color immature soybeans which usually come in pods. You can also find these highly antioxidant beans in the frozen section. 
Boil the edamame in salted water and let them cool down. Mix avocado and edamame with olive oil, salt, tahini, lemon and black pepper. Cook brown rice and add this edamame guacamole in it. Add freshly chopped coriander, more olive oil and lemon juice before spooning out. 
17.
Turmeric Smoothie: One of the Easiest Anti Inflammatory Vegan Breakfast Options
This healing smoothie is prepared with tow of strongest anti-inflammatory spices, freshly grated ginger and turmeric powder. Turmeric has a bitter taste so it is safer to start with powder turmeric however fresh turmeric contains more antioxidants. 
You can use any plant milk for the recipe, though I used almond milk for it. Blend bananas, ginger, turmeric, frozen mangoes, vanilla extract, chia or flax seeds, cinnamon and nutmeg powder. This is a perfect vegan breakfast to reduce inflammation in the body. 
Hope these anti-inflammatory vegan breakfast options will help you to strengthen your immunity and will promote your overall health. I would love to hear your feedback about these recipes.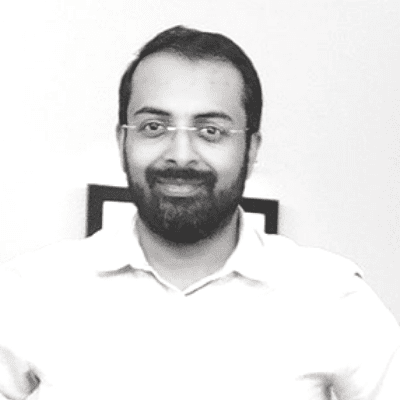 Hi! I'm Integrated Nutrition Coach Rohit Panwar. I hold twin Certifications from IIN, New York & SAFM, Massachusetts. I am a passionate vocalist of holistic lifestyle and have fully committed the past several years to educate & empower people towards their wellbeing. Despite a successful yet hectic corporate stint of 21+ years, I have prioritised nutriment in my life. I truly hope my personal journey from illness to wellness helps everybody reading this forge their own path.