From my years of consulting experience, I recognize the challenges of adhering to a bland diet, especially in the mornings. So, I  bring to you a collection of some interesting bland diet breakfast ideas. 
Whether you're choosing bland foods for weight management or overall well-being, these bland breakfast options can help you stay on your pursuit of a balanced and health-conscious start to the day.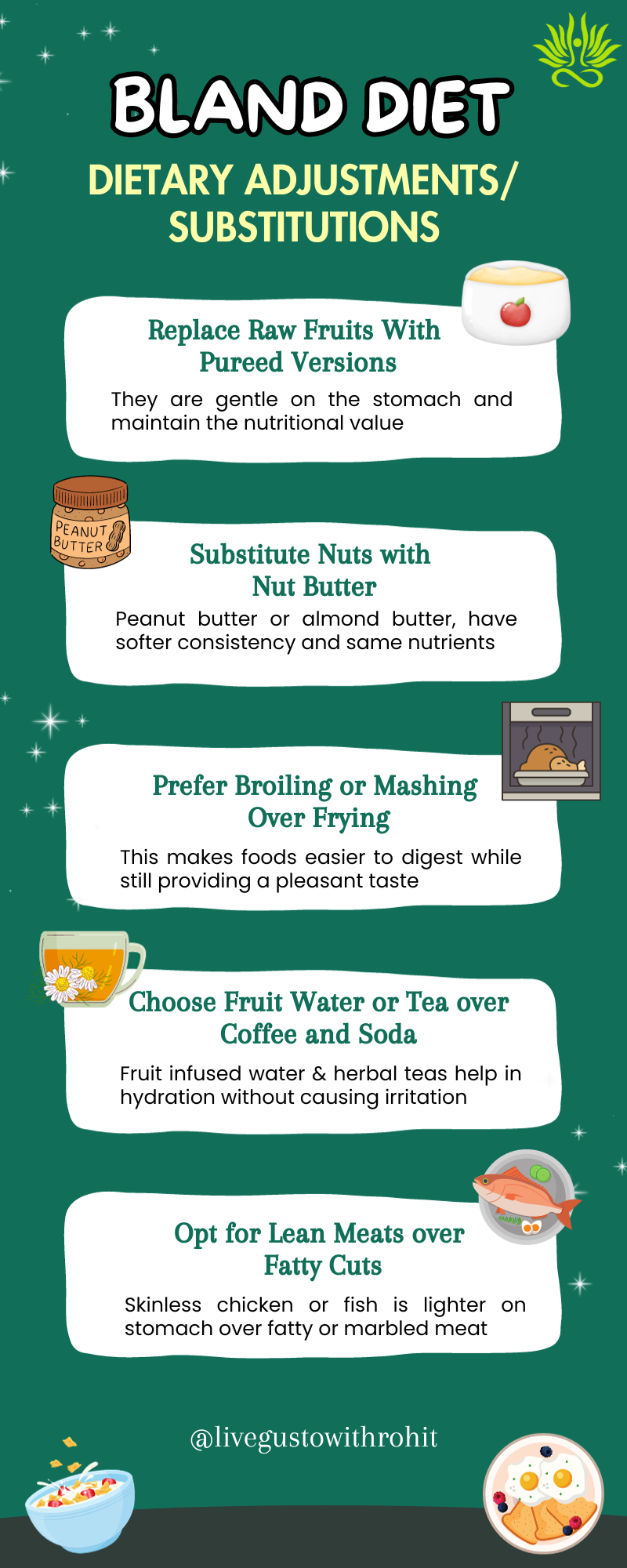 18 Gentle Yet Nourishing Bland Diet Breakfast Ideas for Every Taste
Bland diets can be super boring. So, with a mix of my experience as a nutritionist, and creativity as an amateur cook, I bring you bland breakfast recipes. 
These recipes are a harmonious blend of health, taste, and variety—ushering in a delectable and nourishing start to each day: 
1.
Pumpkin Oatmeal
One of my favourite breakfasts, this bland breakfast option is truly comforting and wholesome. The easy recipe has a creamy texture and a touch of warmth.
To make this, prepare refined oats in water or milk. When the oats are almost done, add in canned or cooked pumpkin puree. 
Add a dash of cinnamon or nutmeg and simmer till you get a creamy texture. Enjoy this nourishing breakfast that's both gentle on the stomach and full of autumnal delight.
2.
Spinach & Tofu Breakfast Wrap
If you like a savory breakfast, this is the one to choose. It combines the delicate flavors of sautéed spinach and tofu, providing a boost of plant-based protein and essential nutrients.
To create this wrap, start by sautéing chopped spinach until wilted. Add diced tofu and cook until lightly golden. Season with a pinch of salt, onion powder and herbs . 
Warm a whole grain tortilla. Fill it with the spinach-tofu mixture. Roll it up into a wrap and serve. You can also add in an avocado spread on tortilla to make it more creamy.
Rice Cakes & Nut Butter
Rice cakes paired with creamy almond or peanut butter make for a gentle breakfast option for a bland diet. It is easy to make and can be prepared in minutes. 
Take two rice cakes—opt for plain or lightly salted varieties to maintain the blandness. Spread a generous dollop of nut butter evenly across the rice cakes. Opt for homemade or natural butters with minimal additives. 
4.
Cream of Rice Pudding
A versatile option for a bland diet breakfast, this gentle dish is soothing. Its smooth texture and mild taste make it possible for you to add in different flavours – sweet or savory. 
To make my favorite version, in a saucepan, cook cream of rice cereal with thin coconut milk until it thickens. Add honey or maple syrup, and a pinch of cinnamon or nutmeg for flavor. Let it cool and top with a few slices of ripe banana.
5.
Cottage Cheese Toast
For this recipe, you will need low fat cottage cheese. I always prefer homemade versions.
For the toast, toast a piece of white bread. Spread a layer of cottage cheese atop. To this add sweet or savory toppings. I like to sprinkle some fresh herbs like chives. 
If you prefer sweets, you can add some applesauce, canned peaches or bananas on top.
6.
Baked Sweet Potato
Baked sweet potatoes serve as an excellent, gentle option for a bland diet breakfast. Since they are versatile, you can use them in a number of preparations
For this simple recipe, clean the sweet potato and pierce with a fork. Now bake for 45-60 minutes in a preheated oven. 
Once done, slice it open and lightly mash the insides with a fork. Top with a small dollop of plain low-fat yogurt or a sprinkle of cinnamon for added flavor, creating a nourishing and easily digestible breakfast option.
Vegetable Omelet
It's a simple yet fulfilling dish, incorporating the flavours of cooked vegetables and the nutrients of eggs. 
Begin by whisking two eggs with a pinch of salt.  In a skillet, lightly sauté a mix of diced bland diet-approved vegetables such as spinach, carrots, and beans until tender. Pour the beaten eggs over the cooked vegetables and let the mixture set. 
Once the omelet is mostly set, flip carefully and cook on the other side properly. Enjoy with a toast / cracker or as such. 
8.
Vegetable Dalia
It is a classic Indian breakfast dish made from cracked wheat (Dalia) and of finely chopped or grated vegetables. 
To prepare this, start by sautéing a handful of finely chopped vegetables like carrots, peas, and beets in oil until they soften. 
In a separate pot, roast the cracked wheat for a few minutes. Add the sautéed vegetables to the roasted Dalia, pour in water or broth, and let the mixture cook well. Don't forget to add in the salt. 
9.
Potato Veggie Hash
This recipe is ideal for those seeking a gentle yet flavorful start to their day. It's easy to prepare and will keep your bland diet breakfast interesting. 
Dice boiled or baked white potatoes into small cubes. In a non-stick skillet, lightly sauté these potatoes with a mix of finely chopped carrots, green beans, and spinach. Season with a pinch of salt and a hint of dried herbs such as thyme or rosemary for added flavor.
Cook until the vegetables soften and develop a light golden hue. 
10.
Fruit & Yogurt Parfait
This recipe is just about layering and combining ingredients. You will need low fat yogurt for this recipe.
In a jar or bowl layer yogurt followed by a layer of thinly sliced ripe bananas or diced canned peaches. 
Continue layering to your preference and top it off with a sprinkle of simple homemade granola or a few chopped nuts for added texture. 
Sweet Potato Pancakes
Love pancakes, I do too and these sweet potato pancakes are the best thing and nourishing version of regular pancakes. 
Combine mashed cooked sweet potatoes with a small amount of flour, a pinch of cinnamon, and a dash of nutmeg in a mixing bowl. Add a beaten egg and mix until a smooth batter forms. 
Cook the pancakes like regular ones and serve hot with homemade applesauce. 
Tofu Scramble
This plant-based dish mirrors the texture of scrambled eggs offering a protein-packed alternative. It's one of the best bland diet breakfast for vegetarians and vegans. 
In a pan sauté onions, spinach, and diced bell peppers until softened. Add the crumbled tofu and season with a pinch of salt, and a dash of turmeric for color. Cook well and serve with crackers or toast.
13.
Rava Upma
Rava Upma, a traditional Indian breakfast, is an excellent bland diet breakfast option. It's a simple yet flavorful dish made from roasted semolina (rava) combined with vegetables and mild spices.
Heat oil in a pan, add mustard seeds, urad dal, and curry leaves. Sauté chopped onions, green chilies, and vegetables. Add roasted semolina, stirring until lightly golden. 
Pour hot water, season with salt, and cook until the mixture thickens. Garnish with chopped coriander and a dash of lemon juice.
14.
Avocado Mushroom Toast
Another excellent and quick addition to your bland diet breakfast recipes is this simple yet delightful toast. It merges the creaminess of mashed avocado with the earthy tones of sautéed mushrooms.
For this recipe, start by sautéing sliced mushrooms with a touch of olive oil until they're golden and tender. Mash ripe avocado and spread it on a piece of lightly toasted bread slice. Top the avocado with the sautéed mushrooms, adding a sprinkle of salt for flavor. 
Beet & Spinach Smoothie
This smoothie tastes as good as it looks. This breakfast option is gentle on the stomach while delivering a boost of vitamins, making it an ideal choice for those seeking a light yet wholesome morning meal.
To make this, blend together cooked and cooled beets (about 1 small beet), a handful of fresh spinach, a ripe banana, and a cup of water or unsweetened almond milk until smooth.
16.
Steamed Veggies & Egg Bowl
This breakfast option is for people who'd like a low-intensity yet satisfying start to the day.
For this meal, start by steaming a combination of vegetables such as carrots, beans and spinach until they are tender yet retain their crispness. 
Meanwhile, dice two  hard boiled eggs and add them to a bowl along with the steamed veggies. Add salt and chopped fresh parsley. Mix well and enjoy. 
17.
Chicken Sandwich
A chicken sandwich, when tailored for a bland diet, offers a balanced breakfast option. Opt for a lean, skinless chicken breast, grilled or baked, sandwiched between two slices of plain  bread. 
Shred or slice fully cooked chicken slices. On a slice, spread a light low-fat mayonnaise or a small amount of mashed avocado for moisture. 
These were my top favourite and recommended bland diet breakfast ideas. Do give them a try and let me know if you liked them.