Many people, like me, believe that traditional eating is exceptionally nourishing and sustainable. Therefore, in this blog, I am going to compare two such age-old dairy drinks: Buttermilk versus Ayran. 
People in middle east Asia have been consuming Ayran for centuries and Buttermilk has been a part of Southeast Asian platter for several generations.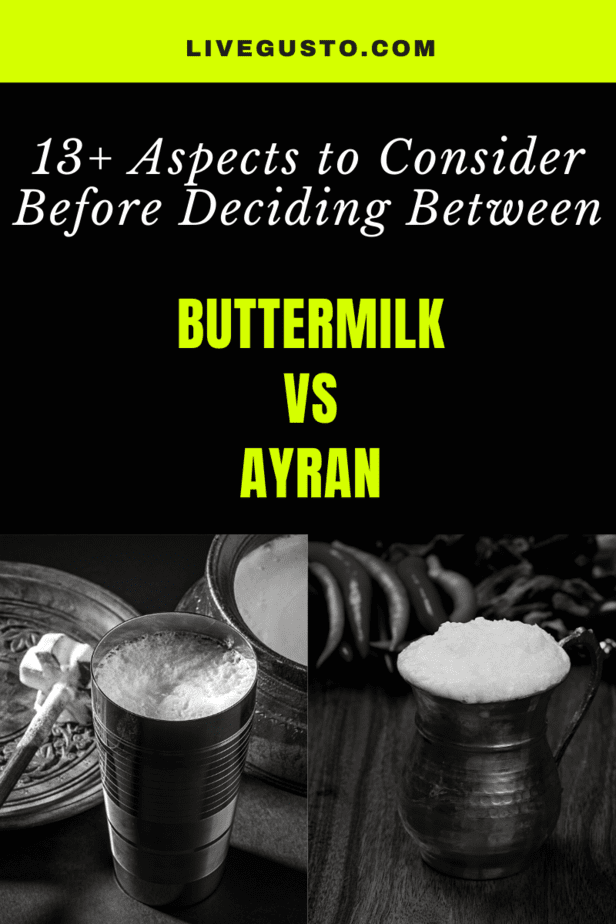 PEOPLE ALSO READ
| Buttermilk Versus Laban – Are these two drinks the same? | 
Buttermilk Versus Ayran- A Detailed Comparison to Find Out Which One Is Better for You

Most people consider Buttermilk and Ayran as the same fermented dairy drink but both these drinks have a few basic differences and a few similarities. Let's compare the different aspects of these two beverages in the table below.
BASE INGREDIENTS
Buttermilk

Milk & citric acid

Aryan

Curd & Water

TASTE
Buttermilk

Tangy 

Aryan

Sour

DAILY INTAKE
Buttermilk

1 cup

Aryan

1 cup

CALORIES
Buttermilk

152*

Aryan

86*

FAT CONTENT
Buttermilk

8 g*

Aryan

4.5 g*

PROTEIN CONTENT
Buttermilk

8 g

Aryan

4.84 g

CALCIUM CONTENT
Buttermilk

281.8 mg*

Aryan

171 mg*

RECOMMENDED TIME
Buttermilk

Morning or Noon

Aryan

Morning or Noon

ENVIRONMENTAL IMPACT
Buttermilk

Negative

Aryan

Negative

VEGAN FRIENDLINESS
Buttermilk

No

Aryan

No

ORAL HEALTH OUTCOME
Buttermilk

Very Good 

Aryan

Very Good 

TUMMY HEALTH OUTCOME
Buttermilk

Good 

Aryan

Very Good 

BODILY COOLING EFFECT
Buttermilk

Very Good 

Aryan

Very Good 

BODILY HYDRATION EFFECT
Buttermilk

Very Good 

Aryan

Very Good 

ADDITIVES
Buttermilk

Spices & herbs

Aryan

Dried Mint & Salt
*Source: USDA; Quantity defined is 1 cup
You can observe that even though there are few similarities between buttermilk and Ayran, these are two different drinks. Let me explain each point for better clarity-
What All Do You Need to Make Buttermilk and Ayran?
Buttermilk and Ayran both are dairy-based drinks. Milk and food-based citric acid such as lime, vinegar etc.,  are the basic ingredients needed to make the modern and commercial versions of Buttermilk. The traditional way to make Buttermilk is churning the curd and separating the butter from it. This method is still common in India. 
Ayran contains these 3  simple ingredients, yoghurt, water and salt. To make Ayran frothy, people replace the water with sparkling water or soda.  
Difference in Flavors of Buttermilk and Ayran
Buttermilk has a tangy and creamy taste. Traditional Buttermilk  is even sourer than the recent cultured (or market) version of Buttermilk
Ayran has a uniquely sour and salty taste. Initially, It can be unusual for those who are not used to it. 
Recommended Quantity of Buttermilk and Ayran
Ayran contains a large amount of water so it is good to consume it often during summers. But one should control the intake of Ayran due to the salt in it. 2 cups per day of Ayran is the ideal quantity for summers and 1 cup for winter.
On the other hand, Buttermilk has a thicker consistency as compared to Aryan you can consume up to 1 cup per day.  
Calories You Gain With 1 Cup of Buttermilk and Ayran
The amount of calories in buttermilk depends on the source and thickness. Buttermilk made from whole milk is thicker and has more calories than those made using low-fat milk.
Compared to Buttermilk, Ayran has a much thinner consistency. This makes Ayran a low-calorie drink. If you are looking for a low-calorie drink then Ayran is better for you.
Buttermilk or Aryan: Which one Has More Fat content?
As mentioned in the table above, you can observe that Buttermilk (made from whole milk) has almost twice the fat as Ayran. However, low-fat market versions of buttermilk have the same amount of fat as Ayran.
For Aryan, since full-fat yoghurt is used along with a lot of water are the base ingredients, this makes it a low-fat drink.  
Which One is a Better Source of Protein – Buttermilk or Ayran?
Compared to Ayran, Buttermilk has more Protein. To make Aryan, 3 parts of water are added to one part of yoghurts. This ratio decreases the dairy element in Aryan. 
Buttermilk, on the other hand, is made of milk directly. Therefore, with less dilution, it turns out to be an excellent source of protein. 
Buttermilk and Aryan as a Calcium Source
Dairy products are rich in Calcium and according to the U.S. Dietary Guidelines one should add three servings of dairy per day. 
Buttermilk and Ayran, are dairy products and are good sources of calcium. However, compared to Ayran, Buttermilk is a richer source of calcium. Again, here the dilution of Aryan is to blame.
Which Time is Better to Consume Buttermilk and Ayran?
People in Turkey consider that Ayran can be consumed at any time. During hot weather, it's fine to have a cup of Ayran anytime but it is suggested to add it to your diet with lunch. 
Buttermilk can be part of your morning and afternoon meal. Try to avoid Buttermilk and Ayran in the evening and night due to the sour and acidic nature of these.
Check the Environmental Sustainability of Buttermilk and Ayran  
Buttermilk and Ayran both are part of the vegetarian diet and a vegetarian diet is considered more environment friendly than non-vegetarian diet. 
However, if we compare these drinks to plant-based drinks like oat milk or coconut milk, their environmental impact is more. This is because cattle rearing is said to have a negative impact on the ecosystem.    
Can Buttermilk and Ayran be Added to Vegan Diet?
Veganism is a way of living in which people exclude all kinds of animal products be it meat, dairy, honey, eggs, etc. 
Since buttermilk and ayran are made of dairy products, they can't be part of a vegan diet. 
Happy Teeth with Buttermilk and Ayran
Another major advantage of consuming aryan and buttermilk is that they are both good for the health of your teeth. Being dairy-based drinks, they are good sources of calcium and calcium is a vital mineral for strong teeth and healthy gums.
Apart from this, since traditional buttermilk and ayran are fermented drinks and they contain good bacteria also called probiotics. Probiotics are being increasingly recognised for improving your Oral health.  
Buttermilk And Ayran as Gut-Friendly Drinks
Thanks to the good bacteria in Buttermilk and Ayran, both these drinks are like a blessing to your stomach. 
Due to the liquid consistency, Ayran is more friendly to your belly compared to Buttermilk. It helps to pass the stool easily and reduces bloating. In fact in Turkey, anyone having an upset tummy is first offered a cup of Ayran.
Do Buttermilk and Ayran help to Cool Down Body?
Both Buttermilk and Ayran help to cool down your body. These drinks have a lot of water content and essential nutrients that can help your body to cool down on a hot summer day. 
So, this time be summer-ready with these natural cooling drinks.
Buttermilk and Ayran Keep you Hydrated
The human body needs to be well-hydrated to function properly. Buttermilk and Ayran are natural drinks to protect you from dehydration. 
Both aryan and buttermilk contain important vitamins and minerals called electrolytes that can boost energy, especially in hot weather. However, because of the thin consistency, Aryan can be considered a better hydrating drink than Buttermilk. 
Nourishing Additives of Buttermilk and Ayran 
Mint, black pepper and cumin powder are the nourishing additives that can be added to both buttermilk and aryan. These spices and herbs enhance the taste and aroma of these drinks. 
Traditionally dried mint has been used in aryan in Turkey. Apart from this black pepper and lime juice can also be added along with thinly diced cucumbers for a more refreshing flavour. 
Except for all these queries about Buttermilk versus Ayran, people frequently asked this question – Can I use Ayran instead of Buttermilk for Baking? I would like to say yes, you can.  But consider the fact that Ayran is more watery, salty and sour than Buttermilk. If your recipe allows then you can substitute Ayran instead of Buttermilk. 
I sincerely hope that I answered all your doubts about Buttermilk and Ayran. But if you still have any more questions, drop them in the comment section.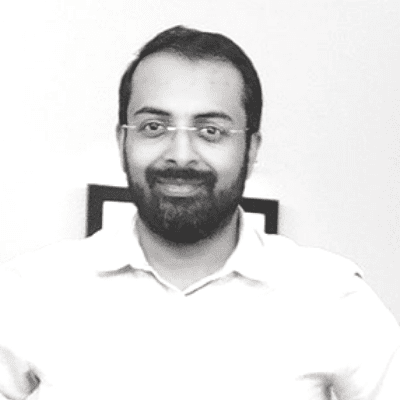 Hi! I'm Integrated Nutrition Coach Rohit Panwar. I hold twin Certifications from IIN, New York & SAFM, Massachusetts. I am a passionate vocalist of holistic lifestyle and have fully committed the past several years to educate & empower people towards their wellbeing. Despite a successful yet hectic corporate stint of 21+ years, I have prioritised nutriment in my life. I truly hope my personal journey from illness to wellness helps everybody reading this forge their own path.