Are you planning to choose between buttermilk and curd but are perplexed? Planning to decide about buttermilk versus curd as a daily option in your diet?
Well, let me help you assess them both so that you can pick the right one for you.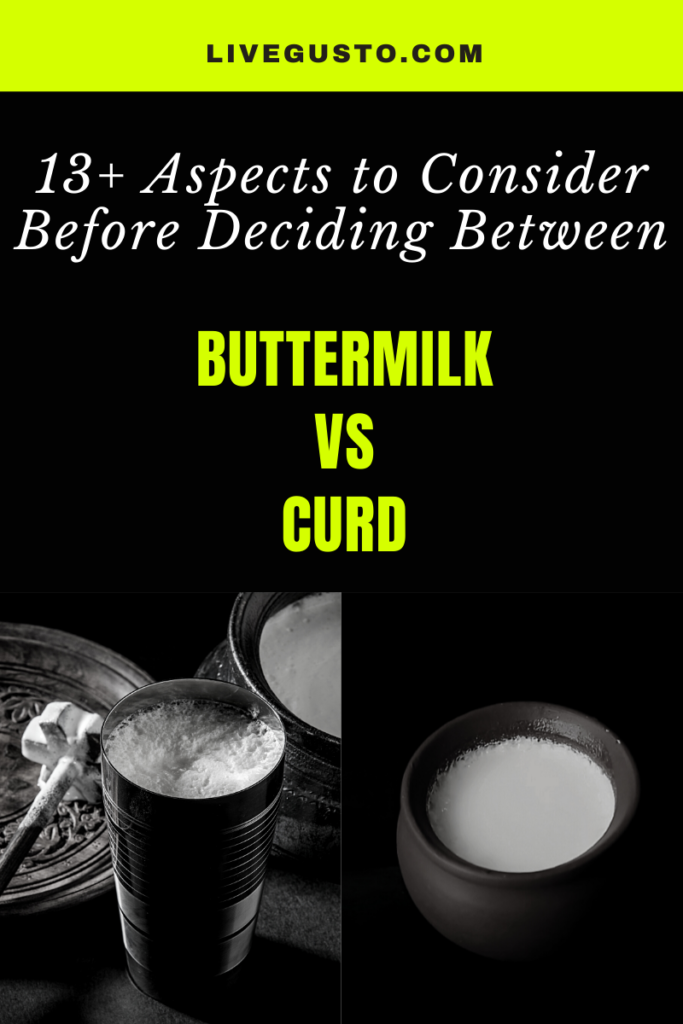 PEOPLE ALSO READ
| Buttermilk or Lassi – Are They Any Different? | 
Know Everything About Buttermilk Versus Curd
Since a lot of people get stuck with the question, 'Is buttermilk equal to curd,' I've prepared a table of comparison to help you understand the differences and more.
BASE INGREDIENTS
Buttermilk

Milk & Citric acid

Curd

Milk & Culture

TASTE
Buttermilk

Sour

Curd

Sour

DAILY INTAKE
Buttermilk

1 cup

Curd

1 cup

CALORIES
Buttermilk

152*

Curd

170*

FAT CONTENT
Buttermilk

8 g*

Curd

10 g*

PROTEIN CONTENT
Buttermilk

8 g*

Curd

8.4 g*

CALCIUM CONTENT
Buttermilk

281.8 mg*

Curd

381 mg*

RECOMMENDED TIME
Buttermilk

Morning & Noon

Curd

Noon

ENVIRONMENTAL IMPACT
Buttermilk

Negative

Curd

Negative

VEGAN FRIENDLINESS
Buttermilk

No

Curd

No

ORAL HEALTH OUTCOME
Buttermilk

Very Good

Curd

Very Good

TUMMY HEALTH OUTCOME
Buttermilk

Very Good

Curd

Good

BODILY COOLING EFFECT
Buttermilk

Very Good

Curd

Good

BODILY HYDRATION EFFECT
Buttermilk

Very good

Curd

Good

ADDITIVES
Buttermilk

Pepper

Curd

Jaggery
*Source: USDA; Quantity defined is 1 cup made from whole milk.
I hope that the above table has helped you contrast both dairy forms and answer the question of, 'Is dahi same as buttermilk?'
If not, let's delve into each one of them to understand the detailed difference –
What are the Base Ingredients of Buttermilk and Curd?
Buttermilk was obtained in times gone by from the liquid left behind after churning cream into butter. Today, it is made from low-fat milk that is cultured with vinegar or lemon juice.
On the other hand, curd is prepared by fermenting milk with the help of bacteria. While at home people mostly use whole milk, a lot of low-fat variations are also available in the market.
Buttermilk and Curd: Are They Similar in Taste?
Both buttermilk and curd have a sour and tangy taste. This is because of the fermentation of milk.  
Mostly while salt is added to buttermilk and jaggery or honey is added to curd to give it a somewhat sweet taste.
Suggested Daily Intake of Buttermilk and Curd
Both buttermilk and curd are nutritious and therefore can be a part of everyday diet. The suggested daily intake of buttermilk and curd is around 1 cup. 
In summers, however, you can increase the consumption to two cups. However, in such cases, I would recommend that you choose buttermilk and curd made from low-fat milk. 
Buttermilk Versus Curd: Better Choice for the Calorie-Conscious
A lot of people around the globe are concerned about their weight and hence they frequently ask the question of the calories of buttermilk versus curd.
Buttermilk is definitely on the lower side and has fewer calories than curd. Hence, it is a good option for people concerned about weight.
Difference in Fat Content in Curd Vs Buttermilk
Both curd and buttermilk are fermented dairy products, yet buttermilk is healthier than curd as it has a lower fat content. In the processing of buttermilk, the cream is churned and most of the fat is siphoned off to make butter.
Therefore, if you want to shed extra kilos can opt for buttermilk. In fact, if you choose buttermilk made from low-fat milk, it will be even lower in calories and fat.
How Do Buttermilk and Curd Vary in Protein Content?
Since curd is thicker, the quantity of protein is on the higher side when we compare it to buttermilk.
Therefore, curd is a good choice for gym or fitness enthusiasts looking for ways to boost their protein intake
Ingest Daily Buttermilk and Curd for Increased Calcium Levels
Buttermilk and curd both are very rich in Calcium content that is required for various bodily functions including muscles, bone strength, etc. 
Hence, including these in your diet can help you fulfil your daily calcium requirements. 
Consume Buttermilk and Curd during Daytime for Best Results
Buttermilk can be consumed at any time during the day but is best recommended for mornings. 
Curd on the other hand should be consumed at noon and should be avoided during the night.
Impact on the Environment of Curd and Buttermilk
A frequently asked question that the masses ask is: 'Is buttermilk better for the planet than curd?' The answer is NO! Buttermilk and curd both are dairy forms of milk, so they are not considered environmentally friendly options.
They both are surely very beneficial and healthy for us but they come at the painful cost of harming livestock and hurting the environment.
Are Buttermilk and Curd Vegan Friendly?
The main source of buttermilk and curd is cow's milk. Therefore, both are not vegan-friendly products.
The good news for curd lovers is that it is actually possible to make vegan curd from plant-based milk such as soy, cashew, coconut, etc. 
For Better Oral Health, Have Buttermilk and Curd Regularly
Buttermilk and curd should be consumed regularly to maintain oral health and hygiene.
They are very much useful in oral health as they are loaded with useful bacteria and calcium that help in getting rid of cavities in the mouth.
Buttermilk & Curd Keep the Tummy Well
Curd and buttermilk are ideal for the digestive system. They both aid digestion, improve metabolism, boosts energy and keeps the digestive tract healthy.
Both have Lactobacillus, which is responsible to keep the stomach clean and free from ailments and disorders.
Stay Cool with Buttermilk and Curd in Blazing Summers
Buttermilk and curd both are dairy products loaded with useful bacteria that help to stabilize the body temperature.
In the fiery summer season, buttermilk and curd helps the body to stay cool. Hence, they can be consumed daily.
Stay Hydrated with Regular Intake of Buttermilk and Curd
Buttermilk and curd both have a decent quantity of water, minerals and electrolytes. These maintain salt and water levels in our bodies.
However, between the two options, it is buttermilk that provides a better hydrating effect to the stomach and whole body than curd as it contains more water (almost 90%).
Nourishing Additives of Buttermilk and Curd
The utmost nutritious additive for admirers of buttermilk is fresh mint. Some also use cucumber and asafoetida for it.
Curd can be made more flavourful by using crushed black pepper and even jaggery.
I hope my blog addressed all your concerns and doubts related to buttermilk versus curd. Choose the ones that suits you the best.
If you have any further queries, then do let me know in the comments section below.
Frequently Asked Questions About Buttermilk Versus Curd
Which one is better curd or buttermilk?
Ans. Both buttermilk and curd have their own health benefits. Buttermilk, however, is more easily digested than buttermilk. 
Which has more protein curd or buttermilk?
Ans. Since curd is a thicker product, it has more protein content than buttermilk.
Is curd or buttermilk good for acidity?
Ans. Buttermilk and curd can both b
Can I drink buttermilk after eating curd?
Ans. As a nutritionist, I recommend choosing one at a time. 
Is buttermilk and curd the same thing?
Ans. No, buttermilk and curd different products with different nutritional values and taste.
Can buttermilk be used as a substitute for curd?
Ans. Yes, buttermilk can be used as a substitute for curd, However, since they have different textures, it can  affect the taste and texture of the final dish.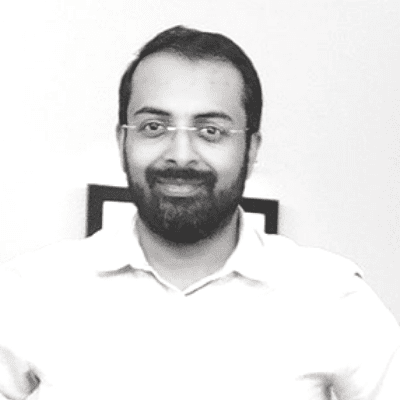 Hi! I'm Integrated Nutrition Coach Rohit Panwar. I hold twin Certifications from IIN, New York & SAFM, Massachusetts. I am a passionate vocalist of holistic lifestyle and have fully committed the past several years to educate & empower people towards their wellbeing. Despite a successful yet hectic corporate stint of 21+ years, I have prioritised nutriment in my life. I truly hope my personal journey from illness to wellness helps everybody reading this forge their own path.