What would be the better choice to consume between Buttermilk versus Kefir? If you too are confused between the two, here's the help you need.
While both Buttermilk and Kefir are wonderful dairy forms, they vary in certain aspects. In this blog, I will assess the similarities and differences and help you take a pick.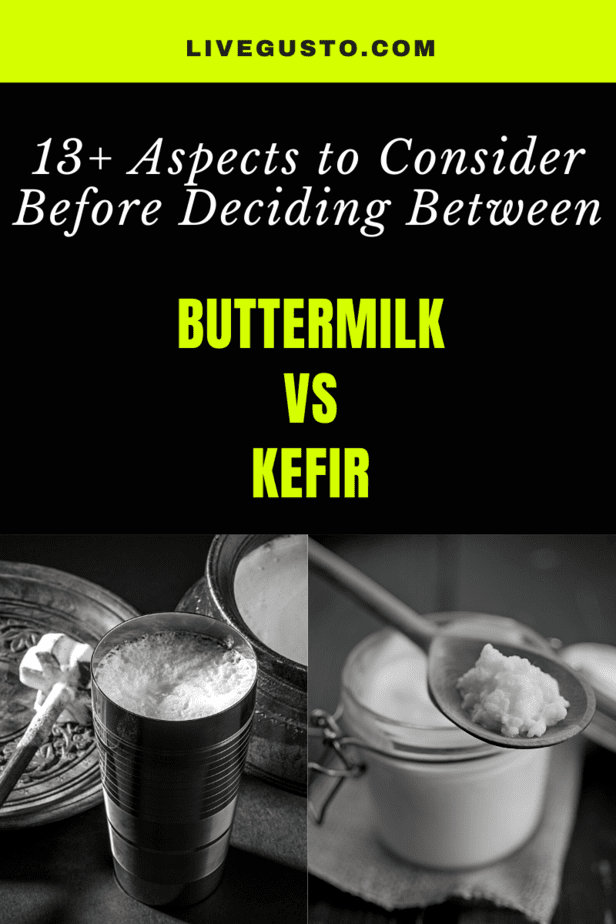 PEOPLE ALSO READ
| Buttermilk Versus Laban – Are these two drinks the same? | 
Comparing 15 Important Facets of Buttermilk Versus Kefir
Before going into a detailed comparison, let's take a comparative look at the 15 important metrics of Buttermilk and Kefir in the table below:
BASE INGREDIENTS
Buttermilk

Milk & Citric acid

Kefir

Kefir grains & Milk

TASTE
Buttermilk

Sour 

Kefir

Tart 

DAILY INTAKE
Buttermilk

1 cup

Kefir

1-2 cups

CALORIES
Buttermilk

152*

Kefir

168*

FAT CONTENT
Buttermilk

8 g*

Kefir

10 g*

PROTEIN CONTENT
Buttermilk

8 g*

Kefir

10 g*

CALCIUM CONTENT
Buttermilk

281.8 mg*

Kefir

410 g*

RECOMMENDED TIME
Buttermilk

Morning & Noon

Kefir

Morning

ENVIRONMENTAL IMPACT
Buttermilk

Negative

Kefir

Negative

VEGAN FRIENDLINESS
Buttermilk

No

Kefir

No

ORAL HEALTH OUTCOME
Buttermilk

Good

Kefir

Very good

TUMMY HEALTH OUTCOME
Buttermilk

Very good

Kefir

Good

BODILY COOLING EFFECT
Buttermilk

Very good

Kefir

Very good

BODILY HYDRATION EFFECT
Buttermilk

Very good

Kefir

Good

ADDITIVES
Buttermilk

Herbs & Spices

Kefir

Vanilla Extract
*Source: USDA; Quantity defined is 1 cup, made from whole milk
So, based on the table above, I think now you have the answer to the most commonly asked question, 'Is Kefir basically Buttermilk?' The answer is NO, they are not as they differ on a variety of aspects. 
Let me give a brief explanation of all the points that will give you more clarity.
Comparing the Base Ingredients of Buttermilk and Kefir
Traditionally, Kefir is a fermented beverage made by adding kefir grains to milk. These are grain-like colonies of several good bacteria and yeast.
Traditional buttermilk, on the other hand, contains citric acid and is obtained by the liquid left behind after churning cream into butter. Today, it is also made by adding lemon juice or vinegar to milk.
Buttermilk And Kefir – Do They Differ in Taste?
Both Buttermilk and Kefir are fermented dairy products and are very appetizing. Buttermilk has a sour, and tangy taste. Whole milk buttermilk is thicker and creamier than that made from low-fat milk.
On the other hand, kefir has sour, creamy, buttery and a somewhat tart taste. This is because it is made by fermenting whole milk for several hours.
Recommended Quantity of Buttermilk and Kefir for Good Health
If you are planning to include buttermilk and Kefir in your daily diet, then you can have them within the recommended quantities.
Pondering about what is the suggested daily intake of buttermilk and kefir? Well, the recommended quantity of buttermilk should be only 1 cup and for Kefir, it is 1-3 cups.
Buttermilk Versus Kefir: The Calorie Comparison
If we talk about calories in Buttermilk and Kefir, then not much difference is observed in the number of calories they have.
As per USDA, If we take 1 cup standards, then buttermilk made from whole milk has 152 Calories whereas Kefir has 168 Calories. So, people aiming at weight loss should prefer buttermilk over kefir.
Kefir Vs Buttermilk: Which Has More Fat content?
It is interesting to know that Kefir has more fat content than buttermilk even when the buttermilk is made from whole or full-fat milk.
Buttermilk and Kefir both are very nutritious dairy forms, but if you are a person concerned about weight, then Buttermilk is surely a low-fat option over Kefir.
Difference in Protein Content in Buttermilk Vs Kefir
If we talk about protein content, then Kefir has more amount than Buttermilk. If you are looking for a higher protein option between the two, then Kefir is a better option than buttermilk.
So, if you are into fitness and exercising and looking for ways to increase your protein intake, both these drinks can be added to your daily intake.
Want to Strengthen Bones: Kefir and Buttermilk are Both Great Choices
Since both Kefir and Buttermilk are milk-based drinks, they are both good sources of calcium. Calcium is important for bone health. 
When we compare the quantity of calcium in both drinks, then Kefir has a higher quantity than Buttermilk. 
What is the Best Time to Consume Buttermilk and Kefir?
Buttermilk proves to be very beneficial when it is consumed in the morning or daytime after meals. When taken during this time, it is easier to digest.
On the other hand, Kefir is recommended to be consumed in the morning. This is because it has a higher fat content when compared to Buttermilk. Kefir makes for a wonderful post-workout drink.
Impact of Buttermilk and Kefir on the Environment
Surely both Buttermilk and Kefir are healthy, nutritious products and offer a lot of benefits to our bodies.
However, both come at the cost of harming livestock and the environment. When we compare it to plant-based options, these milk-based drinks do the environment more harm. 
Are Buttermilk and Kefir Vegan-Friendly?
Both Buttermilk and Kefir are derived from milk and are thus dairy products. Therefore, both these forms cannot be considered vegan-friendly products.
Vegans can opt for water-kefir and plant-based buttermilk made from soy milk, almond milk etc. These are completely dairy-free options that you can try.
Consume  Buttermilk and Kefir For Enhanced Oral Health
Both buttermilk and kefir are fermented drinks containing good bacteria. The good bacteria present in both products help to reduce tooth cavities and maintain overall oral health.
Apart from this, since they are both dairy-based, they contain a good amount of calcium which helps to strengthen teeth and protect gums.
For Healthy Tummy and Digestive Tract, Consume Buttermilk and Kefir
If you are a person suffering from indigestion or digestive ailments and disorders, then you can consider consuming both buttermilk and Kefir.
Both the amazing dairy products do wonders in our digestive tract and keep us healthy. Again here, good bacteria play an important role.
Refreshing and Cooling Effects of Buttermilk and Kefir
In the fiery summer season, if you want to have a beverage that not only provides a cooling effect but also provides nutrition to your body, then you can either opt for Buttermilk or Kefir.
Buttermilk and Kefir both are cooling drinks that help to maintain body temperature. 
Buttermilk and Kefir Works Excellent as Summer Drinks
An interesting fact to know is that not only do these amazing dairy products provide essential nutrients, but they also have a hydrating effect on our bodies.
Along with water, they both have essential minerals like calcium, sodium, potassium etc. that maintain the body's optimum water level and prevent dehydration in scorching summers.
Nourishing Additives to Buttermilk and Kefir
Buttermilk lovers like to have some fresh mint as a nourishing additive to it. They together prevent the body from indigestion. Apart from this certain spices such as black pepper, powdered cumin, etc. can also be added.
When it comes to Kefir, it can be flavored with vanilla extract or paired with some chopped fruits like Blueberries, Mango, Strawberry etc.
I hope that my blog has answered all your queries and initial concerns. Another question that people might have is, "Does buttermilk have more probiotics than kefir?' Well, while both have good bacteria,  Kefir contains more bacteria types than buttermilk. So, buttermilk definitely does not have more probiotics than kefir.
In case you have more such questions,  feel free to drop them in the comments section below.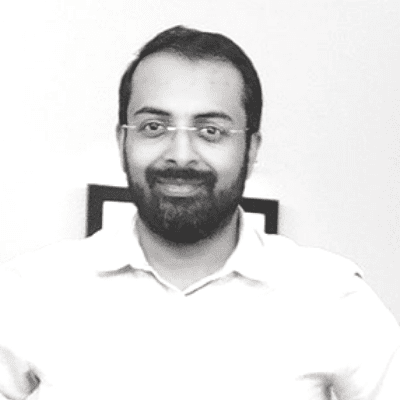 Hi! I'm Integrated Nutrition Coach Rohit Panwar. I hold twin Certifications from IIN, New York & SAFM, Massachusetts. I am a passionate vocalist of holistic lifestyle and have fully committed the past several years to educate & empower people towards their wellbeing. Despite a successful yet hectic corporate stint of 21+ years, I have prioritised nutriment in my life. I truly hope my personal journey from illness to wellness helps everybody reading this forge their own path.