Just bought a pack of cashew milk and wondering how to use it? Fret not!  The delicious nut milk is so versatile that there are more than a dozen amazing cashew milk uses. 
In this blog, I will share some of my favourite ways of incorporating cashew milk into your recipes and your diet. These are simple, easy and of course delicious.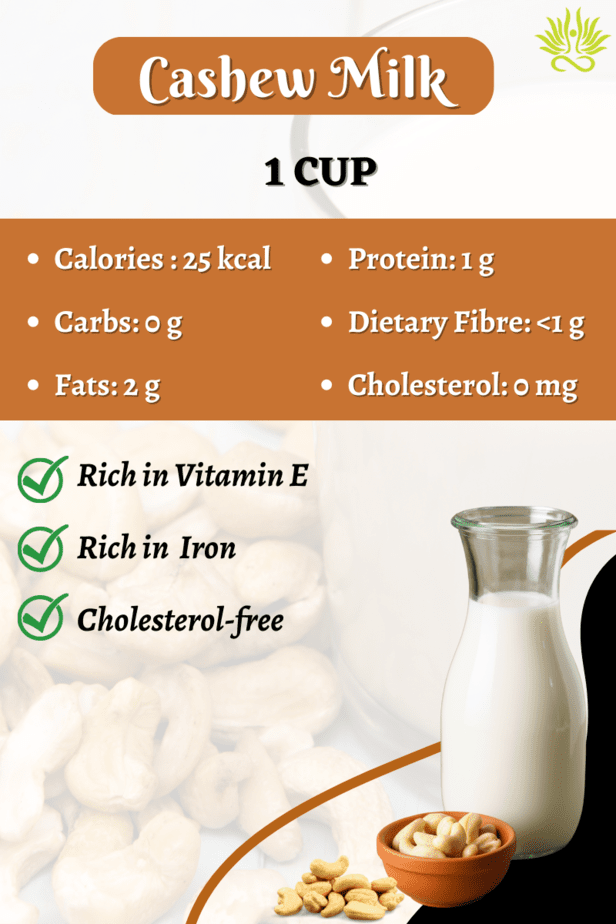 PEOPLE ALSO READ
| How to Use Hazelnut Milk at Home? | 
19 Appetising Cashew Milk Uses To Try Next Time
Using cashew milk in recipes is not new. The creamy and delicious liquid has been a part of many cuisines around the world for ages. 
So, let's explore how you can best use cashew milk at home –
1. Enjoy A Creamy Dreamy Cup of Cashew Milk the Way It is
Cashew milk in my opinion has one of the most pleasing tastes. It is a little sweet, creamy and has a nutty flavour. The nuttiness however, is not overbearing. 
Cashew Milk is thus, one of the best plant milk for beginners to try. The taste and texture make it easy to transition from cow to cashew milk. Plus, cashew milk is one of the easiest plant milks to make at home. 
2. Use Cashew Milk in Your Cereal
Cashew milk is low in calories and carbs and is a good replacement for dairy milk in your cereal. Pour it over your cereal or cook your oatmeal in cashew milk. The results will be equally creamy. 
Since cashew milk is not as strong flavoured as other nut based milk, it blends perfectly with the cereal without being too nutty. 
3. Make Vegan Cheese Using Cashew Milk 
Cheese made with cashew milk can be a great substitute for dairy based cheeses. Cashew milk can be used to make a variety of cheeses, including soft cheeses, hard cheeses, and even blue cheeses. 
The cheeses made from cashew milk can be used in the same way as traditional ones. You can use them in salads, pastas, pizzas, as spreads, as dips and more. 
4. Cashew Milk Can Get You a Creamy Yogurt 
Cashew yogurt is becoming increasingly available in stores, but in case it is still not available in your region, you can always make it at home with homemade or store bought cashew milk. 
Like traditional yogurt, all you need to make cashew yogurt is live cultures. To warmed milk add cultures (you can also add yogurt) and let it ferment for a day. The delicious creamy cashew yogurt is not ready. 
5. Enhance the Taste of Hot/ Cold Coffee & Tea With Cashew Milk 
Cashew milk is undoubtedly one of the best plant milks for your hot and cold caffeinated beverages. Cashew milk is smooth and creamy and works well as a creamer.
In my experience, homemade cashew milks work better than the store bought ones. They definitely taste better and give you better lattes. 
6. Overnight Oats With Cashew Milk Is a Always a Treat 
You must have tried making overnight oats with almond, oat and coconut milk, but I insist that you give cashew milk a try. The richness cashew milk provides to the oats is beyond amazing.
Just follow the regular method of making overnight oats. Use cashew milk to soak rolled oats and seeds along with a sweetener. Refrigerate overnight and enjoy in the morning with some freshly chopped fruit
7. Make Amazing Shakes & Smoothies With Cashew Milk 
Cashew milk is a great replacement for dairy if you want to cut down on the calories without compromising the taste. Cashew milk will give you a delightful thick and creamy smoothie.
Since cashew milk is on the milder side, you can experiment with different ingredients. My favourite is banana + peanut butter and strawberry. 
8. Make Vegan Kefir With Macadamia Milk
Kefir, a fermented beverage is all the rage right now because of its gut health benefits. It is generally made using dairy milk but alt milks like cashew can also be used.
Cashew milk is one of the best plant milks for making kefir because it produces a thicker type of kefir when compared to other plant milks. You might have to use a sweetener like date paste so that the kefir grains can survive, but other than that, the recipe remains the same. 
9. Make Yummy Ice Creams With Cashew Milk
Cashew milk ice cream is the best vegan ice cream that you can make at home. Cashew milk really complements flavours well and brings out the smoothness and richness in frozen desserts. 
You can make a plain cashew milk ice cream or blend it with flavours lik chocolate, vanilla, berries and others. 
10. Use Cashew Milk As a Base for Your Curries 
Cashew milk has a rich creaminess which makes it perfect for use in gravies and curries. You can use it as such or use it in addition to other plant milks like soy milk and coconut milk. 
The creaminess of cashew milk is also great for balancing out the spices while giving your curry a beautiful smooth texture.
11. Prepare Delicious Cocktails & Mocktails With Cashew Milk
If you have been looking for a way to upgrade your cocktails, give cashew milk a try. You can use it instead of cream or milk in cocktails and mocktails to give it a nutty flavour. 
Some of the popular cocktails where you can try cashew milk are White Russian, Pina Colada, Daiquiri and Old Fashioned. 
12. Cashew Milk Can Be an Excellent Addition To Your Baked Goods
One of the easiest cashew milk uses is as a dairy-free alternative in baking. You can use it in recipes for cakes, cookies, muffins, and breads. Cashew milk can be used on both sweet and savoury baked goods for a subtle nutty flavour.
While using cashew milk in baked goods, be mindful of the quantity. If you are using store bought cashew milk, it may be way thinner than homemade version. So, adjust the ingredients based on the consistency of milk.  
13. Try The Super Healing & Comforting Cashew Golden Milk
Golden milk, also known as turmeric milk, is a traditional Indian beverage made by heating milk with turmeric and other spices such as ginger, cinnamon, and black pepper. It is is becoming popular all over the globe for its benefits. 
Traditionally made using cow's milk, you can use any plant milk including cashew milk as a vegan alternative. Cashew golden milk is rich and creamy, and you will absolutely love it. 
14. Replace Dairy With Cashew Milk for Mashed Potatoes
For people avoiding dairy, cashew milk is an excellent replacement for milk and cream in many recipes including mashed potatoes. 
The creaminess and richness of cashew milk go really well in mashed potatoes. The mashed potatoes turn out really csmooth and creamy without giving the dish a strong flavour as in case of other nut milks.
15. Make Creamy Soups With Cashew Milk 
Cashew milk is also a great base for cream-based soups. You can also use it instead of vegetable and chicken stick for a richer, creamier texture.
Some of the soups where I like to add cashew milk are – butternut squash soup, cream of mushroom soup, potato leek soup, and vegan cauliflower soup. 
16. Use Cashew Milk for Your Pasta Sauces
Love pasta but avoiding dairy? Cashew milk is at your service. You can make a cream based sauce by replacing the cream with cashew milk. You can also use it in other sauces for a rich flavour. 
I add it to my tomato sauce pasta sauce and prepare my very own alfredo sauce using homemade cashew milk.
17. Make Salad Dressings & Dips With Cashew Milk
Another cashew milk use I recently experimented with is using cashew milk in salad dressings and dips, I really love how it provides a very subtle yet creamy texture to these dips. 
You can use it for preparing dips for your grilled veggies of use it as a base for your Caesar salad dressing. The options are unlimited, all you got to do is experiment. 
18. Try Your Favourite Hot Chocolate With Cashew Milk 
Want a low carb hot chocolate? Use cashew milk instead of whole milk and you have got yourself a silky smooth, low calorie, low carb hot chocolate. 
Heat the cashew milk over medium heat in a saucepan and then add some chopped chocolate. Mix well until the mixture is smooth. Add a sweetener and vanilla extract and mix well. Pour in a mug and enjoy. 
19.  Make Delicious Desserts With Cashew Milk 
Cashew milk is one of the best vegan options for making desserts. The creaminess of the milk gives your desserts a richness and silky smooth texture. 
Some of the desserts I have tried making with cashew milk are chia pudding, custard, crème Brule, kheer, etc.,  
I hope you enjoyed reading this blog. Try out these wonderful cashew milk uses and let me  know in the comment section if you liked it.
Frequently Asked Questions About Cashew Milk Uses
Can I drink cashew milk everyday?
Ans.  Yes, you can drink up to 1 cup of cashew milk every day if you don't have any nut allergies. However, remember that cashew milk, especially homemade cashew milk is not a nutritional equivalent of cow's milk and you must strive for a balance diet.  
Ans.  Yes, cashew milk can be heated. I recommend using a thick bottom saucepan and keeping the flame ton medium.
Can cashew milk give you gas?
Ans.  Yes, people who have nut allergies, can experience bloating after drinking cashew milk. If you suspect that you have nut allergy, begin by consuming a very small portion. 
Ans. Yes, cashew milk can spoil if not stored properly. An opened carton of cashew milk can last in the refrigerator for anywhere between 7-10 days. Homemade cashew milk can last in teh refrigerator for up to 5 days.
Is cashew milk good in coffee?
Ans. Yes, cashew milk gives your coffee a subtle nuttiness and creaminess.
Is cashew milk good for weight loss?
Ans. Cashew milk is low in calories and can thus be a good option for people trying a weight loss regimen.
Is cashew milk inflammatory?
Ans.  No. Cashews and cashew milk are both rich in zinc. Zinc is known for its anti-inflammatory properties.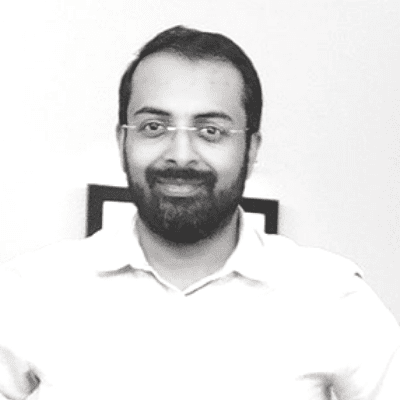 Hi! I'm Integrated Nutrition Coach Rohit Panwar. I hold twin Certifications from IIN, New York & SAFM, Massachusetts. I am a passionate vocalist of holistic lifestyle and have fully committed the past several years to educate & empower people towards their wellbeing. Despite a successful yet hectic corporate stint of 21+ years, I have prioritised nutriment in my life. I truly hope my personal journey from illness to wellness helps everybody reading this forge their own path.