Looking for ways to add chickpeas to your breakfast? As a nutritionist and fitness enthusiast, I'm here to share my favorite healthy chickpea breakfast ideas. 
Chickpeas or garbanzo are tiny legume seeds packed with protein, fiber and healthy fat. It is a protein-rich addition to vegan and vegetarian breakfast choices. Its mild flavor goes well with many different kinds of recipes. 
Chickpea Breakfast Ideas: 19 Delicious & Fulfilling Recipes to Try 
Let's go straight to the breakfast chickpea recipes which will keep you energized, filled and active throughout the day: 
1.
Chickpea Wrap: Vegan Goodness to Beat the Morning Rush
🌱
Morning rush is the biggest nightmare for many. This avocado and canned or pre boiled chickpeas wrap is easy to assemble and equally easy to bite. 
Put your choice of spread over the wrap, add boiled chickpeas, slices of avocado, onion, bell peppers and a few olives. The combination of avocado and chickpeas is mouthwatering which enhances the nutritional values of a simple wrap.
2.
Rainbow Salad Bowl: Delightful, Healthy And Quick Chickpea Breakfast Idea
🌱
This colorful bowl of salad is protein-rich and vegan. Cut red, orange and yellow bell peppers small size. Add pre boiled and cooled chickpeas, green peas and corns in it. There are no strict rules about this recipe, you can add as many as colors in it. 
Chop the vegetables on the previous night to save some time in the morning. Sprinkle lemon, salt and black pepper to add freshness in the salad. 
3.
Flavorful Chickpea Lablabi Stew: A Wholesome Tunisian Savory Breakfast Dish
Lablabi is A simple yet flavorful stew that is especially an excellent way to start winter mornings. To make this, boil the chickpeas with garlic, cumin, salt and pepper. Once tender, add lemon and olive oil. 
For garnishing you can play with many flavors such as eggs, pickled turnips, cilantro, parsley etc. Add more lemon and olive oil while serving. You can have it with any leftover bread or just like that. 
4.
Quinoa and Chickpea Pulao: A Protein and Fiber Rich Savory Breakfast Idea For Vegans
🌱
Quinoa is protein and fiber rich grain which is very popular among vegans. This one pot dish can be prepared with parboiled or canned chickpeas and veggies of your choice such as zucchini, carrot and beans. 
Add olive oil in the pan, add chopped onion and garlic. Sauté them for a minute and add salt and spices such as turmeric, chili powder, cinnamon etc. to enhance the flavor. 
Then add veggies, quinoa and vegetable broth. After 4-5 minutes, put pre boiled chickpeas and cover the lid. Your wholesome and nutritious breakfast bowl will be ready in a few minutes. 
Using Other Popular Vegan Ingredients in Breakfast
| Silken Tofu Breakfast Ideas |
5.
Egg and Chickpea Salad: A Nutritious and Luscious Start of the Day
This protein rich bowl is my all time favorite post workout healthy chickpea breakfast ideas.  Combine boiled eggs and boiled or canned chickpeas with corn, cucumber and cherry tomatoes. 
Fresh vegetables will give more color and nutrition to this protein rich salad bowl. You can top this bowl with dressing and seeds to enhance the flavor and nutritional content.
6.
Chickpea and Pumpkin Muffin: A Delicious Breakfast Treat for Your Sweet tooth
🌱
For some people like me, coffee is a must for breakfast. This chickpea flour and pumpkin puree muffin is a delicious and sweet breakfast option for vegans that goes very well with morning beverages. 
Combine pumpkin puree with chickpea flour, olive oil, cocoa powder, powdered sugar and vanilla essence and put the batter in the oven. You can use pitted dates to avoid sugar. 
7.
Scrambled Chickpeas Toast:  A Mouthwatering and Hearty Breakfast Option For Vegetarians & Vegans
🌱
This chickpea scramble toast is a hearty and nutritious way to start your day. It is a perfect balance of protein and carbs. You can boil the chickpeas the previous night or use canned ones for this purpose.  
Spread the scrambled chickpeas on your favorite bread toast. Add a few leaves of baby spinach to enhance the freshness and the look of it.  Season it with your favorite herbs and spices like garlic powder, cumin powder etc.
 8.
Hummus and Pita Bread: One of the Best High Protein Vegan Chickpea Breakfast Ideas
🌱
This is one of the few vegetarian chickpea ideas which my whole family enjoys. You can make hummus over the weekend and put it in the fridge to use during busy weekday mornings. 
This middle eastern dish is easy to assemble and everyone in the family can make their own version of it. Add lemon, fresh cucumbers and cilantro to give freshness and more flavors. Feta cheese goes very well with this combination. 
9.
Chickpea Indian Curry: Celebrate the Spices with Potato With Mouthwatering Breakfast Choice For Vegetarians
This vegetarian chickpea breakfast idea is known as 'chana masala' in India and widely popular as breakfast with Indian breads such as naan, paratha or poori. Adding potato in gives it thick consistency and more filling flavors. 
Temper it with oil or butter with garlic, ginger, onion, packed chana masala spice mix and tomato puree. It may take some time but trust me it's totally worth it. You can store it in the fridge for 3-5 days. 
10.
Grilled Toast With Ham, Poached Egg and Mashed Chickpeas: A Delightful and Fancy Breakfast Recipe 
This crunchy toast topped with buttery mashed chickpeas, ham and poached egg is a perfect fancy breakfast which is easy and fast to cook. Prepare it whenever you want to pamper yourself or your loved ones. 
Sprinkle salt, pepper and herb mix before putting it on the plate. This delightful recipe will keep you full for long hours and deserves a top spot in your list of quick chickpea breakfast ideas.
11.
Chickpea Frittata: Bring Tuscan Home With This Delicious Vegetarian Chickpea Breakfast Ideas
This high fiber and protein rich dish of Tuscan (Italy) is made with chickpea flour. Mix the flour with water, olive oil, lemon and salt and bake in a preheated oven for 15-20 minutes. You can add other spices of your choice. 
Serve this filling and pleasant dish with stir fried vegetables and herbs such as onion, pepper, zucchini and rosemary. 
12.
Eggless Frittata With Tofu, Chickpeas and Veggies: A Protein Rich Breakfast Option for Vegans
🌱
Whether you are vegan or not, you are going to love this appetizing vegan dish filled with protein and fiber. Blend boiled or canned chickpeas, tofu and any non-dairy milk in the blender.
Add stir fried vegetables like garlic, onion, spinach and zucchini and put in the preheated oven. Just 15-20 minutes later your delicious vegan frittata is ready to be served. 
 13.
Burger With Chickpea Patties: Satisfying and Fulfilling Beginning of the Day  
This mouthwatering breakfast recipe is easy to cook if you keep your protein rich patties ready to use. You can find these patties from the frozen section in the grocery store though I prefer to make my own on free weekends. 
Combine mashed chickpeas with garlic powder, onion powder, and Italian herb mix salt and pepper. Add leftover bread or bread crumbs and give it a patty shape. You can stir fry or deep fry them to give more taste and texture and your protein rich vegan patties are ready to use. 
14.
Chickpea Pancakes With Stir Fried Mushrooms: One of My Favorite Vegetarian Breakfast Recipe With Chickpeas
Savory pancakes are also as delicious as sweet ones. This chickpea flour pancake is hard to resist and fast to make. You can add grated zucchini or carrot in the pancake batter to enhance the nutritional content of it. 
Stir fried vegetables, especially mushrooms make it a complete meal. Serve it with sour cream and cream cheese dip, trust me it tastes heavenly. 
15.
Grilled Chickpea Tempeh: Try This Exquisite Plant Based Breakfast Option
🌱
You must be aware about soy tempeh but do you know that chickpea tempeh is also a nutritious and delicious way to add protein in your diet. Besides being rich in protein and fiber, tempeh gives you the benefits of probiotics. 
This grill tempeh can be set on top of your toast or you add it to your salad bowl. You can get chickpeas tempeh from Asian grocery stores or can make your own at home. 
16.
Chickpea and Broccoli Casserole: Classic and Healthy Breakfast Choice Which Even Children Will Enjoy
🌱
Casseroles are especially loved by children because it is easy to bite. You can make this delectable vegan casserole by replacing the eggs with tofu and chickpea flour. 
You can add your own choice of vegetables, however broccoli is one of my personal favorites. Don't forget to add hash brown for adding texture and richness. 
17.
All Day Power Packed Burrito: One of the Most Easy Chickpea Breakfast Ideas 
This burrito is stuffed with scrambled chickpeas and grilled vegetables is one of the best ways to start your day. You can add your choice of vegetable or just add sliced avocado to keep it simple. 
You can add cherry tomatoes, cucumber and other fresh vegetables to this to give more richness to this all day long breakfast option. 
18.
Chickpea Salad Sandwich: One of the Best High Protein, High Fiber Morning Meal Options 🌱
Another vegan option for high protein breakfast ideas is a chickpea loaded sandwich. It is made with a creamy chickpea spread and fresh greens.
The sandwich provides a satisfying and flavourful meal option that is also packed with essential proteins and vitamins.
19.
Egg and Chickpea Stir-fry: A Quick & Easy, Nutrition Dense Breakfast Option
In my list of chickpea breakfast recipes, this is another simple addition. It can be made suitable for people on a plant based diet by adding tofu instead of egg.
The filling meal is made by cooking together cooked and mashed chickpea along with eggs into a scramble. You can add in simple spices of your choice like pepper or paprika to make it more flavourful. Serve it with toast and enjoy.
Including chickpeas into your breakfast gives a delicious and nutritious start to your day. These chickpeas breakfast ideas will add more protein and fiber to your ordinary breakfast recipes. 
If you want some more clarity about these ideas, feel free to write in the comment section.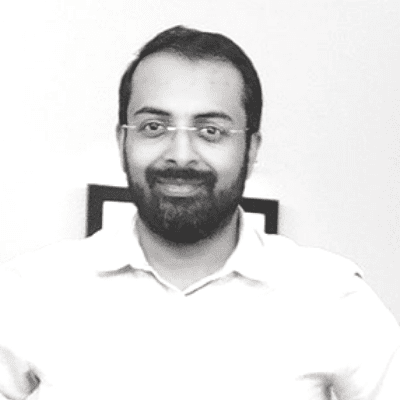 Hi! I'm Integrated Nutrition Coach Rohit Panwar. I hold twin Certifications from IIN, New York & SAFM, Massachusetts. I am a passionate vocalist of holistic lifestyle and have fully committed the past several years to educate & empower people towards their wellbeing. Despite a successful yet hectic corporate stint of 21+ years, I have prioritised nutriment in my life. I truly hope my personal journey from illness to wellness helps everybody reading this forge their own path.