Looking for some nutritious cold vegan breakfast ideas? I have a collection of cold vegan breakfast options that are both nutritious and delicious. 
So, whether you're in a rush or have time to sit down and enjoy your morning meal, these vegan cold breakfast ideas will help you start your day off on the right foot.
Delicious Cold Vegan Breakfast Ideas: 27 Nourishing Options
Starting the day with a nutritious and delicious meal sets the tone for the rest of your day. If you are vegan and like to start with a nutrient rich, but cold, no cook vegan breakfast, here are the best choices –  
1.
Overnight Oats
I would like to start with my favourite – Overnight oats. Probably the easiest and most versatile in my list of no cook vegan breakfast options, these are quite filling.
The previous night, mix together rolled oats, plant milk of your choice. chia seeds, and nuts if you like. Refrigerate overnight and top it up with some chopped fruits the next morning.
2.
Mix Sprout Salad
If you are looking for something savoury, yet delicious, try this mix sprout salad. This salad is high in protein, fiber, vitamins, and minerals, making it a great way to start your day. 
All you need to do is mix together sprouts such as alfalfa, green beans, mixed greens, with chopped veggies like cherry tomatoes, cucumber, red onion, and lemon juice. 
3.
Vegan Yogurt Parfait
This layered breakfast dish is a very dessert way to begin your day. It requires a few ingredients and can be put together in under 10 minutes.
Start by layering a jar with non-dairy yogurt (cashew or coconut taste the best). Then layer with some homemade granola followed by a layer of fresh fruit. Add in some sweetener to enhance the deliciousness. 
4.
Banana Peanut Butter Sandwich
Another vegan breakfast that is quick and easy to make is the classic banana peanut butter sandwich. On a slice of a whole grain bread apply generous amount of peanut butter. Now top it up with some freshly cut ripe bananas.
You can sprinkle on this some mixed seeds add chia seeds, pumpkin or sunflower seeds for an extra crunch and nutrition.  
5.
Avocado Toast
Avocado Toast is a popular cold vegan breakfast dish. It is made by topping toasted bread with mashed ripe avocado.
You can add in additional  toppings like cherry tomatoes, lemon juice, and red pepper flakes. Season with salt and pepper to enjoy it on one of the on-the-go mornings.
6.
Smoothie Bowl 
A smoothie bowl is a great way to begin your day. It is also quick to put together and is highly customisable.
To make the bowl, just blend together a fruit like banana or berries, plant milk, and spinach to make a thick smoothie. Transfer the smoothie into a bowl and top with your favorite toppings like granola, nuts, and seeds.
7.
Vegan Protein Shake
Made from plant based ingredients, this protein shake is nutritionally rich and diverse. 
You can choose ingredients of your choice such  soy milk, tofu, nut butters, and a plant based protein powder to make a thick shake. You can also add in your favourite frits and veggies as per your liking. 
8. 
Breakfast Protein Bites
Breakfast Protein Bites are a convenient way to start your day with a boost of protein. Instead of buying them from the market, you can make them at home easily.
Blend together oats, nuts, coconut oil, seeds, and protein powder, along with sweeteners like date paste, jaggery or maple syrup. Roll them out into balls or bites and keep them for busy mornings. 
9.
Breakfast Wrap
If you have a soft tortilla at home, you can easily make a cold vegan wrap. Mix together chopped vegetables like onions, tomatoes, bell peppers, cooked beans and scramble tofu.
Fill up your soft tortilla with this mixture and serve along with a dip. 
Popular Vegan Breakfast Ideas for Vegans
| Hot Vegan Breakfast Ideas |
| High Fibre Vegan Breakfast Ideas |
10.
Hummus Sandwich
Another great option for a cold vegan breakfast is a hummus sandwich. To make the sandwich slather a piece of bread with homemade hummus.
Now layer chopped cucumber, bell pepper, pickled onions, slices of tofu, lettuce, etc.  Season with salt and pepper and finish it by adding in another piece of bread with hummus. 
11.
Granola & Plant Milk
Granola and Milk is a simple and nutritious breakfast option consisting of cereal granola mixed with plant based milk. I recommend using homemade granola for the purpose. This is because it is devoid of any synthetic preservatives and flavours.
This classic combination provides a good balance of protein, carbs, and healthy fats, making it a nutritious way to begin your day.
12.
Matcha Tea Smoothie
A Matcha Tea Smoothie is a low calorie cold vegan breakfast option.
To make this simply blend together banana, pineapple, a plant milk of your choice, vegan yogurt, maple syrup, and matcha powder. You can also add other ingredients nuts and chia seeds. Drink up.
13.
Zucchini Sprout Salad
Sprout salad is a great option for a high protein cold vegan breakfast. It is also low in calories and high in fibre. Just mix together sprouts of different types like alfalfa, mung bean, and lentil in a bowl.
To this add chopped zucchini and a light dressing or lemon juice. You can also add other vegetables to the mix.
14.
Veggie Avocado Sandwich
An avocado sandwich is a creamy breakfast option and is a great source of vitamins, minerals, protein and fibre. Mash avocado and spread it over a toast.
To this add a layer of your favourite veggies like cucumber, lettuce, onions and tomato. Also add in a layer of sprouts to add in some protein. Season with salt and pepper and enjoy. 
15.
Green Sprout Sandwich
A sprout sandwich can be a great high protein vegan breakfast option. The only requirement is that you should have some sprouts handy.
On a toast apply some vegan spread (whatever is available). Now layer it with sprouts followed by sliced vegetables such as bell pepper, cucumber, onion and tomatoes. Enjoy the freshness.
16.
Hummus Tahini Sandwich 
Hummus and tahini are some of the best spreads that you should have in handy as a vegan. It also is very versatile and can be used as sip as well.
To make the sandwich, take slices of whole grain bread and spread hummus and tahini on then. Now  add some in some sliced tofu, and diced vegetables like lettuce, tomato, cucumber, etc. 
17.
Coconut Chia Pudding
Loved by almost everyone I know, this pudding is convenient, easy to make and requires minimal kitchen skills. Stir chia seeds and a sweetener in coconut milk the previous night.
Add to this, some shredded coconut and let it sit in the fridge overnight. Serve with fresh fruit or granola on top, the next morning.
18.
Chickpea Avocado Toast
The simple, delicious and no hassle breakfast option is a great way to begin your day. To make the toast, mash up a ripe avocado on top of a piece of toast, then add in the boiled and slightly mashed chickpeas.
Season with salt, pepper and any other spices like cumin or paprika powder. You can also add in some diced tomatoes and chopped cilantro for additional flavour. 
19.
Chickpea Breakfast Bowl
This hearty and nutritious plant-based breakfast option is rich in fibre and protein.
Just mix together your favourite vegetables like zucchini, tomatoes, beets, onions, tomatoes, cucumber along with some boiled chickpea. Season this mixture with spices to create a savoury and filling breakfast meal. 
20.
Vegan Yogurt & Fruit Bowl
A vegan yogurt and fruit bowl is a easy and quick cold vegan breakfast option. You can choose the plant yogurt or your choice or make your own vegan yogurt at home using a plant milk.
To make the bowl, chop up fruits you like such as berries, banana, mango, etc. and add it to your bowl of yogurt. You can sprinkle some seeds on top to improve nutritional value. 
21.
Breakfast Peanut Bars
Breakfast bars are a convenient and portable breakfast option. This one can be made from a mixture of ingredients including oats, nuts, peanuts and dates.
You can also add in a plant based protein powder or seeds for added nutrition. On busy days, you can grab one and begin your day.
22.
Quinoa Parfait
Another one of my most recommended options for cold vegan breakfast ideas is this quinoa parfait. Made with cooked quinoa, non-dairy yogurt, fresh berries, granola, and a sweetener, this breakfast option will keep you full for a long time.
Layer the yogurt, cooked quinoa, granola and fresh berries in a jar. Drizzle some maple syrup and your breakfast is ready.
23.
Muesli Breakfast Bowl
Another simple yet satisfying option for cold vegan breakfast is a muesli breakfast bowl. Use some homemade muesli which contains rolled oats, nuts, seeds, dried fruits, etc.
Transfer this in a bowl and add  vegan milk or yogurt and let sit for a few minutes to soften. Add date paste, jaggery or maple syrup to this mixture and top it up with some freshly cut fruits.
24.
Quinoa Breakfast Bowl
Quinoa, is a one of my most recommended vegan breakfast essential. This high-protein food is very versatile and acts as a good source of fiber and other essential nutrients.
To make a quinoa bowl,  transfer cooked quinoa in a bowl and to this add toppings of your choice including spices, chopped fruits, seeds sweetener, and nut butter..
25.
Dry Fruit Shake
Of you are looking for a nutritious and filling way to begin your day, try a dry fruits shake. It is made by blending in nuts and dried fruit with a liquid base such as plant milk, water, or coconut water.
I recommend using soaked nuts and dried fruits for this since it makes the texture of the shake really creamy. 
26.
Beans Salad
This breakfast option is easy to make and is rich in fibre, protein, vitamins and minerals.
Combine together  cooked beans of your choice like black, kidney, or green beans,  chopped vegetables like tomatoes, cucumber, red onion, and parsley. Squeeze in some lemon juice and begin your day with this salad. 
27.
Chocolate Oats Smoothie
Among my list of cold vegan breakfast ideas, this is the one loved by kids the most. To make this smoothie, simply blend in oats, plant-based milk, cocoa powder, banana, peanut or almond butter.
You will get a thick smoothie which is high in fiber, antioxidants, and protein. You can add in other fruits, nuts or seeds if you like.
I hope you liked my top choices for cold vegan breakfast ideas. In case you have some other ideas, that I haven't included here, I would love to know.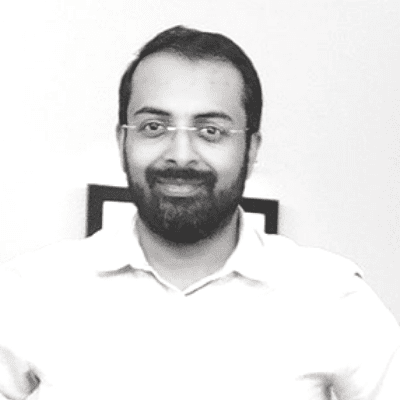 Hi! I'm Integrated Nutrition Coach Rohit Panwar. I hold twin Certifications from IIN, New York & SAFM, Massachusetts. I am a passionate vocalist of holistic lifestyle and have fully committed the past several years to educate & empower people towards their wellbeing. Despite a successful yet hectic corporate stint of 21+ years, I have prioritised nutriment in my life. I truly hope my personal journey from illness to wellness helps everybody reading this forge their own path.