As a nutritionist, I often get consulted regarding making nutritious food choices. Egg white vs whey protein comes up frequently, especially by people looking for weight loss or muscle gain recommendations.
Egg whites and whey protein are both popular choices for people who wish to increase their protein intake. But there is much more to them beyond only protein. Let's delve deeper and find the right option for you.
Egg Whites Vs Whey Protein: Nutritional Face-Off
Before  trying to answer – egg or whey protein which is better, let's take a quick look the important attributes-  
SOURCE
Egg White

Chickens

Whey Protein

Dairy

TASTE
Egg White

Bland

Whey Protein

Slightly milky

DAILY INTAKE
Egg White

1-2 Egg Whites

Whey Protein

1-2 Scoops

CALORIES
Egg White

34.4*

Whey Protein

120*

CARBOHYDRATES
Egg White

0.48 g*

Whey Protein

4 g*

FAT CONTENT
Egg White

0.11 g*

Whey Protein

2 g*

PROTEIN CONTENT
Egg White

7.2 g*

Whey Protein

22 g*

NUTRITIONAL DIVERSITY
Egg White

Excellent

Whey Protein

Very Good

RECOMMENDED TIME
Egg White

Anytime

Whey Protein

Post Workout

ENVIRONMENTAL IMPACT
Egg White

Average

Whey Protein

Average

VEGETARIAN FRIENDLINESS
Egg White

No

Whey Protein

Yes

ORAL & BONE HEALTH OUTCOME
Egg White

Very Good

Whey Protein

Average

TUMMY HEALTH OUTCOME
Egg White

Very Good

Whey Protein

Very Good

ALLERGY FRIENDLY
Egg White

Very Good

Whey Protein

Average

VERSATILITY
Egg White

Very Good

Whey Protein

Excellent
*Source: USDA; Quantity defined is per serving (2 Egg Whites & 1 Scoop Whey Protein)  
Comparing The Source of Egg Whites & Whey Protein 
Chicken eggs are the most commonly consumed type of egg, so I am comparing chicken egg whites here. To get egg whites, you have to separate the yolk from the whites.
Whey protein is derived from dairy. Milk contains two types of protein- casein and whey. This whey is separated from milk and purified using different methods. 
Most of the whey protein is obtained from the leftover whey liquid obtained during the cheesemaking process. 
Which Tastes Better: Egg White Or Whey Protein?
Egg whites have a mild and neutral flavor and blend in with any kind of recipes – sweet or savory. When cooked they are soft to eat, softer even than cottage cheese. 
Whey protein on its own does not have a very pronounced taste. It is somewhat milky. To make it more palpable, companies add various flavors to it such as vanilla and chocolate. 
What is the Daily Recommended Intake of Egg White Vs Whey Protein?
The daily recommended intake for both egg whites and whey protein varies according to the level of person's needs and physical activity. 
I usually recommend my client to consume around 2 egg whites per day  to provide a good boost to their protein intake. For whey protein I would say around 20 to 50 grams of whey protein is enough if you are actively engaged in physical activities or aiming for muscle growth.
If you are someone who has a decent protein intake as it is, you might not need whey protein. So, make sure you assess your needs and then proceed.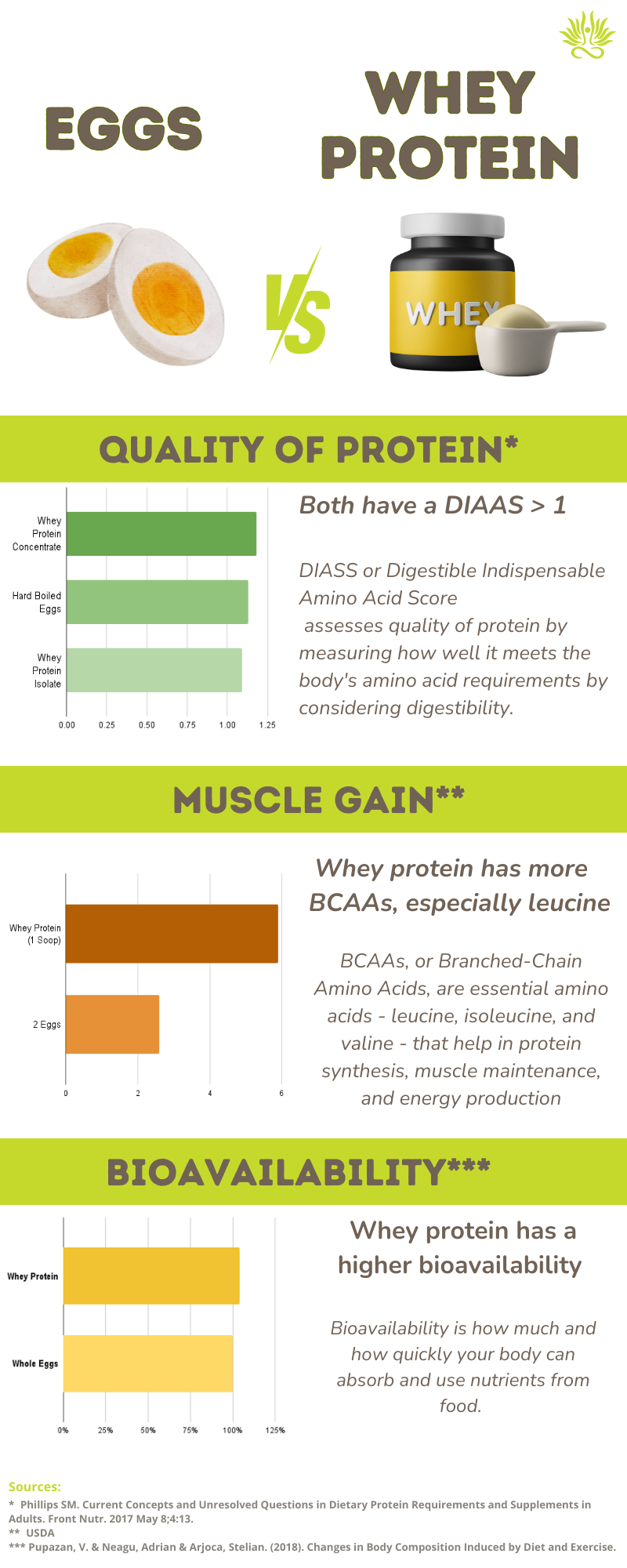 Better Option for the Calorie Conscious: Egg White or Whey Protein?
For the calorie-conscious, egg whites definitely are the better choice. Egg whites offer a wholesome option for satisfying hunger without excess caloric baggage.
Whey protein, while being rich in proteins, may have added ingredients that contribute to its calorie content. So, based on your exact needs, you can take a call between the two options.
What Can Be Added to Low Carb Diets: Egg White or Whey Protein?
Both egg whites and whey protein are excellent additions to low-carb diets. Egg whites, are extremely low in carbs, can be easily incorporated into various keto or other low carb recipes.
Similarly, whey protein, is quite low in carbohydrates, making it a versatile choice for people watching their carb intake. 
Fat Profile Comparison of Egg White or Whey Protein
Egg whites and whey protein are both lean. Egg whites are almost fat-free, offering a clean protein source without contributing to your daily fat intake. In the case of eggs, almost all fat resides in the yolk.
Whey protein, derived from milk, contains a small amount of fat. However, if you wish to reduce it further, you need to opt for whey isolate to ensure a lower fat content compared to whey concentrate. 
Comparing the Quantity & Quality Protein – Egg Whites Vs Whey Protein
When it comes to the quantity of protein, egg whites and whey protein each bring their unique strengths to the table. 
Egg whites are a natural protein source. They make a protein-packed addition to meals, especially for those opting for a whole-food approach.
On the other hand, whey protein is known for its high protein concentration.  So, they are quite convenient for those who wish to increase their protein intake drastically. 
In terms of quality, both egg whites and whey protein score high, as they are complete protein sources, containing all essential amino acids crucial for various bodily functions.
Which is More Nutritious Overall: Egg White or Whey Protein?
Egg whites are not just a good source of protein, they  also essential vitamins and minerals like B vitamins, selenium, and riboflavin. This makes them a wholesome nutrient-dense option.
Since whey protein is derived from milk, it does inherit the milk nutrients. Whey is rich in  nutrients like calcium and B vitamins. 
When Should You Be Consuming Egg White Vs Whey Protein?
The timing of consuming egg whites versus whey protein can vary with your fitness goals and daily routine. 
Since egg whites are a whole-food source, they can be incorporated into any meal but most people consume it for breakfast.
Whey protein gets absorbed super quick, so it's best consumed during workout times. Consuming it after post-exercise helps kick start muscle recovery. 
Which Is More Sustainable- Egg White or Whey Protein?
When considering sustainability, both egg and whey production have their own challenges.
Egg production requires significant resources and there are also concerns about animal welfare.
Utilizing whey  to make whey protein helps minimize waste, making it a more sustainable option in that regard. However, the dairy industry at large has had a fair share when it comes to negative environmental impact. 
So, when making choices based on sustainability consider  factors like sourcing, farming practices, and waste reduction.
Egg White Vs Whey Protein: Suited For a Vegetarian Diet
Egg whites, being an animal product, are not suitable for a vegan or vegetarian diet. However, they can be included in an ovo-vegetarian diet, where the consumption of eggs is allowed.
Whey protein, while derived from milk, is not a whole animal product. So, while it's unsuitable for vegans, it can be included in the diet of  lacto-vegetarians.
Better Choice for Bone & Oral Health: Egg White or Whey Protein?
For bone and oral health, whey protein wins the battle hands down. Whey contains significant amounts of calcium, which is needed for bone strength and dental health.
Egg whites lack the calcium content that whey contains. So, if promoting bone density and maintaining oral health are top priorities, incorporate whey protein or dairy into your diet.
Which is Easier to Digest: Egg White or Whey Protein?
Both egg whites and whey protein are easily digestible for most people. Egg whites contain simple proteins that the body can break down efficiently. 
Whey protein, derived from milk, is also easily absorbed. If you have issues with digestion of milk based products, whey protein isolate is a better option since it undergoes further processing to remove most of the lactose and fat.
More Suited For People With Allergies- Egg White of Whey Protein 
In comparison to whey protein egg whites are  a safer option. People with lactose intolerance may find it hard to digest whey protein since it is derived from milk. 
While whey protein isolate contains less lactose, it may still trigger reactions in people who are sensitive to even small doses. 
Which Has More Versatile Uses: Egg White or Whey Protein?
Whey protein in powder form is quite versatile. I like to add it into smoothies, shakes, baked goods, and even savory dishes like soups and spreads. 
Egg whites have their own set of advantages when cooking. They are commonly used in baking, omelets, and certain dishes, but you cannot really add it to your smoothies. 
So, whether you're crafting a post-workout shake or experimenting with protein-infused recipes, whey protein offers a broader range of possibilities in the kitchen.
In conclusion, I would like to say that both egg whites and whey protein are excellent sources of nutrition for the body. What you pick will depend on your needs. 
I hope this helped. Do let me know in the comments section if you have any other doubts.