In my role as a nutritionist, I frequently help clients make informed food choices. Today, I will help you resolve a perennial question: eggs vs oats?
I will dissect the nutritional aspects and benefits of eggs and oats. This comparison will aid you in deciding which one deserves a prime spot in your breakfast or diet overall.
Eggs Vs Oats: Let the Battle Begin!
For us to be able to find the best option let's compare eggs vs oats nutrition, benefits, and more:
SOURCE
Eggs

Poultry 

Oats

Oat Groats

TASTE
Eggs

Bland

Oats

Mild & Nutty

DAILY INTAKE
Eggs

1-2 eggs

Oats

1/2 Cup

CALORIES
Eggs

126*

Oats

151.5*

CARBOHYDRATES
Eggs

0.63 g*

Oats

27.2 g*

FAT CONTENT
Eggs

8.4 g*

Oats

2.6 g*

PROTEIN CONTENT
Eggs

11 g*

Oats

5.3 g*

FIBER
Eggs

 0 g*

Oats

4 g*

NUTRITIONAL DIVERSITY
Eggs

Excellent

Oats

Very Good

GLYCEMIC INDEX
Eggs

0

Oats

57

RECOMMENDED TIME
Eggs

Anytime

Oats

Anytime

ENVIRONMENTAL IMPACT
Eggs

Negative

Oats

Positive

VEGAN FRIENDLINESS
Eggs

No

Oats

Yes

ORAL & BONE HEALTH OUTCOME
Eggs

Very Good

Oats

Average

TUMMY HEALTH OUTCOME
Eggs

Very Good

Oats

Very Good

ALLERGY FRIENDLY
Eggs

Average 

Oats

Very Good

VERSATILITY
Eggs

Excellent

Oats

Very good
*Source: USDA; Quantity defined is per serving (2 eggs & ½ cup rolled oats)  
Comparing The Source of Eggs & Rolled Oats
Eggs have been part of our diet since ancient times. Today. They are mostly sourced from domesticated chicken. I am using chicken eggs here although you may consume eggs from duck, quail, etc. 
Oats are available in 3 main forms – rolled, steel cut and instant. I am using rolled oats here since they are the most used type. Rolled oats are derived from whole oat groats, which undergo steaming, flattening, and to casting processes. 
Which is Better Tasting: Eggs Or Oats?
Oats have a mild, nutty flavor. They have a slightly chewy texture when cooked and tend to absorb the flavors of the fluid they are cooked in like milk.
Eggs have a more neutral taste with a slight richness and a smooth, creamy texture. You can enhance the flavor by adding seasonings.
How Much Eggs or Oats Can You Consume in A Day?
The recommended daily consumption can vary with your age, dietary needs and health considerations. 
Research suggests that young active adults can consume up to 2 eggs a day. However, if you aren't that active or are worried about the fat content or cholesterol, you can skip the yolk. 
In the case of oats, I would say around 40-50 grams of rolled oats should be enough for a day.
Eggs vs Oats: Lower in Calories
If we compare portion size wise, calories in eggs are definitely on the lower side. Now here, what matters more than the amount is the source of those calories.
So, in case of eggs the main source of calories are fats and in case of oats, it is the carbs.  
Source of Calories in Eggs (Approx):
Fat: 60-63% 

Protein: 34-37%

Carbohydrates: Less than 1%
Source of Calories in Oats (Approx):
Carbohydrates: 70-75% 

Protein: 13-14%

Fat: 12-15% 
Better Suited For Low Carb Diets: Eggs or Oats 
Oats are relatively high in carbohydrates. These carbs however are not all that bad  since the complex carbohydrates, which are a valuable source of energy for the body.
Eggs are better suited for low-carb diets compared to oats as they are naturally low in carbohydrates. They are a high-protein and high-fat food, which can be a good choice for those following low-carb diets such as ketogenic or Atkins.
Also, if you are thinking of choosing between eggs and oats for weight loss, eggs would be a better choice. Reason – they are high in protein and low in carbs. You can also increase you egg intake (except the yolk) for the purpose. 
Fat profile Comparison of Eggs or Oats
Eggs are much higher in fats when compared to oats and most of these fats are concentrated in the yolk. 
The fat in eggs is mostly unsaturated fat (more than 70%) which is considered healthy fat.  Oats too mostly contain unsaturated fats.
One concern regarding eggs is the presence of cholesterol. If you are someone concerned about them, you should avoid the egg yolk and stick to the whites. 
Which Is a Better Source of Quality Protein – Eggs or Oats?
In this context, eggs win hands down. Eggs are a superior source of high-quality protein compared to oats. 
The protein in eggs is complete and contains all essential amino acids. Additionally, the protein in eggs is highly bioavailable which means it is absorbed and utilised well by the body.
Oats do contain protein but some of the essential amino acids are not present in sufficient quantities. Therefore, in comparison to eggs, the protein is lower in quality.
So, if you are wondering about choosing between oats or eggs for bodybuilding, eggs is a better option.
Oats or Eggs: Better for Fiber Intake
Oats are rich in fiber, whereas eggs contain no fiber at all.
So, if you'd like to improve fiber consumption, oats are a pretty good choice.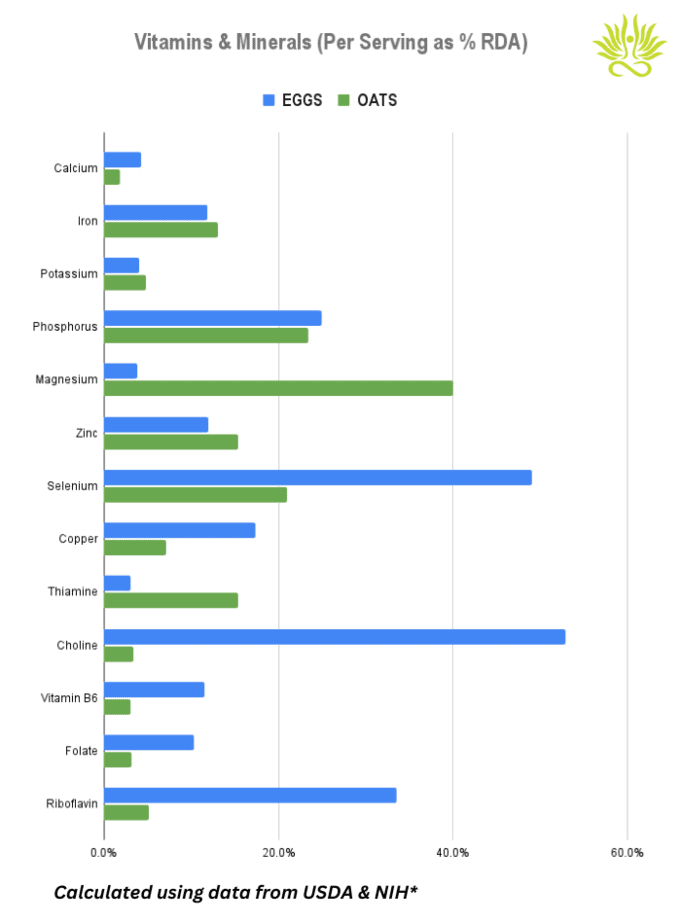 Which is More Nutritious Overall: Eggs or Oats?
Eggs and oats differ in terms of their micronutrients and each has their own set of advantages.
Eggs are a good source of several essential vitamins and minerals, including vitamin B12, vitamin D, choline, and selenium. They also contain nutrients lutein and zeaxanthin, which are beneficial for eye health.
Oats provide essential minerals such as manganese, phosphorus, and magnesium. They also contain various B vitamins, particularly folate, thiamine, and pantothenic acid.
Eggs or Oats – Which One's More Suitable For Managing Blood Sugar Levels?
Wondering oats vs eggs, which is better for diabetics. Well, both can be beneficial for different reasons.
Eggs have minimal carbs and are rich in high quality protein. Therefore, they have a minimal impact on blood sugar, and are good for diabetics.
Oats have a low glycemic index and are digested slowly. This leads to a slow and steady rise in blood sugar. They also contain soluble fiber, which can further help regulate blood sugar levels by slowing down the absorption of carbs.
What is the Best Time to Consume Eggs Vs Oats?
Eggs can be consumed any time of day. They make an excellent breakfast option, providing sustained energy and helping control appetite. 
Oats are an excellent choice for a meal any time during the day but are mostly eaten for breakfast. They provide complex carbohydrates and fiber that promote a sense of fullness and steady energy throughout the morning. 
Which is More Planet Friendly- Eggs or Oats?
Oats are more planet-friendly compared to eggs. Oats require less land, water, and feed compared to the resources needed for raising chickens for eggs.
Additionally, egg production, especially that on an industrial scale, can contribute to higher greenhouse gas emissions due to high energy and resources used to raise and maintain chickens. 
Eggs Vs Oats: Suited For a Vegan Diet
Oats are suited for a plant based diet, while eggs are not.
Eggs are an animal product, and therefore, they are not considered vegan. 
What is Better for Bone & Oral Health: Eggs  or Oats?
For bone and oral health, eggs are a better choice than oats.
Eggs are a good source of vitamin D, which is important for calcium absorption and bone health. They also contain essential nutrients like protein, calcium and phosphorus, which contribute to strong teeth and bones.
Oats  do not contain significant amounts of the key bone-strengthening nutrients like calcium or vitamin D.
Easier On Your Digestion: Eggs or Oats
Both eggs and oats are generally easily digested by most people.
Eggs are a rich source of protein and healthy fats. They are relatively gentle on the digestive system and are often recommended for people with sensitive stomachs.
Oats are a rich source of fiber, mainly soluble fiber, which can be soothing for your tummy y and help regulate bathroom visits.
More Suited For People With Allergies- Eggs of Oats 
Egg allergy is more prevalent when compared to oats.  This allergy is especially seen in children.
Oat allergies are rare, and you'll hardly come across someone that has oat sensitivity.
However,  people with gluten allergies must be careful because sometimes oats may get contaminated with gluten, so make sure to choose certified gluten-free oats.
Which Has More Versatile Uses: Eggs or Oats?
In comparison to oats, eggs have more versatile uses. They can be consumed as such or used in preparation of sweet and salty dishes. 
Oats have multiple uses too and apart from breakfast, they are used in baking. You can also add them to smoothies.
So, overall both eggs and oats offer unique nutritional benefits. While eggs are a perfect choice if protein is a priority, oats work well for a fiber rich diet. I will recommend using them both to get multiple benefits.