Feta and parmesan are among the most popular types of cheese. But if you had to pick between feta cheese vs parmesan cheese, how would you make the choice?
Let me help you with this. By comparing feta cheese vs parmesan cheese nutrition, and other outcome-related attributes, you will get a better idea.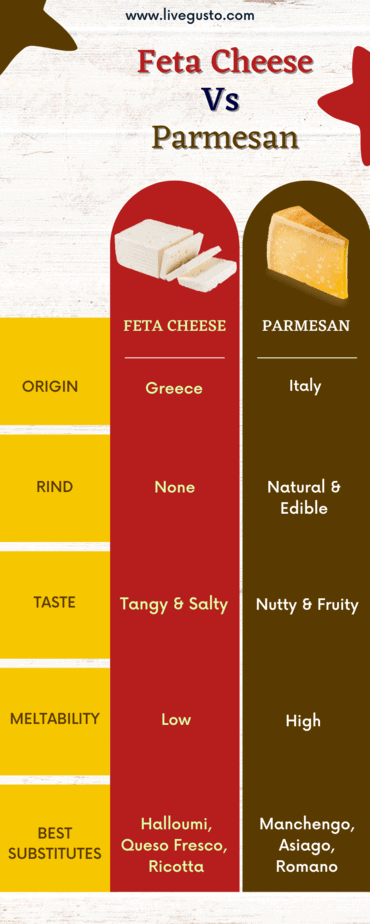 PEOPLE ALSO READ
| Feta Vs Provolone – Which one is a Better Choice? | 
Feta Cheese Vs Parmesan Cheese: Which is Better?
Before we can delve into the details of feta cheese vs parmesan cheese difference, let us take a quick look at their comparative attributes – 
BASE INGREDIENT
Feta Cheese

Sheep/ Goat Milk

Parmesan

Cow Milk

TYPE
Feta Cheese

Soft 

Parmesan

Hard

TASTE
Feta Cheese

Tangy & Salty

Parmesan

Nutty & Fruity

AGED
Feta Cheese

Yes

Parmesan

Yes

CALORIE CONTENT
Feta Cheese

75*

Parmesan

122*

CARB CONTENT
Feta Cheese

1.2 g*

Parmesan

1.2 g*

FAT CONTENT
Feta Cheese

6 g*

Parmesan

8 g*

PROTEIN CONTENT
Feta Cheese

4 g*

Parmesan

11 g*

CALCIUM CONTENT
Feta Cheese

140 mg*

Parmesan

314 mg*

SODIUM CONTENT
Feta Cheese

316 mg*

Parmesan

433 mg*

VITAMIN PROFILE
Feta Cheese

Very Good 

Parmesan

Very Good

ORAL & BONE HEALTH OUTCOME
Feta Cheese

Very Good

Parmesan

Very Good

TUMMY HEALTH OUTCOME
Feta Cheese

Very Good

Parmesan

Very Good

VERSATILITY
Feta Cheese

Very Good

Parmesan

Very Good

SHELF LIFE
Feta Cheese

Up to 2 Weeks

Parmesan

2 months
*Source: USDA; Quantity defined is 1 ounce (28.4g)
Moving on, let us discuss each attribute, one by one – 
Difference in the Preparation of Feta Cheese & Parmesan Cheese
Feta cheese is generally made using sheep milk. Sometimes a mixture of sheep & goat milk is also used where the quantity of goat milk does not exceed 30%. To warm milk, rennet and cheese cultures are added to obtain curds. The curds are cut, drained and later transferred into mould. The feta blocks obtained are then put in the brine. 
Parmesan cheese is made using cow's milk. The process of making parmesan is quite long and complicated. It begins by curdling milk with the help of rennet and culture. Once the curds are set, they are cut into very small pieces. The curds are heated, and later pressed in moulds to remove excess whey. Before aging they are dipped into brine solution.  
What Type of Cheese is Feta Vs Parmesan? 
This is one of the most prominent difference between feta and parmesan cheese. Feta is categorised as a sheep milk based soft cheese. 
Parmesan, on the other hand, is completely different. It is a cow milk based hard cheese. 
Does Queso Fresco Taste like Feta Cheese?
Feta cheese is a soft and crumbly white coloured cheese. It has a slightly salty, tangy and creamy taste. 
Parmesan has a much stronger flavour in comparison to feta cheese. It has a strong nutty flavour and may feel a bit sweet, salty and even bitter at times. Texture-wise it is grainy and may be light to dark yellow in colour. 
Feta Vs Parmesan: The Difference in the Aging Process
Feta cheese  is aged before it hits the shelves of your supermarket. The aging happens in a brine solution. Feta cheese is generally aged for a minimum of 2 months. The aging can even go on for a year or more. 
Parmesan cheese has to be aged in temperature controlled cellars. The minimum time needed for obtaining a good quality parmesan is 12 months. The aging may even last for 3 years or more. The texture and taste of parmesan intensify with age.
Feta or Parmesan: The More Calorie Dense Cheese
It is no secret that cheese is a calorie dense food. Therefore, both feta and parmesan have a high calorie count. 
Parmesan cheese has comparatively more calories when compared to feta cheese. So, if you are keeping tabs on your calorie consumption, feta is a better choice. 
Which is Lower in Carbohydrates: Feta or Parmesan ?
Most types of cheese are low in carbohydrates. This is why they can be a good addition to your low-carb diets.
Feta and parmesan both have almost the same amount of carbs in them. So, you can pick any one you prefer.
Cheese With Lower Fats: Feta or Parmesan?
Fat is an important constituent of all types of cheese. However, the quantity varies between types.
In comparison to feta, parmesan has a relatively higher quantity of fats. 
Which Has More Proteins – Feta or Parmesan Cheese?
Although both feta and parmesan are excellent sources of protein.  Parmesan, however, has a much higher protein.
Additionally, the proteins in both parmesan and feta are high quality proteins. High quality proteins have all the essential amino acids (building blocks of proteins).
Which Cheese Has More Calcium: Feta or Parmesan?
Humans calcium needs vary anywhere between 700-1200 mg. There are plenty of sources of calcium and dairy products happen to be among the best. 
Feta and parmesan both are good sources of calcium, but if we compare the two, parmesan has a higher amount of calcium per gram. 
Feta Vs Parmesan, Which is Better for Lower Sodium Intake?
A major concern associated with both feta and parmesan cheese is that they both contain a high amount of sodium. Sodium although an essential mineral, is needed by the body in very small amounts. 
Feta has a lower amount of calcium when compared to parmesan, but it still is high. So, if you have been advised to take a low sodium diet, limit your intake of both these cheeses. 
Which Has a Better Nutrient Profile: Feta Cheese or Parmesan? 
Feta and parmesan are both nutritionally rich foods that are full of many vital minerals and vitamins. 
Feta contains more B vitamins, than parmesan cheese. Parmesan, has a better quantity of minerals such as phosphorus and potassium. 
Feta or Parmesan, the Better Option for Maintaining Bone & Teeth Health
Feta and parmesan cheese are good sources of  calcium and  phosphorus. Both these minerals are needed for maintaining the overall bone and teeth health. Calcium in Parmesan in more easily absorbed making it better for bone health. 
Along with the minerals, feta and parmesan both contain probiotics or good bacteria. Probiotics  aid overall oral health by keeping away the bad bacteria. 
Which is More Easy to Digest: Feta or Parmesan?
Feta and parmesan, both contain probiotics.  Probiotics or good bacteria aid digestion and help in resolving many digestive issues. 
Since parmesan cheese undergoes a longer maturation period, it contains almost negligible amount of lactose. This makes parmesan suitable for people with lactose intolerance as well. Feta in comparison has a higher lactose content and may cause adverse reactions in some people.
Feta Or Parmesan: The More Versatile Choice?
Feta cheese can be used in a number of ways. It can be eaten fresh as such or can be added to  dishes including omelletes, sandwiches, salads and more. It can also be used for grilling since it has a low meltability.
Parmesan cheese is also quite versatile. It can be used as a table cheese or can be used to make different kinds of dishes. You can use it in pies, pastas, casseroles, souffles, fondues, etc.
Feta Vs Parmesan: The Cheese That Will Last Longer?
Once a pack of feta cheese is opened, it can be kept in the refrigerator for up to 2 weeks. It however needs to be  stored properly or it will dry out quickly. Place it in brine or lightly salted milk.
Parmesan in comparison has a longer shelf life. An unopened block of Parmesan can last seven to nine months in the refrigerator, and an opened one will last for about a couple of months if stored properly. 
Feta and parmesan are thus both excellent dietary choices. What you choose between the two will depend on your culinary needs and tastes. 
I hope you now have better clarity between feta and parmesan. If you have any related questions, reach out to me in the comment section below.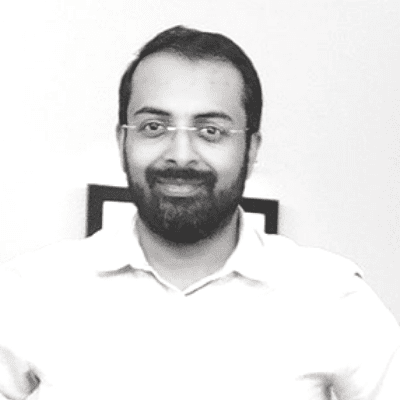 Hi! I'm Integrated Nutrition Coach Rohit Panwar. I hold twin Certifications from IIN, New York & SAFM, Massachusetts. I am a passionate vocalist of holistic lifestyle and have fully committed the past several years to educate & empower people towards their wellbeing. Despite a successful yet hectic corporate stint of 21+ years, I have prioritised nutriment in my life. I truly hope my personal journey from illness to wellness helps everybody reading this forge their own path.