Feta vs mozzarella, choosing between the two most popular cheese types can be intimidating with all the claims & nutritional information.
In this blog, I break down several aspects such as calories, and the benefits of both types of cheese so that you can make a call about feta or mozzarella, which one's healthier for you.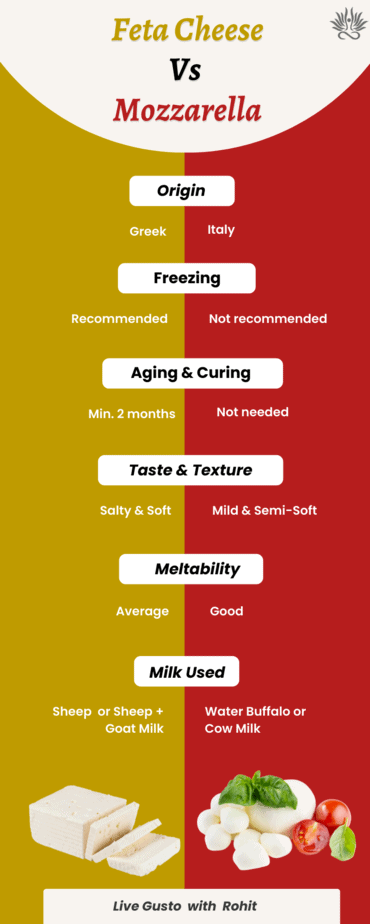 PEOPLE ALSO READ
| Feta Vs Cottage Cheese – Which one is a Better Choice? | 
Feta Vs Mozzarella Cheese: Comparing The Nutritional & Outcome Impact
Let us briefly take a look at attributes such as feta vs mozzarella calories, fat, etc.  – 
BASE INGREDIENT
Feta Cheese

Sheep or Sheep & Goat Milk

Mozzarella 

Cow/ Water Buffalo Milk

TYPE
Feta Cheese

Soft 

Mozzarella

Semi- Soft 

TASTE
Feta Cheese

Tangy & Salty

Mozzarella

 

Mild & Milky

AGED
Feta Cheese

Yes

Mozzarella

 

No

CALORIE CONTENT
Feta Cheese

75*

Mozzarella

 

85*

CARB CONTENT
Feta Cheese

1.2 g*

Mozzarella

 

0.6 g*

FAT CONTENT
Feta Cheese

6 g*

Mozzarella

 

6 g*

PROTEIN CONTENT
Feta Cheese

4 g*

Mozzarella

 

6 g*

CALCIUM CONTENT
Feta Cheese

140 mg*

Mozzarella

 

143 mg*

SODIUM CONTENT
Feta Cheese

316 mg*

Mozzarella

 

178 mg*

NUTRIENT PROFILE
Feta Cheese

Very Good 

Mozzarella

Very Good 

ORAL & BONE HEALTH OUTCOME
Feta Cheese

Very Good

Mozzarella

 

Very Good

TUMMY HEALTH OUTCOME
Feta Cheese

Very Good

Mozzarella

 

Very Good

VERSATILITY
Feta Cheese

Very Good

Mozzarella

 

Very Good

SHELF LIFE
Feta Cheese

Up to 2 Weeks

Mozzarella

 

5 Days
*Source: USDA; Quantity defined is 1 ounce (28.4g)
Having looked at the basic attributes of feta vs mozzarella, let us find out more about each of these- 
How is Feta Vs Mozzarella Cheese Made? 
Feta cheese is made using sheep milk or a mix of sheep and goat milk. The proportion of goat milk should however, not be more than 30%. The process begins by curdling the milk with rennet and culture. Once curds are formed they are cut and transferred into moulds. The excess whey is drained off and later the curds are transferred in brine to age.
Mozzarella cheese was traditionally made using the milk of water buffaloes, but today, it mostly uses cow's milk. Rennet and cheese culture are added to warm milk to obtain curds. These curds are drained,  and then stretched and kneaded in hot water/ whey several times to obtain mozzarella. 
Difference in the Nature of Feta Cheese & Mozzarella
Mozzarella and feta cheese are both categorised under the "fresh cheese" category. They both contain a high amount of moisture content.
Mozzarella is a semi- soft while feta is soft cheese if characterised on the basis of texture.
Difference in Feta vs Mozzarella Taste & Texture
Feta cheese is soft and crumbly white coloured cheese. It has a slightly salty and tangy in flavour which is much stronger than mozzarella. The flavour may vary with the kind of milk ratio being used. If goat milk is used along with sheep milk, feta will turn out more crumbly and tart.
Fresh mozzarella has a soft and smooth texture. It has a mild and milky flavour. Low moisture mozzarella is a little harder and saltier when compared to fresh mozzarella.
Feta Or Mozzarella: The Cheese That Requires Aging
Feta cheese needs to be aged. This aging is generally done in brine where feta cheese blocks are submerged for  anywhere between 2 and 12 months. As feta ages, the flavour becomes stronger.
Mozzarella is a fresh cheese and does not need to undergo any aging. It is best consumed within the first few hours of preparation.
Does Feta Have Less Calories than Mozzarella?
Yes, feta cheese is lower in calories when compared to mozzarella. However, this difference is only about 20 percent.
The source of calories in both mozzarella and feta cheese are fats and proteins.
Feta or Mozzarella: Which Cheese a Lower Carb Amount?
Low carb diets are becoming increasingly popular especially as a way of managing body weight. These diets require you to limit your carbohydrate intake and cheese can be a part of these diet options.
Feta and mozzarella are both low in carb content but mozzarella has much lower carbs when compared to feta cheese.
Breaking Down the Fats in Feta Vs Mozzarella Cheese
Mozzarella and feta cheese are both high in fats and contain almost the same concentration of fats. This being said, low fat mozzarella versions are also available in the market.
Feta cheese has more cholesterol and saturated (bad) fat when compared to mozzarella. However, feta also contains CLA (a type of good omega 6 fat) which is shown to prevent many diseases.
Mozzarella or Feta: Which One is Higher in Proteins?
Mozzarella and feta, both being dairy products, are quite rich in proteins.  Mozzarella in comparison has more fats than feta cheese. 
The addition of mozzarella in your meals will contribute more towards completing your daily protein intakes than feta.
Which Cheese Boasts of Higher Calcium: Feta or Mozzarella?
Calcium is another nutrient in which feta and mozzarella cheese fare well. They both contain a substantial and almost equal amount of calcium. 
The calcium in both types of cheese can help you in meeting your daily calcium requirements.
Mozzarella Cheese or Feta: Which to Pick For a Lower Sodium Intake?
One of the major disadvantages of consuming feta cheese is that it is much higher in sodium than many other types of cheese. Therefore, it is not suitable for people who are trying to cut their sodium intake.
Mozzarella, on the other hand, has an obvious advantage here because it contains very less sodium. 
The Richer Nutrient Profile- Mozzarella or Feta Cheese? 
Feta and mozzarella are both nutritionally very rich. Feta  has more B vitamins whereas mozzarella boasts of a higher vitamin A. 
Mozzarella is richer in minerals such as zinc, phosphorus and calcium, while feta has slightly more iron. All in all, mozzarella has a slight advantage over feta cheese.
Which Cheese is Good For Your Bones & Teeth: Feta or Mozzarella?
Dairy products including cheese are good for your bone and teeth health, This is because they are rich in calcium and phosphorus.  Mozzarella and feta cheese can thus contribute to your overall bone and teeth health.
Additionally both mozzarella and feta are both known to have probiotics. Probiotics are known to have a positive impact on dental health.
Mozzarella Cheese or Feta -More Suited for Your Digestion? 
As I mentioned above, feta and mozzarella both contain probiotics. Probiotics are good bacteria which not only aid digestion but also help fight infections of the digestive system. 
Having said that, you need to remember that both types of cheese aren't suitable for you if you are allergic to milk. Both also contain small amounts of lactose. So, if you are lactose intolerant, proceed with caution and start with a very small serving size.
Which One's More Versatile: Feta Cheese or Mozzarella?
Feta cheese has many uses. It is mostly used in Greek dishes and salads. It can also be used to prepare dishes including sandwiches, omelletes and can be eaten grilled.  It can also be cooked or grilled, or served with olives and aromatic herbs.
Mozzarella – both fresh and low moisture – can be put to a number of uses. Fresh mozzarella goes very well in fresh salads. You can also be used in pizzas, pastas and other kinds of dishes.
Which Can Be Stored for a Longer Time – Feta or Mozzarella?
Feta cheese has a short shelf life. It can last in the refrigerator for a couple of weeks provided you store in properly. I would recommend storing it in brine so that it retains its flavour and texture. You can freeze it to increase its shelf life.
The shelf life of mozzarella depends on its type- low moisture and fresh. While fresh mozzarella has a shorter shelf life, low moisture mozzarella can last in the refrigerator for a couple of weeks. 
Mozzarella and feta are both very nutritious, but mozzarella is better. Mozzarella is lower in calories, fats and sodium. This however does not mean you should never eat Feta. You can consume it in moderation and not go overboard with its consumption. 
I hope this blog helped you get clarity regarding the differences between feta and mozzarella.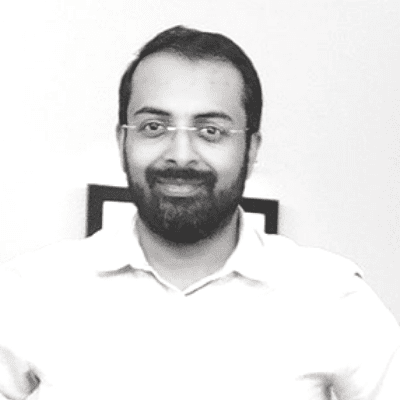 Hi! I'm Integrated Nutrition Coach Rohit Panwar. I hold twin Certifications from IIN, New York & SAFM, Massachusetts. I am a passionate vocalist of holistic lifestyle and have fully committed the past several years to educate & empower people towards their wellbeing. Despite a successful yet hectic corporate stint of 21+ years, I have prioritised nutriment in my life. I truly hope my personal journey from illness to wellness helps everybody reading this forge their own path.