For vegans looking for non-dairy, nut-free and soy-free options, flax milk can be an excellent choice. But what are flax milk uses? 
In this blog, I take you through some of the best ways to use flax seed milk which is not limited to drinking.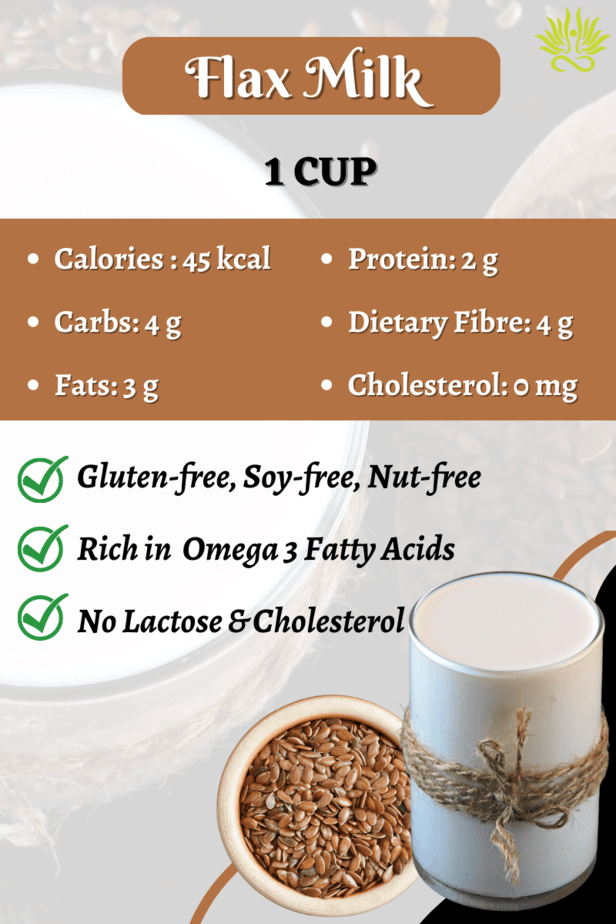 PEOPLE ALSO READ
| What is the Best Vegan, Nut-Free Milk Options?  | 
12 Refreshing & Easy Flax Milk Uses 
Flax milk may not be as popular as others in this segment, but it is one of the best alt milk options out there. Rich in fibre and good fats, flax milk can be your alternative to dairy milk for cereal, cooking and more. 
Some of the best ways to use flax milk are –  
1. Raise Your Glasses to Flax Milk 
The easiest way to include flax milk in your diet is by drinking it just like you would drink dairy milk. 
Flax milk has an almost neutral taste with a slightly sweet and nutty undernotes. You can flavour it with maple syrup, cocoa powder,  or cinnamon, based on your preference. 
2. Add Flax Milk to Your Cereal
Flax milk also goes well with your morning cereal. It can be slightly thin when compared to other alt milks, but for cereal it is a pretty good option. 
Flax mill tastes great with a bowl of granola, cereal, muesli or oatmeal without interfering or overpowering the original flavour.
3. Use Flax Milk for a Delicious Yogurt 
Although thin, flax milk can be used to make a decent plant yogurt. However, since the consistency of flax seed milk is somewhat runny, you would need to thicken the milk. 
Reduce the milk by boiling and simmering the milk. Once the milk is reduced and cooled to a warm temperature, add your yogurt culture to prepare a delicious batch of super healthy vegan yogurt. 
4. Add Flax Milk to Your Baking
Whether you are baking quiches, pies, cakes or breads, you can add flax milk to any of these recipes. 
One thing to remember here, however, is that since the consistency of flax milk is thin, you would need to adjust the quantity as per your needs. 
5. Try With Overnight Oats With Flax Milk 
All types of plant milks can be used for making overnight oats and flax milk is no different. The low calorie flax milk is a great substitute for dairy milk and yogurt.  
To your rolled oats, add flax milk along with your favourite seeds – chia, sunflower, etc. You can also throw in some nuts and sweetener there. Let it sit in the fridge overnight and enjoy it in the morning topped with some fruit. 
6. Try Your Favourite Hot Beverages With Flax Milk 
While flax milk may not be the best choice for your tea, coffee and lates, it still can be used in preparing some other comforting hot beverages. 
In my experience, flax milk can be used in the preparation of hot chocolates and pumpkin spiced lattes. If you like thicker consistency, you can reduce flax milk to half on low heat before adding in your favourite ingredients.  
7. Make Vegan Kefir With Flax Seed Milk
One of my favourite flax milk uses is using it to make kefir. Kefir, a probiotic drink, is generally made using dairy milk, but for vegans, plant milks work too.
Here, the kefir may turn out more runny than dairy versions, because of the nature of the milk. It nevertheless is full of nutrition.
8. Flax Milk is Great For Milkshakes, Smoothies & Smoothie Bowls
If you are looking for a dairy free, nut free option for your milk shakes and smoothies, flax milk is a great option.  
Flax milk is low in calories and rich in good fats. So, it makes for an ideal replacement of dairy for those wanting to limit their carb consumption.  
9. Flax Milk Can Make Some Mouth Watering Vegan Ice Creams
A great way to introduce flax milk to your family is to include it in your ice cream or popsicle recipes. Flax milk has a mild flavour and thus does not overpower the flavours of the other ingredients. 
Keep in mind that flax milk is really thin, so you might have to add cornstarch or arrowroot powder for a better consistency. 
10. Add Flax Milk To Your Curries & Stews 
Flax milk can be used in recipes that require the use of skim or low fat milk. Flax milk remains stable when heated and thus is perfect to act as the base for gravies.
As I said before, its mild taste is a boon because it blends in really well with the food and does not mask the flavours of the spices or the other ingredients.
11. Flax Milk Can Bind Your Mashed Potatoes Really Well
Flax milk can also be used in place of your dairy milk and cream in your mashed potatoes. 
Although you can use flax milk as such, I like to reduce and thicken the flax milk before combining it with the mashed potatoes for extra creaminess. 
12. Use Flax Milk in Your Desserts
If you are looking for a mild yet nutritious addition to your desserts, flax milk can be a great option. 
Flax milk is allergy friendly, nut and soy free, making it suitable for a wide range of people. The mild flavour of the milk comes in handy when making desserts that need a neutral base. 
These were some of my favourite flax milk uses. In case you have been using flax milk in other recipes, I would love to know more in the comments below. 
Frequently Asked Questions About Flax Milk Uses
What is flaxseed milk good for?
Ans.  Flax milk can be a good substitute for low fat or skim milk recipes. You can also drink it as such. 
How do you drink flax milk?
Ans.  Flax milk can be consumed as such by adding a bit of sweetener. It also goes well with cocoa, cinnamon and vanilla flavours. 
Can I drink flaxseed milk at night?
Ans.  Yes, you can drink flaxseed milk at night. However, if you are using it for the first time, drink one fourth the usual amount. Increase the intake quantity gradually. 
Ans. Yes, flax milk is quite stable at high temperatures. 
How long does flax milk last in the fridge?
Ans. Homemade flax milk can last in the fridge for up to a week. Store bought flax milk may last up to 10 days once opened but it is best to check the label for exact use by date.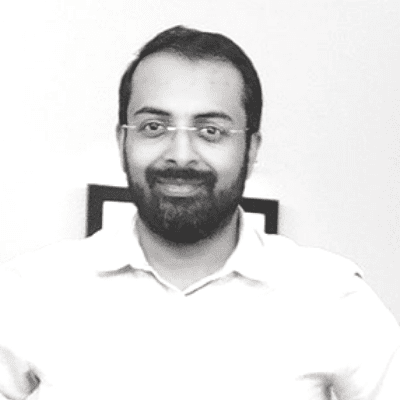 Hi! I'm Integrated Nutrition Coach Rohit Panwar. I hold twin Certifications from IIN, New York & SAFM, Massachusetts. I am a passionate vocalist of holistic lifestyle and have fully committed the past several years to educate & empower people towards their wellbeing. Despite a successful yet hectic corporate stint of 21+ years, I have prioritised nutriment in my life. I truly hope my personal journey from illness to wellness helps everybody reading this forge their own path.