With the expanding market of plant milks, you may find it difficult to choose between two options. When it comes to choosing between hazelnut milk versus peanut milk, the decision gets even harder.
As a passionate nutritionist, I'm here to share useful comparative information about hazelnut milk and peanut milk. This will help you take a pick between these relatively new plant milks.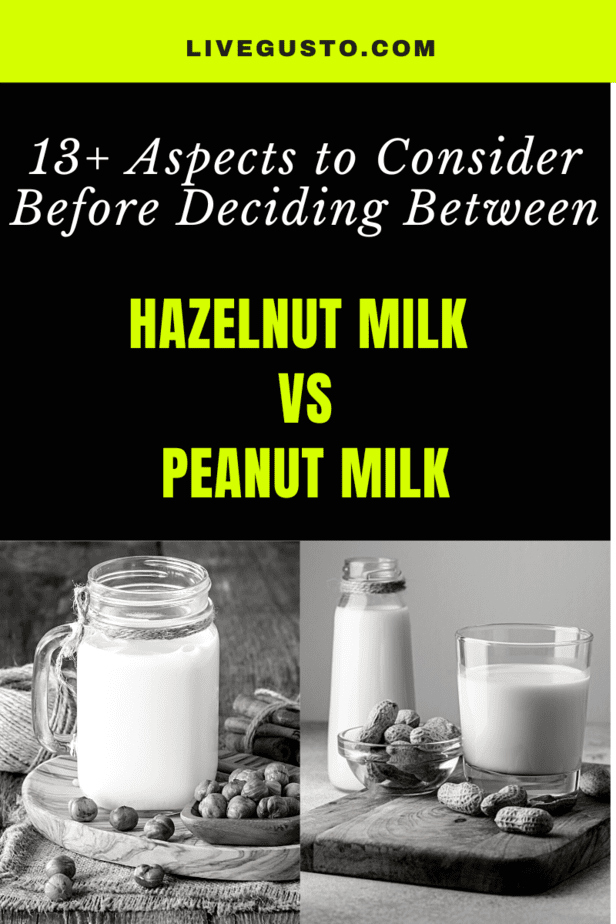 PEOPLE ALSO READ
| Hazelnut milk versus Walnut Milk – Which one is a Better Choice? | 
Highlighting the Better Option Between Hazelnut Milk Versus Peanut Milk
The table below presents a much- needed comparison between hazelnut milk vs peanut milk nutrition and benefits:
BASE INGREDIENTS
Hazelnut milk

Hazelnuts & Water

Peanut milk

Peanuts & Water

TASTE
Hazelnut milk

Nutty & Creamy

Peanut milk

Slightly Nutty

DAILY INTAKE
Hazelnut milk

1 cup

Peanut milk

1 cup

CALORIES
Hazelnut milk

90*

Peanut milk

125.7*

FAT CONTENT
Hazelnut milk

9 g*

Peanut milk

9.76 g*

PROTEIN CONTENT
Hazelnut milk

2 g*

Peanut milk

4.88 g*

CALCIUM CONTENT
Hazelnut milk

24- 240 mg*

Peanut milk

20- 268.4 mg* 

RECOMMENDED TIME
Hazelnut milk

Morning or Bedtime

Peanut milk

Morning or Bedtime

ENVIRONMENTAL IMPACT
Hazelnut milk

Positive

Peanut milk

Positive

VEGAN FRIENDLINESS
Hazelnut milk

Yes

Peanut milk

Yes

ORAL HEALTH OUTCOME
Hazelnut milk

Very Good

Peanut milk

Good

TUMMY HEALTH OUTCOME
Hazelnut milk

Good

Peanut milk

Very Good

BODILY COOLING EFFECT
Hazelnut milk

Good

Peanut milk

Good

BODILY HYDRATION EFFECT
Hazelnut milk

Good

Peanut milk

Good

ADDITIVES
Hazelnut milk

Dates, Vanilla

Peanut milk

Honey, vanilla
*Source: USDA; Quantity defined is 1 cup
This table provided you with basic information about the two. To have a deep understanding, let me explain each aspect.
Know the Constituents of Hazelnut Milk Versus Peanut Milk
Hazelnut milk is obtained by using soaked hazelnuts. These are finely blended with water and then filtered. The undissolved solids are strained away and the resultant filtrate we get is hazelnut milk.
Peanut milk, as the name suggests, uses soaked peanuts. These are grinded with some water, whisked and then filtered to get peanut milk. The leftover solids can be dried and used in baked goods. Homemade versions of these drinks can last for 4-5 days in the fridge when stored in an airtight container.
Exploring Hazelnut Milk Vs Peanut Milk Taste and Textural Variations
Hazelnut milk is quite tempting and sweet in taste. It has a pale- brown color and creamy texture accompanied by a slightly earthy and nutty flavor.
Comparatively, the taste of peanut milk is sweet and creamy. It has an off-white color with a peanutty flavor. The texture is smooth and pleasant. You can adjust its consistency with the quantity of water added.
How Much Hazelnut Milk Versus Peanut Milk Should You Consume Daily?
While hazelnut milk can be used for making cereals, baked goods, lattes and smoothies, peanut milk is a perfect addition to ice creams and baked goodies apart from smoothies.
Only 1 cup per day of both the drinks is sufficient for you to get all the essential nutrients.
Comparing Hazelnut Milk Vs Peanut Milk Caloric Levels
Fats contribute most of the calories in hazelnut milk and peanut milk. Make sure to check the ingredients of the branded pack for any hidden sugars or synthetic flavors.
On comparing the calorie content, we observed that peanut milk contains higher calories than hazelnut milk. Hence, if you are looking for low-calorie drinks, then hazelnut milk is a much better option.
Which Is Better- Hazelnut Milk Or Peanut Milk for Weight Loss?
As shown in the table, peanut milk possesses more fat content than hazelnut milk. Thus, hazelnut milk is a better option for people who are aiming at weight loss.
Peanut milk and hazelnut milk both are amazing sources of unsaturated fatty acids like omega- 3 and omega 6 that are beneficial for a healthy heart. 
Hazelnut Vs Peanut Milk- Which Fulfills Your Protein Requirements?
When we compare the two, we find that peanut milk contains more than double proteins than hazelnut milk. Thus, to fulfill the protein requirements in the body, you can consume any of these beverages along with other protein- rich foods.
Hazelnut milk and peanut milk both lack good levels of proteins when compared to dairy, but you can surely give them a try for their numerous other benefits. 
Hazelnut Milk Vs Peanut Milk, Which Possesses More Calcium?
The DIY- forms of the hazelnut milk and peanut milk lack adequate calcium when compared to dairy. But the branded versions of the two are fortified with calcium and other nutrients.
Therefore, you can pick anything but before buying, do check the nutritional panels for calcium levels. They may vary from one brand to another.
What Is the Apt Time to Drink Hazelnut Milk Vs Peanut Milk?
Hazelnuts and peanuts are both nutrient dense foods and therefore their milk versions are also very nutritious and can be ingested daily.
The best time to drink both of these drinks is in the morning as it is easier to digest these drinks in the morning and they are also a good source of energy. But they can also be drunk in the night before bedtime to promote sleep as they contain tryptophan. 
Which Plant Milk Is Better for the Environment: Hazelnut or Peanut?
Hazelnuts is a dry land crop which means that it uses less water and land. Thus they have a low carbon footprint, emit less greenhouse gasses.
Similarly, peanuts use less resources like land, chemicals and freshwater for its production and thus have a low carbon footprint. On comparing the two, hazelnut production can be said to be more eco- friendly than peanuts.
Are Hazelnut Milk and Peanut Milk Regarded Ideal For Vegans?
These two plant milks are produced using hazelnuts and peanuts which fall in the category of nuts are legumes respectively. Hence, these are considered suitable for vegans as their sources are plant based.
Also, these are suitable for people allergic to lactose, dairy, gluten, casein and soy. However, people with nut allergies should not consume hazelnut milk and try peanut milk instead.
Which Proves Useful for Dental Care- Hazelnut Milk Or Peanut Milk?
The store- bought versions of hazelnut milk and peanut milk are fortified with calcium and other essential nutrients which help to strengthen jaw bones, gums and teeth. Thus they can help you with maintainin the overall dental health.
Hazelnut milk contains essential nutrients like calcium, vitamin E, folic acid, phosphorus, magnesium. Peanut milk also contains magnesium, calcium and phosphorus. These nutrients keep your pearly whites shining bright. Both contain omega-3 fatty acids that are considered great in reducing gum diseases and tooth cavities.
Hazelnut Milk Versus Peanut Milk- Which Is Better for Digestion?
Peanut milk boasts essential nutrients like phosphorus and magnesium that ensure better digestive health. It also contains fiber that along with proteins satiate you.
Similarly, hazelnut milk also contains vital nutrients like magnesium, copper, manganese, phosphorus that are effective to keep your tummy well. It contains fiber that makes pooping easier. Thus, it is more helpful in healthy digestion.
Hazelnut Milk Vs Peanut Milk- Which Provides Cooling Effect?
Hazelnut milk and peanut milk both constitute enough water, hence they work as excellent refreshing drinks in the summer season. You can also freeze or serve these drinks chilled so as to have a supercooling effect.
Peanut milk is an excellent base for coffee, ice creams and milkshakes as it is very creamy, rich and nutty. Hazelnut milk can also be used for ice creams and milkshakes.
Which Nut Milk Hydrates Your Body- Hazelnut Milk Versus Peanut Milk?
Hazelnut milk and peanut milk both constitute an adequate amount of water, thus helping to maintain the ideal water level in the body and promoting hydration.
Hazelnut milk and peanut milk contain essential nutrients like magnesium and potassium in significant amounts. These minerals are effective in maintaining electrolyte balance in the body, thus hydrating it.
Which Additives Can Be Paired With Hazelnut Milk Versus Peanut Milk?
Hazelnut milk can be flavored with natural sweeteners like honey, dates or vanilla. You can also use coffee, cinnamon or some chopped dry fruits like almonds to make it more appetizing.
Peanut milk can be paired with honey, maple syrup or dates for subtle sweetness. You can add a dash of sea salt or cinnamon to make it savoury.
Before signing off, I would like to mention here that both are wonderful products and have their own specific benefits, so you can choose according to your needs and availability.
I hope that it helps in resolving your doubts and confusion related to hazelnut milk and peanut milk. If you still have any doubts, feel free to write to me in the comments below.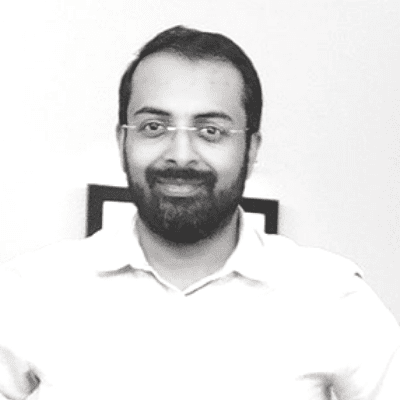 Hi! I'm Integrated Nutrition Coach Rohit Panwar. I hold twin Certifications from IIN, New York & SAFM, Massachusetts. I am a passionate vocalist of holistic lifestyle and have fully committed the past several years to educate & empower people towards their wellbeing. Despite a successful yet hectic corporate stint of 21+ years, I have prioritised nutriment in my life. I truly hope my personal journey from illness to wellness helps everybody reading this forge their own path.