Looking for high fibre vegan breakfast ideas? My list of options will help you consume more fibre in your morning meals. 
I have covered a wide range of breakfast ideas that are not only high in fibre but are also diverse in their nutrient profile and yes they taste delicious. Go through this with me till the end and you'll never run out of ideas to fuel your mornings.
Boost Your Morning Energy with 34 High Fibre Vegan Breakfast Ideas!
Fibre is a crucial component of a healthy diet. It not only maintains a healthy digestion but is also known for its ability to manage cholesterol and blood sugar levels. So, despite your dietary restrictions, fibre intake is a must.
To help to get the right nutrition and fibre, here are my top choices as a nutritionist for high fibre vegan breakfast ideas. 
1.
Oatmeal with Chia Seeds & Berries
Oatmeal is a great source of fibre, and when combined with chia seeds and berries, it makes for a filling and nutritious breakfast.
The chia seeds add extra fibre and protein, while the berries provide a burst of flavour and antioxidants. To sweeten add in some date paste for additional fibre.
2.
Avocado & Chickpea Toast 
Avocado toast is a simple, quick and delicious high fibre vegan breakfast option. If you add chickpeas to the mix, it not only increases the fibre content but also increases the quantity of good quality protein.
A couple of these toasts will keep those hunger pangs away till lunchtime.
3.
Peanut Butter Banana Smoothie
This smoothie is made with almond milk, bananas, and peanut butter. The combination provides a good source of fibre, protein, and healthy fats. It's a also a quick and easy option for busy mornings.
You can also add in seeds like flax seeds or chia seeds for a thicker texture and higher fibre content.
4.
Sweet Potato Toast
Sweet potatoes are naturally high in fibre and a good source of complex carbohydrates. This makes them a must have ingredient for a vegan breakfast.
Cut sweet potato into thin slices and bake. Now layer  the slice with almond or peanut butter. Sprinkle some cinnamon and add a fruit of your choice.
5.
Savoury Lentil Pancakes
Enjoy a classic breakfast dish with a fibre-packed twist by making lentil pancakes. Blend together cooked lentils, whole wheat flour, and a few spices to create a batter.
Pour spoonfuls of the batter onto a hot griddle and cook until lightly browned. Serve with some homemade chutney or sauce.
6.
Veggie Quinoa Bowl 
Quinoa is a high-fibre, protein-rich food that is a staple in many vegan diets. Combining it with vegetables and avocado makes for a filling and nutritious breakfast bowl.
You can use a variety of roasted or sauteed vegetables, such as bell peppers, zucchini, and cherry tomatoes. Drizzle with a light dressing and sprinkle with some mixed seeds.
7.
Chia Pudding with Berries and Almonds
Chia pudding is a simple and delicious vegan breakfast option that provides a good source of fibre and healthy fats.
Adding to this berries and almonds not only adds flavour, but extra nutrients as well. This is also one of the easiest vegan breakfast options for beginners. 
8.
Peanut Butter and Apple Toast
Enjoy a simple and delicious breakfast with this peanut butter and apple toast. Spread natural peanut butter on whole grain toast.
Top this with sliced apples and a sprinkle of cinnamon. As you can see, this is also an incredibly simple dish and is a good source of fibre, protein, and healthy fats.
9.
Tofu Scramble & Toast
Tofu, a versatile vegan protein source, is a great way to add protein to your morning breakfast. To add fibre in this, add in to your scrambled tofu a variety of high fibre veggies like broccoli and leafy greens.
Serve this as such or with whole grain toast for a filling and satisfying meal.
10.
Sweet Potato Hash
Sweet potato hash is a tasty vegan high fibre breakfast option that is high in fibre, complex carbohydrates, good fats and protein. It is also fairly simple to make.
Just cook diced sweet potatoes in a pan with spices and seasonings. To this add  crumbled tofu and cook until crispy. Serve this delicious with sliced avocado and any other toppings you like. 
11.
Strawberry Yogurt Parfait
This parfait combines vegan yogurt, strawberries, and granola for a sweet and nutritious vegan breakfast. This is the perfect way to begin your day with a sweet and refreshing note.
Layer a jar with vegan yogurt like soy, cashew or coconut, fresh strawberries, granola, and chia or flax seeds. Add in some maple syrup to sweeten the mix. You can experiment with different types of berry and yogurt combinations for a new flavour experience each day.
12.
Veggie-Packed Vegan Omelette
This vegan omelette is made with chickpea flour, and is packed with veggies such as onions, mushrooms, spinach, bell peppers, and onions.
This is one of the best options for high fibre vegan breakfast ideas and is easy to prepare and customise. 
13.
Quinoa Parfait 
A quinoa parfait is a variation of the classic parfait that includes a layer of cooked quinoa. Adding quinoa not only adds fibre to the parfait but also adds in important vitamins, minerals and quality protein.
The recipe is simple and involves layering  cooked quinoa with yogurt, fresh fruit, and any other add-ins, such as nuts, seeds, and granola. 
14.
Overnight Oats
The best part about overnight oats is the number of variations you can try out depending on what ingredients you have on hand.
Mix together rolled oats, liquid such as plant milk or yogurt, sweetener, and other add-ins like nuts, seeds, and fruit, in a jar. Let it sit in the refrigerator overnight and in the morning, enjoy with the topping of your favourite fruit.
15.
Millet Porridge
Millets are a great way to incorporate protein, fiber, and antioxidants on a vegan diet. You can make it sweet or savoury, depending on your taste.
For s savoury option, cook with vegetable broth and add in sauteed vegetables. For a sweet option, cook with plant milk and add in seeds, nuts and date paste for added nutrition. 
16.
Homemade Granola
Enjoy a crunchy and nutritious breakfast with this homemade granola. Making this is simple too and once made, you can use it for a long time. 
Simply mix together oats, nuts, seeds, sweetener, and any other ingredients such as dried fruit or spices. Bake until golden and crisp, then enjoy as a topping for plant based yogurt or have it with milk.
17.
Vegan Green Shakshuka
While traditionally shakshuka is made using egg and tomatoes, this one is a vegan and high fibre twist.
Sauté garlic, onion, and your favorite greens, such as spinach or Swiss chard, in a pan with spices. To this add in your tofu or plant based meat till cooked,  Serve with whole grain bread.
18.
Hummus Sprout Sandwich
Enjoy a sandwich packed with fibre and nutrients with this sprout sandwich. Start by toasting whole grain bread, then top with hummus, sprouts, and any desired vegetables, such as tomato, cucumber, and red onion.
The sprouts provide a good source of fibre and vitamins, while the hummus adds healthy fats and protein. 
19.
Apple Walnut Baked Oatmeal
A warm and comforting breakfast, baked oatmeal is one of my favourites. Making this is simple as well.
Simply mix together oats, nut milk, cinnamon powder, baking powder, sweetener, walnuts, and chopped apples. Pour the mixture into a baking dish and bake until golden and set. 
20.
Kale Smoothie
This smoothie is a delicious and convenient option for those looking to start their day with a boost of fibre. Simply blend together kale, banana, nut milk, and deseeded dates.
You can also add in flax powder or chia seeds to improve texture and increase fibre content further. The delicious smoothie is ready to serve. 
21.
Tofu Veggie Bowl
Start your day with a bowl of fibre and protein with this tofu veggie bowl. Simply sauté your favorite vegetables, such as bell peppers, onions, and mushrooms, with cubed tofu and seasonings of your choice.
Serve over a bed of quinoa, rice, or your favorite grain for added fibre and nutrients. 
22.
Peanut Protein Bars
These are a pretty convenient breakfast option that can be made well in advance. To make it, mix together natural & crunchy peanut butter, rolled oats, chopped dates and  nuts.
Add in some coconut oil and then press into a bar or square shape. These bars provide a good source of fibre and protein, making them a filling and nutritious option for those on-the-go.
23.
Cauliflower Scramble
Try a unique and delicious twist on scrambled eggs with this cauliflower scramble. Simply pulse cauliflower florets in a food processor until they resemble a rice-like texture.
Then, sauté with salt, pepper and spices or seasonings of your choice. Serve as a side dish or add it on top of a toast with some avocado or tofu.  
24.
Smoothie Bowl
A delicious fibre-rich smoothie is a really nice way to begin your day. Simply blend together a fruit of your choice such as berries and banana, with plant based milk.
For sweetener, you can add in deseeded dates.  Pour the mixture into a bowl and top with a sprinkle of granola, nuts, and fresh fruit. 
25.
Hummus & Veggie Wrap
Wrap up a fibre-packed breakfast with this hummus and veggie wrap. Simply spread a layer of hummus onto a whole grain tortilla, then top with your favorite vegetables, such as lettuce, cucumber, and tomato.
Roll it up and enjoy on-the-go or at home. 
26.
Baked & Stuffed Sweet Potato 
The humble sweet potato is a must have for high fibre breakfast options. Bake a sweet potato (poked with holes) until tender.
Slit in between and add in filling such as roasted or boiled chickpea or bean salad. Drizzle with some dressing and enjoy a satisfying savoury meal. 
27.
Pesarattu/ Moong Dal Dosa
Try this traditional Indian dish made from ground moong dal, a type of lentil, which is a good source of fibre and protein. Simply mix together the moong dal paste, spices, and water to create a batter.
Then pour spoonfuls onto a hot griddle and cook until lightly browned. Serve with chutney or a vegetable filling for fibre-rich nutritious breakfast. 
28.
Vegan Breakfast Burrito
Another great way to incorporate more fibre into a vegan breakfast is by wrap veggies and beans in a . whole grain tortilla.
You can customise the filling as per your liking such as scrambled tofu, beans, diced vegetables, and your favorite spreads. Roll it up and enjoy this high fibre vegan breakfast on-the-go.
29.
Chickpea Scramble 
Another chickpea dish on the list of high fibre vegan breakfast ideas is a chickpea scramble.  Simply mash together chickpeas and spices, then cook in a pan with a little oil until heated through.
Top with a handful of veggies, such as diced bell peppers and cherry tomatoes, for added fibre and nutrients. 
30.
Oats-Flaxseed Pancakes
Enjoy a classic breakfast dish with a fibre-packed twist by making oats-flaxseed pancakes. Simply mix together oat flour, flaxseed powder, baking powder, plant milk, and cinnamon or nutmeg to create a batter.
Cook on a hot griddle. Serve with a drizzle of maple syrup and some chopped fruit like banana or berries.
31.
Poha
Poha is an Indian breakfast and snack dish made from flattened rice. It is high in fibre and can be customised to create your own version.
Simply cook together the flattened rice, spices, and your choice of vegetables and peanuts for a quick and easy breakfast. Serve hot with a side of chutney for a spicy start to your day. 
32.
Chickpea Salad Bowl
Made with a mix of  boiled chickpeas, diced vegetables, and a light dressing, this is one great option for high fibre vegan breakfast ideas.
You can also add to this bowl a handful of nuts or seeds for added protein and healthy fats. Serve the salad with whole grain crackers or a slice of whole grain bread.
33.
Carrot Cake Muffins
Indulge in a sweet and fibre-packed breakfast with these carrot cake muffins. Made with whole wheat flour and grated carrots, these muffins are quite easy to make.
Mix in raisins, chopped nuts, and spices for extra flavour and texture. Enjoy a warm muffin with a side of fresh fruit for a delicious and satisfying start to your day. 
34.
Buckwheat Dosa
Try a traditional Indian dish with a fibre-packed twist by making buckwheat dosas. Buckwheat is nutrient rich and gluten-free grain that is also a good source of fibre and protein.
This makes it a nutritious alternative to traditional dosa batter made from white rice. Serve with chutney or sambar or both for a delicious start to the day.
Starting your day with a high fibre vegan breakfast can be both delicious and nutritious. With these high fibre vegan breakfast ideas, you'll have a variety of options to choose from. Add these to your meal plan and  never get bored with your breakfast choices.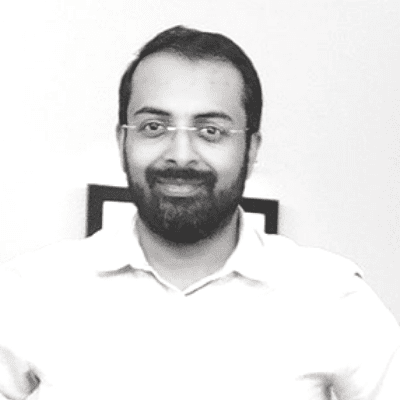 Hi! I'm Integrated Nutrition Coach Rohit Panwar. I hold twin Certifications from IIN, New York & SAFM, Massachusetts. I am a passionate vocalist of holistic lifestyle and have fully committed the past several years to educate & empower people towards their wellbeing. Despite a successful yet hectic corporate stint of 21+ years, I have prioritised nutriment in my life. I truly hope my personal journey from illness to wellness helps everybody reading this forge their own path.