Eating protein and fiber together is a healthy and filling way to start the day. So, if you are looking for nourishing high protein high fiber breakfast ideas, I have just the options you need.
Protein and fiber are two vital macronutrients. Together they can do wonders for your body. As a nutritionist, I share with you the best ways to include these two in your morning meal. 
26 Easy & Delectable High Protein High Fiber Breakfast Ideas
Research suggests that having a breakfast rich in protein and fiber can enhance your energy level and keep you full for longer. 
Let's explore high protein high fiber breakfast ideas which are easy to make and delicious in taste. 
1.
Broccoli & Mushroom Omelet: A Wholesome Start of the Day
Broccoli and mushroom are protein rich fibrous vegetables whereas eggs are considered as one of the best dietary sources of high quality of protein. 
To prepare, saute broccoli florets and mushrooms for 3-4 minutes in olive oil. Once softened, add beaten eggs. Season your omelet with salt and pepper. 
This is also one of the most effective high protein high fiber breakfast ideas for weight loss.  
2.
Silken Tofu Oats Muffin: A Delicious High Protein High Fiber Breakfast Without Eggs🌱
This high protein high fiber breakfast idea is a delightful treat to sweet breakfast lovers. The best part about muffins is that you can make them in big batches and store them for a long time. 
Mix oats, applesauce, silken tofu, baking powder, baking soda, cinnamon, berries and a pinch of salt with almond milk and peanut butter.. Pour the batter in muffin cups and bake for 10-15 minutes. Your toothsome muffins are ready in no time. 
3.
Zucchini Almond Flour Fritters: A Flavorful Plant Based Breakfast High in Protein & Fiber🌱
Almond flour zucchini fritters are one of my favorite high protein high fiber vegan breakfast ideas and they are also super light. 
Make a batter by mixing almond flour with grated zucchini, salt, turmeric, baking powder, flax eggs, cumin powder, coriander and garlic paste, lemon juice and water. 
Make fritters on a hot pan with olive oil or use air fryer for the purpose. Serve them with any vegan cream cheese made with silken tofu or soaked cashews.
4.
Beans With Rye Toast: Make Your Morning Toast Fiber and Protein Rich🌱
This is one of the quickest high protein high fiber breakfast ideas on my list. Beans are excellent sources of plant based protein and fiber.  
For this recipe, take washed and rinsed canned beans in a bowl and mash them. Add chopped onion, tomatoes, cucumber and seasonings like salt, pepper and lemon juice.
Spread beans it on rye toast, which is a fiber rich alternative to normal wheat bread. 
5.
Oats & Chia Pudding: A Classic High-Fiber High-Protein Breakfast Option
This easy to make breakfast options needs minimum ingredients. Soak oats in milk or in Greek yogurt. Add fresh berries, chia seeds, banana and cinnamon. Let it set for sometime, I prefer resting it in the refrigerator overnight. 
If you are a vegan then use any plant based milk or yogurt for the purpose. You can also add in some protein powder or peanut to make up for the protein.
Add pumpkin seeds, sunflower seeds, walnuts for a crunch and more nutrients. You can replace berries from other fruits like mango and papaya etc. 
6.
Carrot, Spinach & Tofu Casserole: A Fulfilling and Easy Way to Add Protein and Fiber To Your Morning Meal🌱
 This casserole recipe is a simple and mouth watering high protein high fiber vegan breakfast idea using simple ingredients. Tofu is a complete protein source and carrots and spinach are fiber rich vegetables.
For this casserole, I use a vegan cheese made with silken tofu and soaked pecans. A small amount of miso is a great way to give it a umami taste. 
Boil carrots and spinach and pour this vegan cheese on them. Bake it for 30-40 minutes and enjoy. 
My Most Recommended High Protein Breakfast Options
| 30Grams Protein Breakfast Ideas |
| High Protein Breakfast Ideas No Eggs |
7.
Avocado & Roasted Chickpeas Bowl: A Creamy & Nutrient Loaded  Breakfast for Vegans 🌱
This is another high protein high fiber breakfast without eggs. Chickpeas and avocado both are outstanding nutrient dense combinations which compliments each other's taste very well. 
To make this, first roast boiled or canned chickpeas in a pan. Add cumin powder, curry powder, salt, turmeric and red chili powder for flavor and color. 
Mix them with cubed avocado, red onion, diced tomato and season with  lemon juice and coriander to add freshness. 
8.
Silken Tofu & Berry Smoothie: One of the Simplest High Protein and Fiber Breakfast Smoothies🌱
Smoothies are the easiest ways to have all the nutrients in one go. This silken tofu and berry smoothie is a thick and nutrient dense breakfast including protein and fiber. 
In a high speed blender add tofu, peanut butter, berries like blueberries and strawberries. Also add sweeteners like maple syrup or coconut sugar. Give a good mix to all the ingredients and your delectable smoothie is ready to relish. 
9.
Hummus & Veggie Burrito: Appetizing High Fiber High Protein Vegan Breakfast Option🌱
Hummus is made of boiled chickpeas, garlic, cilantro, olive oil, salt and pepper. This protein and fiber rich recipe is a perfect spread for sandwiches and burritos. Stir fried vegetables in this recipe makes it more fibrous, hearty and healthy. 
Cut the vegetables like carrots, bell peppers, beans etc in lengthwise and sti fry them in a pan. Now spread hummus on a whole wheat burrito and then add vegetables. Roll it and enjoy this fulfilling breakfast. 
10.
Edamame & Avocado Salad: Choose for a Green & Fresh Beginning of the Day🌱
This is one of the best high protein high fiber breakfast ideas for weight loss. Edamame are unmatured soybeans which are rich sources of protein and fiber. Avocado is a buttery and nutrient rich fruit which helps you to stay full for longer. 
For this scrumptious salad recipe, combine boiled edamame and diced avocado in a big salad bowl. Add cherry tomatoes, cucumber, olives, red onion, red cabbage and season it with olive oil, salt, lemon and pepper. 
11.
Paneer Bhurji Sandwich: A Scrumptious High Protein High Fiber Indian Breakfast
Paneer is basically a type of cheese which is similar to cottage cheese. It is one of the easiest cheeses to prepare at home. Since it is a dairy product, it is a rich source of protein.  
To make paneer bhurji, take oil in a pan, add minced garlic and finely chopped onions. Add other vegetables like carrots, peas and beans etc. 
Now add roasted chickpea flour and scrambled paneer. Spread it on bread slices and your toothy breakfast is ready. 
12.
Homemade Seed Bar: A Simple Make Ahead High Protein High Fiber Breakfast 🌱
Seeds are power packed tiny seeds which are high in protein, fiber and many other nutrients.    This crunchy energy bar recipe is super simple and quick to make.
Take your choice of seeds like sunflower, melon, pumpkin, sesame, chia or hemp etc. You can also take coconut flakes. 
Roast them all and roughly grind them. Add peanut butter and maple syrup and spread it on a smooth surface. Cut in preferred shape and store in an airtight jar. 
13.
Tempeh With Sauteed Vegetables: High Protein High Fiber Breakfast Without Eggs🌱
Tempeh is one of the few plant based foods which has all the 9 essential amino acids which the body requires to make protein. Made with whole soybeans, tempeh is also a great source of fiber.
Saute vegetables like carrots, beans, cabbage and bell peppers etc. enhance the nutrients and the fiber content of this recipe. Mix pre cooked tempeh with the vegetables and enjoy it straight or as a topping on toast.  
14.
Quinoa Porridge With Vegetables: Most Efficient High Protein High Fiber Breakfast Ideas for Weight Loss🌱
Quinoa is a protein and fiber rich seed which is considered as a whole grain. You won't carve for food for long after having quinoa for breakfast. 
To make this savory porridge, take oil in a pan and add different kinds of vegetables. Once saute well, add quinoa and add vegetable broth in it. Boil it and season with salt, lemon, pepper etc. This warm breakfast is especially good for cold winter mornings. 
15.
Millet Uttapam With Vegetables: Flavorsome High Protein High Fiber Indian Breakfast🌱
This simple yet mouthwatering savory pancake is made of millet flour, rice flour and finely chopped vegetables.
 Millets are small-seeded grasses which are rich sources of protein, fiber, minerals, vitamins, and antioxidants. 
First mix millet flour, rice flour, water, and salt to make a batter. Allow the batter to ferment for a few hours. Then add finely chopped carrots, beans, onion, tomato etc. Then cook a uttapam on a hot pan and enjoy with some coconut dip or chutney. 
16.
Chickpea and Feta Salad: A Refreshing and Quick Breakfast Option
To prepare this protein and fiber rich recipe first boil chickpeas and let them cool. This part can be done the previous night or alternatively you can use canned chickpeas to save time.   
Add chopped vegetables like cucumber, red onion, colorful bell peppers, cherry tomatoes etc. Sprinkle olives, feta cheese and fresh cilantro leaves and toss with olive oil, lemon, salt and pepper. 
17.
Cheela With Scramble tofu: A Nutrient Dense Savory Pancake🌱
This high protein high fiber indian breakfast is one of my all time favorites to prepare on weekends. Cheela are basically savory pancakes which are made of chickpea flour. I will recommend adding oat flour also in the batter for this traditional breakfast recipe. 
Make tofu scramble separately and keep it aside. Fill it in the Cheala and serve it hot with coriander  dip or called green chutney. 
18.
Boiled Sprout & Veggies: An Easy Breakfast Loaded With Protein & Fiber 🌱
Sprouts are loaded with protein and fiber. You can easily make sprouts at home with beans, legumes, seeds and grains. However to avoid the hassle you can get the packed ones from stores. 
In a pan add oil and then saute garlic and onion in it. Add other thinly sliced vegetables and season it with salt and pepper. Lastly add boiled sprouts to make this high protein high fiber breakfast recipe.  
19.
Whole Wheat & Flax Waffles: A Delicious Morning Breakfast That  🌱
These fluffy, soft and sweet waffles are incredible in taste and full of health. 
To prepare these hearty waffles, first make a batter by mixing whole wheat flour with plain greek yogurt, buttermilk, baking powder and flax eggs. 
Take a waffle pan and grease it with olive oil or butter. Top with powdered sugar, honey or maple syrup and berries to enjoy.
20.
Buckwheat Banana Pancake: A Toothy Treat to Break the Dawn 
Buckwheat is a gluten free grain which is high in fiber and protein. Combining this with bananas will make this pancake recipe more fiber rich. 
For this, make a batter by mixing  buckwheat flour, mashed ripe banana, egg, and milk. Cook the pancakes and top with sliced banana, roasted seeds, nuts  and maple syrup.
21.
Tropical Kefir Smoothie: One of Best High Protein High Fiber Breakfast Ideas 
Kefir is fermented milk which is an excellent source of protein.  Tropical fruits like mango and coconut add more fiber in this smoothie. This refreshing smoothie uplifts your energy level instantly. 
For this recipe you will need frozen mangoes, berries, coconut, coconut sugar and vanilla essence. Whitz all the ingredients in a high-speed smoothie blender. Enjoy it with chia and hemp seeds. 
22.
Grilled SeitanToast: A Chewy Breakfast for Vegans and Vegetarians🌱 
Seitan is an excellent meat substitute for vegans and vegetarians. This chewy food is made of wheat gluten. To avoid preservatives I will suggest DIY seitan at home. 
For this recipe, grill seitan with olive oil and add salt, pepper and curry powder to enhance the flavor. Put it on top of your open mouth bread toast. Use rye toast instead of wheat bread, since it is a more fibrous bread. 
23.
Peanut Butter & Quinoa Porridge : A Hearty Eggless High Protein High Fiber Breakfast Option 🌱
Quinoa contains all nine essential amino acids meaning it is a complete protein source for vegans and vegetarians. 
For this high protein high fiber cereal breakfast, first cook quinoa in milk and add peanut butter, cinnamon, nutmeg powder, maple syrup. You can add roasted sunflower seeds, walnuts and pecans for more crunch and nutrients.  
24.
Scramble Egg & Microgreens Wrap: Beat the Morning Rush With This Quick Breakfast
This is one of the most simple and easy high protein high fiber breakfast ideas. You just need minimum ingredients for this recipe.
Take oil or butter in the pan and add scrambled eggs in it. Sprinkle salt and pepper to enhance the flavor. Place it on a washed lettuce leaf and add lots of microgreens on top. Microgreens can be replaced with baby spinach or sprouts. 
25.
Greek Yogurt Parfait: A Simple Option Using High-Fiber High-Protein Breakfast Cereal
Greek yogurt has more protein than regular yogurt. It also has a thicker consistency, which is suitable to make parfait. Instead of normal granola, use buckwheat groats for this recipe which are more nutrient dense. 
Bake buckwheat groats after coating them in cinnamon powder, maple syrup or honey and butter. Now start layering your parfait in a glass jar. Add blueberries, chia seeds and nuts on top. 
26.
Egg & Vegetable Breakfast Sandwich: Layers of Fiber & Protein Between the Slices of Bread
This is a classic breakfast recipe. First prepare a sunny side up omelet using 2-3 eggs. Now in the same pan stir fry round shaped onion and tomato slices. 
Take whole wheat bread and spread butter and arrange omelet, thinly sliced lettuce, cucumber, grilled onion and tomatoes. Close your sandwich with another slice of bread and enjoy. 
I hope you will enjoy making these high protein high fiber breakfast for yourself as much as I enjoyed sharing them with you. 
If you have any queries, feel free to write in the comment section.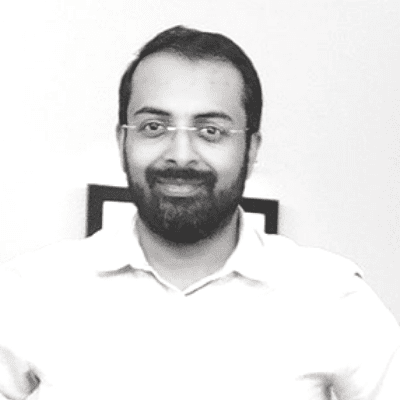 Hi! I'm Integrated Nutrition Coach Rohit Panwar. I hold twin Certifications from IIN, New York & SAFM, Massachusetts. I am a passionate vocalist of holistic lifestyle and have fully committed the past several years to educate & empower people towards their wellbeing. Despite a successful yet hectic corporate stint of 21+ years, I have prioritised nutriment in my life. I truly hope my personal journey from illness to wellness helps everybody reading this forge their own path.