For vegans, finding protein-rich breakfast options can be challenging sometimes given that you are excluding many traditional high-protein foods. This is why I bring you a list of ideas for high protein vegan breakfast without protein powder. 
This blog has something for everyone, from quick and easy to something more elaborate. I have included a wide range of satisfying vegan breakfast options that don't rely on protein powder. 
PEOPLE ALSO READ
| Quick & Easy Breakfast Ideas for Vegans | 
High Protein Vegan Breakfast Without Protein Powder | 31 Best Options
There are plenty of delicious and nutritious plant-based options that can be included in your breakfast that high in protein and many other nutrients. 
These options for high protein vegan breakfast without protein powder are what your body needs to start the day off right – 
1.
Savoury Chickpea Flour Pancakes
Chickpeas are a staple for ever vegan kitchen. They are rich in protein and fibre along with many other nutrients. Chickpea flour pancakes  are also a gluten-free option. 
For making these, mix together chickpea flour, baking powder, salt, and any desired spices. To this add finely chopped vegetables of your choice and vegan yogurt. Cook the pancakes on a pan until golden brown on both sides. Serve it with vegan yogurt or some chutneys like peanut chutney for an extra dose of protein. 
2.
Peanut Butter Chia Overnight Oats
The simplest on my list of options for high protein vegan breakfast without protein powder is this pudding. This is a no cook recipe and involves simply combining the ingredients together. 
In a jar or container, combine rolled oats, chia seeds, plant milk of your choice (I prefer pea, Peanut and soy milk), a natural sweetener, vanilla extract and a scoop of peanut butter. Stir well and refrigerate overnight. In the morning, top with more peanut butter, berries, or chopped nuts. 
3.
Vegan Burrito
This burrito is a good option for breakfast, lunch or dinner.  For making this you will need a whole grain tortilla for the wrap, and your choice of ingredients for the filling. 
My usual filling includes lettuce, cooked black or pinto beans, diced sweet potatoes, sautéed bell peppers & onions and cooked quinoa. You can add in other protein rich add ons like plant-based meat alternatives – soyrizo, seitan or tempeh. 
4.
Chickpea Avocado Toast
The simple yet delicious chickpea avocado toast is as simple as it sounds. All you need to prepare this is whole grain bread, ripe acvocado, cooked chickpeas and spices. 
Start by mashing avocado on top of a piece of toast, then add in the boiled chickpeas.  Mash them up with the avocado. Before eating, season with salt, pepper and any other spices like cumin or paprika powder. You can also top it up with some diced tomatoes and chopped cilantro.
5.
Baked Peanut Butter Banana Oatmeal
Baked oatmeal is  one of the most delicious high protein vegan option. It is also pretty easy to make and a great way to start your day with a healthy dose of protein.
The first step is mixing in the rolled oats, mashed banana, peanut bytter, baking powder, cinnamon, salt, and date paste. To adjust the consistency add in your favourite plant milk. Also add in finely chopped nuts and some seeds like pumpkin to the mix. Pour the mixture into a greased baking dish and bake in the oven until golden brown. 
6.
Strawberry Banana Bean Smoothie
This is something I tried recently, and contrary to what I had initially thought, it turned out great. This smoothies is high in protein and fiber, thanks to the inclusion of beans. 
All you need to do is blend together strawberries, cooked red kidney or white beans, a banana, date/ maple syrup and milk alternative. You can also add some seeds like pumpkin, hemp or chia for additional texture. 
7.
Cheela with Tofu Filling
Cheela is a type of Indian crepe or pancake. It is made from a batter of besan or gram flour. Cheela is itself rich in proteins, but to give it an extra protein boost, add in some cooked tofu. 
You can just crumble up some tofu and combine it with spices of your choice. Fill it up in your besan cheela and serve with a chutney. 
8.
Hummus Tahini Sandwich 
Hummus and tahini are both high in protein and make for very good spreads for sandwiches and wraps. The sandwich is easy to make and can be cutomised in many different ways. 
ake slices of whole grain bread and spread hummus and tahini on then. Now  add some in some sliced tofu, and diced vegetables like lettuce, tomato, cucumber, etc. 
9.
Tempeh Breakfast Bowl
Tempeh is a soy product made by fermenting cooked soybeans and then forming them into a block. This protein rich food has a nutty, savory flavor and a firm, chewy texture. 
A tempeh breakfast bowl includes cooked tempeh, sauteed vegetables, avocado served on a bed of cooked quinoa, or amaranth. You can top it up with sauces you like such as  hot sauce, soy sauce or tahini.
10.
Banana Lentil Pancakes
The gluten-free banana lentil pancakes are made with lentil flour and mashed bananas as the main ingredients. 
To make the pancakes, amke a batter using lentil flour, mashed bananas, baking powder, and a plant-based milk. Cook the pancakes in a pan and serve with a nut butter like cashew, almon dor peanut. 
11.
Quinoa Upma 
Upma is a tradition South Indian breakfast dish generalling made using semolina, For increasing the protein content, you can replace semolina with cooked quinoa.  
Cook the upma just like regular upma and add in your favourite veggies and spices.  You can serve this high fibre, high protein breakfast as such or with some peanut chutney.  
12.
Nuts Quinoa Porridge
Nuts quinoa porridge is a warm and comforting breakfast dish that is quite easy to make. For the recipe, you will need a plant milk (soy, hemp pea milk are the ebay protein-wise), chopped nuts and a sweetener.  
You can make the porridge by cooking quinoa in plant water, then adding chopped nuts and your choice of sweetener. Top the porridge with additional nuts, dry fruits like apricots, rasins and fruit, such as berries or chopped banana.
13.
Tofu Scramble
A very popular dish, tofu scramble is probably the one you are most familiar with in these options for high protein vegan breakfast without protein powder. 
Firm tofu is crumbled and then cooked with various seasonings and vegetables making it very similar to the texture and flavor of scrambled eggs. Serve it up with whole grain bread. 
14.
Hummus & Chickpea Sandwich
This sandwich literally screams chickpeas and if you love chickpeas, you will love this too. For the recipe you need whole wheat bread, hummus, cooked chickpeas, vegetables and spices. pita, focaccia, or whole wheat bread.
In a bowl mix together the mashed & boiled chickpeas, tomatoes, onion, and cilantro. Squeeze in a bit of lemon and mix well. Spread this mixture over slices of bread layered with hummus. You can also add in some sliced cucumber, lettuce and pickles to the sandwich to give it more flavour and texture.
15.
Vegan Shakshuka
Shakshuka is a traditional Middle Eastern and North African dish that typically consists of eggs poached in a spiced tomato. A vegan version of Shakshuka can be made by replacing the eggs with plant-based high protein alternatives.
To make a vegan shakshuka, sauté onions, garlic, and bell pepper in a pan. Then, chopped tomatoes, tomato paste, and spices like cumin, pepper, salt and paprika. Make holes in the sauce and add in some plant-based protein like tofu or tempeh in place of the eggs.
16.
Veggie Chickpea Wrap
Another chickpea option here, now that I know how much I value it as a nutritionist. This wrap is made with a variety of vegetables and chickpeas as the main ingredients.
Start by spreading hummus or any other spread on the wrap. Then add a layer of mixed vegetables such as lettuce, tomato, cucumber, red onions, and bell peppers. To this add a layer of seasoned chickpeas. Wrap it tightly, and your breakfast on the go is ready. 
17.
Mixed Sprout Roll/ Wrap
A sprout roll can be a great way to incorporate high quality protein into your breakfast. For the recipe you will need a wrap or tortilla and mixed sprouts such as mung bean, lentil, alfalfa, bean, etc. 
Mix sprouts with chopped cucumber, onions, tomatoes, bell peppers, lemon juice and spices. Spread your chice of sauce like tahini or hummus into the wrap and fill it up with the sprout mix.
18.
Tofu Paratha
Paratha, a popular dish in Indian cuisine, is made by stuffing a whole wheat flatbread (paratha) with a mixture of mashed vegetables. In case of tofu paratha, the stuffed vegetable is tofu. 
To make the stuffing, mash the tofu mixed with spices  like cumin, coriander, and turmeric, as well as some chopped cilantro and onions. Stuff this into paratha and cook. Serve it with vegan yogurt. 
19.
Sprouts Dhokla 
A sprouts dhokla is a high protein version of the traditional Indian breakfast/ snacks dish – dhokla. 
Instead of the gram flour, in this version you can use a mix a paste of gram flour with sprouted moong beans. The sprouted moong beans are high in protein content and elevate the protein content of this dish. 
20.
Oats Poha
Another Indian breakfast staple, poha can be tweaked to include more protein. Oats poha imade from flattened oats and vegetables. 
You first need to soak the oats ats  and then flatten them. Then cook these flattened oats with peanuts and a mixture of vegetables such, carrots, and onions.  
21.
Quinoa Fritata
A quinoa frittata is a vegan twist to a frittata made with eggs. To make the frittata, cook quinoa, then mix with sautéed vegetables, such as bell peppers, onions, and spinach, and your choice of plant-based protein such as tofu or chickpeas. Also add in spices, and herbs of your choice.
Now heat a skillet over medium heat and add a small amount of oil. Pour the quinoa mixture into the skillet and cook until the bottom is set, then transfer the skillet to the oven and bake until the top is set.
22.
Coconut Peanut Butter Granola
There can be multiple variations in a granola but this one is one of my top choices for high protein vegan breakfast without protein powder.
Start by mixing together rolled oats, shredded coconut, chopped peanuts, nuts and seeds of your choice and a sweetener like maple syrup in a bowl. Then, heat a separate pan heat some coconut oil and add peanut butter. Add this liquid to the oat mixture and stir until the oats and nuts are evenly coated.Bake and use it as per your liking. 
23.
Vegan Breakfast Casserole
A high-protein vegan breakfast casserole can be made using a variety of ingredients. Some of my top choices are  tofu, tempeh, or seitan as a protein source, and nutrient rich vegetables such as broccoli, spinach, or bell peppers.
A high protein casserole like this can be a great start to your day. It is rich in nutrients and can keep you full for a longer time. 
24.
Spelt Waffles
A  nutritional alternative to traditional waffles made with wheat flour, spelt waffles are also quite delicious.These are a great source of protein and provides a nutty flavor to the waffles. 
You can prepare them like any other vegan waffles and serve them with a nut butter like almond or peanut and some maple syrup. 
25.
Chickpea Omellete
This vegan version of the egg based omellete is something you will truly relish. Instead of eggs, here we use  using chickpea. 
For this, mix together chickpea flour, water, and spices to form a batter. Heat a non-stick pan, add oil and pour the batter into the pan. Cook the omelette for a few minutes on each side until well cooked. 
26.
Pesarattu or Moong Dal Dosa
Moong dal dosa is another protein rich breakfast dish from India. These protein rich  vegan crepes are made from a batter of green mung beans and rice. 
 Spice your batter lightly with salt and pepper and cook like a dosa. Enjoy it as such or with a chutney or vegan yogurt.
27.
Almond Flour Pancakes
This pancake is not only high in protein but is also gluten free. Here instead of the wheat flour, you will be using almond flour as the base. 
The recipe remains the same as that of regular vegan pancakes. You can serve them with syrup, or fresh fruit for a tasty and nutritious breakfast.
28.
Tofu Breakfast Burritos
Tofu burritos are an easy and quick vegan breakfast on the go. It is highly customizable and can be made by using any combination of veggies. 
Crumble your tofu and sauté it in a pan with some oil and seasonings. Then transfer this cooked tofu along with vegetables such as bell peppers, onions, mushrooms, and even spinach into a tortilla. Add toppings such as avocado, salsa, and shredded vegan cheese. .
29.
Peanut Butter Yogurt Parfait 
This layered dessert or breakfast dish is quick to assemble and delicious. It makes me feel like I am having a dessert right at the start of the day. 
Take jay and start by layering vegan yogurt like coconut or cashew yogurt. Then add a layer of your high-protein homemade granola. You can also add in some chopped nuts or seeds for added texture. Before you add chopped fruits sweetener, add a scoop of peanut butter. This high protein parfait is ready. 
30.
Tempeh Sandwich 
Tempeh, a fermented soy product, is a good source of protein. It is also very versatile and you can steam it, fry it or pair it with a variety of flavours. 
The sandwich is easy to make as well. Use this cooked tempeh to make a sandwich by adding veggies and spreads of your choice.
31.
Buckwheat Porridge
This warm and comforting breakfast can also be a great source of protein. It is also rich in fiber, and essential minerals like magnesium and zinc.
To make the porridge.  start by rinsing and soaking the buckwheat groats overnight. The next morning, drain the groats and cook them with plant based milk of your choice. Bring to boil and cook until the buckwheat is tender and the porridge has thickened. Add in your sweetener and some chopped nuts and seeds to increase the nutritional value. 
This brings me to the end of this blog on high protein vegan breakfast without protein powder. If you have any other questions related to nutrition, you can always reach out to me.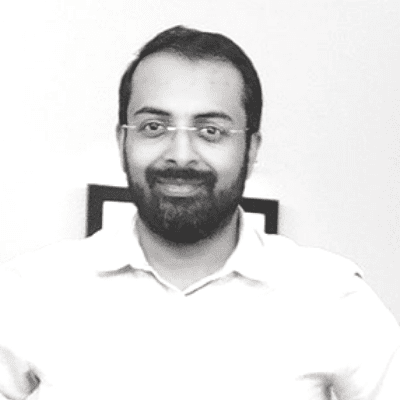 Hi! I'm Integrated Nutrition Coach Rohit Panwar. I hold twin Certifications from IIN, New York & SAFM, Massachusetts. I am a passionate vocalist of holistic lifestyle and have fully committed the past several years to educate & empower people towards their wellbeing. Despite a successful yet hectic corporate stint of 21+ years, I have prioritised nutriment in my life. I truly hope my personal journey from illness to wellness helps everybody reading this forge their own path.