Searching for how to use hazelnut milk? As an ardent fan of plant-based milks, I can help you find the best & most delicious ways of using hazelnut milk.
Made from ground hazelnuts and water, hazelnut milk is a delicious milk that can replace cow's milk and other plant based milk options. So, let's explore.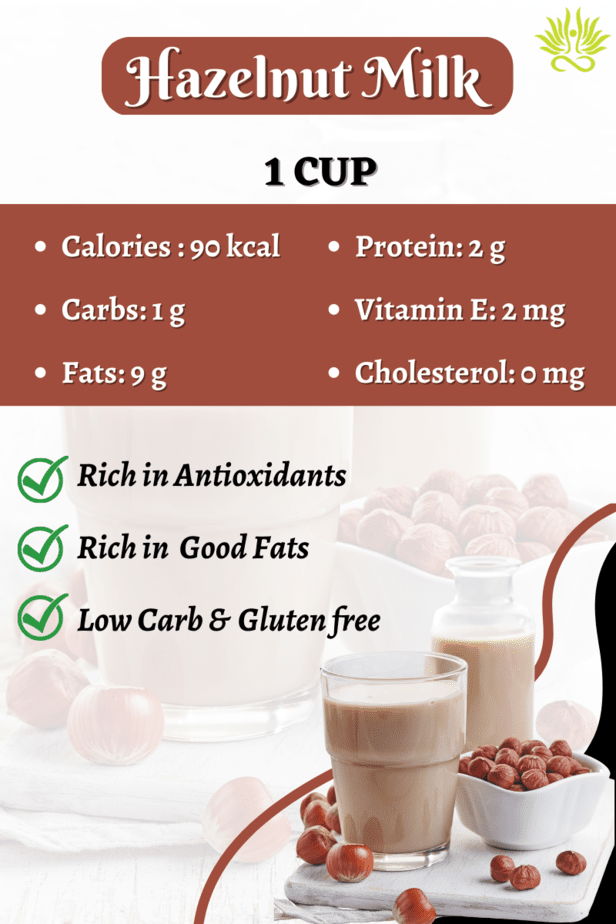 PEOPLE ALSO READ
| 21 Phenomenal Ways to Use Plant Milks At Home | 
How To Use Hazelnut Milk – 14 Tasty Choices
Hazelnut milk is very versatile in usage. From lattes, to ice creams, here is how this milk can find multiple uses in your kitchen    
1. Gulp Down the Delicious Hazelnut milk
Hazelnut milk is simple delicious. It is creamy, nutty and is a great option for people who are lactose intolerant, vegan, or are simply looking to replace cow's milk.
You can drink it cold or warm it up, add flavours or just a bit of sweetener. Although a number of flavour can be added, I would recommend starting out with chocolate and vanilla as a beginner. 
2. Add Hazelnut Milk In Your Coffee or Tea 
This is one of the best ways to use hazelnut milk. The creamy texture and nutty flavour of hazelnut milk goes really well with coffee and lattes. You will find a lot of coffee places offering hazelnut milk as a alternative. 
Likewise hazelnut milk can also be a nice complement to your tea. You can add it to any type of tea, whether it be black, matcha, or herbal, and enjoy it hot or cold.
3. Make Hazelnut Milk a Base for Your Shakes & Smoothies
A "nothing can go wrong" way of using hazelnut milk is using it in your milkshakes and smoothies as a replacement for dairy. It add a creamy and nutty flavour to smoothies. 
You can choose your ingredients as per your liking. Pick between, fruits, nuts, nut butters and seeds to make a filling and satisfying treat. For gym goers, adding protein powder is always a great option.
4. Use Hazelnut Milk to Your Cereal & Oatmeal
If you are bored with the regular almond milk and oat milk in your morning cereal, this is your sign of opting for hazelnut milk. 
Hazelnut milk can pair really well with any kind of cereal, especially the chocolate flavoured ones. The slightly sweet taste and nutty goodness will leave you craving for more. 
5. Use Hazelnut Milk for Overnight Oats 
One of the non dairy options for soaking your rolled oats in overnight oats is hazelnut milk. Just add your usual or favourite ingredients like chia or pumpkin seeds, to rolled oats and place it in the refrigerator for a few hours or overnight. Enjoy in the morning with fresh fruits. 
Of the extensive list of choices you have for ingredients, I recommend using cocoa powder. Chocolate hazelnut milk overnight oats are a must try. They are delicious and feel like you are eating dessert right in the morning. Amazing, right?
6. Make Creamy Yogurt Using Hazelnut Milk 
Hazelnut milk is rich in fats when compared to many other types of plant milk. This makes the milk vcreamier which results in a more richer yogurt texture. 
In order to make hazelnut milk yogurt at home, you'll need hazelnut milk, and an active yogurt culture. Mix warm milk with culture and let it ferment for 6-8 hours. Check the consistency and taste. Refrigerate for a few hours to thicken and enjoy as such or with toppings 
7. Use Hazelnut Milk to Make Vegan Kefir
Kefir is a fermented milk beverage known for its diverse gut friendly  good bacteria also known as probiotics. Although originally made using cow's milk, kefir can be easily made using alternative milk including hazelnut. 
However, one thing to remember when making vegan kefir with alt milk is that you have to add some kind of sugar for the bacteria to feed on. I generally use date paste for this purpose, but you can also use maple syrup or agave nectar.  
8. Hazelnut Milk Can Make Some Yummy Ice Creams
Hazelnut milk can be used to make super delicious homemade ice cream. Not only is it a great alternative to dairy milk,  but it also adds a rich, nutty flavor to ice cream.
You can usehazelnut milk as the base, along with other ingredients such as sweetner, cream  or coconut cream, vanilla extract, etc. 
9. Hazelnut Milk Can Be Used in A Balancing Factor in Your Curries
Hazelnut milk is incredibly versatile and can be used in a wide range of recipes. It's a handy ingredient to have if you're looking to try new and exciting recipes. 
You can use hazelnut milk as the as a marinade for meats, tofus, etc. You can also use it as a base for your curries as it adds a rich and nutty flavor to the sauce. The creaminess of the hazelnut milk can help to balance out the spices in the curry.
10. Use Hazelnut Milk in Your Cocktails & Mocktails
Plant milks including Almond, pistachio, hazelnut and coconut are some of my favourites when it comes to making cocktails. All these have a inherent sweetness and nuttiness, that go really well with hard liquor. 
You can create a twist in the traditional cocktails and mocktails by adding in some hazelnut milk. Some of my recommendations are – White Russian, Martini, Amaretto Sour, Hazelnut Mocha, etc. 
11. Add Hazelnut Milk to Your Baking
This is one of my favourite uses of hazelnut milk.  It can be used as a dairy milk alternative in recipes such as pancakes, waffles, cakes, and breads. 
Substitute hazelnut milk for cow's milk or any other plant milk in equal amounts while preparing the batter for your baked goods. You will be pleasantly surprised by the delicious results.
12. Prepare Your Own Vegan Hazelnut Golden Milk 
Golden milk or turmeric milk is a popular Indian drink made using cow milk and spices. It is becoming popular all over the globe for its benefits. Vegans can replace cow milk with hazelnut milk to prepare this healthful drink. 
You will need to heat up the hazelnut milk along with spices including dry ginger, turmeric and cinnamon. Enjoy this delicious nutty drink, preferably before bed. 
13. Prepare A Comforting Cup of Hot Chocolate With Hazelnut Milk
There is no denying the fact that hazelnuts and cocoa are a match made in heaven. Cas ein point – NUTELLA! Hazelnut milk can thus be a delicious and creamy alternative to regular milk for making hot chocolate. 
Hazelnut milk will give your cocoa a nutty, rich flavor. So, even people with lactose intolrenace of following a plant based diet can enjoy their favourite drink without compromising with the flavour. 
14. Hazelnut Milk Is An Excellent Soup Creamer
Since hazelnut milk is creamy and nutty, it can be a great addition to soups. You can use it in place of cream or coconut milk. 
Hazelnut milk goes very well with soups such as cream of mushroom soup, pumpkin soup, bisques and potato soups. 
15. Replace Dairy With Hazelnut Milk for Salad Dressing
If you are using yogurt or other dairy based ingredients in your salad dressings, its time to use something new like hazelnut milk. 
The creamy hazelnut milk will make your Hazelnut salad dressing creamy and will give it a more velvety texture.
16. Make Sweet Treats With Hazelnut Milk 
Hazelnut milk produces excellent results when used to prepare desserts. It can be used in a variety of ways to give your dessert a nutty flavour. 
Use it to make a rich custard filling for a tart or use it to make hazelnut cream cheese by blending cream cheese with hazelnut milk. Simplest of them all is to use it as a base for your chia pudding.
These were my top favourites  for how to use hazelnut milk. In case you have been using it for other purposes, I would love to know more. Looking forward to your inputs in the comment section below.
Frequently Asked Questions About How to Use Hazenut Milk
Can I use hazelnut milk as a substitute for cow's milk in baking recipes?
Ans: Yes, you can use hazelnut milk as a substitute for cow's milk in baking. However, check the consistency and sweetness level of the hazelnut milk before using as it may vary between brands, 
Can you heat hazelnut milk?
Ans. Yes, you can heat hazelnut milk. However, make sure you heat it at a low to medium heat and stir continuously to prevent curdling. 
Can you put hazelnut milk in tea or coffee?
Ans. Yes,  you can add hazelnut milk to both tea and coffee. 
Can I use hazelnut milk to make a hot chocolate?
Ans. Yes, and I highly recommend using hazelnut milk as a replacement for milk in hot chocolate. It gives your hot chocolate the richness it truly deserves. 
Can I make my own hazelnut milk at home?
Ans. Absolutely. Hazelnut milk can be easily made at home using two ingredients – hazelnuts and water. Before making the milk, you should ideally soak the hazelnuts for a few hours. 
Can I drink hazelnut milk?
Ans.  Yes. Hazelnut milk is quite delicious on its own and can be consumed as such cold or warmed. You can add flavours or sweeteners to it as well. 
Is hazelnut milk a good source of nutrition?
Ans. Hazelnut milk is rich in good fats, antioxidants, magnesium and vitamin E. However, it is  not as nutritionally dense as cow's milk. It lags behind dairy milk in terms of proteins and calcium along with other nutrients.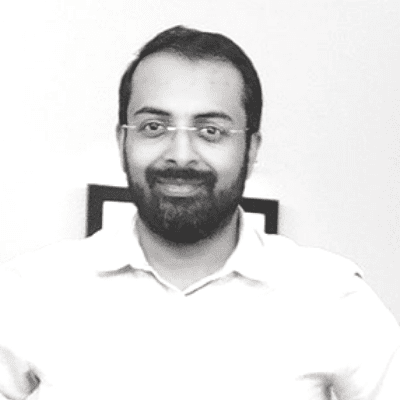 Hi! I'm Integrated Nutrition Coach Rohit Panwar. I hold twin Certifications from IIN, New York & SAFM, Massachusetts. I am a passionate vocalist of holistic lifestyle and have fully committed the past several years to educate & empower people towards their wellbeing. Despite a successful yet hectic corporate stint of 21+ years, I have prioritised nutriment in my life. I truly hope my personal journey from illness to wellness helps everybody reading this forge their own path.