Wondering how to use quinoa milk? I have your back with my list of some of the best ways to use homemade or market bought quinoa milk.  
Made from quinoa grain, quinoa milk may not be as popular as other plant milks but it is definitely worth a try for its nutrition and allergy-friendly nature.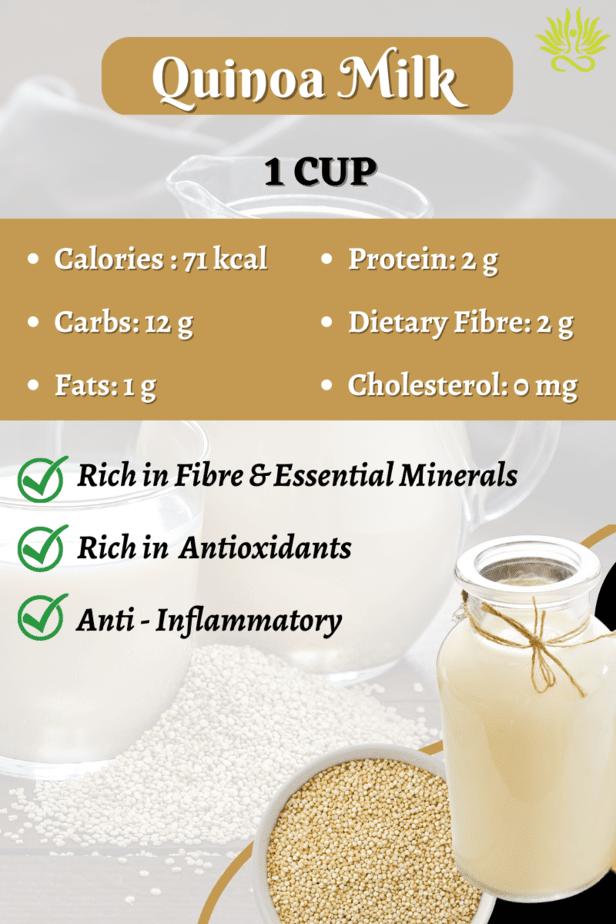 PEOPLE ALSO READ
| How to Use Hemp Milk at Home? | 
How to Use Quinoa Milk: 11 Diverse Uses of Quinoa Milk
Quinoa milk is a great option for people who are avoiding dairy, nuts or soy. It is low in fats and one of the easiest plant milk to make at home. 
So, let's explore the best quinoa milk uses –  
1. Gulp Down Quinoa Milk As A Beverage
The first and the easiest way to include quinoa milk in your diet is to consume it directly. You can consume it as such or pair it with flavours and sweeteners including cinnamon, nutmeg, agave nectar, maple syrup, etc.
Quinoa milk is also safe for babies and toddlers who are allergic to dairy, soy, or nuts. All in all drinking it straight up is always the best way to enjoy its nutrients. 
2. Pour Quinoa Milk to Your Cereal
Quinoa milk can be a great alternative to cow's milk in your breakfast cereal. Just pour it over cereal like cow's milk, and enjoy a nutty flavour. You can try it with different types of cereal, but I like it with the chocolate flavoured ones and with muesli and oats. 
You can also enhance the nuttiness of quinoa milk further by adding chopped dry fruits. Quinoa milk tends to thicken and separate when heated, so if you wish to add warm milk, heat it over a low to medium heat before adding cereal. 
3. Add Quinoa Milk to Your Iced Lattes
Quinoa milk can be a great replacement for cream and milk in your iced lattes. It provides a distinct nutty flavor that can complement the taste of coffee. 
If you don't like coffee, fret not, you can also replace it with tea or better still matcha tea. Quinoa milk matcha latte combines the goodness of quinoa milk and matcha tea in oen drink. 
4. Makes for a Delicious Yogurt 
You can culture quinoa milk just like other plant based milks to obtain a yogurt-like probiotic rich food. Probiotics are known for their positive impact on gut health. The consistency of quinoa yogurt is very similar to that of a  traditional yogurt.
All you need is a good active yogurt culture for the purpose. Add the culture to warm quinoa milk and let it ferment for a few hours till you get the desired taste and consistency. 
5. Make Overnight Oats With Quinoa Milk 
Another easy way to incorporate quinoa seed milk is to use it to make overnight oats. Overnight oats are super easy, quick and nutritious breakfast option. 
In a jar add rolled oats along with quinoa milk, chia seeds, date syrup or maple syrup.. Keep this in the refrigerator overnight and enjoy it in the morning for a satisfying taste topped with fresh cut fruits or chopped nuts. 
6. Make Your Very Own Vegan Cheese With Quinoa Milk
Quinoa milk can be used to make a spreadable cheese very similar in consistency to traditional cheese. It can be used in smoothies or as a spread or as a base for sauces and dips.
In a pan heat quinoa milk and to this add nutritional yeast and lemon juice. Cook till you get a lumpy consistency. Remove from heat, let it cool and then strain the excess liquid using a cheesecloth lined sieve. The cheese is ready. Refrigerate and use as you would use cottage cheese or cream cheese. 
7. Prepare Ice Cream With Quinoa Milk
Quinoa milk can be used to make a delicious dairy-free ice cream. The milk goes well with a variety of flavours including the popular ones like chocolate and vanilla.   
You can experiment with different flavors including strawberries, cinnamon, coffee, etc. The ice cream made using quinoa milk has a very nutty flavour with earthy undertones. 
8. Use Quinoa Milk As a Base for Your Curries
Quinoa milk can be a great alternative to traditional dairy milk as a base for your gravies and curries. The nutty and creamy flavor of quinoa milk balances out the spices pretty well leaving it with a richer texture.
In curries, you could use quinoa milk in place of coconut milk or soy milk. This will add a unique nutty flavor to the dish. However, quinoa milk may thicken on heating, so you might want to increase the quantity or add water to adjust the consistency. 
9. Replace Dairy With Quinoa Milk in Your Baked Goods 
Quinoa milk can be used as a substitute for dairy milk in baking. Use it to prepare cakes, cookies, and breads. 
Quinoa milk will add nutrients such as protein into your baked goods without adding too many calories. This is definitely a win-win scenario. 
10. Quinoa Milk Is An Excellent Base for Protein Shakes & Smoothies
Use quinoa milk as a base for smoothies and protein shakes for an extra protein punch. The light flavour is a great addition to smoothies which contain fruits, greens, and other ingredients like nuts and seeds. 
If you are using homemade quinoa milk, I recommend using the unstrained version. This will make your smoothies thicker and rich in fibre.
11. Make Puddings With Quinoa Milk 
Quinoa milk is also a great choice for making puddings. Simply cook quinoa milk with sugar (or other sweetener), and cornstarch together until it thickens. Then add your desired flavours like vanilla, chocolate, or fruit. 
An advantage of making puddings with quinoa milk is that since it contains more starch than many other non-dairy milk alternatives, the pudding will turn out to be thick and creamy.
12. Quinoa Milk Can Work Great in Soups & Sauces
Quinoa milk is also an ideal choice for base of soups and sauces. In soups it can add a rich, creamy texture. In case of sauces, quinoa milk can form a base for creamy sauces like Alfredo. 
I make a fairly simple quinoa soup by simple combining tossed vegetables with some quinoa milk and black pepper, garlic, salt and rosemary. 
These were my top choices for how to use quinoa milk at home. I would love to know any other recipes you have tried with quinoa milk. Feel free to put them down in the comment section below. 
Frequently Asked Questions About How to Use Quinoa Milk
Is quinoa milk good for you?
Ans.  Yes, quinoa milk is a good for you as it is a good source of nutrients including protein, magnesium, phosphorus, potassium, iron, fiber, and vitamin E. 
Is quinoa milk gluten-free?
Ans.  Yes, Quinoa milk is gluten free and lactose free.
Can qunioa milk be heated?
Ans.  Yes, quinoa milk can be heated. However, it may separate or become thicker on heating.  
Ans.   Quinoa milk is made by blending cooked quinoa with water and then straining the pulp. 
What can I use quinoa milk for?
Ans.  Quinoa milk can be used as an alternative for dairy milk a in a variety of recipes, including smoothies, puddings, curries, sauces and soups.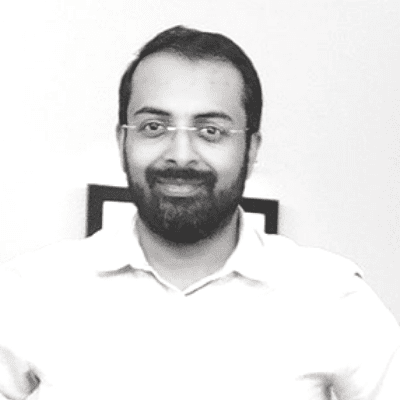 Hi! I'm Integrated Nutrition Coach Rohit Panwar. I hold twin Certifications from IIN, New York & SAFM, Massachusetts. I am a passionate vocalist of holistic lifestyle and have fully committed the past several years to educate & empower people towards their wellbeing. Despite a successful yet hectic corporate stint of 21+ years, I have prioritised nutriment in my life. I truly hope my personal journey from illness to wellness helps everybody reading this forge their own path.