Your search for "how to use sesame milk", landed you here and this is what you will get in this blog. I recently started preparing my own sesame milk and was amazed by its versatility.    
Easy to make at home, sesame milk is rich in nutrients and is very environment-friendly. Its subtle flavour and creamy texture make it an excellent dairy replacement and I am a fan.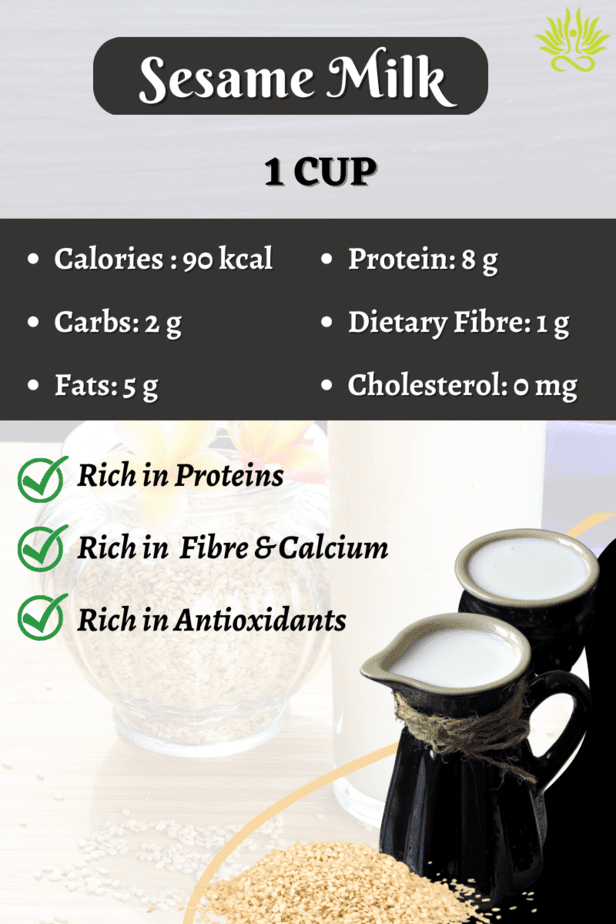 PEOPLE ALSO READ
| How to Use Pumpkin Seed Milk at Home? | 
How to Use Sesame Milk: 13 Delicious Options
Sesame seeds are a treasure trove of nutrients. Rich in calcium, protein, antioxidants and antioxidants, sesame milk inherits all the good stuff from its source of origin. 
So, let's delve into how to use sesame milk in your daily diet – 
1. Enjoy the Deliciousness of Sesame Milk Straight Up
Nut-free and soy-free, sesame milk is one of the best replacement for dairy milk. This is  because unlike many other plant milks, it is rich in protein and calcium. 
Sesame milk is slightly sweet and nutty in taste which makes it easy for you to consume it as such. You might feel a bit of bitter aftertaste, so you can add in a little bit of sweetener or other flavours to it. 
2. Use Sesame Milk to Your Cup of Coffee or Tea
Sesame milk is one of the best option for your morning cup of coffee or tea. It has a distinct yet mild flavour that will lend a creaminess but not overpower the flavour of your coffee and tea. 
Sesame milk does not separate, making it perfect for hot and cold drinks alike. Along with this, since sesame milk froths up easily, you can add it to your lattes.
3. Enjoy Sesame Milk in Your Cereal
Sesame milk is a great choice for pairing with a bowl of granola, cereal or oatmeal. It gives your cereal a nutty and slightly sweet flavour and goes well with different flavours.
Sesame milk is one of the most nutritious alt milk options for your cereal. A good source of protein, good fats, calcium and other minerals, it is a great way to begin your day. 
4. Sesame Milk Is One of the Best Options for Milk Shakes & Smoothies
Sesame milk can be an excellent replacement of milk for your milk shakes, smoothies and smoothie bowls. It creamy taste provides a rich texture to these drinks and also adds  to it the much needed nutrients. 
Sesame milk pairs best with banana based smoothies and smoothies that contain berries. You can always  experiment with different combinations to find what works best for your taste. 
5.  Sesame Milk Pairs Really Well With Overnight Oats 
Easy, convenient and rich in nutrients, overnight oats is one of my favourite breakfasts. I try to use different combinations of seeds, milks and fruits to come up with different flavours. Sesame milk in overnight oats is a great option as well. 
Here's a quick recipe. Combine sesame milk with chia seeds, sesame seeds, date paste / or maple syrup and chopped up walnuts. Mix well and keep overnight in the refrigerator. In the morning top it up with some freshly cut berries and enjoy. 
6. Make Vegan Yogurt With Sesame Milk
Like many other plant milks, sesame milk can also be cultured. To make sesame milk yogurt, you need to add yogurt or active probiotic culture to warmed sesame milk. 
The consistency of sesame milk yogurt will depend on the thickness of the sesame milk used. So, if you are using homemade milk, use the thicker version for making the milk. 
7. Use Sesame Milk to Make Dairy-Free Cheese
You can also use sesame milk to make your very own vegan cheese. The process is very similar to making cottage cheese with normal milk. 
Heat sesame milk in a thick bottom pan on medium heat. To this add an acidic ingredient such as lemon juice or vinegar. Once the milk curdles,  strain the curds to remove the liquid. The remaining curds is your spreadable cheese. You can use this nutty cheese in sweet or salty preparations. 
8. Use Sesame Milk To Make Delicious Ice Creams
You can use sesame milk as a base for your ice cream instead of milk and cream. Depending on the thickness of the milk, you can add a thickening agent like agar agar to get the right texture. 
In fact you can also use the sesame pulp left over from making milk in the ice cream for better texture and prominent sesame seed flavour. 
9. Sesame Milk Pairs Really Well With Curries 
Since sesame milk is not overly sweet, it goes well with both desserts as well as savoury recipes. It can add a nutty and creamy to the curry. 
Sesame milk is often used in many Asian based curry recipes. Its sweet and creamy taste balance out the spices really well, giving it a smooth texture. However, if you are just starting out, make sure you begin by adding a small amount. As you experiment and try it out with other things, you will get better with the proper ratio. 
10. Use Sesame Milk in Your Soups & Sauces
I tried sesame milk in cream based mushroom soup, and it turned out quite well. It gave the soup a nice silky texture and a rich flavour. 
Apart from cream based soups, you can also try sesame milk in miso soup and noodle soups. Remember, sesame milk may appear to have a stronger flavour than cow's milk especially for beginners, so add smaller quantity in the beginning. 
11. Make Desserts Using Sesame Milk 
Sesame milk is  also great option for making desserts. You can use sesame milk to make almost any kind of dessert. 
I generally use sesame milk for making pudding. Since sesame milk is slightly sweet, it lends your desserts a really nice taste. 
12. Replace Dairy WIth Sesame Milk In Baking
Sesame milk can be used as a substitute for milk in baking in a 1:1 ratio. Adding sesame milk will give your baked goods like cakes, pies and cookies a nice nutty sesame flavour. 
Sesame milk is also a great replacement for nut milks like almond or walnut for people who have nut allergies. 
13. Prepare Hot Chocolate With Sesame Milk 
Cocoa goes really well with sesame milk. The nuttiness and sweetness of sesame milk blend in really well with chocolate flavour. 
You can substitute sesame milk for regular milk or plant milk. Follow the same recipe as you would for making your regular hot chocolate. 
I am excited to hear about your  take on sesame milk. If you have any recipes that use sesame milk, I would love to try them out as well. 
Frequently Asked Questions About How to Use Sesame Milk
Ans. Sesame milk is a aplnt based milk made by blending soaked sesame seeds with water. 
Ans.  Sesame milk is protein-rich replacement for cow milk. It is also rich in calcium making a nutritious option.
What is sesame milk used for?
Ans.  Sesame milk can be consumed as such as a beverage or can be added to a number of cooking and baking recipes as I discussed above.  
Can we drink sesame milk daily?
Ans.  Yes, you can drink up to a cup pf sesame milk everyday. However, if you are new to it, start with smaller quantities and if it feels good, increase the quantity gradually.  
Is sesame milk high in protein?
Ans. Yes, sesame seed milk is high in protein in comparison to many other types of plant based milk including almond, oat, cashew, etc.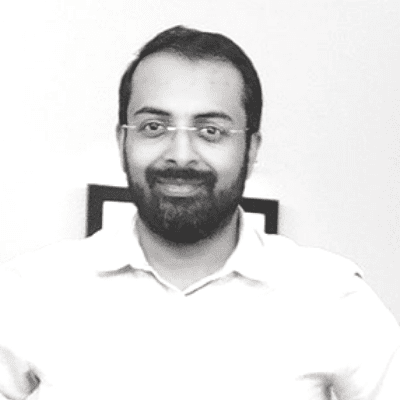 Hi! I'm Integrated Nutrition Coach Rohit Panwar. I hold twin Certifications from IIN, New York & SAFM, Massachusetts. I am a passionate vocalist of holistic lifestyle and have fully committed the past several years to educate & empower people towards their wellbeing. Despite a successful yet hectic corporate stint of 21+ years, I have prioritised nutriment in my life. I truly hope my personal journey from illness to wellness helps everybody reading this forge their own path.