Are you planning to include psyllium husk in your diet but are perplexed about consuming it with milk or curd? Well, most people around the globe have this exact same question – Isabgol in milk versus curd?
My current article aims to address this common but significant question. After all, it affects health enthusiasts worldwide.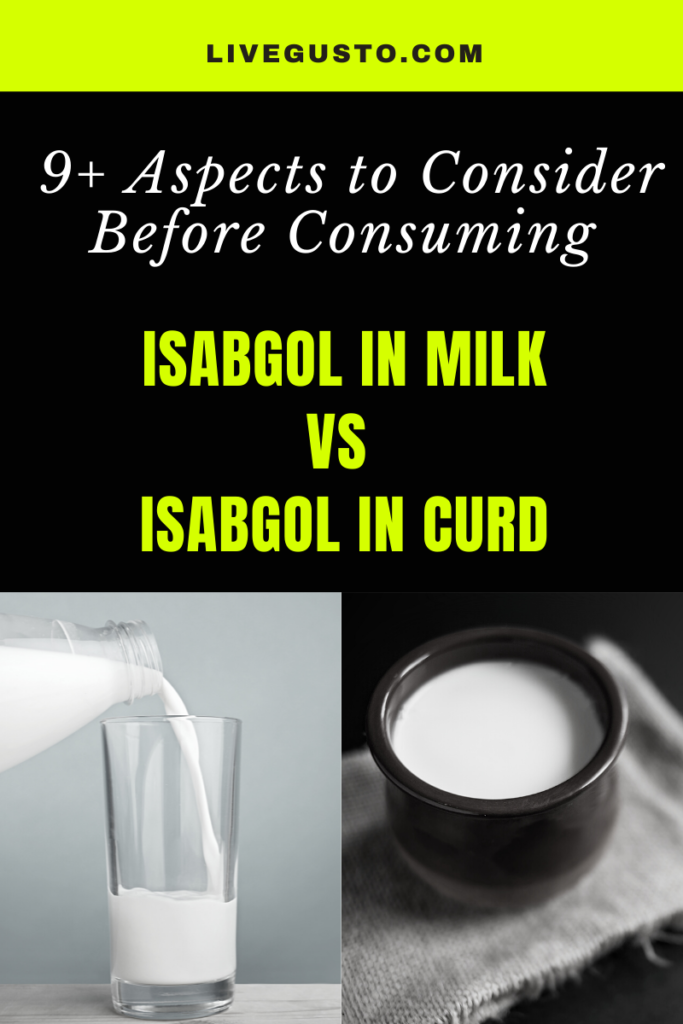 PEOPLE ALSO READ
| Is Isabgol better with curd or buttermilk? |
Tabular Chart Contrasting Isabgol in Milk versus Curd
The chart below highlights the differences between Isabgol in milk and curd-
SUGGESTED AMOUNT
Isabgol in Milk

1-2 tbsps

Isabgol in Curd

1 tbsp

RECOMMENDED TIME
Isabgol in Milk

Before bedtime

Isabgol in Curd

After meals

RECOMMENDED FORM
Isabgol in Milk

Husky or powder

Isabgol in Curd

Husky or powder

ADDITIVES
Isabgol in Milk

Honey

Isabgol in Curd

Pepper

EFFECT ON SKIN
Isabgol in Milk

Good

Isabgol in Curd

Good

EFFECT ON FOOD CRAVINGS
Isabgol in Milk

Very good

Isabgol in Curd

Good

BOWEL MOVEMENT EFFECT
Isabgol in Milk

Good

Isabgol in Curd

Good

EFFECT ON WEIGHT LOSS

Isabgol in Milk




Very good

Isabgol in Curd

Good

EFFECT ON HEART HEALTH
Isabgol in Milk

Good

Isabgol in Curd

Good

EFFECT ON ENERGY LEVELS
Isabgol in Milk

Good

Isabgol in Curd

Good
I hope my comparison table above has helped you gain more clarity about taking Isabgol in milk versus curd.
If not, let me help you understand better by elaborating on each point.
Isabgol in Milk or Curd Should be Restricted to Less than 2 Tablespoons
If you are planning to take Isabgol in milk, take 1-2 tsp of Psyllium husk or Isabgol husk in 1 glass of lukewarm milk and mix. 
With curd, have it at noon and restrict your intake to one 1 tablespoon for a cup of curd.
Best Time of the Day to Consume Isabgol in Milk or Curd
For consuming Isabgol with milk, prefer nighttime before you tuck in bed. If curd is how you prefer it then pick up a time of the day between noon and dusk for best results. 
Avoid consuming Isabgol with curd at night.
Get Radiating Skin with Isabgol in Milk or Curd
Isabgol with warm or even lukewarm milk helps in keeping skin radiating and glowing.
Isabgol in curd helps to moisturise skin and keep it young and fresh for long amounts of time.
Beat Your Hunger Pangs with Isabgol with Milk or Curd
Isabgol is dietary fibre. It possesses the quality of absorbing water and other fluids in the human body.
It instantly provides the feeling of being full and helps individuals consuming it with either milk or curd arrive at their satiety level fast. This means control of those hunger pangs.
See Your Washroom Going Habits Get Better with Isabgol with Milk & Curd
Isabgol is an age-old laxative. Therefore, whether you consume it with milk or curd, it will help you eliminate waste smoothly from your system.
Just be careful about consuming it in excess. Unless your physician has advised you to use Isabgol in large quantities, please avoid any extra consumption.
Stay Trim with Isabgol in Curd or Milk
Since Isabgol is a natural laxative owing to its nature of being a dietary fibre, shedding the extra kilos on your body gets easy with its intake.
Doesn't matter whether you have it with milk or curd. Either way, Isabgol will work in your favour.
AHA Regards Isabgol Safe for a Healthy Heart
As per the American Heart Association (AHA) Psyllium (known as Isabgol in the Indian sub-continent) is a soluble fibre that manages the good and bad cholesterol in the body. 
If you have a regular intake of this traditionally known dietary fibre, it will add to a healthy heart function. Milk or curd, no bar.
Boost your Energy with Isabgol in Milk or Curd
Isabgol boosts up the metabolism in a normal human being, thereby contributing to vitality and high energy levels.
Having Isabgol with curd or milk will aid you in replenishing your long lost energy.
Thank you for reading my blog till the end. I hope that you found the answer to your initial question of, 'should Isabgol be taken with curd or milk.'
Looking forward to more questions and queries from your side in the comments section below.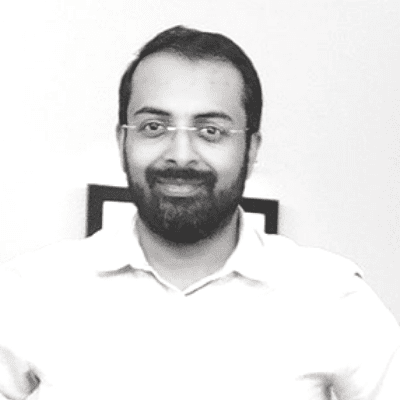 Hi! I'm Integrated Nutrition Coach Rohit Panwar. I hold twin Certifications from IIN, New York & SAFM, Massachusetts. I am a passionate vocalist of holistic lifestyle and have fully committed the past several years to educate & empower people towards their wellbeing. Despite a successful yet hectic corporate stint of 21+ years, I have prioritised nutriment in my life. I truly hope my personal journey from illness to wellness helps everybody reading this forge their own path.