Wondering about consuming Isabgol in the morning versus at night? Have questions about the significance of this wonder dietary fibre at different times of the day?
Well, you are not alone in your quest. Thousands of people worldwide struggle with this question. And so, let me help you by addressing your concerns.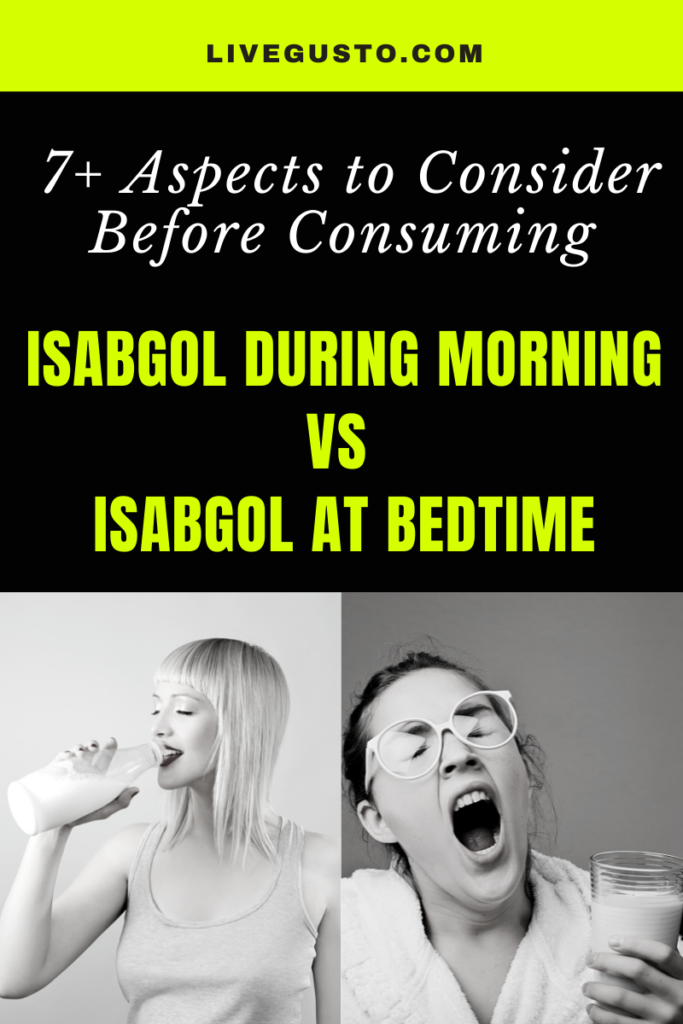 PEOPLE ALSO READ
| Should Isabgol be consumed with milk or with plain water? |
A Comparison Table for Understanding the Significance of Isabgol in Morning Versus at Night
The table below compares the consumption of Isabgol during morning and night –
RECOMMENDED AMOUNT
Isabgol in Morning

1 tbsp

Isabgol in Night

0.5 tbsp

SUGGESTED TIME
Isabgol in Morning

Early morning

Isabgol in Night

At bedtime

RECOMMENDED FORM
Isabgol in Morning

Husky or powder

Isabgol in Night

Husky or powder

EASE OF DIGESTION
Isabgol in Morning

Good

Isabgol in Night

Varies

ADDITIVES
Isabgol in Morning

Buttermilk

Isabgol in Night

Milk

EFFECT ON ACIDITY
Isabgol in Morning

Good 

Isabgol in Night

Good 

BOWEL MOVEMENT EFFECT
Isabgol in Morning

Good 

Isabgol in Night

Good

WEIGHT LOSS EFFECT
Isabgol in Morning

Good

Isabgol in Night

Good
I hope my comparison table above has helped gain you more clarity about taking Isabgol in morning versus at night. 
If not, let me help you understand more by elaborating on each point.
Suggested Consumption Amount of Isabgol after Waking Up versus at Night
Since Isabgol is a dietary fibre, it must not be consumed in large quantities at any time of the day. 
Therefore, restrict your intake to 1 tablespoon during the mornings and half a tablespoon at bedtime.
Schedule for Consumption of Isabgol during Early Morning Versus Bedtime
Depending on your preference and bodily needs, you can opt for consuming Isabgol either right after waking up or before bedtime. 
By eating Isabgol before breakfast, you will ensure that the body feels satiety throughout the day. And by eating it before bedtime, you will sleep better.
Recommended Form of Isabgol At Different Times of the Day
In markets worldwide, Isabgol is available in three main forms- capsules, husk and powder. However, try consuming it in a more raw husky form for best results. 
The reason is, the more unpolished and unrefined your Isabgol intake, the better it will prove for your body.
Ease of Digestion of Isabgol During Different Times of the Day
As I mentioned before, Isabgol is an excellent dietary fibre. Therefore, whether you consume it early in the morning or late at night, your body will digest it. 
The only thing to watch out for is eating an excess of it. Do not overindulge in its intake.
Complimentary Additive to Isabgol During Mornings versus at Night
Not many people know this but having Isabgol before breakfast as a mix in buttermilk proves nourishing. As for consuming it at bedtime, most people have it with a glass of warm milk.
In addition to these two additives, some individuals also mix honey, lemon and even pepper to Isabgol to make the taste more palatable. 
Effect of Isabgol on Acidity during Morning & Night
Since Isabgol is an excellent dietary fibre, it helps ease acidity quickly after meals. This includes both mornings and nights.
Most people with acidity consume Isabgol post-dinner to ensure that their body stays comfortable and they can enjoy a good night's sleep.
Effect on Washroom Going Habits of Isabgol during Morning & Night
For individuals suffering from habitual constipation, Isabgol is the wonder fibre. It helps with a healthy bowel movement in people.
It needs to be mentioned here that as per a research paper entitled, Isabgol Husk: A Herbal Remedy for Human Health published by Vipin K. Sharma and A Bhattacharya, Isabgol is not to be consumed by individuals who witness a sudden change in bowel habit that persists for more than 2 weeks.
Contribution in Toning the Body during Morning & Night
Isabgol aids in toning the body by helping you lose weight in a natural way. Reason being, it gives you a feeling of being full for long periods of time thereby cutting cravings and thus any excess intake of food.
Also, it helps in a good bowel movement easing the body of excess fat. For weight management benefits you can consume Isabgol either in the morning or night at your convenience
Frequently Asked Questions (FAQs) About Consuming Isabgol in Morning Versus at Night
Individuals who plan to Isabgol as part of their regular routine, usually have the subsequent questions at first. If you're dealing with them as well, let me address them for you one by one –
Q1. Should Isabgol not be taken in excess amounts before sleep?
Any dietary fibre should never be consumed in excessive amounts. So, Isabgol is no different. By going overboard, you will end up feeling bloated, irritable and uncomfortable.
Q2. Can Isabgol be taken more than two times a day?
Unless your Physician prescribes a dosage of more than twice a day, do not consume Isabgol in excess. Ideally, you should take Isabgol either during mornings or at night. Once a day works is sufficient for most people and that too with a restricted amount of ½ to 1 tablespoon.
Q3. Is it ok to mix honey with milk for consuming Isabgol during different times of the day?
Yes, it is absolutely ok to mix honey with milk while consuming Isabgol. In fact, a lot of people relish it this way and find it easy to swallow. Just make sure that the milk you're consuming along with Isabgol is pre-boiled and warm.
Thank you for reading my blog till the end. I hope that you did end up finding the answer to your initial question of, "Should Isabgol be consumed at morning or at night?" 
Looking forward to more questions from your side in the comments section below.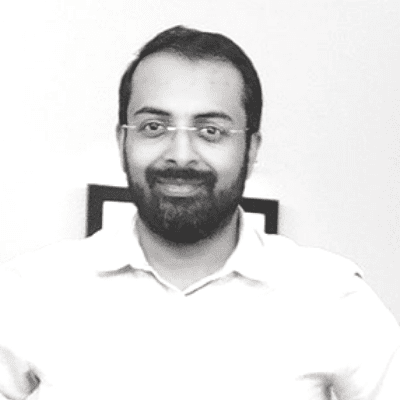 Hi! I'm Integrated Nutrition Coach Rohit Panwar. I hold twin Certifications from IIN, New York & SAFM, Massachusetts. I am a passionate vocalist of holistic lifestyle and have fully committed the past several years to educate & empower people towards their wellbeing. Despite a successful yet hectic corporate stint of 21+ years, I have prioritised nutriment in my life. I truly hope my personal journey from illness to wellness helps everybody reading this forge their own path.