People know that Kefir and Ayran both are fermented milk products. The dilemma to choose between the two starts from here. This blog will help to clear all confusion regarding Kefir versus Ayran. 
I will take you through all the differences between these two traditional drinks of the Caucasus mountain region. This will make it easy to choose the right one for yourself.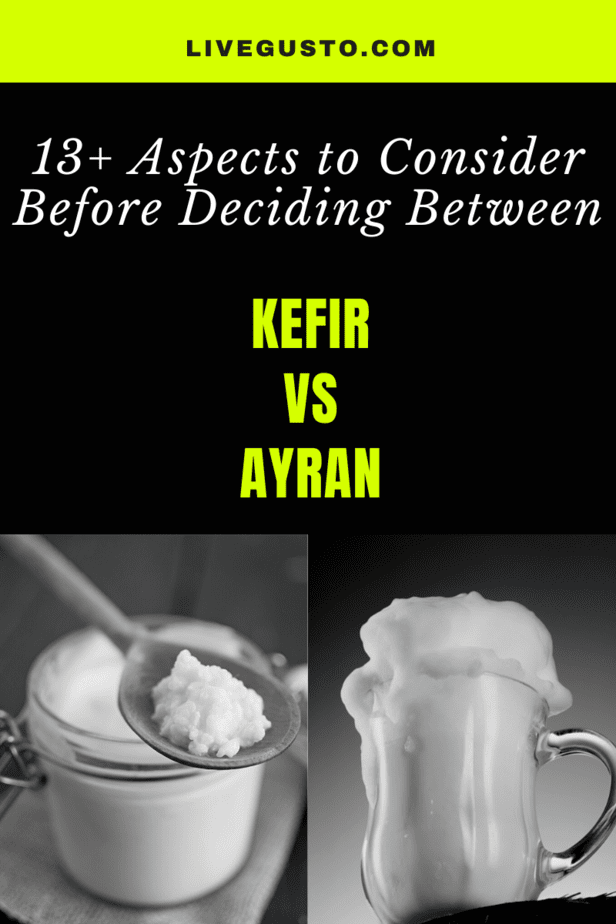 PEOPLE ALSO READ
| Kefir Versus Buttermilk– Which one is a Better Choice? | 
Kefir Versus Ayran: Let's Compare the Two Popular Fermented Dairy Drinks 
Is Ayran the same as Kefir? This is the most common question about these two dairy-based products.  To find the answer go through the differences mentioned in the table below. 
BASE INGREDIENTS
Kefir

Milk & Kefir Grains

Ayran

Yogurt & Water

TASTE
Kefir

Sour and Slightly fizzy

Ayran

Sour & Salty

DAILY INTAKE
Kefir

1 cup

Ayran

1 cup

CALORIES
Kefir

168*

Ayran

86*

FAT CONTENT 
Kefir

10 g*

Ayran

4.5 g*

PROTEIN CONTENT 
Kefir

10 g*

Ayran

4.84 g*

CALCIUM CONTENT
Kefir

410 mg*

Ayran

171 mg*

RECOMMENDED TIME
Kefir

Morning & Afternoon

Ayran

Morning & Afternoon

 ENVIRONMENTAL IMPACT
Kefir

Negative

Ayran

Negative

VEGAN FRIENDLINESS
Kefir

No

Ayran

No

ORAL HEALTH OUTCOME
Kefir

Excellent

Ayran

Very Good 

TUMMY HEALTH OUTCOME
Kefir

Excellent

Ayran

Very Good

BODILY COOLING EFFECT
Kefir

Very Good

Ayran

Very Good

BODY HYDRATION EFFECT
Kefir

Good 

Ayran

Very Good 

ADDITIVES
Kefir

Fruits & Chia seeds

Ayran

Dried Mint & cucumbers
*Source: USDA; Quantity defined is 1 cup, made from whole milk
I hope these tabulated components gave you clarity about the basic differences between Ayran and Kefir.  Let me explain each and every tabulated component below to help you understand the similarities and differences well. 
Difference in the Key Ingredients in Kefir and Ayran Preparation
Kefir is made of whole milk and kefir grains, which are used to ferment the milk. Kefir grains look like the small florets of cauliflower. These make Kefir rich in a large number of good bacteria and yeast.
Yogurt, Water, and salt are the key ingredients to make Ayran. To get a lot of foam on the top of Ayran you can replace the water with sparkling water. 
Flavoural and Textural Difference Between Kefir and Ayran
Kefir has a distinctly sour taste with a slight fizz in it. Its consistency is thick and the texture is creamy. Kefir is a cultured milk beverage that is widely used in Russia, Turkey and the Balkan region of Europe. 
Ayran is sour and salty in taste. Just opposite to the Kefir, Ayran has a thin consistency. It is a fermented dairy product that is very popular in Turkey.  
Recommended Daily Intake of Kefir Versus Ayran 
Kefir is a well-rounded food and full of good bacteria or probiotics. The word Kefir means feeling good. You can add many feel-good factors to your life by adding 1 cup of Kefir to your daily routine. 
Even though in Turkey people drink Ayran with every meal but 1 cup per day is the suggested amount to consume. In summers, you can consume up to 2 cups.
Variation of Calories Between Kefir and Ayran
As you can see in the table above, Kefir is just double the calories of Ayran. This difference is due to the key ingredients used to prepare these two drinks. 
To make Kefir whole milk is used which enhances the energy level in it. In Ayran water's quantity is a lot more than yogurt, this makes it a low-calorie drink. 
Kefir Vs Ayran: Which One is Low Fat? 
Kefir and Ayran have wide differences in terms of fat content. Kefir is mostly prepared with full-fat milk. Therefore,  it has more fat content. 
But since Ayran has three times water added to one part of yogurt, it is a low-fat dairy product. If you prefer a low-fat drink then Ayran is definitely a better choice. 
Kefir or Ayran – Which One Has More Protein in it?
Both Kefir and Ayran are dairy products. This makes them a good source of protein. If you want to compare Kefir and Ayran then Kefir is a better source of protein. 1 cup of Kefir has almost the same protein as 1 cup of cow's milk. 
People who prefer the intake of protein-rich food can consume 1 cup of Kefir daily. 
How Do Kefir and Ayran Fare in Terms of Calcium Content?
It is considered that calcium helps to enhance your bone's strength. All dairy products are good sources of protein. 
This means that both Kefir and Ayran are good sources of calcium. However, when compared to Ayran, Kefir is an excellent source of dietary calcium since it is not diluted with water.
Perfect Time of the Day to Consume Kefir Vs Ayran
It is important to consume each food at a specific time of the day. To get the full benefits of Kefir and Ayran, it is important that you know the perfect time of the day to consume it as well. 
It is recommended to consume Kefir and Ayran either with breakfast or with lunch. If you can not have sour drinks in the morning then it is alright to consume them with lunch.
Impact of Kefir Vs Ayran On Your Tummy 
Kefir and Ayran both are fermented dairy drinks and are full of beneficial bacteria. These bacteria help to improve digestion and reduce digestive problems. 
Since Kefir has more number of good bacteria or probiotics, which makes it a better choice for the stomach. According to a study, kefir helps to enhance bowel function and is helpful in tackling constipation.
What to Choose For Better Oral Health – Kefir or Ayran?
Both Ayran and Kefir are made of milk which is a rich source of Calcium. Calcium is essential for strong teeth, therefore it is safe to say that both these drinks are good for dental health. 
Apart from calcium, these drinks are also rich in probiotics. Recent research suggests that probiotics encourage oral health as the good bacteria keep problem-causing bad bacteria in control. Since Kefir has more good bacteria it has a slight advantage over Ayran and is extremely helpful in keeping your mouth problem-free. 
Comparing Kefir and Ayran as Body Cooling Drinks
Ayran has a lot of water in it, this quality makes it an excellent refreshing drink. Kefir is also equally good to cool down your body. 
Kefir and Ayran also moisturize your skin and the regular consumption of these drinks help you to get youthful and glowing skin. 
Kefir or Ayran: What's Better for the Planet? 
Kefir and Ayran are dairy products. Although dairy products are better for the environment as compared to nonvegetarian products. Dairy is not as environmentally friendly as plant-based drinks. 
Dairy products are associated with deforestation and greenhouse gas emissions that are bad for the planet. This makes Kefir and Ayran unsustainable. 
Vegan-Friendliness of Kefir Versus Ayran
Kefir and Ayran are animal-derived products. Milk is one of the key ingredients to prepare both these fermented drinks. Therefore, they can not be part of a Vegan diet. 
Having said that, the good news for vegans is that they can opt for water kefir or plant-based kefir. Here instead of dairy milk, you can use water or any plant-based milk like soy milk, almond milk, etc. as the base.
Kefir Vs Ayran: The More Hydrating Drink? 
Kefir and Ayran both are full of electrolytes which are minerals such as calcium, sodium, potassium. These minerals help your body that help the body in many ways to work smoothly including the prevention of dehydration
Kefir and Ayran are good to keep you hydrated for a longer period of time. However, compared to Kefir, Ayran is a better hydration source as it has a lot more water and salt in it. 
What Flavours Go Well With Kefir Vs Aryan?
You can add many different nutritious ingredients in Kefir and Ayran but I would like to recommend a few of my personal favorites. Dried mint and cucumbers complement Ayran very well.  
Fruits such as blueberries and strawberries go well with Kefir. Chia seeds and honey also enhance the flavor and nutritional benefits of kefir. 
Hope my explanation of each and every difference between Kefir and Ayran will clear all your doubts. Thanks for staying with me till the end. 
To clear more such doubts about different foods and drinks, keep visiting my blogs.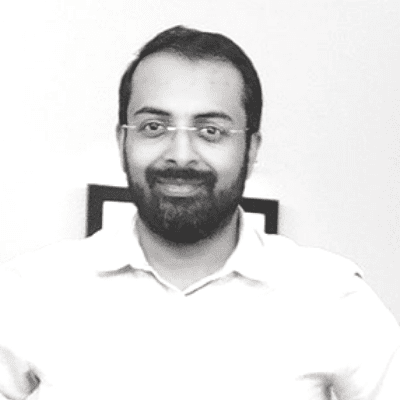 Hi! I'm Integrated Nutrition Coach Rohit Panwar. I hold twin Certifications from IIN, New York & SAFM, Massachusetts. I am a passionate vocalist of holistic lifestyle and have fully committed the past several years to educate & empower people towards their wellbeing. Despite a successful yet hectic corporate stint of 21+ years, I have prioritised nutriment in my life. I truly hope my personal journey from illness to wellness helps everybody reading this forge their own path.