In the search for fermented dairy products you might have come across beverages -kefir and kumis. While both are fermented, kefir versus kumis are very unique in their own way.
As a food enthusiast and a nutritionist, I am here to help you understand the difference between kefir and kumis. You can also evaluate their benefits and nutrients and pick the one that suits you the best.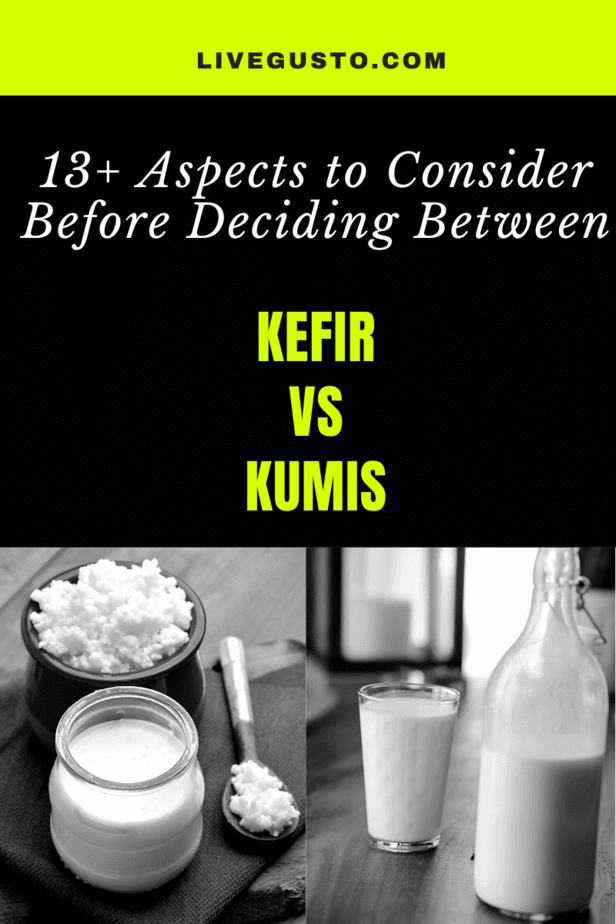 PEOPLE ALSO READ
| Kefir Versus Ayran – Are They The Same? | 
Kefir Versus Kumis: Similarities & Differences 
Let me begin by giving you an overview of kefir and kumis differences in nutritional aspects
BASE INGREDIENTS
Kefir 

Milk & kefir grains

Kumis

Milk 

TASTE
Kefir 

Sweet & Tangy

Kumis

Sour & Foamy

SUGGESTED DAILY INTAKE
Kefir 

1 cup

Kumis

1 cup

CALORIES 

Kefir

 

168*

Kumis

150*

FAT CONTENT
Kefir 

10 g*

Kumis

5 g*

PROTEIN CONTENT 
Kefir

10 g*

Kumis 

8 g*

CALCIUM CONTENT 
Kefir 

410 mg*

Kumis 

 300 mg*

ALCOHOL CONTENT
Kefir

0.5 – 2%

Kumis

0.7 – 3%

BEST TIME TO CONSUME
Kefir 

Morning or Noon

Kumis  

Noon

ENVIRONMENTAL IMPACT
Kefir 

Negative

Kumis 

Negative

VEGAN FRIENDLINESS
Kefir 

No

Kumis 

No

EFFECT ON ORAL HEALTH

Kefir

 

Very Good

Kumis  

Very Good

EFFECT ON TUMMY HEALTH
Kefir 

Excellent

Kumis  

Very Good

BODILY COOLING EFFECT 

Kefir

 

Very Good

Kumis 

Very Good

BODY HYDRATION EFFECT 
Kefir 

Very Good

Kumis 

Very Good

ADDITIVES
Kefir 

Spices & herbs

Kumis 

Honey
*Source: USDA; Quantity defined is 1 cup
I believe the table gave you a fair idea about kefir vs kumis differences, let me now address each of these aspects in detail.
Basic Ingredients & Origin of Kefir Vs Kumis 
Kefir originated in Eastern Europe and is a dairy product that is traditionally made using whole cow, goat or sheep milk. The milk is mixed with kefir grains and allowed to ferment. To clarify I have used the cow milk based kefir for comparison here.
Kumis has its origins in Central Asia and is still a popular drink in many regions including Kazakhstan. The drink is made using female horse or mare's milk. However, in modern times, cow's milk is also being used to make it commercially.
Is Kefir the Same as Kumis in Taste & Thickness?
The answer to the question is.. somewhat. Kefir is sour and tangy in taste owing to the fermentation process. Its texture is thick and creamy, somewhere between yogurt and buttermilk. 
Kumis is also sour in taste and is foamy. Some people describe the taste as yogurt gone bad or a mix of yogurt and beer. This can be unusual for many and is more of an acquired taste. Consistency wise, it is much thinner than kefir.
How Much Quantity of Kefir Vs Kumis is Recommended for a Day?
Kefir is a nutrient rich drink that can be consumed daily. It is recommended that you consume one cup of this drink everyday. 
Kumis too can be consumed regularly and boasts of many essential nutrients. The recommended quantity is 1 cup a day. 
Which has Lower Calories: Kefir or Kumis?
Kefir and kumis are both made using milk, which is why they are high in calories. When we compare the calories between kefir and kumis, we find that kefir is higher in calories. 
Since kumis is traditionally made from horse milk, it is lower in calories just like horse milk is lower in calories when compared to cow milk. 
Kefir Or Kumis, for Weight Watchers?
Just like calories, the fat content in mare milk is much less than that in cow milk. This difference is evident in the resulting drinks kefir and kumis. 
Kefir has substantially higher levels of fat when compared to kumis. So, in case you are watching your fat intake, kumis would be a better option.
What has More Protein Content, Kefir or Kumis?
Kefir and  kumis are both dairy products, which means they are high in proteins. 
Kumis, however, has lower protein content when compared to kefir but not by a very big margin.
Better for Calcium Needs: Kefir or Kumis?
Calcium is an important nutrient that the body needs primarily for strong bones and muscles. Dairy and dairy products are excellent sources of calcium. 
Since both kefir and kumis are both made using dairy milk, they boast of higher calcium levels. 
Kefir Vs Kumis Alcohol Content?
The process of fermentation produces small amounts of alcohol. Kumis and kefir both have small amounts of alcohol when fermented in the traditional way. Since the amount of sugars in mare milk is high, kumis also called milk wine has more alcohol content than kefir. 
An important thing to remember here is that in the modern industrial methods alcohol is sometimes not present in the finished product. So in case you are avoiding alcohol, make sure you check the labels. 
Best Time to Consume Kefir Vs Kumis
Kefir and kumis are both fermented products and the best time to consume these drinks is during the day. 
Kefir makes for a wonderful morning and afternoon drink while kumis kumis can be taken during the day. Traditionally before meals is the best time to consume it so that you can get the most out of your meals.
Kefir or Kumis: Better for Your Tummy?
Kumis and kefir are both fermented drinks and probiotics. They both contain a number of good bacteria that help in improving the intestine and stomach health. 
However, since kumis is made from mare's milk it may contain a higher level of lactose in comparison to kefir. So, people with lactose intolerance should consume it in moderation or avoid it. 
Which Has Better Impact on Dental Health: Kefir or Kumis?
Kefir and kumis boast of high levels of calcium which is required for keeping the teeth strong. They also contain other minerals like phosphorus that aid overall good dental health.
Also since  both these drinks are probiotics, they promote overall dental health. The probiotics can help improve oral health as the good bacteria keep problem-causing bad bacteria at bay. 
Better for the Planet Kefir Or Kumis? 
Kumis and kefir are made from animal milk, so they are not environmentally- friendly. Raising of farm animals contributes significantly to environmental degradation by contributing to deforestation and more greenhouse gas emission among other things. 
In case of kefir however, you can try out the dairy free versions in the market. These are increasingly becoming available in many parts of the world.
Kefir Vs Kumis, Which One is Suitable for Vegans?
The answer is none. Both kefir and yogurt are made using animal milk, which makes them unsuitable for vegans. 
However, the good thing is that at least in the case of Kefir you can try  products such as water kefir or plant milk kefir. However, remember that nutritionally they are not as rich as dairy versions unless they are fortified. 
Kefir Vs Kumis: Best for the Summer Season?
Kefir and kumis are traditionally consumed in the summer season. In their originating countries they are very popular as body cooling drinks.
They both contain large quantity of water which can help in cooling down the body. They are mostly served chilled.  
Which is a More Hydrating Option: Kefir or Kumis?
Apart from the water content in kefir and kumis, these milk products are also rich in electrolytes that are needed by the body. 
The electrolytes in these drinks such as sodium, potassium, calcium and magnesium help to maintain the water level of the body thereby preventing dehydration. 
What Can Be Added to Kefir Vs Kumis?
Kefir goes well with a number of flavours both sweet and salty.  You can add fresh herbs and salt to make it savoury. You can also blend it with fresh fruits and a dash of honey for a sweet tangy flavour. 
Kumis is usually consumed without adding any flavours to it. However, you can try it with honey. The taste of kumis can seem unusual and needs getting used to. 
So, kefir and kumis are not the same. Although both share a lot of similarities, the differences between the two are very significant. Your choice will depend on the taste and availability. While Kumis is hard to find, kefir is increasingly becoming available
I hope you have more clarity regarding the two. In case you have any doubts, feel free to ask me in the comments section below.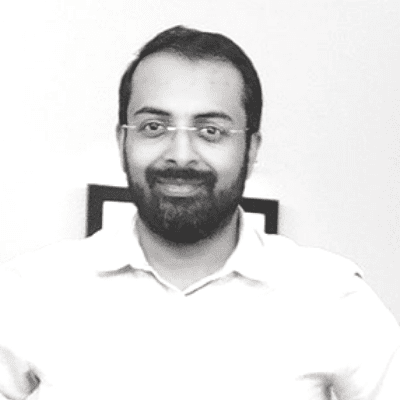 Hi! I'm Integrated Nutrition Coach Rohit Panwar. I hold twin Certifications from IIN, New York & SAFM, Massachusetts. I am a passionate vocalist of holistic lifestyle and have fully committed the past several years to educate & empower people towards their wellbeing. Despite a successful yet hectic corporate stint of 21+ years, I have prioritised nutriment in my life. I truly hope my personal journey from illness to wellness helps everybody reading this forge their own path.