With the increasing market for fermented milk, choosing between options like kefir vs laban, can be hard. This is because both have so much to offer.
Let's take a closer look kefir and laban – from their origin to usage. With this information, you will no longer be a stranger to these drinks especially if you are hearing about them for the first time.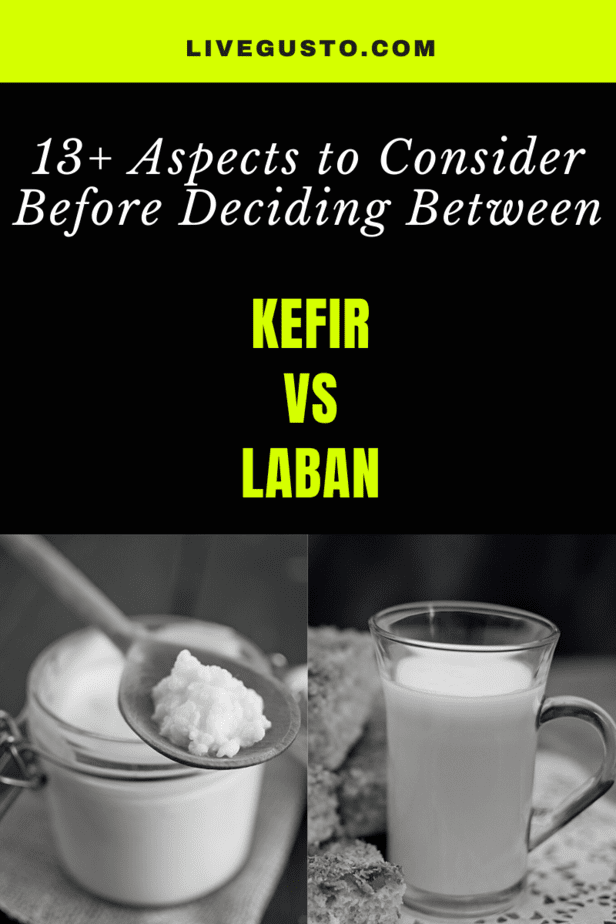 Kefir Versus Laban: Choosing The Better Fermented Dairy Option
Kefir and laban are dairy-based milk products with different textures and tastes. The benefits they offer vary too. So to make it easier for you to understand I have used a table that explores them using various criteria.
BASE INGREDIENTS
Kefir

Milk & kefir grains

Laban

Cow's Whole milk

TASTE
Kefir

Sour

Laban

Tangy 

DAILY INTAKE
Kefir

1 cup

Laban

1 cup

CALORIES 
Kefir

168*

Laban

144*

FAT CONTENT
Kefir

10 g*

Laban

7.9 g*

PROTEIN CONTENT 
Kefir

10 g*

Laban

7 g*

CALCIUM CONTENT
Kefir

410 mg*

Laban

288 mg*

RECOMMENDED TIIME
Kefir

Morning

Laban

Noon

ENVIRONMENTAL IMPACT
Kefir

Negative

Laban

Negative

VEGAN FRIENDLINESS
Kefir

No

Laban

No

ORAL HEALTH OUTCOME
Kefir

Very Good

Laban

Good

TUMMY HEALTH OUTCOME
Kefir

Very good

Laban

Good

BODILY COOLING EFFECT
Kefir

Good

Laban

Very Good

BODY HYDRATION EFFECT 
Kefir

Good

Laban

Very Good

ADDITIVES
Kefir

Fruits & Chia seeds

Laban

Spices and herbs
*Source: USDA; Quantity defined is 1 cup, made from whole milk
Kefir Vs Laban – How Do They Differ Ingredient-Wise?
Kefir is said to have originated in the Caucasus mountain ranges of Russia. It is made by mixing kefir grains- a yellowish jelly-like culture made of yeast and bacteria with cow's milk.
The mixture is then left to ferment naturally for 24 hours in a dark cool place. The fermented liquid is strained to make kefir milk. 
Laban is made by letting the milk ferment for a day in a moderately hot place and is strained.
Laban is also called lben, lban and leben and is widely consumed in Arabian and African countries like Morocco.
Do Kefir & Leben Taste & Look the Same?
Kefir is a cross between milk and yogurt in texture. It is more creamy and has a sour taste. It also has fizz because of the presence of carbon dioxide and sometimes is referred to as "champagne of milk".
Laban has a sweet and tangy taste to it due to the fermentation process. Both these drinks are consumed by people regularly as such or by adding something sweet or spices to them.
Kefir & Laban – Comparing Their Daily Consumption 
For both kefir and laban milk, a cup is suggested for daily consumption. 
Some people consume about 1-2 cups of kefir a day during the summer season.  
How Do Kefir & Laban Fare Against Buttermilk- A Popular Fermented Form of Milk?
| Laban vs Buttermilk |
| Kefir vs Buttermilk |
Kefir vs Laban – Calorie Details You Must Know
Kefir and laban both have a relatively higher calorie count. This is because they are traditionally made using whole milk which is itself high in calories and fat.
When we compare the two, Kefir is higher in calories than laban. So If you are looking for a drink that has lower calories laban can be an ideal choice.
Kefir Vs Laban – How Much Fat Content Do They Possess?
Kefir and laban milk both have a similar level of fat content. In case you need low-fat kefir or laban you can make it using low-fat milk.
Despite their fat content, they are packed with amazing benefits which we will see in detail.
Kefir or Laban- The Better Sources Of Protein
While both kefir and laban are wonderful protein-rich drinks, the amount of protein in kefir is slightly higher than that in laben.
If protein is your top requirement then kefir makes a good option and helps in strengthening your body.
Comparing the Calcium Content in Kefir & Laban
Both kefir and laban milk are rich in calcium. As abundant sources of calcium, kefir and laban play a huge role in meeting the calcium requirements which are necessary for stronger bones. 
However, when comparing calcium content in kefir is higher in comparison to laban. So if your question is which is better, kefir or laban for calcium, the answer is Kefir.
Kefir Vs Laban – Best Time To Consume
The best time to consume kefir is in the morning on an empty stomach.  Reason being, it makes digestion easier and boosts the human body with energy.
Laban milk is suitable to be consumed in the morning and during noon. It replenishes the body and helps you feel refreshed.  
Comparing the Environmental Impact Of kefir & Laban
Kefir and laban are made from cow's milk. This means they require the rearing of animals which leads to more grazing lands.
An increase in graze lands leads to the cutting of trees, soil damage, and increased carbon dioxide emissions which are not good for the environment.
The Vegan-Friendly Option between Kefir and Laban
Kefir and Laban milk both are not vegan friendly. They are made from an animal source which in this case is cow's milk. Both of them are not suitable for a vegan-friendly lifestyle.
However, with kefir, there is a silver lining as there are different types of kefir. Kefir milk which is made by mixing kefir grains can be made using plant options like coconut or other plant-based milk too instead of dairy. 
What to Choose for Good Oral Health- Kefir or Laban?
Kefir makes the perfect option when it comes to oral health as it has a higher level of calcium. This helps to keep the teeth strong.  Since Laban is also made using dairy milk, it also has a good source of calcium that helps in keeping teeth stronger.
Apart from the calcium both these drinks contain several good bacteria. These good bacteria help in preventing other dental issues such as cavities by keeping the bad bacteria at bay.
Kefir Vs Laban Milk – What's Better For A Healthy Tummy?
Kefir is most sought out for its probiotics or good bacteria content which is very important in maintaining a good gut. Kefir contains many types of bacteria and yeast and is thus considered one of the best foods for a happy tummy.
Therefore, both kefir and laban milk is good for your tummy as they make digestion easier and help in making washroom visits better.
Kefir & Laban Milk- Which Cools The Body Better?
While kefir is mostly consumed in the mornings, laban milk is consumed in the noon because of its excellent cooling abilities. 
Laben milk helps in cooling your body as well. They are widely used in the summer months to beat the heat and maintain a balanced temperature because of their rich water content.
Kefir Vs Laban Milk- The Drink for Better Hydration
Though kefir hydrates the body to an extent, it stands low in comparison with laban's ability to hydrate the body. The rich water content in laban helps in hydrating the body and works well for good skin.
Apart from this, since both the drinks are made using cow's milk they are rich in electrolytes. Electrolytes are minerals such as sodium and potassium that help in maintaining the water level of the body
Kefir Vs Laban Milk- Are They Flavoured Differently?
Kefir can be consumed as such. Over the years as the attention toward kefir increased, people have been consuming it as a substitute for regular milk.
Hence, kefir is used in many ways. It is consumed as a smoothie and with flavors like vanilla, etc. It can also be made savory with herbs like coriander and mint. 
Laban is consumed traditionally with spices like cumin, pepper and herbs like mint, coriander, parsley and ginger. If you like a sweeter option you can add honey or brown sugar to it.
Both kefir and laban milk have so much to offer for human wellbeing. However, the choices you make will differ based on your needs. I hope you can use this blog as a reference to choose based on your requirements.
In case you are still wondering, Is kefir same as laban? It is not. The process of preparation is different for both and so are the nutrient values.
Looking forward to more questions from your side in the comments section below.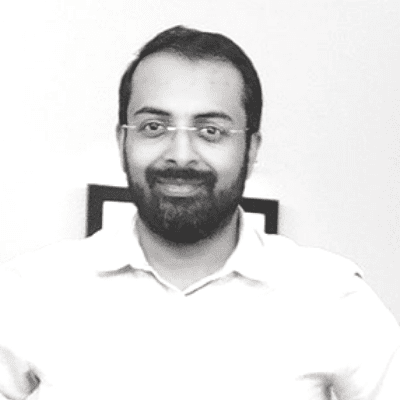 Hi! I'm Integrated Nutrition Coach Rohit Panwar. I hold twin Certifications from IIN, New York & SAFM, Massachusetts. I am a passionate vocalist of holistic lifestyle and have fully committed the past several years to educate & empower people towards their wellbeing. Despite a successful yet hectic corporate stint of 21+ years, I have prioritised nutriment in my life. I truly hope my personal journey from illness to wellness helps everybody reading this forge their own path.