Kefir versus milk, which one should you be including in your diet? If you are someone struggling with the choice, I am here to help. 
As a nutritionist, I will compare kefir vs milk nutrition and benefits. This comparison will enable you to get an overview and make the right pick.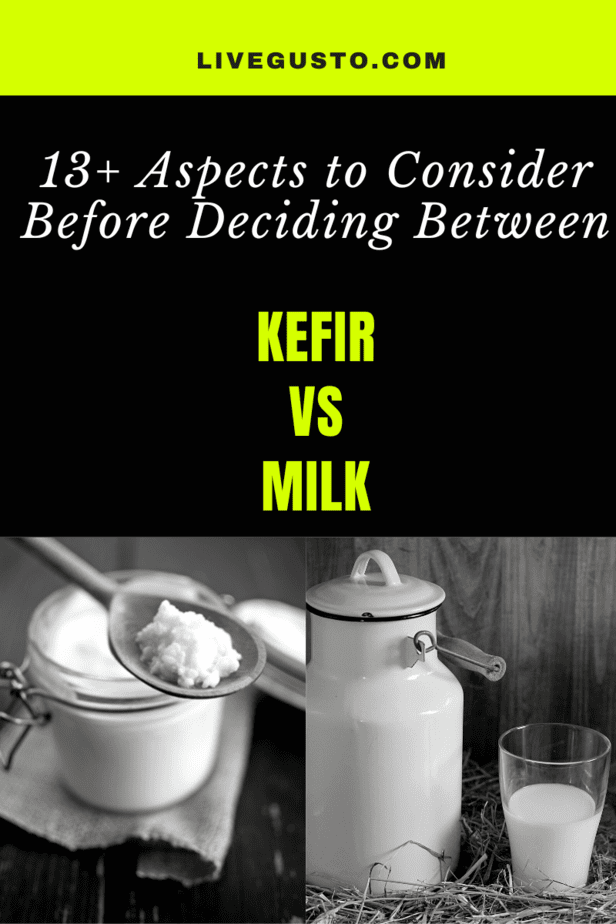 PEOPLE ALSO READ
| Kefir versus Curd– Are They The Same? | 
Kefir Versus Milk: Nutrition & Outcomes Compared 
I will be taking up each attribute of comparison in details, but before that, let's take a quick comparative look at kefir vs milk –  
BASE INGREDIENTS
Kefir 

Milk & kefir grains

Milk 

Mature Cattle 

TASTE
Kefir 

Sweet & Tangy

Milk 

Sweet & creamy 

SUGGESTED DAILY INTAKE
Kefir 

1 cup

Milk  

1-2 cups

CALORIES 
Kefir 

168*

Milk

148*

FAT CONTENT
Kefir 

10 g*

Milk 

8 g*

PROTEIN CONTENT 
Kefir

10 g*

Milk 

8 g*

CALCIUM CONTENT 
Kefir 

410 mg*

Milk

 

278 mg*

BEST TIME TO CONSUME
Kefir 

Morning or Noon

Milk 

Morning or Night

ENVIRONMENTAL IMPACT
Kefir 

Negative

Milk

Negative

VEGAN FRIENDLINESS
Kefir 

No

Milk

  

No

EFFECT ON ORAL HEALTH
Kefir 

Very Good

Milk 

Very Good

EFFECT ON TUMMY HEALTH
Kefir 

Excellent

Milk  

Good

BODILY COOLING EFFECT 
Kefir 

Very Good

Milk 

Good

BODY HYDRATION EFFECT 
Kefir 

Very Good

Milk 

Good

ADDITIVES
Kefir 

Spices & herbs

Milk

Turmeric & honey
*Source: USDA; Quantity defined is 1 cup
Now that you have an idea about kefir vs milk nutrition, let's dig a little deeper. 
Is Kefir the Same as Milk Constitutionally?
Kefir originated in Eastern Europe and South Western Asia. Traditionally the  drink was made using whole cow or goat milk. Kefir grains which are a culture of good bacteria and yeast are added to warmed milk and allowed to ferment to obtain kefir. 
Milk is one of the most consumed beverages in the world. Although in different parts of the world milk is derived from different farm animals, cow milk is the most common one. So, for convenience, I am taking whole cow milk for comparison here.
Kefir Vs Milk : Taste & Texture Differences
Kefir has a sour taste which can be attributed to the process of fermentation. It is creamy and has a slight fizz as well. 
Milk has a natural sweetness to it, which is why it is loved by people of all age groups. Thickness would depend on the level of fat in the milk. While whole milk is thicker, skimmed or low fat milk is more watery in appearance. 
Kefir Vs Milk: Difference in the Recommended Daily Intake Quantity 
Kefir and milk are both nutrient rich drinks. You can consume them everyday to get the most from them. You can consume about 1 cup of kefir everyday. 
Milk can be consumed up to 2 cups everyday. However, young children can drink up to 3 cups of milk. 
Better Choice for Calorie Conscious: Milk or Kefir?
There is not much difference in the calorie content of milk and kefir. Both are moderately high in calories because of the presence of carbs and fats. 
In the table, I have compared  whole milk with whole milk made kefir. If you choose kefir made using low fat milk, calories will be much less. 
Kefir Or Milk: Which One is Low in Fats? 
Kefir is obtained from whole milk, which means it is high in fats. Lower fat versions of kefir can be made using skimmed or low fat milk.
Whole milk is a food rich in nutrients but might not be suitable for people wanting to lose weight. If you fall in this category, you should either limit your intake or opt for low fat versions.  
Kefir or Milk: Better Option For Protein? 
Protein is one of the most important nutrients that must be included in our diet in the recommended quantity. 
Dairy is a rich source of protein be it fermented or unfermented. So, both kefir and milk can be included in your everyday diet to make up for protein intake. 
Is There a Calcium Difference in Kefir Vs Milk?
Dairy apart from vitamins and minerals is also one of the richest sources of calcium. This makes both kefir and milk good sources of calcium. 
If we compare the calcium levels of milk with kefir, we find that kefir has more calcium than milk. 
When to Consume Kefir Vs Milk?
Kefir should either be consumed in the morning or at noon. This gives the body enough time to digest and benefit from all the nutrients. 
Milk is best when consumed either in the morning with breakfast or at night. In the morning it makes for a good nutritious start while at night it helps you sleep better.
Suggested: 19 Amazing Ways of Including Kefir in Your Diet
What to Choose For Better Tummy Health, Kefir or Milk?
This is one of the most significant differences between kefir and milk. Kefir is a probiotic which means it contains good bacteria. This good bacteria helps in keeping the digestion trouble free and makes kefir an excellent drink for tummy health.  
Milk, although a pretty nutritious drink, is hard to digest for people who are lactose intolerant. Fermented drinks like kefir being low in lactose are better suited for people facing issues digesting regular milk. 
What's Better for Dental Health: Kefir or Milk?
Dairy is a good source of calcium which is why it is considered to be good for overall dental health.  Apart from calcium, milk and kefir also contain minerals such as phosphorus which help make the teeth stronger. 
Kefir additionally is loaded with good bacteria. Research suggests that  probiotics can help improve oral health by reducing the bad bacteria. 
Kefir or Milk: Can They Be Good for the Planet? 
The dairy industry is associated with a lot of problems among which environmental concerns lead the race. The raising of cattle for milk is associated with many challenges including greenhouse gas emissions and deforestation. 
However, kefir can be made using alt milks or even water. For the environment conscious this is definitely a good choice. 
Kefir Vs Milk: Are They Open to Vegan Options?
The main source of both kefir and milk are animals which is not these are not suited for vegans. However, of late many alt milk versions and plant based kefir versions are becoming available in the market. 
One thing that you need to keep in mind is that the vegan options are not as nutritious as the dairy options. 
Better for Body Cooling: Kefir or Milk 
Kefir is extensively consumed in Caucasian regions in the summer months. This goes out to support the fact that kefir is indeed an ideal drink for bodily cooling.  
Milk can also help in cooling and is a pretty good and delicious option for making cool drinks in the summers. Smoothies, shakes, cold coffees can all be prepared using milk. 
The More Hydrating Option: Kefir or Milk? 
Kefir has large quantities of water which helps in hydrating the body. Apart from that, kefir is also rich in minerals such as calcium, sodium, potassium which help in maintaining the water level in the body.
Milk also works well in maintaining the water level in the body. This is because of the high amount of water. It also contains minerals called electrolytes that help in hydration. 
How To Enhance the Flavours of Kefir Vs Milk?
Kefir goes very well with herbs and a dash of spices. Add some dried mint, roasted cumin seeds and a sprinkle of rock salt to your cooled kefir. This is going to be one of the most refreshing drinks you have ever had.  
Milk is one of the most versatile of all drinks. In summers you can blend them with fruits to make a nice cool milkshake, while in winters a little bit of honey and turmeric with warm milk, will help you stay warm. 
So, kefir and milk are both nutritionally dense foods, kefir has an added advantage of being more digestion friendly. What you choose would depend on your needs and preferences. So, make a choice by evaluating the attributes I discussed above.
If you have any questions, feel free to reach out to me.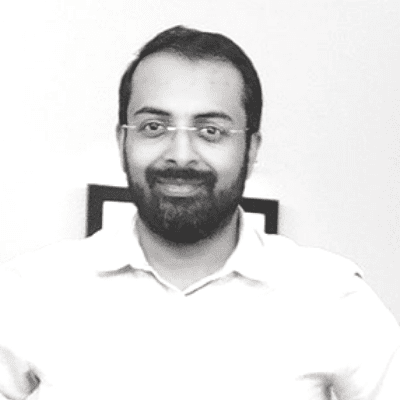 Hi! I'm Integrated Nutrition Coach Rohit Panwar. I hold twin Certifications from IIN, New York & SAFM, Massachusetts. I am a passionate vocalist of holistic lifestyle and have fully committed the past several years to educate & empower people towards their wellbeing. Despite a successful yet hectic corporate stint of 21+ years, I have prioritised nutriment in my life. I truly hope my personal journey from illness to wellness helps everybody reading this forge their own path.