Choosing between two almost equally amazing dairy products like quark & kefir can be hard. Let's resolve this dilemma – kefir vs quark, which is better?
As a nutritionist, I will guide you through the similarities and differences between quark and kefir. This will help you pick the one that best suits your needs. 
Kefir Vs Quark: The Better Fermented Food
Before I delve into the details, here is a quick comparative look at keir vs quark nutrition – 
BASE INGREDIENTS
Kefir

Milk & Kefir Grains

Quark

Cow Milk & Lactic Acid

TASTE
Kefir

Sour & Creamy

Quark

Creamy & Soft

DAILY INTAKE
Kefir

1 Cup

Quark

1/4 Cup

CALORIES
Kefir

70*

Quark

93*

CARBOHYDRATES
Kefir

4.6 g*

Quark

2.7 g*

FAT CONTENT
Kefir

4 g*

Quark

4 g*

PROTEIN CONTENT
Kefir

4 g*

Quark

11 g*

CALCIUM CONTENT
Kefir

 171 g*

Quark

100 g*

RECOMMENDED TIME
Kefir

Morning or Noon

Quark

Morning or Noon

ENVIRONMENTAL IMPACT
Kefir

Negative

Quark

Negative

VEGAN FRIENDLINESS
Kefir

No

Quark

No

ORAL HEALTH OUTCOME
Kefir

Excellent

Quark

Very Good

BONE HEALTH OUTCOME
Kefir

Excellent

Quark

Very Good

TUMMY HEALTH OUTCOME
Kefir

Excellent

Quark

Very Good

VERSATILITY
Kefir

Very Good

Quark

Very Good
*Source: USDA; Quantity defined is 100g
What Goes Into the Preparation of Kefir Vs Quark?
Kefir is a fermented dairy product made by adding kefir grains to milk and letting it ferment for about 24 hours. The kefir grains are a symbiotic culture of bacteria and yeast, which consume the lactose in the milk to produce kefir.
Quark is a fresh cheese that is made by adding rennet or mesophilic culture or acid like lemon juice to warm (skim) milk and letting it curdle. The curds are then strained and pressed to remove the whey, resulting in a creamy, smooth texture.
Which Has a Better Taste & Texture: Quark or Kefir?
Quark is a soft spreadable cheese with a smooth texture. It is creamy and mild in taste with slightly tangy flavour. 
Kefir has a much thinner consistency than quark. Its consistency is similar to that of thin yogurt. Taste-wise, it is tangy and slightly sour.
Difference in the Daily Recommended Quantity of Quark Vs Kefir
Quark is a high protein, low fat dairy product that can be a great addition to a balanced diet. You can add  100-150 grams of quark to your diet everyday. 
Kefir is also a nutrient rich dairy product. You can consume around 1 cup of kefir everyday to get the most out of this healthful drink.
Better Option for Limiting Calories: Kefir or Quark
Since quark is a dense dairy product, it is higher in calories than kefir. However, since the quantity of quark you consume is going to be less than kefir, you end up consuming less calories with quark. 
However, if you are buying these products from the market, make sure to check the labels for added flavours or sugars. These can substantially increase your calorie intake. 
Which is Lower in Carbs: Kefir or Quark?
Most types of cheese are lower in carbs and so is quark. When compared to kefir, it has very few carbs. 
So, if you are on a diet that requires you to consume fewer carbs, quark would be a better option.
Comparing the Quantity & Quality of Fats in Kefir & Quark
The amount of fats in kefir varies with the kind of milk used. While whole milk kefir will have more fats, the low fat milk will give you low fat kefir. The fat in kefir is a mix of saturated and unsaturated fats. 
Quark is generally made using low fat or skim milk and is thus low in fat when compared to many other cheeses. Quark is also a better source of conjugated linoleic acid (CLA), a type of good fat that has many health benefits, like heart health  and reduced inflammation.
Kefir or Quark on a Protein Rich Diet
Kefir is a good source of high quality proteins and can be a great source for some additional protein in your diet.
Quark is a high-protein dairy product. Therefore, quark is a better option if you are looking to maximize your protein intake, as it contains more protein per serving than kefir. 
Kefir or Quark: Which is a Better Source of Calcium
Kefir and quark are dairy products which make them good sources of calcium. So, if you're looking for a calcium boost, both are great options.
Calcium is an essential mineral that is needed for building and maintaining strong bones and teeth. It also plays an important role in many other bodily functions, including muscle function and nerve transmission.
What is The Best Time for Consuming Kefir Vs Quark?
The best time to consume kefir is either for breakfast in the morning or as a post lunch snack at noon. Consuming it in the first half of the day gives your body enough time to digest it. 
Quark can be consumed at any time of day, depending on personal preference and dietary needs. I generally recommend including this in your breakfast, as a snack or as a pre- or post-workout protein boost.
Which One Can be a Vegan Option: Kefir or Quark?
Neither kefir nor quark is considered vegan. This is because they are dairy products. 
For individuals following a plant-based diet, you can choose the vegan kefir and quark. These options are made using alt milks. However, nutritionally dairy kefir is more superior.
Kefir Vs Quark: Which is Better for the Planet?
Both kefir and quark are dependent on the dairy industry, which can have significant environmental impact, including greenhouse gas emissions, land use, and water pollution.
To reduce the environmental impact, choose locally sourced and ethically animal agriculture. Also, try to make your own kefir or quark to avoid contributing to plastic packaging.  
What Would Aid Your Oral Health: Kefir or Quark?
Kefir and quark can both contribute towards good oral health. Kefir is a good source of  probiotics, or good bacteria that can help promote a healthy balance of bacteria in the mouth and prevent infections
Quark is a good source of calcium, which is an essential mineral for maintaining healthy teeth and bones. Overall, kefir has a slight advantage over kefir for maintaining teeth health.
What to Opt For Stronger Bones: Kefir or Quark?
As mentioned earlier, kefir and quark are both good sources of calcium and calcium is essential for bone health. Therefore both these dairy products can help you maintain bone health. 
Quark, additionally has more protein which makes it a comparatively better choice for your bones. Protein is important for maintaining bone health because it helps to build and repair bone tissue.
The Dairy Product Easier to Digest: Quark or Kefir 
Kefir contains live cultures of beneficial bacteria and yeasts. These probiotics can be beneficial for gut health and help in fighting infection. Additionally it contains B vitamins which aid good digestion
Quark also contains some probiotics which makes it git friendly. However, the quantity and quality of good bacteria is much higher in kefir, making it a superior option.
Kefir or Quark: Which Has More Uses?
While both kefir and quark have multiple uses, quark is generally more versatile than kefir. Quark can be used in a variety of dishes, including spreads, dips, sauces, and desserts.
Quark can also be added to baking, shakes and smoothies. You can also  substitute it for cream cheese or sour cream in many recipes. 
Kefir can be consumed as a beverage or used in smoothies. It can also be used as a substitute for buttermilk or yogurt in baking recipes. 
While kefir can be used in many dishes. However, its tangy flavor and thin consistency may not work well in all recipes.
Quark and kefir are thus excellent dairy products. I would recommend including both of these in moderation in your diet. If you have to pick between them, choose the option that aligns with your needs, tastes and preferences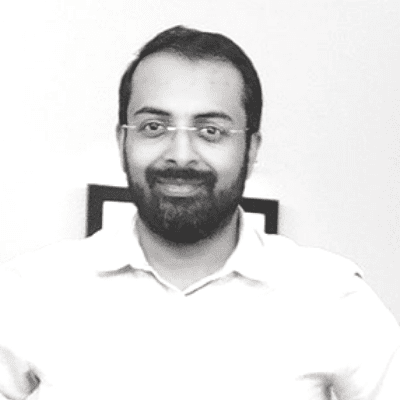 Hi! I'm Integrated Nutrition Coach Rohit Panwar. I hold twin Certifications from IIN, New York & SAFM, Massachusetts. I am a passionate vocalist of holistic lifestyle and have fully committed the past several years to educate & empower people towards their wellbeing. Despite a successful yet hectic corporate stint of 21+ years, I have prioritised nutriment in my life. I truly hope my personal journey from illness to wellness helps everybody reading this forge their own path.