Kombucha vs yogurt – confused between the two? Wondering which probiotic food is better for you?
As a nutritionist, I will closely examine key similarities and differences of kombucha vs yogurt. This will help you determine the best option for yourself. 
Kombucha vs Yogurt: Choosing the Ideal Fermented Food
Before I explain the details, let's take a quick look on the various attributes of kombucha vs yogurt: 
MAIN INGREDIENTS
Kombucha

Black or Green Tea, Sugar & SCOBY

Yogurt

Any type of Milk & Yogurt Culture

TASTE 
Kombucha

Sweet & Tart

Yogurt

Sweet & Sour

RECOMMENDED QUANTITY
Kombucha

1-2 Cups

Yogurt

1-2 Cups

CALORIES
Kombucha

20-50*

Yogurt

62*

CARBOHYDRATES
Kombucha

3 g*

Yogurt

4.75 g*

FAT CONTENT
Kombucha

0.25 g*

Yogurt

3.3 g*

PROTEIN CONTENT
Kombucha

0 g*

Yogurt

3.5 g*

CALCIUM CONTENT
Kombucha

0 mg*

Yogurt

123.3 mg*

NUTRITIONAL DIVERSITY
Kombucha

Very Good

Yogurt

Very Good

BEST TIME TO EAT
Kombucha

Noon & Evening

Yogurt

Morning or Noon

DIGESTIBILITY
Kombucha

Very Good

Yogurt

Very Good

ORAL AND BONE HEALTH OUTCOME
Kombucha

Average

Yogurt

Very Good

BODY HYDRATION EFFECT 
Kombucha

Excellent

Yogurt

Very Good

ENVIRONMENTAL IMPACT
Kombucha

Positive

Yogurt

Negative

VEGAN FRIENDLINESS
Kombucha

Yes

Yogurt

No

VERSATILITY
Kombucha

Very Good

Yogurt

Very Good

SHELF LIFE
Kombucha

4-6 Months

Yogurt

2-3 Days
*Source: USDA; Quantity defined is 100 grams
Base Ingredients, Origin and Preparation Method of Kombucha vs Yogurt
Kombucha is an age-old fermented tea which originated from China. To prepare kombucha, sugar and SCOBY are added to the green or black tea. SCOBY stands for symbiotic culture of bacteria and yeast.
Yogurt is basically a fermented form of the milk. In Western Asia and the Middle East people have been consuming it for thousands of years.
This dairy product is made by mixing yogurt culture to lukewarm milk. The process of making yogurt is simple and you can easily make your own at home. 
Which One Is More Flavorsome: Kombucha or Yogurt?
Kombucha is a fermented drink with a sweet and tart flavor. Due to tea, it is slightly bitter. Homemade kombucha is usually orange-brown in color, though packed ones have many other hues too.  
The live bacteria in yogurt gives a mild tangy taste to it. It has a thick consistency with a smooth texture. Its mild taste allows it to mix it with other sweet or savory flavors. 
Suggested Daily Intake of Kombucha vs Yogurt
Kombucha and yogurt both are packed with friendly bacteria called probiotics and other nutrients. You can add both of them to your regular diet. 
You can consume 1-2 cups of kombucha a day and it is the same with yogurt. During summers you can definitely have more than a cup of kombucha and yogurt. 
How Different Are Kombucha & Yogurt From Dairy Yakult, A Popular Probiotic?
| Yogurt Vs Yakult |
Is Kombucha or Yogurt Better for Low Calories?
The calories in kombucha depends on the sugar you add in it. Most of the packed versions have more calories due to added juices, sugar or other flavors. It is better to try DIY kombucha and add natural cane sugar for low calories. 
Yogurt has more calories compared to kombucha. If you want to reduce your calorie intake then pick kombucha rather than yogurt. However, I won't suggest that you stop having yogurt completely. 
What to Pick for Lower Fat Content: Kombucha or Yogurt?
Your body needs fat to stay warm, absorb nutrients and for many other functions. However, you must consume it in moderation. 
Fat content in kombucha is quite negligible compared to yogurt. If you are fitness enthusiastic and looking for a low fat probiotic then kombucha is a better option. 
How Much Protein Kombucha vs Yogurt Will Provide?
Protein is an essential macronutrient for your body. It is crucial to add enough protein in a regular diet for a smooth function of the body.
Kombucha doesn't contain any protein, whereas yogurt is an excellent source of protein. In case you are picking kombucha over yogurt then make sure to add other protein rich foods or beverages to your diet. 
Calcium Rich Option: Kombucha or Yogurt
Calcium is a vital mineral for the human body. Dairy products such as milk, cheese, yogurt etc are excellent sources of calcium. 
There is no calcium found in kombucha. This is a huge drawback of kombucha. That doesn't mean that you shouldn't consume kombucha, but combine it with other calcium sources to make your diet balanced.  
Nutritionally Diverse Pick: Kombucha or Yogurt
Kombucha and yogurt, both are probiotic foods with different strains of bacteria. 
Kombucha has antioxidant properties which boost your immunity. On the other hand, yogurt is an excellent source of protein and calcium since it is a dairy product. 
Kombucha contains types of vitamin B complex such as thiamin and niacin, whereas yogurt contains vitamin B12, vitamin C, selenium, phosphorus, riboflavin and vitamin A. Kombucha also provides benefits of tea. 
When Can You Have Kombucha vs Yogurt in a Day?
You can have kombucha anytime in the day. However, afternoon is the perfect time of the day  to add this delicious probiotic in your diet.  
Yogurt is a great option for your breakfast and lunch time. Particularly during summers I will highly recommend having yogurt with your afternoon meal.  
Kombucha vs Yogurt as Gut Friendly Fermented Foods
If you want to know the benefits of probiotic content of kombucha vs yogurt, then I would say  both are most beneficial for your tummy health. 
Both these  probiotics provide you friendly bacteria which help to  maintain the optimal gut health and further improve your immune system.  
Better Choice for Oral and Bone Health: Kombucha or Yogurt
Kombucha and yogurt are cultured foods, hence helpful to keep bad bacteria away from the mouth and improve the overall oral health. 
However, yogurt is a rich source of protein and calcium which makes it a better option for teeth and bones. 
I will recommend opting for DIY or plain yogurt rather than flavored ones. High sugar content in the flavored yogurt can cause tooth decay or cavity. 
Is Kombucha Better Than Yogurt for Hydration?
Kombucha and yogurt both are great options to keep you hydrated. However, since kombucha  is a water based probiotic drink, it will give you quick relief. 
Both of them also contain electrolytes such as potassium and magnesium which are helpful to maintain the water balance in the body. Though, you can't replace them with water.
Environment Impact of Kombucha vs Yogurt
Yogurt is a dairy product which has higher carbon footprints compared to plant based foods. Therefore, kombucha is a much more environmentally-friendly choice than yogurt.
Commercial versions of kombucha are packed in glass bottles which are much more sustainable than plastic ones. However, try to consume locally produced kombucha to enhance its positive impact on the environment. 
A Vegan Option: Kombucha or Yogurt
Kombucha doesn't contain any animal based product, hence it can definitely be a vegan friendly cultured beverage. 
On the contrary, yogurt is a dairy product so it can't be added to a vegan diet. However, vegan yogurt is also a trending food in the market which is made of milk alternatives. 
How Differently Can Kombucha vs Yogurt Be Used?
Besides drinking straight, you can also use kombucha as the base of cocktails and mocktails. You can also use it to make vegetable and fruit relish. 
Since kombucha contains the strands of beneficial yeast and bacteria, often people ask "can you make yogurt from kombucha." I will say, " Yes, you can make it." You may not get a perfect consistency but it will get better after 2 or 3 tries. 
Yogurt is an excellent choice for fruit smoothies. It also complements the breakfast choices such as rolled oats, cereal etc. You can use it in baking to make your breads and cakes softer and a little tangy. 
Which Can Be Stored for Long: Kombucha or Yogurt?
Once fermented, kombucha can be stored for up to 4-6 weeks. Either it is homemade or packed, you must store it in the refrigerator only. 
Yogurt can stay up to 2-3 days, but make sure you keep it in the fridge. It tastes better when it's fresh. So, try to consume as soon as possible after fermentation. 
We can safely conclude here that kombucha and yogurt both are excellent probiotics and you can add either of them based on your preferences and needs.
However, yogurt's health benefits are much wider than kombucha since it is loaded with many essential nutrients. 
I hope my blog addressed all your questions related to kombucha vs yogurt. If you still have some doubts, feel free to drop it in the comment section.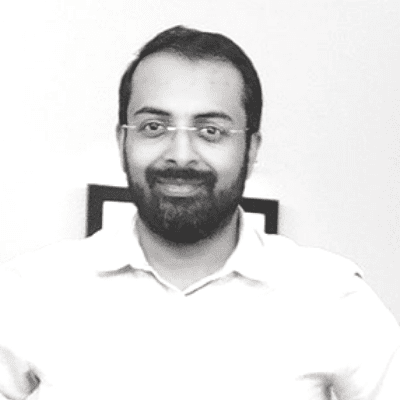 Hi! I'm Integrated Nutrition Coach Rohit Panwar. I hold twin Certifications from IIN, New York & SAFM, Massachusetts. I am a passionate vocalist of holistic lifestyle and have fully committed the past several years to educate & empower people towards their wellbeing. Despite a successful yet hectic corporate stint of 21+ years, I have prioritised nutriment in my life. I truly hope my personal journey from illness to wellness helps everybody reading this forge their own path.