Fermented drinks and food have been part of the human diet for a long time. Throughout the world, each culture keeps using these in different ways. In this blog, I will talk about Laban versus Ayran, two fermented drinks from middle east Asia. 
People consider both these dairy products as similar but there are few differences between Laban and Ayran. This blog will guide you to find these differences.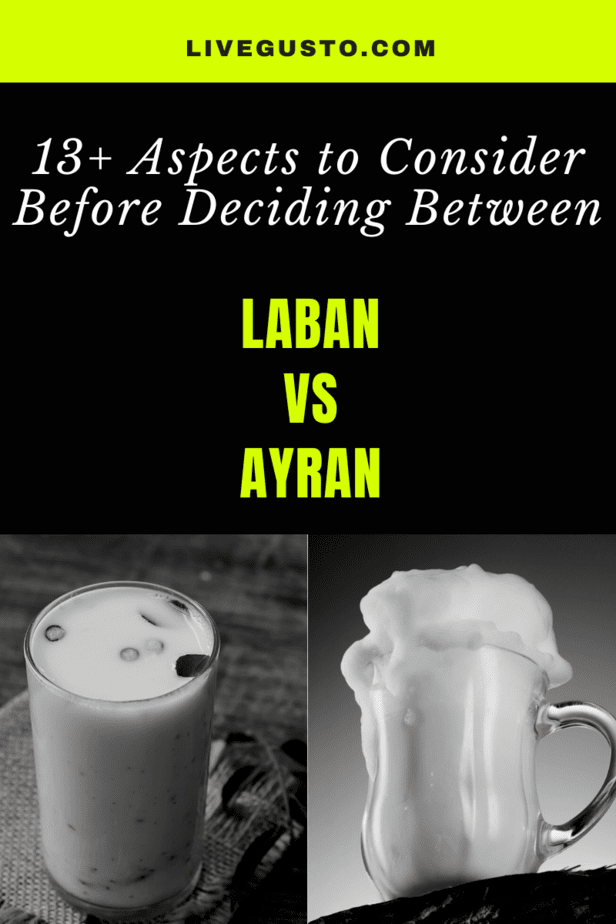 PEOPLE ALSO READ
| Kefir Versus Laban– Are They The Same? | 
Laban Versus Ayran –  Differences and Similarities at a Glance 
Thanks to globalization, these middle east Asian drinks are easily available to other countries as well. However, many people are not aware of the differences between them, so, let's compare these two age-old drinks. 
BASE INGREDIENTS
Laban

Cow's Whole Milk

Ayran

Yogurt & Water

TASTE
Laban

Tangy

Ayran

Sour & Salty

DAILY INTAKE
Laban

1 Cup

Ayran

1 Cup

CALORIES
Laban

144*

Ayran

86*

FAT CONTENT
Laban

7.9 g*

Ayran

4.5 g*

PROTEIN CONTENT
Laban

7 g*

Ayran

4.84 g*

CALCIUM CONTENT
Laban

288 mg*

Ayran

171 mg*

RECOMMENDED TIME
Laban

Morning or Noon

Ayran

Morning or Noon

ENVIRONMENTAL IMPACT
Laban

Negative

Ayran

Negative

VEGAN FRIENDLINESS
Laban

No

Ayran




No

ORAL HEALTH OUTCOME
Laban

Very Good 

Ayran

Very Good

TUMMY HEALTH OUTCOME
Laban

Good 

Ayran

Very Good

BODILY COOLING EFFECT
Laban

Good 

Ayran

Very Good

BODILY HYDRATION EFFECT
Laban

Very Good 

Ayran

Very Good

ADDITIVES
Laban

Fresh Mint & Garlic

Ayran

Cumin powder & Dried Mint
*Source: USDA; Quantity defined is 1 cup
I would like to mention here that these nutritional values are for the full-fat version of  Laban. These values can vary according to the consistency of Laban. 
Hope the table above provided you insight into this common question Is Laban same as Ayran? Let me explain each point further to enhance your understanding. 
Differences in the Ingredients of Laban and Ayran
Laban is made of milk directly. You have to mix a small quantity of Laban in the warm milk and keep it aside for 9 to 10 hours. Once it is fermented then should strain to get the creamy texture.
On the other hand, Ayran is made by mixing water, yogurt and salt. To get more foam on your Ayran you can add sparkling water instead of normal water. 
Taste Variation Between Laban and Ayran
Laban has a slight tanginess to it. Its neutral taste makes it a perfect drink to play with many flavors. 
Compared to Laban, Ayran has a subtle taste. It is sour and salty in taste. The consistency of Ayran is thin as there is 3 times more water than yogurt. 
How Much Laban and Ayran to Drink Per Day?
Both Laban and Ayran help you to improve your health parameters. So without a doubt, you can add these fermented milk drinks to your daily routine.   
One cup of these drinks can be consumed per day. During summers, people prefer to drink Ayran a couple of times. You can definitely give these drinks to your children as well.                                                                                                
Calories You Get From 1 Cup of Laban Vs Ayran
Laban and Ayran both are low-calorie beverages. No sugar is added to these products which makes them a good option for a low-calorie diet.
As mentioned above, Ayran has a thin consistency because of the large amount of water in it. This makes Ayran lower in calories compared to Laban. But to reduce the calories in laban you can use low-fat milk.
Laban Vs Ayran: Which Has More Fat Content?
Both the drinks are low in fat content as shown in the table above, Laban has more fat content than Ayran. Traditionally whole milk is used to make Laban, this makes the fat content higher in Laban.
Having said that, for lovers of laban, low-fat laban is also increasingly becoming available in the market. The fat content in low-fat Laban is 3 g per serving which is almost half of full-fat Laban. I will suggest that If you are looking for a low-fat fermented dairy drink then either Ayran or low-fat Laban are better choices. 
What is the Ratio of Protein in Laban Vs Ayran?
Protein plays an important role in each cell of the body. This macronutrient provides energy and structure to tissues and organs.  All milk products are excellent sources of protein.
Since both Laban and Ayran are dairy products and they are rich sources of protein. If you want to compare then Laban has more protein than Ayran. 
Which is a Better Source of Calcium: Laban Or Ayran?
Laban is a richer source of calcium than Ayran. Ayran has less proportion of dairy in it, which makes it lower in calcium. 
I would like to say here that calcium does a lot in our body including maintaining bone health controlling muscle contraction and much more. According to the NIH, Calcium may also help to reduce the risk of many diseases including heart diseases and some kinds of cancer too. 
When Can We Drink Laban and Ayran?
According to the ancient Indian medical system, Ayurveda one should avoid curd or yogurt-based drinks at night. 
 Laban and Ayran both are fermented dairy products so it is suggested to add these beverages either in your morning routine or at lunchtime. Though afternoon is the best time to consume them. 
Comparing the Environment Sustainability of Laban Vs Ayran
Since Laban and Ayran are milk-based products, they are less harmful to the environment compared to meat products. Though if you compare it to plant-based milk, dairy products have higher carbon footprints.
According to WorldWideLife, increasing demand for Dairy production puts pressure on natural resources such as land, soil, and water. This makes Laban and Ayran bad choices for the environment. 
Are Laban and Ayran as Vegan-Friendly Drinks?
A vegan diet avoids any food or drinks which comes from animals. All kinds of meat products, seafood, dairy products, honey, and poultry products can not be part of vegan food. 
Keeping this in mind both Laban and Ayran are not accepted as vegan beverages because these are made of milk products. However, you can try preparing Ayran with vegan yogurts that are made from soy milk, coconut milk, or other plant-based milk.
How do Laban and Ayran Affect Your Oral Health?
Laban and Ayran are excellent sources of calcium which helps to maintain strong teeth. Besides that, both these drinks are fermented which means they are full of probiotics or good bacteria.
Probiotics are helpful for oral hygiene because they kill the other harmful bacteria in the mouth. Add these drinks to your diet on a regular basis to get maximum benefits. 
Laban Vs Ayran for A Happy Tummy
The simplest way to understand any fermented drink means adding life to it. Live bacterias in these fermented drinks have beneficial microbes which are known as "Good Bacteria".  These "Good Bacteria" help to improve the digestion system in the body. 
Laban and Ayran both are full of these good bacteria. This makes them stomach-friendly dairy products. 
Body Cooling with Laban and Ayran: Possible?
Both Laban and Ayran are excellent drinks to keep you cool. The originating region of these drinks is very hot during summers and these traditional drinks keep helping people in that region to refresh themselves for ages. 
Compared to Laban, Ayran is more effective to quench your thirst as it is more watery and salty. 
Are Laban and Ayran good to keep you Hydrated?
Although Laban and Ayran both are good to quench your thirst and keep you hydrated for a long period of time. But, since Ayran has more water in it, it is a better way to hydrate yourself in comparison to Laban. 
Laban and Ayran are also full of electrolytes that help you to stay hydrated. According to a study, milk products are also good post-workout. Both these drinks are wonderful beverages for athletes as well. 
Different Nutritional Additives for Laban and Ayran
Laban is quite plain in taste so you can add fresh mint and garlic to enhance the flavor. In middle east Asian cooking, Laban is used to marinate lamb and other meat products. It goes very well with couscous as well. 
Ayran is only used as a drink but is generally not used in cooking. To give an extra twist to the flavors, you can add cumin powder, dried mint, and cucumber in it. 
I tried to address the most common doubts in this blog. But if you still have a few queries, please do write to me. Also, let me know which other drinks you want me to compare in my next blog. 
I will be waiting for your suggestions.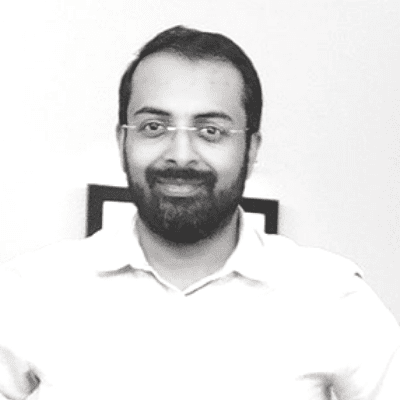 Hi! I'm Integrated Nutrition Coach Rohit Panwar. I hold twin Certifications from IIN, New York & SAFM, Massachusetts. I am a passionate vocalist of holistic lifestyle and have fully committed the past several years to educate & empower people towards their wellbeing. Despite a successful yet hectic corporate stint of 21+ years, I have prioritised nutriment in my life. I truly hope my personal journey from illness to wellness helps everybody reading this forge their own path.