Labneh versus greek yogurt, how are they different? If you have recently come across the middle – eastern dish labneh, you might be curious about how it is different from the insanely popular greek yogurt. 
As a nutritionist and a lover of fermented milk products, I am here to help you clear this confusion. Scroll through to find the difference in labneh vs greek yogurt nutrition facts & more.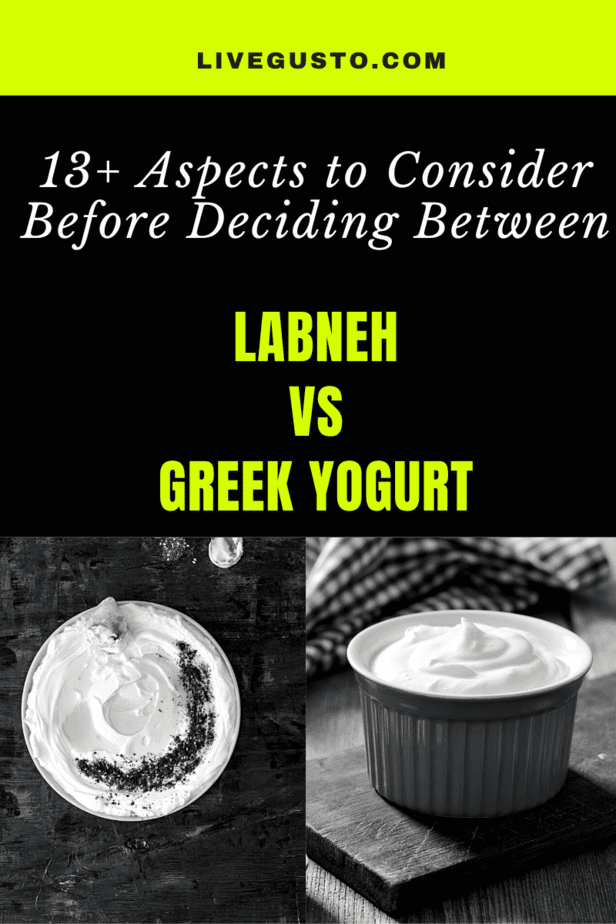 PEOPLE ALSO READ
| Labneh versus Cream Cheese– Which One's Better? | 
Labneh Versus Greek Yogurt Nutrition Facts & Fitness Outcomes
Let us start by quickly comparing attributes including labneh vs Greek yogurt calories, fats and more: 
BASE INGREDIENTS
Labneh

Yogurt 

Greek

Yogurt

Milk & culture

TASTE
Labneh

Sour & Creamy

Greek Yogurt

Creamy & Tart

DAILY INTAKE
Labneh

¼ Cup

Greek Yogurt

1 Cup 

CALORIES
Labneh 

173*

Greek Yogurt

97*

CARBOHYDRATE CONTENT
Labneh

7 g*

Greek Yogurt

4 g*

FAT CONTENT
Labneh

13 g*

Greek Yogurt

5 g*

PROTEIN CONTENT
Labneh

6 g*

Greek Yogurt

9 g*

CALCIUM CONTENT
Labneh

110 mg*

Greek Yogurt

100 mg*

RECOMMENDED TIME
Labneh

Morning or Noon

Greek Yogurt

Morning or Noon

ENVIRONMENTAL IMPACT
Labneh

Negative

Greek Yogurt

Negative

VEGAN FRIENDLINESS
Labneh

No

Greek Yogurt

No

ORAL HEALTH OUTCOME
Labneh

Good

Greek Yogurt

Good

TUMMY HEALTH OUTCOME
Labneh

Very Good

Greek Yogurt

Very Good

BODY COOLING
Labneh

Average 

Greek Yogurt

Good

ADDITIVES
Labneh

Lemon & Herbs

Greek Yogurt

Fruits or Honey
*Source: USDA; Quantity per 100g
Since now we have an answer to – is labneh and Greek yogurt the same, let's delve deeper into their differences: 
Labneh Vs Greek Yogurt: Origin & Method of Preparation
Labneh, also sometimes known as yogurt cheese, is a popular middle-eastern dairy product. Labneh is commonly used as a spread and dip and served along with meals. It is made by straining yogurt and removing the liquid to get a thick, spreadable product.
Contrary to what it sounds, Greek yogurt is not actually from Greece.  In Greece strained yogurt is actually made using goat milk, while what we know as Greek yogurt is made by straining liquid from yogurt made using cow's milk. Greek yogurt is also obtained by straining yogurt but it has more water content in comparison to labneh.
Difference in the Taste and Texture of Labneh and Greek Yogurt
Labneh is sour and creamy in taste. It is soft, thick and has a very spreadable cream cheese-like consistency. 
Greek Yogurt is not as thick as labneh. It has a creamy and tangy flavour. The consistency is somewhere between cream cheese and yogurt.  
How much of Labneh Vs Greek Yogurt Can be Consumed Per Day?
Labneh is a delicious dairy product that can be consumed daily. However, since it is very rich, you need to consume it in moderation. One fourth of a cup which is around 3-4 tablespoons per day is good enough. 
The popularity of Greek Yogurt has spread far and wide in the last few years. Ideally you should not be consuming more than one cup which is about 250 grams of Greek yogurt per day. 
Labneh vs Greek Yogurt Calories Comparison
Labneh contains twice the calories when compared to equal amounts of Greek yogurt. This is because labneh is a much thicker product when compared to Greek yogurt.
So, if you are concerned with your calorie intake you can consume a smaller quantity of labneh or choose Greek yogurt.  
For Carb- Conscious People, Which is better Labneh or Greek Yogurt?
If we talk about the quantity of carbohydrates, then labneh has higher carbohydrates content when compared to Greek yogurt.
For people who are on a low carb diet, I would suggest limiting the quantity of both Greek yogurt and labneh as they are moderately high in carb content 
Which Has Lower Fats: Labneh or Greek Yogurt?
Labneh is made using whole milk and is thus rich in fats. Greek yogurt is much lower in fats when compared to the same quantity of labneh. 
Having said that, if you still wish to enjoy the benefits of labneh and Greek yogurt, you can opt for low fat versions made from skimmed or low-fat milk.
More Protein-rich: Labneh or Greek Yogurt?
Since both labneh and Greek yogurt are made using dairy milk, they are good sources of protein. In comparison to labneh, Greek yogurt has more proteins. 
The high protein content of Greek yogurt makes it an ideal choice for post workout smoothies.  
Comparing the Calcium levels of Labneh and Greek Yogurt
All dairy products are rich in calcium. This makes labneh and Greek yogurt good sources of calcium. 
When the calcium levels in them are compared we find that for similar quantities, they both have similar calcium content.  
When to Consume Labneh Vs Greek Yogurt?
The best time to consume labneh is in the morning or noon. This is the best time to get the best nutrition from this dense and delicious dairy product as you get enough time to digest it. 
Greek Yogurt is best consumed in the morning, It is a rich source of protein and other nutrients. Adding it to breakfast will keep you energised and control your craving by giving you a feeling of satiety. 
Labneh Vs Greek Yogurt:  Environment Sustainability Comparison
The traditional versions of labneh and Greek yogurt are made using dairy and most commonly cow's milk. The dairy industry is not good for the planet and is associated with a number of problems including deforestation, release of greenhouse gasses, etc. 
The good news however is that there are non-dairy options available in the market of both labneh and Greek yogurt. These are made using plant milks. 
Which One Can be Vegan-Friendly: Labneh or Greek Yogurt?
Dairy milk labneh and greek yogurt  are not vegan friendly as they are animal derived. However, their alt milk versions are available in the market. They are usually made using coconut, cashew, soy milk, etc. 
Having said that, it is important to remember that the nutritional values of the plant based labneh and Greek yogurt will vary significantly from dairy versions. Therefore, you must check the labels before buying
Labneh or Greek Yogurt: Better for Overall Oral Health? 
Milk is one of the richest sources of calcium and calcium, we all know is a key nutrient that supports dental health. Therefore, labneh and Greek yogurt are both good for overall dental health. 
These fermented dairy products also contain vitamins, minerals and good bacteria or probiotics that aid oral health. But stay away from products that have added sugar. 
Better for Your Tummy Health: Greek Yogurt or Labneh?
Labneh and Greek yogurt are both probiotic foods. This means that they contain healthy bacteria which help aid digestion and fight infections. 
This probiotic nature of the products makes them good for the stomach. They are also low in lactose, and thus also suitable for lactose intolerant people as suggested by research. 
Which Has More Cooling Effect- Labneh or Greek Yogurt?
Labneh and Greek  yogurt both contain essential elements like calcium, potassium and sodium that are essential for maintaining the optimum level in the body. 
If we compare the cooling and body hydration effect of labneh and Greek yogurt, the latter definitely wins the battle. This is because Greek yogurt has ore water content as compared to labneh
Labneh Vs Greek Yogurt: How They Can be Used & Consumed?
Labneh is a very versatile food product. It is mostly used as a breakfast spread, served savoury or sweet. You can add  herbs and spices to it and make it even more delicious. You can also use it as a marinade or in baking.
Greek Yogurt can be had as such but it goes best with sweet fruity flavour. I usually use it to make overnight oats or make a morning smoothie with it. If you are wondering can I substitute Greek yogurt for labneh, yes you can. However, remember that labneh is quite thick as compared to Greek yogurt. 
I hope that you have clarity about the difference between labneh and Greek yogurt. Both are very nutritious and delicious dairy products and therefore can be included in your daily diet but in moderation.
I will be happy to assist you in case you have any additional questions.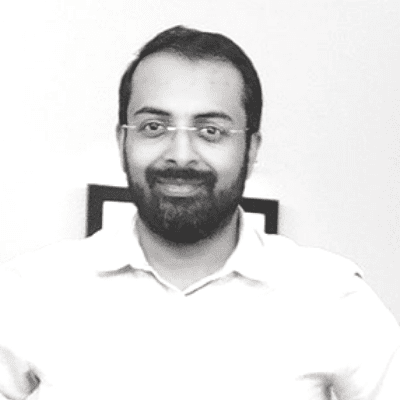 Hi! I'm Integrated Nutrition Coach Rohit Panwar. I hold twin Certifications from IIN, New York & SAFM, Massachusetts. I am a passionate vocalist of holistic lifestyle and have fully committed the past several years to educate & empower people towards their wellbeing. Despite a successful yet hectic corporate stint of 21+ years, I have prioritised nutriment in my life. I truly hope my personal journey from illness to wellness helps everybody reading this forge their own path.