Are you looking to switch up your regular breakfast routine with low calorie vegan options? I have just the list of the best low-calorie vegan breakfast ideas for you. 
These mouth-watering low calorie vegan breakfast options will leave you feeling energized and ready to tackle whatever the day brings. 
33 Low Calorie Vegan Breakfast Ideas to Fuel Your Day
Let's delve straight into my picks as a nutritionist for the best low calorie vegan breakfast ideas –
1.
Cauliflower Scramble 
This is among my most recommended low calorie vegan breakfast ideas. To make this, pulse cleaned cauliflower florets in a food processor for a few seconds.
In a pan cook the cauliflower in vegan butter or oil. To this add salt and pepper and add in your favourite veggies like onion, bell peppers, and mushroom. 
2.
Tofu Scramble
Replace traditional scrambled eggs with tofu for a protein-packed breakfast that's low in calories. You can make the scramble by crumbling tofu and seasoning it with spices such as turmeric, garlic, and onion powder.
I also like to add some veggies to the mix such as bell peppers, onions, and mushrooms, etc.
3.
Sweet Potato Breakfast Bowl
This vegan breakfast bowl is a delicious and nutritious low calorie vegan option. It is made with roasted sweet potato, spinach, avocado, and topped with a protein-rich tofu scramble.
The bowl is a complete meal that provides a  balance of carbohydrates, healthy fats. This breakfast will keep you energised throughout the morning. 
4.
Oatmeal with Berries and Almonds
For a low calorie vegan breakfast option that's both nutritious and delicious, try out this oatmeal loaded with almonds and berries. Cook up some oats with your favorite plant-based milk, top with fresh berries and almonds for a tasty and satisfying breakfast.
Packed with fibre, good fats, and antioxidants, this breakfast bowl is a great way to begin your day.
5.
Kale Spinach Smoothie
A kale spinach smoothie can be a great addition to your list of low calorie vegan breakfast ideas. To make this, blend together kale, spinach,  banana, and almond milk.
You can also add other ingredients like ginger, lemon juice, and a scoop of protein powder to make it more filling and appetizing. 
6.
Vegan Breakfast Burrito
This Vegan Breakfast Burrito is a flavorful and satisfying way to start your day. It's made with a whole wheat tortilla that's filled with scrambled tofu, black beans, avocado, salsa, and fresh greens.
The tofu scramble is a protein-rich alternative to eggs, while the black beans provide a boost of fiber and complex carbohydrates. 
7.
Quinoa Breakfast Bowl
If you're looking for a nutritious and flavorful vegan breakfast option, try out this Quinoa Breakfast Bowl. It's made with protein-rich quinoa, sweet fruits like berries and bananas, and topped with a drizzle of maple syrup and a sprinkle of nuts or seeds.
The combination of whole grains, fresh fruits, and healthy fats makes this breakfast bowl a well-rounded and satisfying meal. 
8.
Vegan Breakfast Sandwich
This sandwich is a quick and easy option for a tasty morning meal. You can make this sandwich using veggies and toppings of your choice.
Layer tempeh bacon, tomato, lettuce, and avocado onto a whole grain slice of bread. This is not only tasty but also a low calorie breakfast option.
9.
Wheat Germ Porridge
Wheat germ porridge can be made by cooking wheat germ, with plant milk and sweeteners. You can also add fruits, nuts and seeds for added nutrition.
The bowl of warm porridge is not only comforting but also provides you fibre, protein and other essential vitamins and minerals. This satisfying breakfast will keep you satiated till lunch. 
10.
Veggie Lettuce Wraps
These refreshing and flavourful wraps are a vegan option that's perfect for a light breakfast. The wraps are made with crisp lettuce leaves that are filled with a mix of fresh veggies such as bell peppers, carrots, cucumbers, and avocados. The combination of crunchy vegetables and creamy avocado provides a variety of textures and flavours while keeping the calories low. 
11. 
Applesauce Oatmeal Pancakes
These pancakes are made with oat flour, applesauce, almond milk, and maple syrup. The combination, fibre-rich oats, and naturally sweetened applesauce makes these pancakes a nutritious and filling meal that will keep you feeling satisfied.
They're easy to prepare and can be customized by adding a sprinkle of cinnamon or a handful of fresh berries. 
12.
Vegan Yogurt Parfait
This  simple and nutritious option for a quick breakfast. It's made with dairy-free yogurt, mixed berries, and a sprinkle of granola. The dairy-free yogurt is good source of protein and probiotics, while the mixed berries offer a variety of vitamins and antioxidants.
The granola adds a crunchy texture and a touch of natural sweetness
13.
Blueberry Avocado Smoothie
It is a delicious and nutrient-packed vegan option for a quick breakfast. It's made with blueberries, fresh avocado, almond milk, vegan protein powder or nut butter (optional) and a touch of maple syrup for natural sweetness.
The combination of the ingredients makes it Celsius  while keeping it low in calories and high in nutrients. 
14.
Green Pea Pancakes
I recently tried these unique low calorie pancakes and they turned out to be more delicious than I expected. They're made with green peas, chickpea flour, onion, and a blend of herbs and spices for added flavour.
The green peas provide a good source of protein, fiber, and vitamins, while the chickpea flour adds extra protein and makes the pancakes gluten-free.
15.
Vegan Quiche
This Vegan Quiche is low in calories and is made with a chickpea flour crust that's filled with a tofu-based mixture that's flavored with a variety of veggies, such as spinach, mushrooms, and onions.
The tofu adds protein, while the veggies add vitamins and other nutrients. The chickpea flour crust is gluten-free and adds an extra protein boost.
16.
Baked Pumpkin Oatmeal
If you are looking for a warm and comforting breakfast for winter and fall mornings, this is it. It is a great way to incorporate pumpkin into your breakfast.
To make this, combine together oats, pumpkin puree, alt milk, maple syrup or other vegan sweetener, pumpkin pie spice, vanilla extract, and salt. Add in your favourite toppings like nuts, fruits and seeds, and bake.
17.
Mango Chia Pudding
This pudding is a sweet and nutritious vegan option for a quick breakfast or a tasty dessert. It's made with chia seeds, mango puree, and coconut milk.
The chia seeds add in fibre and omega-3 fatty acids, while the mango gives the pudding refreshing flavour and a boost of vitamin C. The coconut milk is a creamy and dairy-free alternative that adds a touch of richness and natural sweetness. 
18.
Overnight Steel Cut Oats
A simple and hassle-free breakfast option, these steel cut oats can be made well in advance. Let your oats soak in  almond milk overnight in a jar.
Add in to this jar some chia seeds and a sweetener of your choice. You can customise this recipe by adding your favourite nuts, fruits, or spices for added texture and flavour.
19.
Zucchini Sprout Salad
Sprout salad is another great option for a low calorie vegan breakfast. Apart from being low in calories, it is also rich in fibre and protein. Just mix together sprouts of different types like alfalfa, mung bean, and lentil.
To this add chopped zucchini and a light dressing or lemon juice. You can also add other vegetables to this such as carrots, bell peppers, etc. 
20.
Sweet Potato Oatmeal Muffins
These muffins are made with sweet potatoes, oats, almond milk, and a sweetener like maple. The muffins are  easy to prepare and can be customized by adding your favorite chopped nuts and dried fruits. 
Make a batch in advance and grab on the go on buddy mornings. 
21.
Chia Breakfast Pudding
This is a really comforting and delicious vegan breakfast that is low in calories. The previous evening mix together a plant milk of your choice, chia seeds and a vegan sweetener like date paste or maple syrup.
Let sit in the fridge overnight. Serve with fresh fruit or granola on top, the next morning.
22.
Tofu and Veggie Skillet
This tofu and veggie skillet is a protein-packed and nutrient-rich vegan low calorie breakfast option. It's made with crumbled tofu that's cooked with a variety of veggies, such as bell peppers, onions, and kale, and flavored with a blend of herbs and spices.
The tofu is a great source of plant-based protein, while the veggies add vitamins, fiber, and antioxidants..
23.
Spouts Toast 
Easy and quick to make, this is one of my top favourites in the list of low calorie vegan breakfast ideas.  It's made with toasted bread that's topped with fresh sprouts, such as alfalfa, clover, or radish sprouts, and a drizzle of olive oil.
The sprouts provide protein, vitamins and minerals, and they add a crunchy and refreshing texture to the toast. The olive oil provides good fats and a touch of flavour. 
24.
Carrot Muffins 
Carrot muffins are a delicious way to begin your day. To make them, you will need grated carrots, whole wheat or oat flour, almond milk, baking powder, coconut oil and a vegan sweetener of your choice.
You can also add in some chopped nuts to the mix. These low calorie muffins are a guilt-free and delicious way to enjoy a nutrient rich breakfast.
25.
Savoury Oatmeal 
Why make it sweet when you can make it savoury. If you wish to take a break from your regular oatmeal, try this savoury version made with oats cooked in vegetable broth, and then topped with savory ingredients, such as sautéed veggies, nuts, and spices.
The low-calorie and nutrient-dense option will help you prepare for an eventful day. 
26.
Chickpea Flour Pancake
The gluten free low calorie chickpea flour pancakes are another delicious vegan option for a satisfying breakfast. To make these, prepare a batter of chickpea flour, herbs and spices, such as cumin, paprika, and turmeric.
Cook them like pancakes and serve them with chutney or your favorite toppings, such as avocado, tomato, etc. 
27.
Savoury Spinach Pancakes
The low calorie savoury spinach pancakes are a great way to incorporate more greens into your breakfast.  To make the pancakes blend together oats or millet flour, spinach, water, baking powder, vegan cheese, salt, and black pepper.
Now make regular pancakes from the mix. Serve with sauce or vegan yogurt your choice.
28.
Pumpkin & Banana Overnight Oats
They are made with rolled oats, pumpkin puree, mashed banana, and almond milk. Mix all the ingredients and soak overnight. The oats absorb the flavours and nutrients from the other ingredients, and become soft and creamy.
The pumpkin and banana provide natural sweetness and fiber, while the almond milk adds a creamy and nutty flavour. 
29.
Tomato Avocado Toast
Another simple yet simple option in this list of low calorie vegan breakfast ideas is the humble avocado toast. It's made with whole grain bread, sliced avocado, and juicy tomatoes, and then seasoned with herbs and spices, such as salt, pepper, and garlic powder.
This option is quick, delicious and low in calories. 
30.
Mushrooms on Toast
Mushrooms on toast are quick and easy to make. To make this, sauté sliced mushrooms of your choice in vegan butter or olive oil with garlic and herbs such as thyme, rosemary or parsley.
Serve these on top of toasted whole wheat bread.
31.
Matcha Tea Smoothie
A Matcha Tea Smoothie can be your go to breakfast if you are looking for low calorie vegan breakfast ideas. To make this, blend together banana, pineapple,  almond milk, yogurt, maple syrup, and matcha powder.
You can also add other ingredients such as flax and chia seeds. This drink will keep you full without cutting back on the nutrition. 
32.
Ragi Malt 
Ragi Malt is a nutritious and tasty vegan option for a healthy breakfast. It's made with ragi (finger millet) flour, which is nutrient rich. The flour is to be mixed with water or plant-based milk and then boiled to make a smooth and creamy drink.
You can sweeten it with  jaggery and add in  flavours such as ardamom or cinnamon. Ragi Malt is a great option for anyone who's looking for a gluten-free or low-calorie breakfast option.
33.
Fruit Bowl
A fruit bowl is a simple, low calorie and nutritious way to enjoy a variety of fruits. Chop up your favourite fruits and add them to a bowl. You can also add some plant yogurt or granola for added flavor and texture.
Enjoy this bowl as it is, or add a drizzle of maple syrup to sweeten it up.
These were my top favourite low calorie vegan breakfast ideas. These will fill you up without you having to worry about your calorie intake. In case you have questions, feel free to drop them in the comment section below.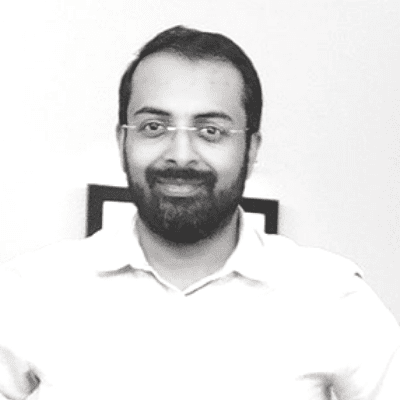 Hi! I'm Integrated Nutrition Coach Rohit Panwar. I hold twin Certifications from IIN, New York & SAFM, Massachusetts. I am a passionate vocalist of holistic lifestyle and have fully committed the past several years to educate & empower people towards their wellbeing. Despite a successful yet hectic corporate stint of 21+ years, I have prioritised nutriment in my life. I truly hope my personal journey from illness to wellness helps everybody reading this forge their own path.