Want to know what low Fodmap vegan breakfast looks like? Then you are at the right place, as I am sharing my best plant-based breakfast option for a low fodmap diet. 
Low fodmap is a therapeutic diet often prescribed by doctors, nutritionists and dieticians to people diagnosed with digestive issues. If you are vegan, these low FODMAP vegan breakfast ideas will boost your digestion. 
22 Low FODMAP Vegan Breakfast Ideas | A Nutritionist's Top Picks  
Low FODMAP diets are often suggested for people with gut issues like SIBO and IBS for a limited time. Here are my recommendations as a nutritionist, for some fast and fantastic vegan fodmap breakfast options:
1.
Savory Oatmeal Porridge: Super Easy, Filling and Delicious  Breakfast 
This savory oatmeal porridge is the quick and delicious way to include oats in your breakfast routine. Add a small amount of olive oil in the pan, stir fry onion and veggies such as green beans, carrots, corns etc.
Bring a boil and add oats in it. In the end, sprinkle salt and pepper. If in a hurry then you can skip the veggie part and just boil the oats and add salt and pepper. 
2.
Quinoa Salad With Colorful Veggies: Fulfilling and Nutritious Low Fodmap Vegan Breakfast Recipe 
Quinoa is easy to digest since it is a fiber rich grain. To make this rainbow quinoa salad you need boiled quinoa and lots of colorful vegetables. 
I use red, yellow bell peppers, cucumber, cherry tomatoes, red cabbage, onions and corn. You can add your choice of veggies. Add cilantro and lemon juice for freshness. This delightful low fodmap salad bowl is a perfect breakfast for hot days. 
3.
Buckwheat Pancake with Fresh Fruits: My Top Favorite Among Sweet Low Fodmap Vegan Breakfast Ideas
Buckwheat is a great alternative to wheat and an excellent grain for a low fodmap diet. For this recipe we use buckwheat flour instead of whole buckwheat.
Mix the flour with almond milk, cinnamon powder, mashed banana, flax seed powder, olive oil and a pinch of baking soda to give a raise to your pancake. Make the equal size pancakes and serve with chia seeds, pineapple and maple syrup. 
4.
Polenta Porridge: A Delightful Soothing Breakfast With Many Nutrients
Polenta is widely known as ground cornmeal. You can buy it easily from any mill or store. It is a low fodmap grain which means it is easy to digest. 
To make this recipe, boil polenta with water, vegetable broth or with any vegan milk. Once boiled, you can mix vegan yogurt and use blueberry, strawberries and chia seeds as toppings. Your creamy polenta porridge is ready to be on table. 
5.
Rhubarb Crumble: Mouth Watering Healthy Treat to Start the Day
It is quite debatable whether rhubarb is a fruit or a vegetable, but there is no doubt that it is an amazing food for your digestion. This perennial vegetable looks like radish pink celery and is known for exceptional pies. 
This rhubarb crumble is one of the easiest dessert recipes. Use only the stalk of rhubarb. Coat evenly the cubed stalks with cornstarch, cinnamon powder, and soft brown sugar. Add oats, vanilla and coconut butter and bake it for 35-40 minutes. Cool it down for 10 minutes before serving. 
6.
Oat Waffle With Fruits: Delicious Low Fodmap Vegan Breakfast Made With Just 3 Ingredients 
I am completely obsessed with this quick vegan version of waffles. To make these chewy and satisfying waffles you need oats, vegan milk and flax egg. 
Put all three ingredients in the blender and make the batter. You can play with flavors here by adding cinnamon powder or vanilla extract. Top your low fodmap waffles with chia seeds and coconut whip cream. 
7.
Scrambled Tofu With Microgreens: Satisfy Your Taste Buds and Nutritional Needs
This is a fulfilling and high protein option for low fodmap vegan breakfast. It is an easy to cook option and it is highly versatile in terms of uses. 
To make this scrambled tofu, heat sesame oil in the frying pan. Then mix scrambled or grated tofu, preferably silken tofu. Top it with a few strings of microgreens which are considered as low fodmap greens. You can replace microgreens with baby spinach or kale. 
8.
Passionfruit and Papaya Smoothie Bowl: A Vegan Low Fodmap Breakfast Treat
Papaya and passionfruit both are low fodmap fruits, hence this smoothie bowl is a must try for you. You can use frozen fruits are best to make this thick smoothie.
Blend fruits with coconut milk or any other vegan milk. Add chia seeds, sunflower, pumpkin or melon seeds and coconut flakes on top of your smoothies to add nutrients and crunch. 
9.
Buckwheat Porridge: A Delicious Low Fodmap Grain Alternative 
Buckwheat is a gluten-free grain, which is especially beneficial for the people who are gluten intolerant. It is also a protein rich grain and it keeps you full for longer. These qualities make it a must try grain for vegans who are looking for a low fodmap option. 
Boil the buckwheat in water and when half done then add almond milk. Your delicious porridge is ready. You can add fruits and maple syrup before serving. 
10.
Low Fodmap Green Smoothie: A Nourishing Way to Start the Day Right
When you don't have enough time to eat your breakfast then drink it and this vegan smoothie is a perfect way to do so. 
To make this refreshing drink blend cucumber, kiwi, baby spinach, kale, almond butter with almond or coconut milk. Put some ice cubes, chia seeds and coconut flakes on top. Your delightful breakfast drink is ready in no time. 
11.
Peanut Butter Acai Bowl: Easy on The Stomach & High on Nutrition 
For this scrumptious breakfast you will need acai powder, raspberries, kiwi, peanut butter, maple syrup, chia or hemp seeds and almond milk.
However, you can customize it according to your preferences. Put everything in the blender and your low fodmap vegan breakfast is sorted. 
12.
Overnight Oats With Seeds: Plant Based Nutritious Breakfast Option For Busy Mornings
What an amazing feeling to wake up without the hassle of making breakfast. Overnight soaked oats are the perfect way to wake up like this. 
To prepare these overnight oats you need to soak rolled oats with your choice of vegan milk in a jar.  Add maple syrup as a sweetener and mix of seeds including chia seeds, pumpkin seeds and sunflower seeds.
13.
Vegan Frittata: A Nutritious and Customisable Breakfast Option That is Also Low Fodmap
To prepare this Italian dish you will need silken tofu, vegetables such as green bell peppers, yam, cabbage, carrot and spinach. 
Put it all in a blender with vegan milk or yogurt and spices and herbs such as cumin, red chili powder, turmeric, cilantro and oregano. Bake it for 30-40 minutes and your appetizing breakfast is ready. 
14.
Vanilla Chia Pudding With Fruits: Seize the Day With This Low Fodmap Vegan Breakfast 
For this effortless and protein packed vegan breakfast recipe you will need just 4 basic ingredients. 
Right amount of chia seeds, coconut milk or any other vegan milk, vanilla extract and your choice of sweetener. I use maple syrup for sweetness. Top your pudding with pineapple and kiwis to add more nutrients and freshness. 
15.
Vegan French Toast: A Classic Tweaked for Vegans With a Sensitive Tummy
This appetizing vegan French toast is made of everyday ingredients and takes just 10 minutes to prepare. Choose brown rice or millet vegan bread for the recipe. 
Take soy or almond milk, cornstarch, cinnamon, maple syrup, flax seeds powder, baking powder and vanilla. Whisk all the ingredients in a wide bowl and dip the bread fully. Cook the bread from both sides until it turns golden brown and crispy.  
16.
Avocado Smoothie: A Great Choice for Simple Low Fodmap Vegan Breakfast Recipes
This dairy free creamy avocado smoothie is my current favorite Low FODMAP breakfast recipe. Blend avocados, frozen pineapple cubes, maple syrup, lime juice and zest, baby spinach and coconut or any other plant milk in the high speed blender. 
I like to sprinkle some chia or hemp seeds on top of my smoothie to add protein. This delicious zesty smoothie is super quick to make. 
17.
Marinated Tempeh With Millets: Give a Wonderful Twist to Your Vegan Breakfast for a Happy Gut
This unconventional breakfast bowl is hearty and satisfying but still light for the gut. Start with boiling tempeh and marinate it with garlic infused olive oil, lemon and sage. Keep it aside for 20-30 minutes.
Add olive oil in a pan and stir fry marinated tempeh and cut it in bitable size. Cook a mix of millets in a tomato sauce gravy with salt, pepper, cumin powder and cilantro. Mix marinated tempeh and enjoy your delicious millet bowl with tempeh. 
18.
Tomato and Tofu Soup: Makes For a Well Balanced Yet Light Breakfast Option
This classic and nutritious recipe is super easy to make. It can also be prepared on the previous night to avoid the hustle bustle of mornings. Start with garlic infused olive oil and saute ginger, green bell pepper and tomato pieces.
Add salt, pepper and cilantro and let it cool. Meanwhile, saute firm tofu pieces in sesame or olive oil to get a crispy texture. Blend tomato mix, boil and  add tofu pieces. Garnish with cilantro, ginger juliennes. Add lemon juice for a tangy taste. 
19.
Tapioca and Coconut Milk Porridge: Start Your Morning With this Blissful Vegan Dish
If you are tired of your oats bowl then try this refreshing and delicious tapioca coconut porridge. This vegan low fodmap breakfast is quick to prepare and filling. 
Soak tapioca pearls for 30 minutes and then cook with coconut milk until the pearls become transparent. While cooking, keep stirring so that it doesn't stick to the pan. 
Add maple syrup or jaggery powder and vanilla extract. You can make it the previous night and put it in the fridge for the next morning. Garnish with coconut chips, seeds, papaya and kiwi before serving. 
20.
Kiwi and Pineapple Breakfast Smoothie: Delightful, Simple and Easy Probiotic Drink to Soothe the Tummy
This probiotic smoothie is super yummy and highly efficient to banish the bloat. It is a perfect breakfast option for the people who don't have enough time to sit and have breakfast. 
It is made of frozen kiwi, pineapple, ground psyllium, hemp seeds, water and vegan probiotic powder or vegan yogurt. Blend all the ingredients in the blender together. Add ice cubes and enjoy. 
21.
Rice Bread: A Delicious and Nutritious Fodmap Bread For Vegans
To make these highly nutritious and soft breads you will need white rice flour, tapioca flour, cinnamon and nutmeg powder, baking powder, any plant milk, flax egg, vanilla, coconut sugar, a pinch of salt and olive oil.  
Mix all the dry and wet ingredients and pour the batter in the baking dish. Bake for 30-40 minutes or until the top is golden brown. Allow to cool before making slices to serve with your favorite low fodmap spread like peanut or almond butter.
22.
Granola Bar With Buckwheat and Oats: Easy to Make and Easy to Eat Breakfast
This buckwheat groats and oats granola bar is equally delicious to normal granola bars. Put groats, oats, your choice of nuts and chia seeds in a bowl and add almond butter, coconut oil and maple syrup. Give it a good mix. 
Put the mix in the oven to bake. Let it cool down and put it in the fridge overnight before slicing it in bars. Eat on the Go
I hope you will give these low fodmap vegan breakfast recipes a try and will enjoy as much as I enjoy while sharing them with you.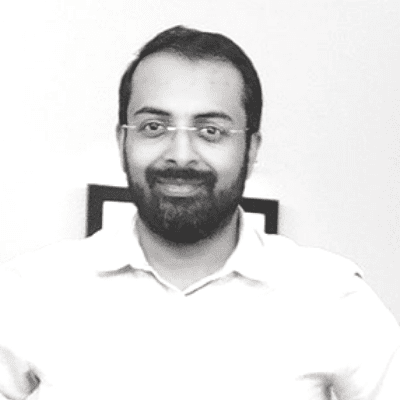 Hi! I'm Integrated Nutrition Coach Rohit Panwar. I hold twin Certifications from IIN, New York & SAFM, Massachusetts. I am a passionate vocalist of holistic lifestyle and have fully committed the past several years to educate & empower people towards their wellbeing. Despite a successful yet hectic corporate stint of 21+ years, I have prioritised nutriment in my life. I truly hope my personal journey from illness to wellness helps everybody reading this forge their own path.