A dietary challenge that many people face is histamine intolerance where preparing nourishing meals can get tricky. This is why as a nutritionist, I share with nutrient-rich low histamine breakfast ideas. 
Whether you're new to this dietary restriction or a seasoned pro, these recipes and tips will help you create a flavorful breakfast low in histamine.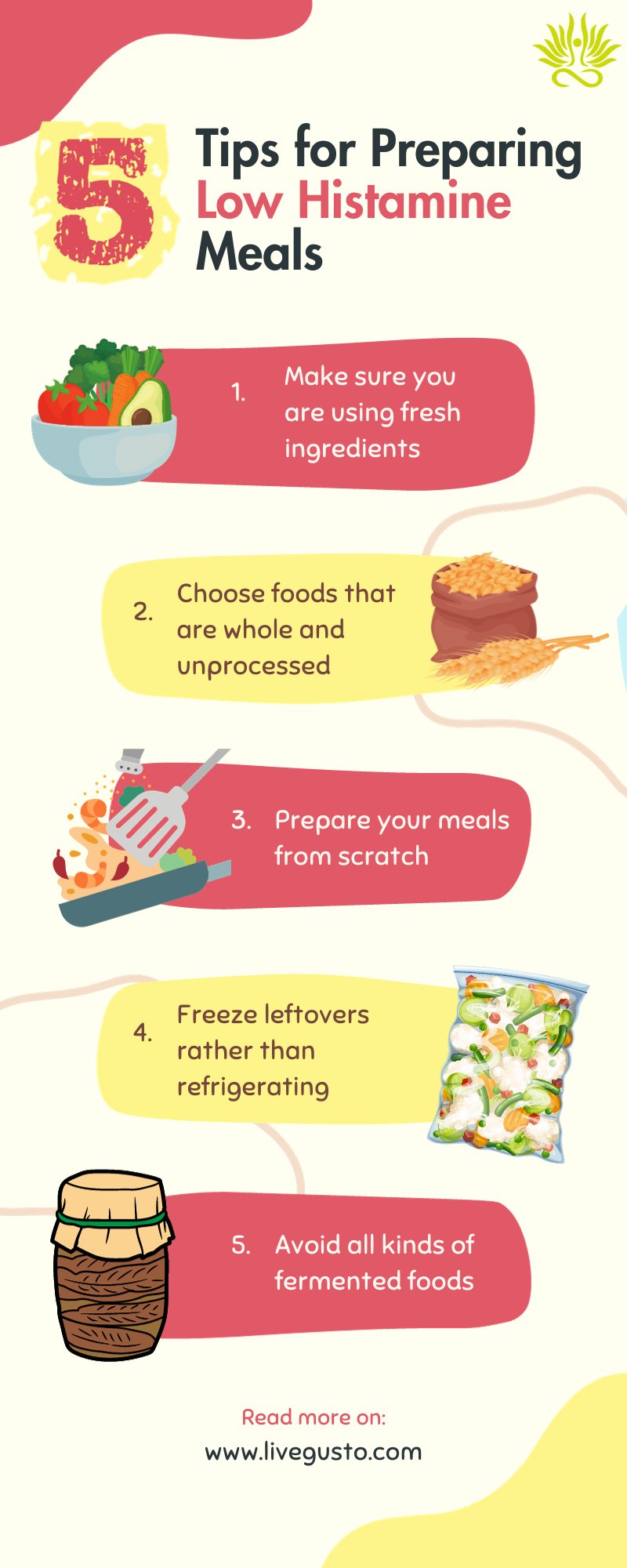 17 Low Histamine Breakfast Ideas: Diverse and Nutritious
Dietary sensitivities are becoming increasingly prevalent, and histamine intolerance is no exception. 
Since a lot of foods can trigger symptoms, I have chosen foods carefully for your low histamine breakfast meals:
1.
Sweet Potato Hash
This hearty and satisfying low histamine breakfast choice provides many essential nutrients and can be the perfect way to kickstart your day.
To prepare this, in a skillet sauté sweet bell peppers, carrots and white onions with a touch of olive oil. Add in diced and baked sweet potatoes. 
You can also add cooked chicken or turkey pieces for added protein. Season with salt and herbs (I like basil, oregano and rosemary) and enjoy with a side of fresh cream cheese. 
2.
Kamut Breakfast Porridge
If you are looking for low histamine breakfast cereals, kamut can be a great option. An ancient grain, Kamut is not only low in histamine but also high in nutrients like protein, zinc, etc. Additionally, its nutty and slightly sweet flavor makes it an excellent breakfast choice. 
To make this, cook rinsed and cleaned kamut grains in water or low histamine milk alternatives like coconut milk or fresh whole milk. Cook till tender (30-40 minutes). 
Sweeten with honey or maple syrup, and top it with fresh fruits like sliced apples or blueberries. I also sprinkle some cinnamon for extra flavor
3.
Homemade Granola 
Homemade granola is a versatile ingredient for preparing breakfast low in histamine. The best thing is that you can tweak the recipe to include your favourite ingredients. 
To make this low histamine granola, start with gluten-free oats as the base. Add in cinnamon, coconut oil and maple syrup for sweetness along with macadamia nuts, some almonds and pumpkin seeds
Bake at a low temperature until it's golden brown. Add in some dried blueberries, black currants and cranberries and it's ready to be used the way you like. 
4.
Savory Quinoa porridge 
Quinoa is an excellent ingredient for breakfast as it is high in fiber, protein, vitamins and minerals. Although it can be used for both sweet and salty porridges, I like the savory option better. 
To make the porridge, cook quinoa with low histamine vegetables like zucchini, carrots, and bell peppers. Season with herbs and spices like thyme and oregano for flavor.
Top with a poached egg for added protein and enjoy a nourishing low histamine vegetarian breakfast.
5.
Chia Pudding 
Chia pudding is a fantastic easy low histamine breakfast option which also happe. This breakfast is best when you are in the mood for something light yet filling. 
For a basic pudding, simply mix 1/4 cup of chia seeds with 1 cup of your choice of non-dairy milk. I would recommend coconut milk. Add honey or maple syrup and some cinnamon. Stir well and refrigerate overnight or for at least a few hours
6.
Rice Cakes with Seed/Nut Butter
Let's talk about quick low histamine recipes. One of my go to ideas would be a simple rice cake with a spread. The rice cakes serve as a crunchy base, and the seed/nut butter adds healthy fats and protein.
Spread pumpkin seed butter or macadamia nut butter on rice cakes. For added flavor, you can top them with a touch of honey or fresh fruit slices like apples  or blueberries. 
7.
Cottage Cheese Toast
Some forms of dairy can cause a rise in histamine but fresh cheeses like cottage cheese are generally considered safe.  
Simply toast a couple slices of bread. Now spread a generous layer of cottage cheese on top. Add sliced cucumbers and sprinkle some salt and fresh herbs like parsley before serving. 
Cherry Spelt Muffins
These low histamine breakfast muffins are a delectable breakfast choice that are perfect for days you are in a rush.
To prepare these on the go low histamine muffins, mix spelt flour, a pinch of baking powder, a sweetener like honey, and a bit of low histamine milk (such as coconut or almond milk) in a bowl.
Gently fold in fresh or frozen pitted cherries. Spoon the batter into muffin cups and bake until they're golden.
Fresh Fruit Smoothie
There are a number of fruits that can be included on a low histamine diet such as peaches, apricot, pears, apples, and blueberries. 
Combine half a ripe pear, a small apple, and a handful of blueberries in a blender. Add a splash of pasteurized milk or a dairy-free alternative, like almond or hemp milk. 
Blend until smooth, and you have a delicious, histamine-friendly breakfast option ready to enjoy. 
10.
Beet & Blueberry Smoothie Bowl
This breakfast bowl is nutritious and visually stunning. The combination of earthy beets and sweet blueberries creates a delightful flavor that can give your day a burst of energy and freshness.
Blend one cooked and peeled beet with a cup of frozen blueberries and two dates. Add a splash of pasteurized milk or a dairy-free milk like hemp, coconut or almond milk.  
Pour the mixture into a bowl and top with some coconut flakes, chia seeds, and chopped apples. 
11.
Classic Overnight oats 
This is another easy low histamine breakfast option for vegetarians.  This is also an excellent make ahead breakfast option. 
To make this, combine rolled oats with plant milk such as almond, coconut or hemp  in a jar. If you like dairy, you can also use fresh goat milk. Add sweetener like honey and refrigerate overnight
In the morning, add some chopped fruits for extra texture and nutrition. I
Veggie Stuffed Omelette
This is a protein rich low histamine breakfast option. It's rich in protein, easy to customize, and provides a satisfying start to your day without triggering histamine-related discomfort.
To prepare, whisk eggs and pour them into a non-stick skillet. Once the omelet is ready add in  sautéed vegetables such as zucchini, bell peppers, and carrots. Cook until set, fold, and serve. 
13.
Apple & Goat Milk Baked Oatmeal
This recipe combines the earthy richness of oatmeal with the sweetness of baked apples and the creaminess of goat milk. 
Combine rolled oats, diced apples, a touch of honey for sweetness, and a pinch of cinnamon. Pour fresh goat milk over the mixture, ensuring that the oats are well soaked.
Transfer the mixture to a baking dish, and bake for about 30-35 minutes or until the oats are tender and the top is lightly golden
Turkey/ Chicken Lettuce Wrap
These wraps make for a satisfying and low histamine breakfast. These light and protein-rich wraps are excellent for managing histamine intolerance, as they rely on fresh, crisp lettuce leaves as a gluten-free alternative to traditional wraps.
Cook lean ground turkey or chicken in a pan with some olive oil. Season with salt. You can also add in some white chopped onions if you like.
Spoon the cooked meat onto cleaned lettuce leaves, and add diced cucumber, shredded carrots, and a dollop of dairy-free cream cheese . Roll up the lettuce leaves to create wraps and enjoy a refreshing, histamine-friendly breakfast. 
Scrambled Quail Eggs with Sautéed Veggies
Quail eggs are generally well-tolerated and can be a great alternative for those with histamine intolerance. Paired with sautéed vegetables, this dish offers a delightful morning meal option.
Sauté diced zucchini, bell peppers, and asparagus in olive oil until tender. In a separate pan, scramble quail eggs, season with parsley, and serve alongside the sautéed veggies. 
16.
Green Salad with Grilled Chicken or Tofu 
Packed with nutrients and protein, this option is gentle on histamine-sensitive systems while providing a satisfying start to your day.
Begin with a bed of fresh greens like asparagus, arugula, and romaine lettuce. Top it with grilled chicken or tofu for your protein source. Add sliced cucumber and a simple olive oil and lemon dressing. 
17.
Millet Cheela
This is a wonderful take on a popular breakfast option. Cheelas are Indian savory pancakes  that are not only delicious but also packed with nutrients. 
Make a smooth batter by combining 1 cup millet flour, 1/2 cup water, and a pinch of salt. Add in white onion, grated zucchini, and diced bell peppers. 
Now make thin crepes and cook on both sides. Serve with a low histamine dip and enjoy. 
So, these were some of my top favourite options for low histamine breakfast ideas. I hope you try them. 
If you have any questions pertaining to the ideas or any nutrition related questions, I'd be happy to help.