Mozzarella vs Fontina cheese, wondering if these Italian cheeses are similar in any way?
While both fontina and mozzarella may have a similar origin, this is one of the few similarities they have. So, let's find out what sets them apart.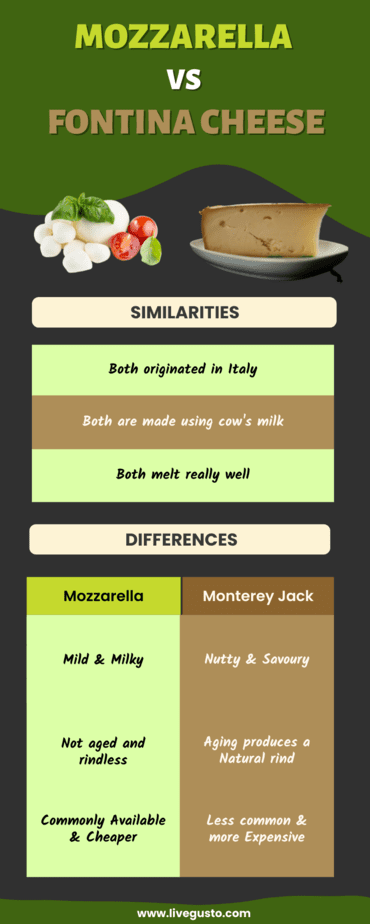 PEOPLE ALSO READ
| Mozzarella Vs Edam– Which Cheese is Better? | 
Mozzarella Vs Fontina Cheese: Difference in Nutrition & Outcomes
As a nutritionist, I always guide my clients to compare the nutritional aspects of foods before picking one. So, here is a look at mozzarella vs fontina nutrition
BASE INGREDIENT
Mozzarella 

Cow/ Water Buffalo Milk

Fontina Cheese

Cow Milk

TYPE
Mozzarella

Semi- Soft 

Fontina Cheese

Semi soft to hard

TASTE
Mozzarella 

Mild & Milky

Fontina Cheese

Savoury & Nutty

AGED
Mozzarella 

No

Fontina Cheese

Yes

CALORIE CONTENT

Mozzarella

 

85*

Fontina Cheese

110*

CARB CONTENT

Mozzarella

 

0.6 g*

Fontina Cheese

0.4 g*

FAT CONTENT

Mozzarella

 

6 g*

Fontina Cheese

9 g*

PROTEIN CONTENT

Mozzarella

 

6 g*

Fontina Cheese

7 g*

CALCIUM CONTENT

Mozzarella

 

143 mg*

Fontina Cheese

156 mg*

SODIUM CONTENT

Mozzarella

 

178 mg*

Fontina Cheese

227 mg*

VITAMIN PROFILE
Mozzarella

Very Good 

Fontina Cheese

Very Good

ORAL & BONE HEALTH OUTCOME

Mozzarella

 

Very Good

Fontina Cheese

Very Good

TUMMY HEALTH OUTCOME

Mozzarella

 

Very Good

Fontina Cheese

Good

VERSATILITY

Mozzarella

 

Very Good

Fontina Cheese

Good

SHELF LIFE

Mozzarella

 

5 Days

Fontina Cheese

6 Months
*Source: USDA; Quantity defined is 1 ounce (28.4g)
With this information as the base, let us delve deeper into the differences between mozzarella and fontina cheese-
Is the Method of Preparation of Fontina Similar to Mozzarella? 
Mozzarella is commonly available cheese made using cow's milk. Its preparation begins with the addition of cheese culture and rennet to warmed milk. Once the curd is formed, the whey is separated. The curds are washed, heated and stretched in water to obtain the stringy mozzarella cheese. 
Fontina also begins with the addition of live cultures and rennet to milk. The curds obtained are transferred to molds.  Here they are strained and salted. Once dried, they are transferred onto pine wood shelves for aging. 
What Type of Cheese is Mozzarella & Fontina? 
Mozzarella is a fresh cheese and is put under the semi-soft cheese category. It is generally available as low moisture packaged mozzarella or fresh mozzarella that is dipped in brine or water. 
Fontina cheese can be semi soft or hard cheese depending on its texture and age. While fresh fontina is semi-soft, with age, it gets harder. 
Is Fontina Cheese the Same as Mozzarella in Taste & Texture?
Mozzarella  cheese is usually white in colour. It is soft and spongy in texture. It has a very mild and milky flavour with a very light aroma.
Fontina is comparatively richer in taste in comparison to mozzarella. With age its taste becomes more pronounced and the cheese gets harder.
Which Cheese Can be Aged: Mozzarella Or Fontina?
Mozzarella does not require aging. Fresh mozzarella is eaten within a few hours of its preparation. For its packed versions, it is packed soon after it has been prepared. 
Fontina cheese is generally aged for 3-5 months. The methods of aging vary from one region and country to another. In some places it is aged in caves, in others on pine wood boards, some others use the combination of both.
Which Has Lower Calories: Mozzarella or Fontina Cheese?
All cheeses are not equal when it comes to the amount of calories but they are certainly high up in the calorie scale. 
Mozzarella and fontina cheese are lower in calories in comparison to many popular cheeses like parmesan and cheddar. Mozzarella, however, in comparison is lower in calories. 
Mozzarella or Fontina Cheese: The Better Choice for Lower Carb Diet
Carbohydrates are essentially sugar molecules present in our food. In cheese, the source of carbs are the sugars present in milk. 
In comparison to mozzarella, Fontina cheese has a lower carb content. Both types of cheese are suitable to be added to your low carb meal plan. 
What to Choose for Lowe Fats: Mozzarella Or Fontina Cheese?
Fontina cheese is much higher in fats when compared to mozzarella cheese. The fat percentage in fontina lies between 30-40% whereas in mozzarella, this is between 18-25%.
Also, the amount of cholesterol in fontina cheese is higher than mozzarella. Therefore, mozzarella is a much better choice than fontina for regular consumption.
Mozzarella Vs Fontina Cheese: Higher in Protein Content?
Like all kinds of dairy products, mozzarella and fontina cheese are rich in protein content. Just an ounce a day can significantly contribute to your daily protein intake. 
In comparison to mozzarella, fontina cheese has a slightly higher protein concentration. 
Which Has More Calcium: Mozzarella or Fontina Cheese?
Dairy is one of the best sources of calcium. Calcium is needed by the body for maintaining the strength of bones and teeth among other things. 
Mozzarella and fontina cheese are both rich in calcium but fontina has a higher calcium concentration. 
Which is Lower in Sodium: Mozzarella Cheese or Edam Cheese?
Mozzarella is generally accepted as one of the healthiest cheeses. This is because it is lower in sodium when compared to other varieties of cheese. 
Although sodium is an essential element, excess intake of sodium can adversely impact blood cholesterol and several heart functions. 
Mozzarella or Fontina: The Richer Type of Cheese? 
Mozzarella and fontina cheese are both rich in a number of nutrients – mostly vitamins and minerals. 
Mozzarella is richer in vitamin B2, phosphorus, while fontina boasts of a higher amount of vitamin A and B12.
Mozzarella Vs Fontina: What Is Better For Your Bones & Teeth?
Cheese is considered to be one of the best foods for maintaining bone and teeth health. This is because it is rich in nutrients that support strong bones and teeth. 
Mozzarella and fontina are both high in calcium, protein, magnesium, zinc, and vitamins A, D, and K. These play an important part in bone development. Unsweetened cheese is also helpful in preventing cavities. 
Mozzarella Vs Fontina: Which Cheese is Easier on the Stomach?
Mozzarella can be considered to be easier on the tummy because it contains probiotics or good bacteria. Probiotics help in breaking down the food and also help fight infections. 
However, it is important to remember that mozzarella and fontina are both dairy products. So, people with dairy allergies must avoid it. 
More Versatile Cheese: Mozzarella or Edam Cheese?
Mozzarella is one of the most easily available types of cheese. It also happens to be one of the most versatile. From salads, to sandwiches and pastas, mozzarella can be a part  of many types of dishes. 
Fontina is also versatile, but not as popular as mozzarella for sure. Young fontina can be used in fondues, while mature ones can be added to pastas, risottos or used as table cheese. 
Which Can Last Longer in the Refrigerator – Mozzarella or Fontina Cheese?
Fresh mozzarella that is available dipped in brine has a very low shelf life. Once opened , it will last in the refrigerator for only up to a week.
Fontina being an aged cheese, has a longer shelf life for sure. While unopened packs can stay good for around half a year, once opened, you can use it for 2-6 weeks. Younger the fontina, shorter its shelf life.
Fontina and mozzarella, despite having similar origins, are quite different nutritionally. While mozzarella is universally available, fontina is not that easily available. What you choose between the two ultimately boils down to your needs, availability and requirements.
I would love to hear your thoughts in the comment section.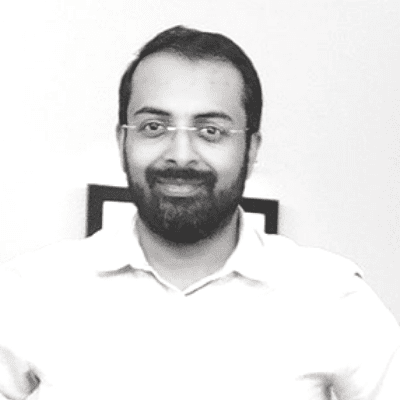 Hi! I'm Integrated Nutrition Coach Rohit Panwar. I hold twin Certifications from IIN, New York & SAFM, Massachusetts. I am a passionate vocalist of holistic lifestyle and have fully committed the past several years to educate & empower people towards their wellbeing. Despite a successful yet hectic corporate stint of 21+ years, I have prioritised nutriment in my life. I truly hope my personal journey from illness to wellness helps everybody reading this forge their own path.