Mozzarella vs halloumi cheese, picking the two can be difficult considering their very similar nutrition profiles. 
As a nutritionist, I will help you make a choice by providing you insights into the difference between halloumi and mozzarella. So, stay till the end, and find out what cheese will work better for you.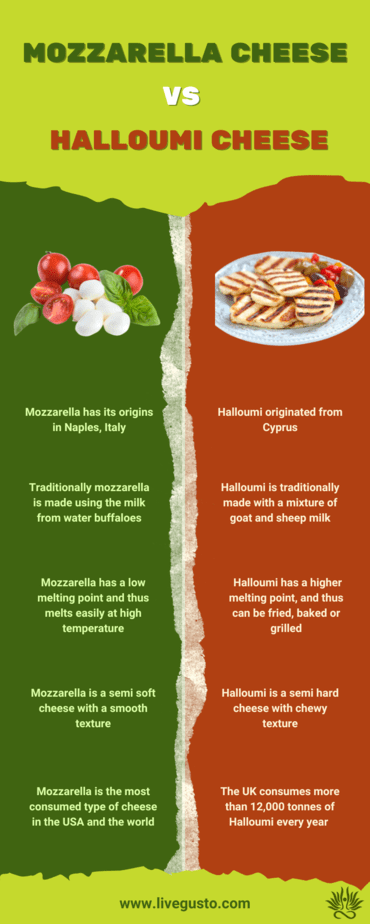 PEOPLE ALSO READ
| Mozzarella Vs Stilton– Which Cheese is Better? | 
Mozzarella Vs Halloumi Cheese: Comparing Their Benefits & Nutritional Values
Before we can discuss in details the difference between halloumi and mozzarella, here is a quick look at 15 of her attributes – 
BASE INGREDIENT
Mozzarella 

Cow/ Water Buffalo Milk

Halloumi

Sheep and/or Goat Milk

TYPE
Mozzarella

Semi- Soft 

Halloumi

Semi – hard

TASTE

Mozzarella

 

Mild & Milky

Halloumi

Tangy & Salty

AGED

Mozzarella

 

No

Halloumi

Yes

CALORIE CONTENT

Mozzarella

 

85*

Halloumi

110*

CARB CONTENT

Mozzarella

 

0.6 g*

Halloumi

0 g*

FAT CONTENT

Mozzarella

 

6 g*

Halloumi

9 g*

PROTEIN CONTENT

Mozzarella

 

6 g*

Halloumi

7 g*

CALCIUM CONTENT

Mozzarella

 

143 mg*

Halloumi

250 mg*

SODIUM CONTENT

Mozzarella

 

178 mg*

Halloumi

350 mg*

VITAMIN PROFILE
Mozzarella

Very Good 

Halloumi

Very Good

ORAL & BONE HEALTH OUTCOME

Mozzarella

 

Very Good

Halloumi

Very Good

TUMMY HEALTH OUTCOME

Mozzarella

 

Very Good

Halloumi

Good

VERSATILITY

Mozzarella

 

Very Good

Halloumi

Very Good

SHELF LIFE

Mozzarella

 

5 Days

Halloumi

1 Month
*Source: USDA; Quantity defined is 1 ounce (28.4g)
Now let us understand each attribute better- 
How Does Mozzarella's Method of Preparation Differ From that of Halloumi Cheese?
Mozzarella is a fresh cheese made using cow milk. Traditionally water buffalo milk was used for the purpose. Milk, rennet and cheese culture are mixed to obtain curds. They curds are strained of whey and later heated in water to obtain the spongy mozzarella.   
Halloumi cheese is traditionally made using goat and/or sheep milk. However, I also see some cow milk versions on the shelves these days. The milk is heated with rennet so as to obtain the curds. The curds are then transferred to molds to strain the whey. The firm cheese is then brined in the refrigerator. 
How Are Mozzarella And Halloumi Cheese Categorised?
Mozzarella cheese is classified as a semi- soft type of cheese.
Halloumi, on the other hand, is a type of semi-hard cheese. 
Difference between Halloumi and Mozzarella Colour, Taste & Texture
Fresh mozzarella is white in colour and has a mildly milky flavour. It is smooth and spongy in terms of its texture. 
Halloumi cheese is also white in colour and spongy in texture. Taste wise it is mild, chewy, tangy and slightly salty.  
Which Cheese Requires Aging: Mozzarella or Halloumi?
Mozzarella, as I mentioned before, is a fresh cheese and does not undergo any aging. You should ideally consume it within a few hours of its preparation. 
Halloumi cheese is usually aged for several months. It is usually preserved in brine for this purpose. 
Mozzarella or Halloumi Cheese Cheese: The Low Calorie Choice? 
Mozzarella and halloumi cheese are moderately high in calories but the later has a higher calorie count. 
It is important to remember that while halloumi cheese has moderate calories, when you fry it, the calorie content will increase. So, make an informed choice of how you wanna cook it. 
Better Choice For Lower Carbs Consumption – Mozzarella or Halloumi Cheese?
Carbohydrates in cheese are obtained from the naturally occurring sugars. Cheese as a dairy product has a lower concentration of carbs which makes them ideal for low carb diets.
If we compare mozzarella and halloumi carb content, halloumi has almost negligible amounts. 
Which Has Lower Fats: Mozzarella Cheese Or Halloumi Cheese?
Since halloumi  halloumi cheese is made using sheep milk, it is higher in fat content when compared to Mozzarella. 
One concern about halloumi cheese is that apart from the good fat, it also contains a substantial amount of bad fat that can contribute to increasing cholesterol levels.
What to Choose For More Proteins – Mozzarella or Halloumi?
Mozzarella and halloumi are both rich in proteins.  Halloumi, however, has a higher protein content than mozzarella.
Both types of cheese can help in weight management. This is because cheese can give you a feeling of being full, thereby controlling your appetite.
Cheese With Higher Calcium Levels: Mozzarella and Halloumi?
Another advantage of consuming cheese is that they are high in calcium. Calcium is primarily needed to strengthen our bones and teeth.
Halloumi here has an advantage over mozzarella as it is higher in calcium levels. 
Mozzarella or Halloumi: Which Cheese is Lower in Sodium?
Mozzarella is one of the cheeses that is lower in sodium. This makes it a smart choice for people avoiding high sodium foods. 
Halloumi's downside is that it has a high sodium content. High Sodium is associated with high blood pressure and should be avoided by people on a low sodium diet. 
Which Has More Vitamins & Minerals – Mozzarella or Halloumi? 
Mozzarella apart from proteins and calcium is also rich in may other nutrients. It has vitamins including A, B, D, E and K. The minerals it contains are phosphorus, zinc, calcium, potassium, etc. 
Halloumi too is rich in the above vitamins. In terms of minerals it has a large quantity of calcium and sodium. 
Mozzarella Or Halloumi: Which Cheese is Good For Your Bones & Teeth?
Dairy products including cheese are good for your bones and teeth since they are high in calcium. Calcium is a mineral that provides strength and structure to your bones and teeth. 
Additionally both mozzarella and halloumi are rich in phosphorus, a mineral needed for the absorption of calcium.
Mozzarella or Halloumi Cheese – Which Cheese Can Be Digested More Easily? 
Mozzarella is considered to be easier on the tummy when compared to many other types of cheese. This is because it is rich in bacteria also called probiotics. The probiotics ease digestion and prevent infections. 
Halloumi, since it is made from sheep/ goat's milk, is also good for the tummy. It contains a lower amount of lactose, a protein that causes problems in many people. One thing to remember here is that both mozzarella and halloumi are not suitable for people with dairy allergies.
How is Mozzarella Vs Roquefort Cheese Used?
Mozzarella is versatile and has many uses. You can eat it fresh or cook it. Mozzarella has a low melting point and thus melts away easily. This makes it a perfect choice for making pizzas, pastas and grilled sandwiches.
Halloumi is also versatile in its usage. It however, does not melt like mozzarella. This property is used as an advantage and halloumi is used in grilling and frying. 
Which Can Be Stored for a Longer Time – Mozzarella or Halloumi?
Fresh mozzarella has a shorter shelf life as compared to low moisture mozzarella. While fresh mozzarella can stay fresh for a week, low moisture mozzarella can last up to weeks.
Unopened halloumi cheese can last up to a year in the refrigerator. However, once it is opened, you can only consume it for a couple of weeks. You can store halloumi in saltwater in an airtight jar to retain its freshness. 
Although Halloumi and Mozzarella are both nutritious, Mozzarella has an advantage over halloumi cheese.  This however does not mean that you have to avoid halloumi altogether. Moderation is thus the key. 
I hope this blog was able to provide you with clarity regarding the  two types of cheese.  If you have any more questions, feel free to reach out to me in the comment section below.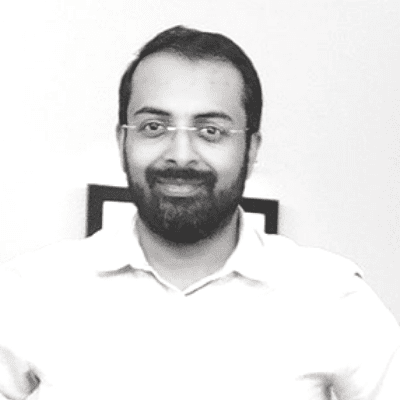 Hi! I'm Integrated Nutrition Coach Rohit Panwar. I hold twin Certifications from IIN, New York & SAFM, Massachusetts. I am a passionate vocalist of holistic lifestyle and have fully committed the past several years to educate & empower people towards their wellbeing. Despite a successful yet hectic corporate stint of 21+ years, I have prioritised nutriment in my life. I truly hope my personal journey from illness to wellness helps everybody reading this forge their own path.