Cheese is a good source of essential nutrients, but some are better than others. Let's find out mozzarella vs manchego, which is better between these two.  
As a nutritionist, I take you through mozzarella vs manchego cheese nutrition and benefits comparison. Based on this, you can take a pick.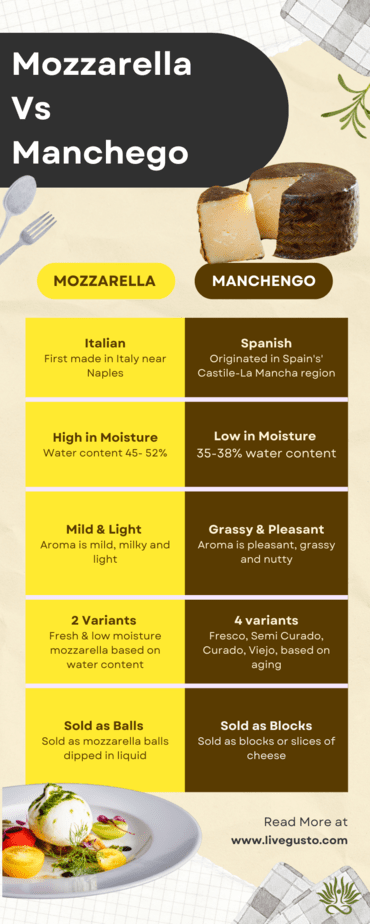 PEOPLE ALSO READ
| Mozzarella Vs Quark– Which Cheese is Better? | 
Mozzarella Vs Manchego Cheese: Differences in Nutrition & Benefits
Let's take a quick overview into mozzarella vs manchego cheese differences before we can understand them in details – 
BASE INGREDIENT
Mozzarella 

Cow/ Water Buffalo Milk

Manchego

Sheep Milk

TYPE
Mozzarella

Semi- Soft 

Manchego

Semi – Soft/ Hard

TASTE

Mozzarella

 

Mild & Milky

Manchego

Sweet & Nutty

AGED

Mozzarella

 

No

Manchego

Yes

CALORIE CONTENT

Mozzarella

 

85*

Manchego

120*

CARB CONTENT

Mozzarella

 

0.6 g*

Manchego

0.2 g*

FAT CONTENT

Mozzarella

 

6 g*

Manchego

10 g*

PROTEIN CONTENT

Mozzarella

 

6 g*

Manchego

8 g*

CALCIUM CONTENT

Mozzarella

 

143 mg*

Manchego

250 mg*

SODIUM CONTENT

Mozzarella

 

178 mg*

Manchego

170 mg*

VITAMIN PROFILE
Mozzarella

Very Good 

Manchego

Very Good

ORAL & BONE HEALTH OUTCOME

Mozzarella

 

Very Good

Manchego

Very Good

TUMMY HEALTH OUTCOME

Mozzarella

 

Very Good

Manchego

Very Good

VERSATILITY

Mozzarella

 

Very Good

Manchego

Very Good

SHELF LIFE

Mozzarella

 

5 Days

Manchego

3 Months
*Source: USDA; Quantity defined is 1 ounce (28.4g)
I will take you through each of these attributes and what they mean nutritionally –  
Differences in the Method of Preparation of Mozzarella and Manchego
Mozzarella cheese is a curd cheese that originated in Italy. It is made using cow milk or water buffalo milk, rennet and cheese culture. To heated milk, rennet and culture are added. This leads to curd formation. The strained curd is then heated in water or whey and stretched out to form mozzarella. 
Manchego is one of the most popular Spanish cheeses. It is traditionally made by using the milk of the Manchega breed of sheep. Milk is curdled using rennet. The curds obtained are cut and then placed into mold that have specific markings. These cheese wheels are brined and then left for aging. 
Mozzarella Vs Manchego Cheese, What Type of Cheese are These?
Manchego and mozzarella are both categorised as semi-soft types of cheese. 
The difference here is that while mozzarella has no rind, manchego cheese has a inedible rind. 
Does Manchego Cheese Taste Like Mozzarella?
No, it does not! Mozzarella has a very mild and milky flavour. Manchego, on the other hand is a burst of flavours including sweet, nutty and tangy. 
Mozzarella is white in colour with a soft and smooth texture. Manchego is pale yellow and has a firm texture.  
Which Cheese Needs to Undergo Aging: Mozzarella or Manchego?
Mozzarella is a fresh cheese. It is not aged and is best consumed within a few hours of making. 
Manchego cheese needs aging. The time period for aging ranges between two weeks to 2 years. Infact, manchego cheese is categorized on the basis of this aging process. The more the age of manchego, the more is its crumbly and tangy flavour. 
Which is Lower in Calories: Mozzarella or Manchego Cheese?
When it comes to calories, mozzarella has much lower calories when compared to manchego cheese. The higher calorie count in manchego can be attributed to the fact that it is made using sheep milk. 
Since mozzarella is relatively low in calories, it is a favourite amongst fitness enthusiasts. 
Mozzarella or Manchego Cheese Which is Better, for a Low Carb Diet?
Mozzarella and manchego are both low in carbohydrates, However, in comparison to mozzarella, manchego has very less carb content. 
Therefore, manchego is better suited for people on low carb diets such as keto. 
Which Cheese Has Lower Fats: Mozzarella Or Manchego?
Mozzarella is made using whole cow milk which has around 4-4.5 percent milk. Therefore, it is rich in fats. 
Manchego cheese is made using sheep milk which is higher in fats. Manchego has a fat percentage of around 57 percent which gives it its signature buttery taste.
Mozzarella or Manchego – Better For Protein Intake?
All dairy products, irrespective of their source, are a rich source of protein. This makes both manchego and mozzarella very good sources of protein. 
When we compare however. We find that manchego has a higher protein content when compared to mozzarella. 
Higher Calcium Concentration: Mozzarella or Manchego Cheese?
Calcium is another nutrient that can be obtained by the consumption of milk and milk products. 
Since sheep milk has a higher quantity of calcium, manchego, a sheep milk cheese has a higher calcium concentration.
What to Pick for Lower Sodium Intake – Manchego or Mozzarella?
When it comes to sodium, both mozzarella and manchego have a pretty similar concentration. 
Both these fall into the category of moderate sodium cheeses. 
Mozzarella or Manchego: Better Vitamin & Nutrient Profile? 
Mozzarella and Manchego are both rich in essential nutrients – proteins, fats, vitamins and minerals.
However since sheep milk used in making manchego cheese, it is more nutrient dense and contains a slightly higher quantity of nutrients including vitamins B and C.
Which is Better For Bone & Teeth Health: Mozzarella Or Manchego?
Mozzarella and manchego can both become a part of your diet given their positive impact on bone and oral health. 
Manchego and mozzarella are both rich sources of calcium and phosphorus, both of which are needed for stronger bones and teeth. Here however, Manchego fares a little better than mozzarella.  
Better For Your Tummy – Mozzarella Cheese or Manchego? 
Mozzarella is a cow milk cheese and is known for being rich in probiotics of good bacteria. This makes it good for digestion. However, people with milk or lactose allergies should either avoid or exercise caution while consuming it. 
Manchego is made from sheep milk, which is easier to digest than cow milk. This makes manchego a good choice for people with sensitive stomachs with milk allergies. Infact, aged manchego is quite low in lactose which makes it more easily digestible.
How Versatile Are Manchego Vs Mozzarella?
Mozzarella is very versatile as a cheese. It can be served cold in salads or can be heated and melted on top of pastas, pizzas or lasagnas. The choice is completely yours. 
Manchego is a staple in Spanish cuisine. You can cook it or eat it as such served with nuts, tomatoes or fruits. 
What Can Be Used For a Longer Time – Mozzarella or Manchego Cheese?
Mozzarella's shelf life depends on the type. While fresh mozzarella can be stored for less than a week, low-moisture versions are good to go even for a couple of months. 
Just like all aged cheeses, manchego also has a higher shelf life. The shelf life can extend up to 3 months. 
Manchego and mozzarella are thus but nutritionally diverse and rich. You can pick either one based on your requirements. For example, if you are looking for high calcium, high protein cheese, manchego is  better but for a low calorie, low fat option, mozzarella is the way to go. 
Do let me know in the comment section, which one is your favourite.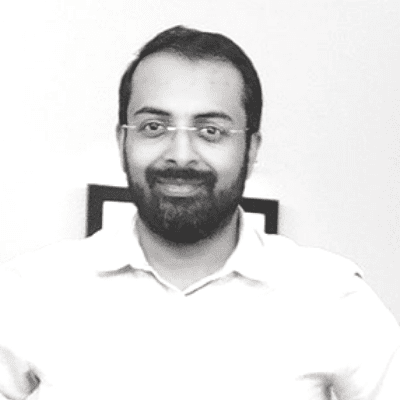 Hi! I'm Integrated Nutrition Coach Rohit Panwar. I hold twin Certifications from IIN, New York & SAFM, Massachusetts. I am a passionate vocalist of holistic lifestyle and have fully committed the past several years to educate & empower people towards their wellbeing. Despite a successful yet hectic corporate stint of 21+ years, I have prioritised nutriment in my life. I truly hope my personal journey from illness to wellness helps everybody reading this forge their own path.