Mozzarella vs Swiss cheese, wondering which one's better? This question is age old but still relevant, which is why I am addressing it here.
Mozzarella and swiss cheese share a lot of similarities, which is why you need to look closer into the differences if you have to choose one. So, let's begin.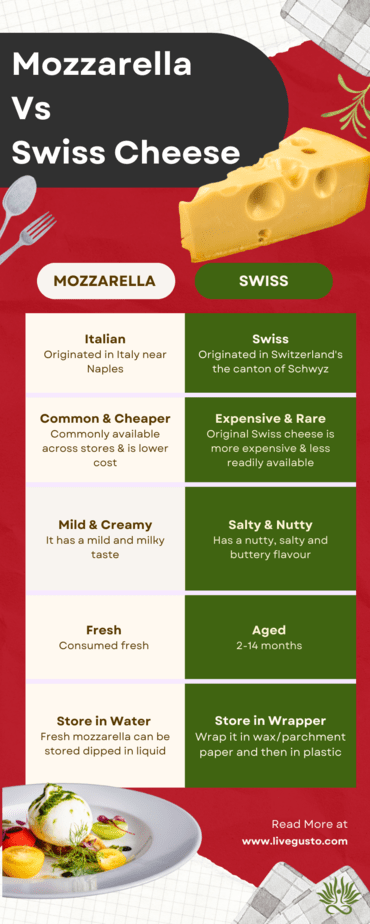 PEOPLE ALSO READ
| Mozzarella Vs Stilton– Which Cheese is Better? | 
Mozzarella Vs Swiss Cheese: Nutrition & Benefit Analysis  
Before we can jump to conclusions about is swiss cheese healthier than mozzarella, we need to compare them on nutritional and other attributes
BASE INGREDIENT
Mozzarella 

Cow/ Water Buffalo Milk

Swiss Cheese

Cow Milk

TYPE
Mozzarella

Semi- Soft 

Swiss Cheese

Semi – hard

TASTE
Mozzarella 

Mild & Milky

Swiss Cheese

Mild & Nutty

AGED
Mozzarella 

No

Swiss Cheese

Yes

CALORIE CONTENT
Mozzarella 

85*

Swiss Cheese

108*

CARB CONTENT

Mozzarella

 

0.6 g*

Swiss

Cheese

1.5 g*

FAT CONTENT
Mozzarella 

6 g*

Swiss Cheese

8 g*

PROTEIN CONTENT
Mozzarella 

6 g*

Swiss Cheese

8 g*

CALCIUM CONTENT
Mozzarella 

143 mg*

Swiss Cheese

224 mg*

SODIUM CONTENT
Mozzarella 

178 mg*

Swiss Cheese

54 mg*

VITAMIN PROFILE
Mozzarella

Very Good 

Swiss Cheese

Very Good

ORAL & BONE HEALTH OUTCOME
Mozzarella 

Very Good

Swiss Cheese

Very Good

TUMMY HEALTH OUTCOME

Mozzarella

 

Very Good

Swiss Cheese

Good

VERSATILITY

Mozzarella

 

Very Good

Swiss Cheese

Very Good

SHELF LIFE

Mozzarella

 

5 Days

Swiss Cheese

1 Month
*Source: USDA; Quantity defined is 1 ounce (28.4g)
Let us understand each of these better – 
Mozzarella Vs Swiss Cheese's Method of Preparation
Mozzarella is made from milk from cows or water buffaloes. To warm milk, cheese culture and rennet are added to obtain the curds. The curd is strained to remove the whey. Further the curd is heated in water and stretched out to obtain the perfect mozzarella consistency. 
Swiss cheese is also made using cow milk. The milk is heated and to it rennet and cheese culture is added. Once the curd forms, it is soaked in brine. The curds expels water and the bacteria causes the curd to form holes. The curds are heated and coles multiple times to get the right consistency and hole sizes characteristic of swiss cheese.
Mozzarella & Swiss Cheese – What Type of Cheese are These?
Cheese is categorised on a number of attributes including their fitness, age, taste, etc. On the basis of firmness, mozzarella can be best described as a semi- soft cheese.
Swiss cheese on the other hand is a type of semi hard or semi soft kind of cheese.
Does Swiss Cheese Taste like Mozzarella?
Mozzarella and swiss cheese are similar in a way that they are both mild. Mozzarella is white in colour and has a milky flavour. Texture wise, it is smooth and bouncy consitency. 
Swiss cheese in comparison is yellowish and has a stronger flavour because of the aging. It has a nutty, sharp and buttery flavour. It has holes throughout.
Which Cheese Requires Aging: Mozzarella or Swiss?
Mozzarella, is a fresh cheese. This means that it does not undergo the process of aging and should be consumed within the first few hours of its preparation. 
Swiss cheese is an aged cheese. After the cheese is given the desired shape, it is allowed to age for several months. The aging may last for a month to over a year. The more the cheese is ages, the sharper is the flavour. 
Difference Between Swiss Cheese and Mozzarella Calories
Let me begin by saying that all kinds of cheese are high in calories. The calories in cheese is attributed to the amount of fat in the milk it is obtained from. 
If we compare the two types of cheese, swiss cheese has a higher calorie count when compared to mozzarella.
What to Choose On a Low Carb Diet- Mozzarella or Swiss Cheese?
Carbs are needed by the body to carry out day to day functions as they are the primary source of energy. However, a high carb diet can contribute to issues including weight gain. 
Most types of cheese have a low carb content. Talking about mozzarella and swiss cheese, mozzarella has a lower carb content and is more suited for a low carb diet.  
Mozzarella Vs Swiss Cheese: Which is More Fatty in Nature?
Cheeses get their distinct creamy and buttery flavour from the fat content and they are much higher in fats when compared to their source – milk. 
Mozzarella and Swiss are both considered to be some of the healthiest cheese varieties. This is because their fat content is much lower than some other types of cheese.  
What Has a Higher Protein Content – Mozzarella or Swiss Cheese?
Cheese gives a staunch competition to many high protein foods. They are some of the best sources of protein. 
Mozzarella and swiss cheese are high in protein but swiss cheese has a higher concentration of this essential nutrient.  
Higher in Calcium: Mozzarella or Swiss Cheese?
Dairy products are rich in calcium which makes them a top choice for fulfilling daily calcium requirements. Cheese too is pretty high in this important mineral. 
Swiss Cheese has comparatively more calcium than mozzarella. Thus if calcium is what you are looking for in your cheese, go for swiss cheese. 
Mozzarella or Swiss Cheese: Better CHoice for Low Sodium Intake?
One thing that works in favour of both swiss cheese and mozzarella is that both are considered to be relatively lower in the sodium content. 
Swiss cheese takes the cake here because its sodium levels are almost half that of mozzarella cheese. Swiss cheese is thus the best option for those wanting to reduce sodium levels. 
Which Has More Vitamins & Minerals – Mozzarella or Roquefort? 
Mozzarella is rich in vitamins and minerals. It contains vitamin A, B, D, E and K. It is also rich in minerals such as calcium, potassium, phosphorus & zinc. 
Swiss cheese is rich in the above vitamins as well. It is also high in minerals, especially zinc. ZInc has many functions including that of building immunity.
Mozzarella Or Swiss: Which Cheese is Good For Your Bones & Teeth?
Dairy products have a proven positive impact on bone and oral health. The calcium present in these foods helps in strengthening bone health.
Mozzarella and Swiss cheese can thus  support your bone and teeth health when taken in moderation.
Mozzarella Vs Swiss Cheese – Which Cheese Can Be Digested More Easily? 
Mozzarella is considered to be good for digestion. It has probiotics or good bacteria that aid the digestion process. Apart from this, it also contains phosphorus that helps in aiding the process of digestion.  
If you do not have milk related allergies, you will not face any issues with the digestion of swiss cheese. However, whenever you add a new food to your diet, make sure you begin with half the recommended serving size.
Which Can Be Put to More Uses: Mozzarella Or Swiss Cheese?
Mozzarella is one of the most versatile types of cheese that you will find.  It can be eaten fresh and cold or can be cooked in a number of recipes. You can make fresh salads and recipes with it or melt it in pizzas, calzones or pastas. 
Swiss cheese is an excellent cheese when it comes to versatility. It can be cooked and baked. It melts away easily and imparts a wonderful flavor to the dish. You can use it in sandwiches, mashed potatoes, fondues, pizzas, etc.
Mozzarella or Swiss Cheese: The One That Lasts Longer?
Mozzarella's shelf life depends on its type. While fresh mozzarella can last in the fridge for a week, low moisture mozzarella can be stored (when properly wrapped) for up to 4 weeks. 
Swiss cheese being an aged cheese lasts longer. Once opened Swiss cheese can ast in the refrigerator for about a month.
 In conclusion we can say that both Mozzarella and Swiss Cheese are pretty nutritious with swiss cheese having a slight advantage over other.  
So, take a look at your needs and preferences and choose the one that suits you the best.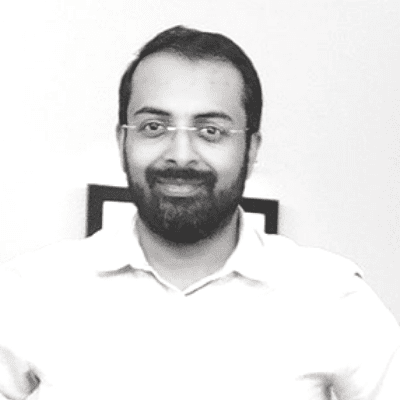 Hi! I'm Integrated Nutrition Coach Rohit Panwar. I hold twin Certifications from IIN, New York & SAFM, Massachusetts. I am a passionate vocalist of holistic lifestyle and have fully committed the past several years to educate & empower people towards their wellbeing. Despite a successful yet hectic corporate stint of 21+ years, I have prioritised nutriment in my life. I truly hope my personal journey from illness to wellness helps everybody reading this forge their own path.