The world of plant milk never ceases to amaze us with its ever-growing discoveries. But is it worth experimenting is a question that often plagues us especially when it comes to choosing between very recent discoveries like pea milk versus hemp milk.
As a practising nutritionist, this blog is my take on pea milk and hemp milk to provide you with the essential details to make an optimal choice.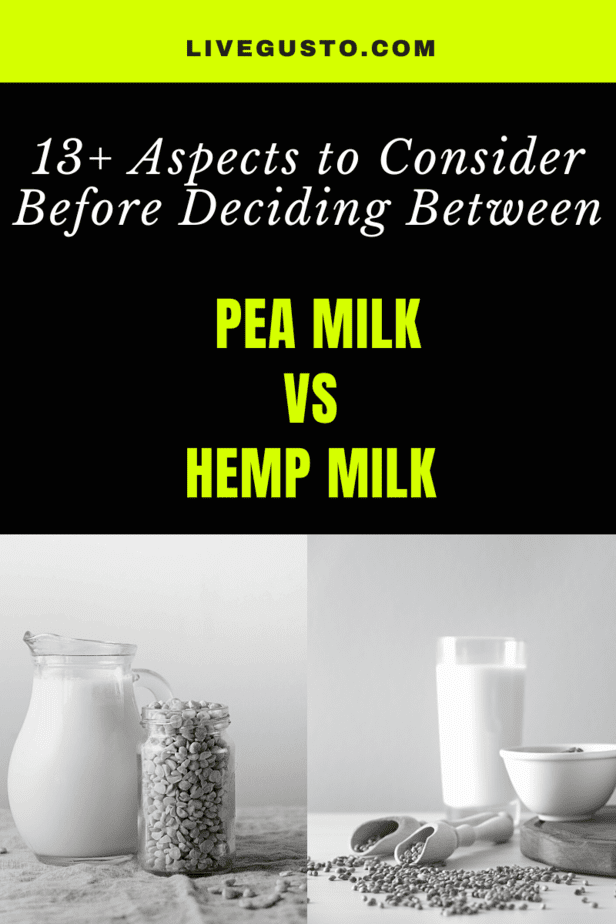 PEOPLE ALSO READ
| Pea Milk versus Cashew Milk – Which one is a Better Choice? | 
Quick Rundown Of Pea Milk Verus Hemp Milk Nutrition & Outcomes
In the below table, I have compared pea milk and hemp milk over 15 factors for better understanding.
BASE INGREDIENTS
Pea milk

Yellow split peas & water

Hemp milk

Hemp seeds & water

TASTE
Pea milk

Creamy, neutral

Hemp milk

Earthy & nutty

DAILY INTAKE
Pea milk

1 cup

Hemp milk

1 cup

CALORIES
Pea milk

80*

Hemp milk

60*

FAT CONTENT
Pea milk

4.5g*

Hemp milk

4.51g*

PROTEIN CONTENT
Pea milk

8g*

Hemp milk

3g*

CALCIUM CONTENT
Pea milk

440 mg*

Hemp milk

26- 283 mg*

RECOMMENDED TIME
Pea milk

Morning

Hemp milk

Morning

ENVIRONMENTAL IMPACT
Pea milk

Positive

Hemp milk

Positive

VEGAN FRIENDLINESS
Pea milk

Yes

Hemp milk

Yes

ORAL HEALTH OUTCOME
Pea milk

Good

Hemp milk

Good

TUMMY HEALTH OUTCOME
Pea milk

Good

Hemp milk

Good

BODILY COOLING EFFECT
Pea milk

Good

Hemp milk

Good

BODILY HYDRATION EFFECT
Pea milk

Good

Hemp milk

Good

ADDITIVES
Pea milk

Honey, Vanila, Cocoa

Hemp milk

Vanilla 
*Source: USDA; Quantity defined is 1 cup
With this basic understanding, let us go through each factor in a detailed manner. 
Pea Milk Vs Hemp Milk: What Is Needed To Make Them?
Pea milk is a legume-based drink made using yellow split peas. These are soaked overnight, cooked to soften and blended with water and some oil. It is then strained to obtain pea milk. It is possible to get confused over different types of legumes that look similar to yellow split peas. So, double-checking will help in case if you are making it at home.
Hemp milk is a seed-based drink. The hemp seeds are hulled and blended with water and strained to make hemp milk. The process does not require soaking of hemp seeds and can be made easily at home. 
Which Has A More Appealing Taste Between Pea Milk And Hemp Milk?
Pea milk is said to be similar to cow's milk in taste and texture. It feels creamy when consumed and has a neutral flavour with a slightly bitter aftertaste. Most people prefer to drink it with some sweeteners. To keep it healthy, I would suggest having it with organic brown sugar, honey or dates.
Hemp milk is also said to be similar to cow's milk in texture and look. It has a nutty and earthy taste. Hemp milk can be consumed with some natural sweeteners to balance the earthy flavour.
Pea Milk Vs Hemp Milk: Will A Cup Suffice?
The suggested amount of intake for pea milk per day is 1 cup. It is rich in micronutrients such as vitamins and minerals that are beneficial for the overall well being . Thus, it supplies essential nutrients for a day. 
As for hemp milk too, the suggested intake is 1 cup. Hemp milk is wrongly associated with marijuana at times as both are made from the same plant. However, both are completely different. Hemp milk does not make one high and does not have any traces of the drug.
Which Meets Your Calorie Needs Better Between Pea Milk And Hemp Milk?
The calories in pea milk are high compared to hemp milk. It makes for a power-packed drink especially when consumed during a tiring work break or after an intense workout.
Hemp milk is low in calories. It is a perfect drink if reducing calorie intake is your goal. When opting for a low-calorie drink it is good to ensure you have a balanced diet that fulfils the everyday calorie requirements. 
Pea Milk Vs Hemp Milk: Which Has Most Beneficial Fats?
Plant-based milks have healthy fats that are beneficial to the body in innumerable ways. The market versions of pea milk have added fats to them like vegetable oils. They are added as emulsifiers to thicken the milk. While opting for a store version it is good to check the ingredient label to make a healthy choice.
Hemp milk and pea milk have the same level of fat content as seen in the table. The fats in hemp milk are a rich source of omega 3 and omega 6 acids. They are called good fats which are very beneficial for the heart apart from other benefits like reduced cholesterol levels. 
Which Fulfills Your Daily Protein Needs Between Pea Milk & Hemp Milk?
Pea milk is higher in protein than many other plant-based milks. The protein content in pea milk helps in fulfilling our body's everyday protein requirement. 
Though hemp milk has less protein than pea milk, it is one of the very few food sources that can supply all the amino acids required for our body. These amino acids are the building blocks of our body and thus we can say that although low, the quality fo prtein provided by hemp milk is quite good. 
Pea Milk Vs Hemp Milk: What Is The Calcium Content They Offer?
Being plant-based milks, pea milk and hemp milk naturally has low calcium levels. However, the market versions of pea milk and hemp milk are fortified with calcium.
Apart from calcium, both the milks are fortified with vitamin A. It is an essential vitamin that helps in the absorption of more calcium and strengthens bones. Some people also add calcium powder to their homemade plant milk to make up for the calcium deficiency. However, one must be careful about the source and quantity of these sources. Always, choose good quality frood grade calcium powders.
Pea Milk Vs Hemp Milk: When To Consume For Maximum Benefits?
Pea milk is best suited for consumption in the morning. Being a fibre-rich drink packed with good amounts of calories and nutrients, they act as a great energy booster. It is a very satiating drink and keeps one full for a long time.
Like pea milk, hemp milk is best when consumed in the morning. Hemp milk is rich in omega 3 fatty acids, a healthy fat that helps in fighting anxiety. So, consuming a cup in the morning might put you in a good mood.
Which Is A Better Option For Saving The Planet Between Pea & Hemp Milk?
One of the considerable factors that prompt a plant-based milk choice is being environmentally conscious. Pea milk is said to be more sustainable than many other plant-based milks. They require less water and no pesticides.
Hemp milk is also a highly sustainable option due to its low consumption of water. Hemp plants can intake more carbon than what they emit. Choosing organic milks and ensuring the local availability of both pea milk and hemp milk helps in making a positive impact on the ecosystem.
Pea Milk Vs Hemp Milk: What Makes For A Vegan-Friendly Choice?
All plant-based foods are naturally vegan. Pea milk and hemp milk are made from plants and are completely suitable for a vegan lifestyle.
When opting for a vegan diet, it is also important to ensure our body gets some vital nutrients like protein, B vitamins and Iron. Pea milk and hemp milk are generally fortified with these essentials.
Which Is More Supportive For Oral Health, Pea Milk Or Hemp Milk?
When it comes to oral health there are many factors to consider. Apart from strong teeth, gum health, and reduction in inflammation of gums also need to be looked out for. 
Besides the calcium supply, pea milk and hemp milk are also good sources of the B12 vitamin. This is an oral friendly vitamin which plays a major role in keeping the teeth and gums healthy. Especially if you are considering these milk for younger children, it will be very beneficial for their oral health. I would like to remind you to opt for an unsweetened version as excess sugar is damaging to oral health.
Pea Milk Vs Hemp Milk: Which Can Help In Maintaining A Healthy Tummy?
One of the major questions that pops into our mind while considering plant-based milks is, how good are they for the gut? Pea milk is nut-free, lactose-free and gluten-free which makes it a convenient option for people with the above allergies. Pea promotes a healthy intestine and supports healthy bacterial growth.
Hemp milk plays a vital role in ensuring gut health. The fortified versions of hemp milk provide vitamin D which is a great help in the growth of good bacteria and developing immunity. Thus it helps in preventing infections and ensures a healthy gut. 
Which Is Better To Balance Your Body Heat Between Pea Milk & Hemp Milk?
Pea milk when consumed in winters helps in maintaining body heat. It has heating properties rather than cooling properties. However, since pea milk is made with generous amounts of water it can cool down the body when consumed on a hot summer day. 
Hemp milk too has heating properties and works best for winters. The water content in hemp helps in cooling off the body and maintains balanced body heat.
Pea Milk Vs Hemp Milk: Which Is Great To Keep The Body Hydrated?
The moisture in soaked peas blended with water can hydrate the body and keep it energized. Pea milk is also a good source of key electrolytes like potassium which play a major role in keeping the body hydrated. The micronutrients in pea milk are also known to boost skin health.
Hemp milk with its adequate water content can keep the body charged. This helps in preventing dehydration of the body when consumed.
Pea Milk Vs Hemp Milk: Various Ways To Enjoy Their Goodness
Pea milk can be enjoyed with natural sweeteners like honey, brown sugar or jaggery or even maple syrup. You can also explore options like vanilla,  cocoa and coffee. Pea milk can also be added to breakfast cereals or granola, and substituted for dairy in coffee and tea.
Hemp milk is similar to cow's milk can be added to smoothies, coffee, flavoured drinks and even in baking. It gives an earthy feel to the dishes. Blending it with fruits or adding to pancakes or muffin recipes can also be explored to keep.it healthy.
I hope this blog familiarizes you with pea milk and hemp milk. In case you still have the question, which is better Pea milk vs hemp milk, the best option is to see how each factor benefits you and choose the one that rewards you the most in all aspects.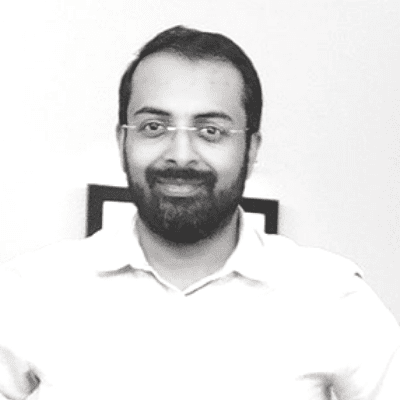 Hi! I'm Integrated Nutrition Coach Rohit Panwar. I hold twin Certifications from IIN, New York & SAFM, Massachusetts. I am a passionate vocalist of holistic lifestyle and have fully committed the past several years to educate & empower people towards their wellbeing. Despite a successful yet hectic corporate stint of 21+ years, I have prioritised nutriment in my life. I truly hope my personal journey from illness to wellness helps everybody reading this forge their own path.