When the ever-growing choices of vegan milks confuse us, understanding them through comparison can help us settle for the best. Especially between the most established and newly discovered ones like pea milk versus soy milk are in question.
From a nutritionist's point of view, in this blog, I am sharing with you all the information you must know about pea milk and soy milk.  You can use this information to make an informed choice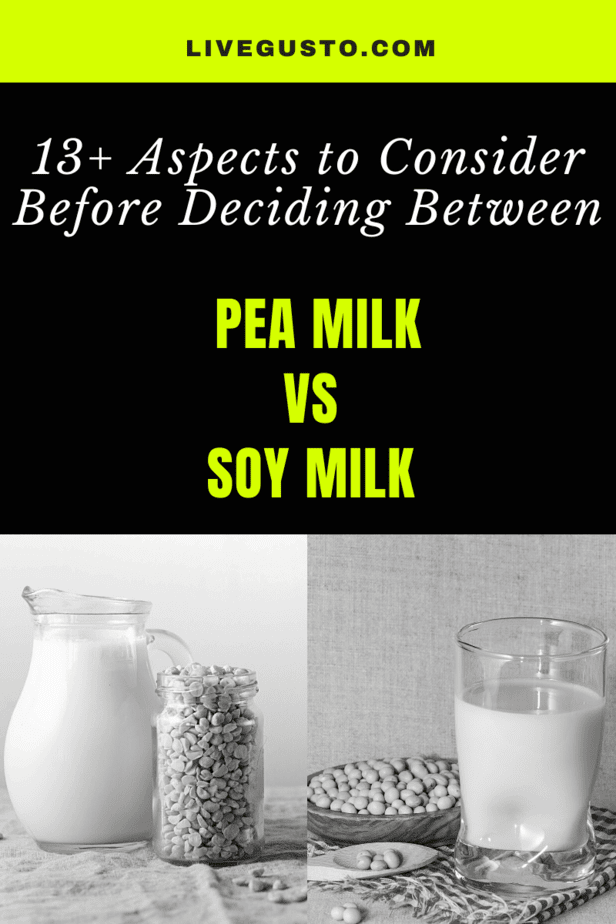 PEOPLE ALSO READ
| Pea Milk versus Oat Milk – Which one is a Better Choice? | 
A Comparative Rundown Of Pea Milk Vs Soy Milk Nutrition
I have put together a table below comparing pea milk and soy milk for around 15 aspects
BASE INGREDIENTS
Pea milk

Yellow split peas &  water

Soy milk

Soybeans & water

TASTE
Pea milk

Creamy & neutral

Soy milk

Beany & creamy

DAILY INTAKE
Pea milk

1 cup

Soy milk

1 cup

CALORIES
Pea milk

80*

Soy milk

131*

FAT CONTENT
Pea milk

4.5 g*

Soy milk

4.3 g*

PROTEIN CONTENT
Pea milk

8 g*

Soy milk

8 g*

CALCIUM CONTENT
Pea milk

20-440 mg*

Soy milk

61-300 mg*

RECOMMENDED TIME
Pea milk

Morning

Soy milk

Morning or Night

ENVIRONMENTAL IMPACT
Pea milk

Positive

Soy milk

Moderate

VEGAN FRIENDLINESS
Pea milk

Yes

Soy milk

Yes

ORAL HEALTH OUTCOME
Pea milk

Good

Soy milk

Good

TUMMY HEALTH OUTCOME
Pea milk

Good

Soy milk

Good

BODILY COOLING EFFECT
Pea milk

Good

Soy milk

Very Good

BODILY HYDRATION EFFECT
Pea milk

Good

Soy milk

Good

ADDITIVES
Pea milk

Honey, vanilla

Soy milk

 Cocoa, cinnamon
*Source: USDA; Quantity defined is 1 cup
With this tabular information as the base, let me take you through each criterion in detail for a better understanding of pea milk and soy milk.
Pea Milk Vs Soy Milk: What Goes Into Their Making?
Pea milk is legume-based milk. It is made by soaking yellow split peas overnight. The soaked peas are cooked for some time to soften and are blended with water post cooling. It is then strained to make pea milk. 
Soy milk is made from soaked soya beans and water. The soaked soya beans are blended with water and strained to make soy milk. Many people heat the milk post preparation to remove the raw flavor. It has been a staple drink in Asian countries for ages.
Which Has A More Appealing Taste Between Pea Milk And Soy Milk?
Pea milk has a neutral taste. Unlike its name, it does not taste like peas but is said to be similar to cow's milk. It has a creamy texture and a mildly bitter aftertaste. The market versions have sweetened versions and offer a variety of flavours.
Soy milk has a mild beany flavour to it. It is creamy in texture and is compared to cow's milk in taste and texture. It tastes good as such or it can be consumed with natural sweeteners.
Pea Milk Vs Soy Milk: How Much Is Too Much Consumption?
Pea milk is known for its wide array of health benefits ranging from eye health, skin benefits, stomach and heart care. A cup of pea milk per day is ideal in helping to meet the everyday nutrient requirement.
Soy milk is one of the most sought after milks in the market and offers many health benefits including weight management, health health, etc.  Like pea milk, consuming one cup of soy milk per day is ideal. When it comes to pea milk vs soy milk nutrition, both have some equally amazing nutrient profiles. We will see them in detail below. 
Pea Milk Vs Soy Milk: How Much Calories Do They Contribute To Your Day?
Pea milk has fewer calories compared to soy milk. It comes as a perfect option for people who look for low-calorie healthy drinks. When opting for a low-calorie drink, it is good to ensure that one consumes a balanced diet that can fulfil the everyday calorie requirements.
Soy milk has more calories in comparison to pea milk. It has become a go-to drink for people to consume after an intense workout or for children to consume during a tiring school day. The calories in soy milk can boost energy levels.  
Which Contributes To Healthy Fats Between Pea Milk And Soy Milk?
Pea milk has almost the same fat content as soy milk. However, most of the fat content in the market versions of pea milk comes from the added oils. These are mostly vegetable oils that are added as emulsifiers. When opting for a store-bought pea milk, it is good to check for these ingredients. 
Many plant-based milks are rich in omega 3 fatty acids, a healthy fat that facilitates heart health. Soy milk is a wonderful source of omega 3 fatty acids. Soy milk is very beneficial in reducing the risks of heart issues.
Pea Milk Vs Soy Milk: Can They Meet Daily Protein Requirements?
Both Pea and Soy milk are exceptions in the plant milk world as the protein content in both these milks is almost the same as that in dairy milk.
Research on protein from pea which is mostly referred to as pea protein shows that it is very beneficial in strengthening the body and promoting growth. Soy milk has all nine essential amino acids, the building blocks of our body that help in the growth of cells. 
What Can Improve Your Calcium Levels Between Pea Milk And Soy Milk?
The calcium content in pea milk is naturally low but the market versions are fortified with good amounts of calcium. When opting for a market version of pea milk it is good to check the sugar levels or opt for a mildly sweetened one as sweetened milk can affect the teeth adversely.
Soy milk is known as one of the best plant-based drinks with good calcium content. The fortified version comes with an extra boost of vitamins that helps in better absorption of calcium.
Pea Milk Vs Soy Milk: Most Favorable Time For Consumption?
Pea milk works great when consumed in the morning. It is fibre-rich and filled with nutrients which sets a great start to the day. It also keeps one feeling full for a long time. Consuming pea milk in the morning will make its digestion easier.
Soy milk is good to be consumed both in the daytime and before bed. When consumed in the morning it makes for a very filling healthy breakfast and when consumed at the night, it helps in getting a good night's sleep. This is because soy milk contains tryptophan which promotes good sleep. 
What Supports The Ecosystem Better Between Pea Milk & Soy Milk?
Pea milk is a very eco-friendly option. It requires less water for production and doesn't cause soil damage. In order to make it more sustainable opt for pesticide-free and locally produced pea milk than the imported ones.
Soy milk is fairly sustainable when compared to dairy and many other plant-based milks like almond milk. It uses less water for cultivation. One of the drawbacks of soy sustainability is that the demand for soy milk has been skyrocketing. This has led to the deforestation of lands. Hence it is good to have balanced sustainable choices. 
Pea Milk Vs Soy Milk: Can They Be Counted In A Vegan Diet?
The term vegan refers to consuming plant-based foods and avoiding all kinds of animal-based foods in the diet. This is mainly beneficial to save the ecosystem and also helps to avoid allergies from animal source foods.
Pea milk and soy milk are completely animal-free. They are wonderful vegan options. Pea milk being a new addition can be tried if you are vegan and looking for something new to try. Soy milk is the best choice if you are new to the vegan lifestyle. 
Which Proves More Effective For Oral Health Between Pea Milk And Soy Milk?
While calcium is the main requirement in oral health, plant-based milks have an added advantage with their vitamin profiles that help oral health in many other ways. Pea milk is a rich source of B vitamins that play a vital role in protecting the teeth and gums.
Soy milk is very beneficial with its calcium levels to strengthen the teeth, especially the market-based ones. However, care must be taken to check for the quantity of sugar as it can have a negative impact on the teeth and gums. 
Pea MIlk Vs Soy Milk- Which Is More Advantageous For Tummy Health?
Pea milk is lactose-free, gluten-free and nut-free which makes it an excellent option for people with any of these allergies. Pea is fibre rich, helps in the growth of good bacteria and keeps the intestine healthy.
Soy milk has similar benefits for the tummy to pea milk. It is proven beneficial for gut health and promotes the growth of good bacteria.  It is free from lactose, gluten and nuts. However, soy can be allergic to some people. So, it is good to check its impact on the body before making it a regular part of the diet.
Pea Milk Vs Soy Milk As Coolers For Turning Down The Heat
Pea is great to be consumed in winters as it can warm the body. It is not a cooling food naturally. However, being soaked and blended with generous amounts of water has a cooling effect on the body.
Soy is naturally considered to be a cooling food both in Ayurveda and Chinese medicine. Consuming soy milk in the summers can cool down the body and restore body temperature. As we face rising heat in the temperature, stock up on soy milk to cool off the body.
Which Makes For A Better Hydrating Drink Between Pea Milk And Soy Milk?
Pea milk being made with adequate amounts of water helps in the better hydration of the body and replenishes the fluid levels. It is also an excellent source of potassium which is an important electrolyte that the body needs for hydration. 
Soy milk is considered to be a great choice for hydration. It has a very good rehydration potential like cow's milk and keeps one hydrated and energised. 
Pea Milk Vs Soy Milk: Best Additives To Enhance Nourishment
Pea milk can be enjoyed with natural sweeteners like honey or brown sugar. It can be blended into a flavoured drink by using vanilla, cocoa or even coffee. Other amazing ways to use pea milk include having them with cereals or even oats for breakfast.
Soy milk has been very versatile milk. It is widely used in different ways and recipes due to its list of numerous benefits. The most common ways to enjoy soy milk include smoothies, breakfast cereals, baking and flavoured beverages like chocolate and vanilla. When it comes to pea milk vs soy milk taste, soy milk has more advantages as it has an easily adaptable taste. 
With this, we have come to the end of the blog. If the question, Is pea milk better than soy milk lingers in your mind, I would say the answer lies in your requirements for these milks.
Hoping that this blog helped you to find answers to all your questions on pea milk and soy milk. Consider this blog as your guide and opt for the one that suits you best.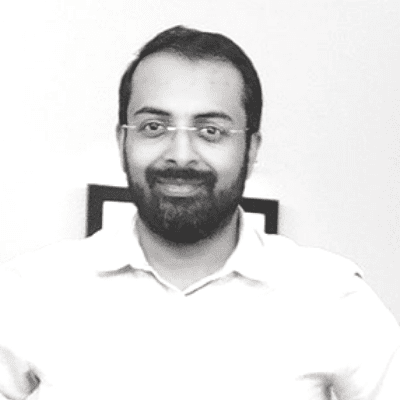 Hi! I'm Integrated Nutrition Coach Rohit Panwar. I hold twin Certifications from IIN, New York & SAFM, Massachusetts. I am a passionate vocalist of holistic lifestyle and have fully committed the past several years to educate & empower people towards their wellbeing. Despite a successful yet hectic corporate stint of 21+ years, I have prioritised nutriment in my life. I truly hope my personal journey from illness to wellness helps everybody reading this forge their own path.