The world of plant-based milks has been remarkably widening in recent years. While each plant-based milk has something to offer, it can be get confusing to choose one over other especially between the lesser-known milks like peanut milk versus macadamia milk. 
Despite their familiarity as nuts, it could still be difficult to perceive them in the form of milk. Hence, in this article, I am taking you through the differences and benefits of the milk versions of peanut and macadamia.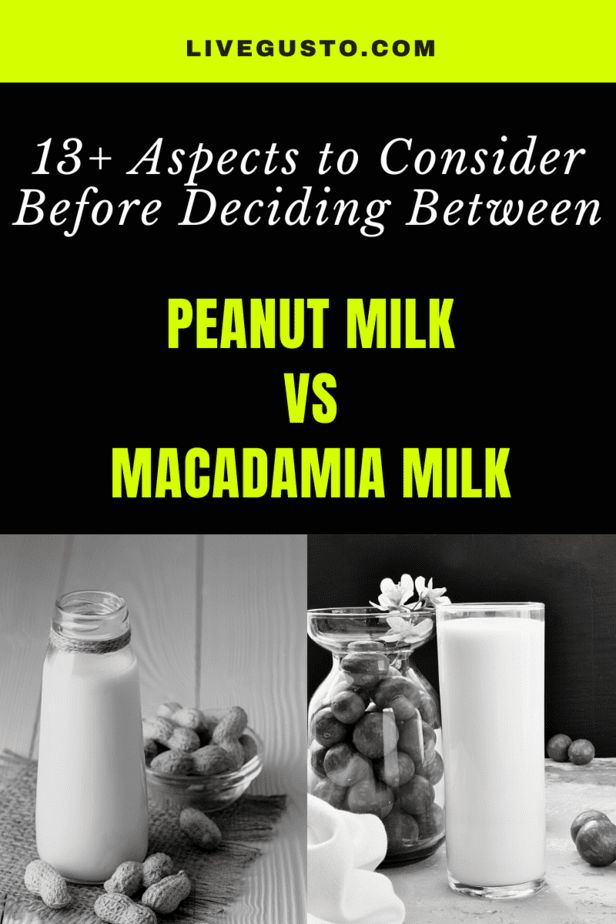 PEOPLE ALSO READ
| Walnut milk versus Peanut Milk – Which one is a Better Choice? | 
A Comparative Rundown Of Peanut Milk Versus Macadamia Milk
In the table below, I am analyzing peanut milk vs macadamia milk under 15+ criteria that gives an overall outlook about their impact on day-to-day life. 
BASE INGREDIENTS
Peanut milk

Peanuts & water 

Macadamia milk

Macadamia nuts & water 

TASTE
Peanut milk

Nutty

Macadamia milk

Fruity & nutty

DAILY INTAKE
Peanut milk

1 cup

Macadamia milk

1 cup

CALORIES
Peanut milk

126*

Macadamia milk

50*

FAT CONTENT
Peanut milk

9.76 g*

Macadamia milk

4.99 g*

PROTEIN CONTENT
Peanut milk

4.88 g*

Macadamia milk

1 g*

CALCIUM CONTENT
Peanut milk

24-268 mg*

Macadamia milk

20-451 mg* kjjk

RECOMMENDED TIME
Peanut milk

Morning

Macadamia milk

Morning

ENVIRONMENTAL IMPACT
Peanut milk

Positive 

Macadamia milk

Moderate 

VEGAN FRIENDLINESS
Peanut milk

Yes

Macadamia milk

Yes

ORAL HEALTH OUTCOME

Peanut milk




Good

Macadamia milk

Good 

TUMMY HEALTH OUTCOME
Peanut milk

Good

Macadamia milk

Very good 

BODILY COOLING EFFECT
Peanut milk

Good

Macadamia milk

Good

BODILY HYDRATION EFFECT
Peanut milk

Good

Macadamia milk

Good

ADDITIVES
Peanut milk

Brown sugar & flavors

Macadamia milk

Honey & Flavours hnhn
*Source: USDA; Quantity defined is 1 cup
The table looks at the peanut milk vs macadamia milk nutrition part along with the real-time implementation. With this information as the starting point, let's go through each criterion in a more detailed way for  better understanding.
Peanut Milk Vs Macadamia Milk: What Goes Into These Wonder Drinks?
The origin of peanuts dates back to the mountains of Peru. It is very recently in the 18th-century that peanut cultivation began to thrive in America and other Asian countries. Peanut milk is made by grinding soaked peanuts with sufficient amounts of water and is then strained. It can also be made with roasted unsalted peanuts which do not include soaking.
Macadamia milk originated from Africa and Australia. These nutrition-dense nuts are soaked and blended with water followed by straining to get macadamia milk.
Which Is More Appetising To Your Palette – Peanut Milk Or Macadamia Milk?
Peanut milk has a rich texture as it is an oil-based nut. It has a nutty flavor and goes very well with coffee and cereals.
Macadamia milk has a nutty taste too and is known well for its creamy texture. It has a mild subtle flavor than most other nuts and maintains a neutral taste profile. In my opinion, macadamia milk has a more appealing taste than peanut milk.
How Much Peanut Milk Or Macadamia Milk Can Be Consumed A Day For Wholesome Wellness?
1 cup of peanut milk or macadamia milk is sufficient for a day as both are nut-based drinks that are high in fats. 
Consuming 1 cup of peanut milk or macadamia milk gives you a wholesome feeling and supplies essential nutrients to the body. 
Peanut Milk Vs Macadamia Milk- Which Fits Your Calorie Requirements?
Peanut milk is known for its high-calorie count due to its nature. It is an energy-boosting drink option and has the ability to power up our system. However, if limiting calories is something you are looking for in your diet, peanut milk may not be an ideal option.
Macadamia milk on the other hand is accredited with a very low-calorie count in comparison to many other plant-based milks on the market. It makes for a great option if low calorie and high-nutrient drink is your requirement.
Which Has The Most Beneficial Fat Content: Peanut Milk Or Macadamia Milk?
Peanuts are known for their high fat. However, peanuts are rich in healthy fats that are actually good for your heart health. Macadamia too, being nut-based milk is rich in good fats that are beneficial to the heart's wellbeing. In comparison with peanut milk and other milks, it has a very less fat content.
To sum up, macadamia milk is not only low in calories but also low in fats which makes it a go-to option for many fitness enthusiasts and people watching their weight.
Peanut Milk Vs Macadamia Milk- How Good Are They In Keeping You Strong?
One of the best things about peanut milk is that it is richer in protein than many other plant-based milks. This helps in strengthening muscles, repairing and creating new tissues in our body. The fact that many people opt for a pack of peanuts post-workout stands as proof of this.
Macadamia milk in comparison to peanut milk has very less protein. Protein being a very vital requirement for the body should be available in everyday diet. Hence if you are looking for a high-protein drink,  opt for peanut milk for fulfilling your daily requirements.
Can Peanut Milk Or Macadamia Milk Consumption Increase Your Calcium Intake?
One of the major drawbacks of choosing plant-based milk is that they don't have good levels of calcium compared to dairy. Both peanut milk and macadamia milk have low amounts of calcium as seen in the table.
However, the store-bought versions of these milks are fortified with calcium the quantity of which varies from one brand to another. Besides these, peanut milk and macadamia milk have a good amount of minerals like magnesium that help in building strong bones.
Peanut Milk Vs Macadamia Milk: Will Morning Consumption Or Consuming At Night Work In Your Favor?
Both Peanut milk and macadamia milk are best suited to be consumed in the morning as they are filled with many amazing vitamins and nutrients that help your body to kickstart the day. 
Both the drinks have the ability to keep one feeling full for a long time thus, preventing cravings. Some consider peanut milk as good to be consumed at night due to the presence of a sleep supporting vitamin called thiamine which helps one to sleep well.
Peanut Milk Or Macadamia Milk: Which Choice Makes You An Ally Of The Environment?
Peanut milk is environmentally sustainable. Peanut production consumes less water, uses very less amount of fertilisers, enriches the soil, and reduces the amount of carbon dioxide released into the air. 
Macadamia milk too is environmentally sustainable as it consumes less water. Unlike dairy, macadamia milk does not affect soil and causes deforestation. By choosing macadamia milk or peanut milk you are taking a step towards building a sustainable environment. 
Peanut Milk Vs Macadamia Milk- Which Is A Good Option For Vegans?
Peanut milk and macadamia milk as the name suggests is made from peanuts and macadamia nuts which are plant-based foods. Thus, they are called vegan milks.
If you are planning to shift to a vegan diet or simply want to explore non-dairy options, peanut milk and macadamia milk are wonderful options to consider with their amazing nutrient profile. However, they may not be easily available in all places as they are new to the market. 
Which Caters More For Your Oral Health Between Peanut Milk And Macadamia Milk?
The calcium content in fortified peanut milk and macadamia milk helps to maintain strong teeth. Besides this, peanut milk has oral-friendly minerals like phosphorus and magnesium that also plays a role in maintaining healthy teeth, decreasing the chances of losing teeth and bleeding of gums. 
Macadamia milk, besides calcium, does not have much to offer for oral health though it has a decent level of required oral-friendly vitamins. So, in comparison between both, peanut milk has a better impact on oral health than macadamia milk.
What Can Keep Tummy Troubles Away Between Peanut Milk And Macadamia Milk?
Peanut milk is a great source of fiber. Apart from that, the vitamins and minerals in peanut milk also play an efficient role in maintaining gut health by preventing infections because of the presence of a gut-friendly vitamin called vitamin E.
Macadamia milk is also a great source of fiber. A cup of macadamia milk every day makes bathroom visits easier. They are lactose-free and gluten-free which makes them a safe option for the tummy. 
Which Is The Safe Option To Cool Down Body Heat: Peanut Milk Or Macadamia Milk?
Peanuts and peanut milk are considered to be heat-generating foods. They are consumed in the winter months to keep the body warm. So, it is not a natural coolant but the water content in peanut milk helps to cool down the body. 
Macadamia milk is the same as peanut milk. They are heat foods that heat the body when consumed during winters. In short, they are not natural body coolers but they can cool the body to an extent.
What Can You Opt For An Energetic & Hydrated Experience Between Peanut Milk And Macadamia Milk?
Peanut milk and macadamia milk have a good water content that is required for the body to stay hydrated. However, peanut milk has potassium, an electrolyte that is very essential in maintaining the water level in the body.
Besides this, both the milks have some skin-nourishing components like copper and vitamin B that help the skin to hydrate well and glow.
Indulge In The Goodness Of Peanut Milk Or Macadamia Milk With These Delicious  Options
Peanut milk with its rich silky texture can be consumed as such. Those who don't like the nutty taste can consume it with a dash of brown sugar, jaggery or honey. It can be consumed with coffee, used in cereals and baking for a nutty feel in everything. 
Macadamia milk is great to be consumed as such or with milk flavors like vanilla. While it can be consumed with smoothies, it can be mixed with fruits, cereals, coffee or even can be used in recipes like curries and cakes.
This brings us to the end of this detailed discussion about choosing peanut milk or macadamia milk. When it comes to peanut milk vs macadamia milk nutrition each one has so much to offer. If one looks at major requirements like protein and good fats, peanut milk can be a great option.
I hope this blog helped you get an answer to the question, peanut milk vs macadamia milk which is better? I look forward to more questions from your side.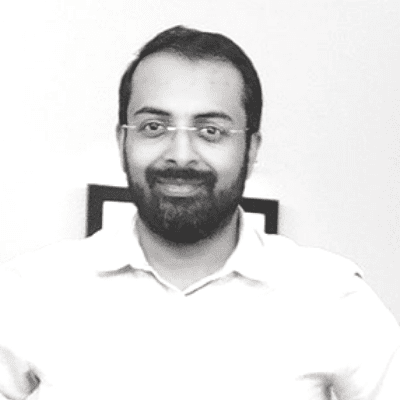 Hi! I'm Integrated Nutrition Coach Rohit Panwar. I hold twin Certifications from IIN, New York & SAFM, Massachusetts. I am a passionate vocalist of holistic lifestyle and have fully committed the past several years to educate & empower people towards their wellbeing. Despite a successful yet hectic corporate stint of 21+ years, I have prioritised nutriment in my life. I truly hope my personal journey from illness to wellness helps everybody reading this forge their own path.