As a nutritionist, I often get queries about quick easy vegan breakfast ideas which is why I have come up with this blog.
I am sharing with you my top choices for best breakfast options that are – vegan + easy + quick + delicious + nutritious. Scroll till the end and bookmark this page for later. 
37 Quick Easy Vegan Breakfast Ideas, High in Taste & Nutrition
If you are new to veganism, coming up with new breakfast ideas can be hard especially if you have a time crunch. 
Here are some breakfast ideas that are easy and quick to put together in under 15 minutes – 
1.
Overnight Oats: Energize Your Mornings with Easy Vegan Goodness
Overnight oats are probably the easiest and most versatile in my list of easy vegan breakfast ideas. The previous night, mix together rolled oats, plant milk of your choice. chia seeds, and nuts if you like.
Refrigerate overnight and top it up with some chopped fruits before digging intp it. If you like a warm breakfast, you can microwave it for a few seconds.
2.
Smoothie Bowl: Nourish Your Day With Wholesome Plant Bliss in a Bowl
A smoothie bowl is another  delicious and nutritious vegan breakfast option. Just blend together a fruit like banana or berries, plant milk, and spinach to make a thick smoothie.
Transfer into a bowl and top with your favorite toppings like granola, nuts, seeds, and fruit.
3.
Warm Oatmeal: Try the Cozy and Nourishing Vegan Breakfast Option
On a day when you wish to start your day with something warm and comforting, an oatmeal bowl can come to your rescue.
Cook your oats with non-dairy milk such as almond, soy, or oat and  sweeten with maple syrup, agave, date paste  or stevia. Top it up with fruits, nuts, and seeds of your choice. To save time, you can microwave the oats. 
4.
Veggie Tofu Scramble: Scrumptious Savory Vegan Delight for Busy Mornings
Want something rich in protein and filling, try a tofu scramble. Crumble firm or extra-firm tofu and then sauté it in a pan with vegetables such as bell peppers, onions, and mushrooms.
You can also add spices such as turmeric, black pepper, etc. for a real nice savoury taste. Eat it as such or with a toast. 
5.
Vegan Yogurt Parfait: Layered Morning Goodness that Comes Together in Minutes
This layered breakfast dish requires a few ingredients and can be put together in under 10 minutes, In a jar layer for non-dairy yogurt – I love cashew yogurt & coconut yogurt, but you can use the one you have at hand.
Then add to this a layer of homemade granola followed by a layer of fresh fruit. You can also add a sweetener like maple syrup to this. Grab a spoon and enjoy the deliciousness and nutrition. 
6.
Savoury Avocado Toast
A quick easy vegan breakfast that is savoury is avocado toast. Mash avocado and spread it over a toast. Not season with salt, pepper, chili flakes or smoked paprika to add more flavor.
You can add vegetables of your choice like tomatoes, radish, lettuce, and herbs like cilantro or parsley based on the availability. 
7.
Banana Peanut Butter Sandwich: The Winner Of Quick Easy Vegan Breakfast Ideas on the Go
Another vegan breakfast on the go is this quick banana peanut butter sandwich.
Slather your piece of toast with some peanut butter. Now top it up with some freshly cut bananas. The sandwich is now read. You can also add chia seeds, pumpkin or sunflower seeds for an extra crunch.  
8.
Green Sprout Sandwich: Fresh, Crunchy & Quick Nutrient-Packed Breakfast Option for Vegans
A sprout sandwich can be a great high protein vegan breakfast option. The only requirement is that you should have some sprouts handy. On a toast apply some vegan spread (whatever is available).
Now layer it with sprouts followed by sliced vegetables such as bell pepper, cucumber, onion and tomatoes. Enjoy the freshness. 
9.
Savoury Mushrooms Oats Porridge: A Wholesome and Flavorful Easy Vegan Breakfast Option
Instead of making it sweet how about we make our oats a little spicy. Chop up some garlic, ginger, and mushrooms. You can use vegetables that you have. Now in a saucepan, add butter, garlic, and ginger till its sauteed.
Now add in your mushrooms and cook for some time. Add vegetable broth or water and bring it to boil. To this add rolled oats along with salt and pepper. Bring to boil and simmer for 5 minutes. 
10.
Sweet Avocado Toast: A Delicious and Nutrient-Packed Quick Way To Begin Your Day
This toast can come together in a few minutes. e of maple syrup. Mash avocado on toasted whole wheat bread.
To this add a sprinkle of cinnamon and a drizzle of maple syrup. You can also add fruits such as bananas, berries on top of it if you like. 
11.
Coconut Chia Pudding: Delightfully Delicious Vegan Breakfast Treat 
This is a really comforting and delicious vegan breakfast on the go. The previous evening stir together some coconut milk, chia seeds and  sweetener of your choice sling with some shredded coconut.
Let sit in the fridge overnight. Serve with fresh fruit or granola on top, the next morning.
12.
Cinnamon Quinoa Breakfast Bowl: Filling & Nutritious Start For Your Day That Can Be Made in Minutes
Quinoa is an excellent food to include in your breakfast. Cook overnight soaked quinoa along with some coconut oil and cinnamon till quinoa absorbs all the water.
Transfer into a bowl and add almond milk, nuts, chopped fruit of your choice along with a sweetener. Enjoy a nutritious and filling meal.
13.
Quick Vegan Pancakes: Fluffy and Delicious Breakfast Treats in a Snap
Pancakes are one of my favourite go to breakfast recipes. In a mixing bowl whisk together flour of your choice, a sweetener, baking powder, and a pinch of salt. Whisk in some plant milk (almond, soy, coconut, etc.) along with some coconut oil.
Combine well to form a smooth batter, Now pour it over a pan on medium heat and serve with your favourite toppings. 
14.
Savoury Millet Pancakes: Nutrient Rich Vegan Breakfast Option That is Quick to Make
If you are in mood for something salty, you can try veggie pancakes. For this mix together your millet flour, grated veggies, salt & spices, bit of oil, vegan yogurt, baking powder and water together to form a batter.
Now put this over a skillet and make it just like you make pancakes. Serve it with ketchup or chutneys. 
15.
Ragi Porridge: Mill the Millet Power Within Minutes 
Ragi malt or ragi porridge is nutrition rich dish made using finger millet flour or soaked finger millets, water/ plant milk and jaggery. Finger millet or ragi are tiny red seeds rich in many vitamins and minerals.
You start by combining the ragi flour with water. Then transfer this to a boiling pan of water and cooked well till the mixture thickens. Now switch off heat and add plant milk and jaggery. I also add chopped nuts to the mix. 
16.
Muesli & Milk: The Most Convenient Choice for Easy Vegan Breakfast Ideas
Another one of my favourite quick vegan breakfast ideas is this simple cereal bowl. Just add in your favourite plant milk to a bowl of homemade muesli.
As a nutritionist I really recommend using multiple whole grain flakes in your mix like – barley, quinoa, oat, Kamut, rye, or spelt flakes.
17.
Banana Pancakes: Every Kid's Favourite Way to Begin The Day on a Yummy Note
These pancakes are delicious nutritious and quick. Mix together oat flour, mashed ripe bananas, choco chips. Add plant milk to adjust consistency.
Use the batter to make soft and fluffy pancakes. Top it up with some maple syrup or peanut butter for a filling and fulfilling experience. 
18.
Fresh Fruit Smoothie: One of My Favourite Easy 15 minute Vegan Breakfast Recipes
Easy to make, easy to consume, a fruit smoothie is an excellent way to et all the nutrition in one go.
Blend in your favourite fruits, a spoon of nut butter, plant milk like oat, cashew, etc., along with a few seeds tp get a luscious quick and easy breakfast. 
19.
Vegan Yogurt & Fruit Bowl: Quick to Make, Quicker to Eat
A vegan yogurt and fruit bowl can provide a nutritious start to your day. All you need for this is a vegan yogurt. You can get one from the start or make a vegan yogurt with plant milk of your choice.
To make the fruit bowl, simply chop up a variety of fruits such as berries, banana, mango, etc. and add it to your bowl of yogurt. 
20.
Veggie Breakfast Burrito: My Top choice for Quick Easy Vegan Breakfast Ideas for Work
Have a leftover tortilla? Use it to make a delicious breakfast burrito. To make a quick burrito, fill up your warm tortilla with a variety of vegetables, such as diced bell peppers, onions, tomatoes, spinach, etc.
You can also include leftover beans or boiled potatoes.  For the sauce you can use cashew butter or mashed avocado and salsa sauce.
21.
Cashew Butter and Apple Toast: Quick Yet Nutritious Choice for a Lazy Vegan Breakfast 
If you have cashew butter or almond butter at hand, this can be a quick recipe. Toast a slice of bread and on this spread a layer of cashew butter.
Slice an apple and place the slices on top of the cashew butter. You can sprinkle a little cinnamon on top for added flavor. Your breakfast is ready under 10 minutes. 
22.
Waffles & Fruit: Begin Your Day On a Sweet & Fruity Note
Waffles is another way of starting out a day on an sweet note. You can use a vegan waffle mix or make the batter from scratch. Mix together the flour, jaggery, baking powder, salt, non-dairy milk, and a plant-based butter or oil.
Now pour the batter into a preheated waffle iron. Cook the waffles for a few minutes on each side, or until they are golden brown and crispy. Serve them with bananas or any fruits of your choice. 
23.
Besan Cheela: Savory and Protein-Packed Indian Vegan Pancakes for a Great Breakfast
Cheela is one of my favourite Indian breakfast. Rich in protein, it is quick and easy to make. You need to simply prepare a batter of besam or gram flour with onions, tomatoes, chopped coriander.
Mix in the spices like salt, pepper, etc and pour it on a flat pan. Enjoy these cheelas with ketchup or homemade chutney. 
24.
Chickpea Wraps: Hearty & Protein-Packed Plant Based Breakfast Option
If you are vegan chickpea is one ingredient that will come in very handy. For this, you will need boiled chickpeas at hand. Chop up some vegetables such as  tomatoes, cucumber, and onions.
To this add salt, pepper, cumin, coriander, and lemon juice. Now mix these veggies with the boiled chickpeas, Mash the chickpeas so that they combine well. Now fill up this mixture in a tortilla or a roti and enjoy. 
25.
Nutty Shake: Creamy, Filling and Delicious Breakfast That'll Get You Ready for the Day's Challenges
This a delicious and nutritious vegan beverage can be made in just a few minutes.
To make it, you will need to blend a plant-based milk, nut butter, banana, soaked nuts and a sweetener of your choice. It's a perfect option for a quick and easy breakfast on the go.
26.
Peanut Butter Rice Cake Toasts: Irresistible & Vegan Option for a Quick and Tasty Breakfast
If you are tired of eating bread, you can try out rice cakes instead. They are super light and pair well with a lot of nut butters.
Spread a layer of peanut butter on top of a rice cake and add some sliced banana, berries or maple syrup for sweetness. That's all. Your quick easy vegan breakfast is ready in under 5 minutes. 
27.
Wheat Cheela: Quick Easy Savory and Nutritious Vegan Breakfast Pancakes for a Flavorful Start
A regular cheela is made using besan or gram flour but this one uses wheat flour. You can chop in your favourite veggies  to the batter.
Cook it like a thin pancake and serve it with some Indian pickle or chutney. 
28.
Tofu Sandwich: Satisfying, Protein Packed Way to Begin Your Day
A Quick tofu sandwich is a simple and delicious vegan breakfast option that can be made in under 15 minutes. Mash your tofu using hands and in this add some chopped vegetables like lettuce, tomatoes, cucumber, and onions.
Spice it up with salt, soy sauce, black pepper, and garlic powder. Now place it in slices of bread and put it in a toaster. 
29.
Chickpea Avocado Toast: Protein Packed Quick Easy Vegan Breakfast Option
Another quick breakfast is this chickpea avocado toast. To make it, mash some cooked chickpeas and spread it on top of toasted bread. Now place some slices avocado on the chickpea mash.
Sprinkle some spices such as cumin and black pepper, and a squeeze of lemon juice for added flavor. Your breakfast toast is ready. 
30.
Chocolate Oats Smoothie: Thick & Quick, This Smoothie Is For Days When You Need to Gulp it Down
Among my list of quick easy vegan breakfast ideas, this one is what I personally prepare a lot. I love oats and love the texture it provides your smoothies.  Simply blend in oats, plant-based milk (optional), cocoa powder, banana, peanut or almond butter.
This thick smoothie is a great source of fiber, antioxidants, and protein. You can customize the oats smoothie with your favourite nuts or seeds.
31.
Vegan Energy Balls: Delicious Way to Get Started On the Right Foot
These energy balls can be made in under 15 minutes and made in advance. You can enjoy them as snack or as a breakfast item. You will need some lightly toasted rolled oats, flax seeds, nut butter, and dried fruits, and a sweetener like date paste or maple syrup.
Blend all the ingredients together to form a sandy texture. Now add a bit of coconut oil and water and roll the mixture into balls.  
32.
Quinoa Parfait: Nutrient-Rich Quick Vegan Breakfast for a Power-Packed Morning
Made with cooked quinoa, non-dairy yogurt, fresh berries, granola, and a sweetener, this is another delicious easy vegan breakfast idea.
Layer the yogurt, cooked quinoa, granola and fresh berries in a jar. Drizzle some maple syrup and your breakfast is ready. 
33.
Lettuce Wraps: Fresh and Flavorful Vegan Breakfast Idea for a Light & Nourishing Start
Yu can make a low calorie breakfast using a lettuce leaf instead of a tortilla. Fill up your lettuce leaf with cooked quinoa, black beans, diced bell peppers, onions, and mushrooms.
Top it with avocado, cilantro and a dressing of your choice, such as a spicy sauce and enjoy.
34.
Oatmeal Banana Muffin: Quick, On the Go & Delicious Vegan Option for Busy Mornings
You can make a quick vegan muffin in a microwave.  Mix together oats flour, flour, oats, maple syrup or jaggery, baking powder, cinnamon, mashed bananas, non-dairy milk, and vegan butter or oil tother in a microwave-safe mug.
Microwave the mixture on high for 1-2 minutes and the muffin is ready. 
35.
Vegan French Toast: Indulge in a Plant-Based Twist on a Breakfast Classic
You'll love this quick and delicious french toast. For this vegan recipe, you will need  cornstarch, vegan milk like soy, coconut or others, cornstarch, ground flaxseeds, baking powder, maple syrup, cinnamon and vanilla.
Instead of cornstarch you can also use a  vanilla custard powder. 
36.
Fruit Salad: Chop Them Up For a Quick, Easy Vegan Breakfast Option
Have a lot of fruits in your fridge? Make a fruit salad. Cut and chop the fruits of your choice into small pieces and mix together in a large bowl. Top it up with some mix seeds like chia, sunflower, pumpkin, etc.
Add a drizzle of maple syrup or coconut sugar and mix well. Enjoy a refreshing start to your day. 
37.
Poha: Classic Indian Vegan Breakfast Dish, Surprisingly Very Easy to Make
Poha a flavourfu Indian dish can be made well under 15 minutes. The rice flakes and peanuts make it a filling and delicious breakfast.
All you need for this poha is some flattened rice or poha, chopped onions mustard seeds, curry leaves, and other common spices. 
I hope you liked my list of quick easy vegan breakfast ideas. If you have any other recommendations of breakfasts that can be made quickly, I would love to know.
Drop your  recipes in the comment section below so that all of us can learn and inspire each other.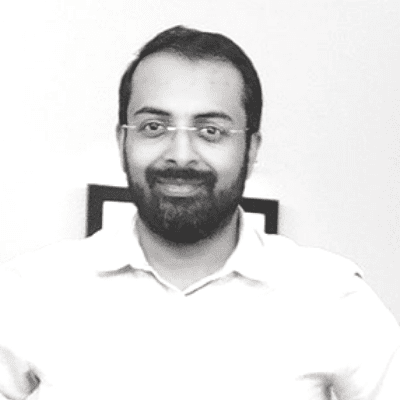 Hi! I'm Integrated Nutrition Coach Rohit Panwar. I hold twin Certifications from IIN, New York & SAFM, Massachusetts. I am a passionate vocalist of holistic lifestyle and have fully committed the past several years to educate & empower people towards their wellbeing. Despite a successful yet hectic corporate stint of 21+ years, I have prioritised nutriment in my life. I truly hope my personal journey from illness to wellness helps everybody reading this forge their own path.