Despite the growing popularity of quinoa, many people wonder  "how do you make quinoa for breakfast"? As a nutritionist, I am sharing some nutritious quinoa breakfast ideas with you. 
A nutrient rich breakfast sets the tone of the day. Quinoa is not only nutrient dense but it is also a highly versatile food. Make quinoa part of your daily routine with these easy quinoa breakfast recipes. 
27 Filling & Flavorsome Quinoa Breakfast Ideas 
Are you also confused about what to put in quinoa for breakfast? My all time favorite quinoa breakfast ideas will  help you.  
Quinoa is an edible seed which is considered as a powerhouse of plant protein and fiber. It is a nutritious addition to your morning meals, so let's see some options to do so:   
1.
Vegetable Upma: An Indian Savory Quinoa Breakfast🌱
Upma is a savory porridge dish of India which is traditionally made with semolina. However, quinoa upma is also equally delicious and nutritious. 
For upma, take oil in the pan and add onion, garlic, peanuts and vegetables like carrot, beans, etc. After that add washed quinoa and salt. Cook well by adding water and serve it hot with lemon or Indian pickles. 
2.
Breakfast Bowl: Super Easy & Delicious Quinoa Breakfast Cereal
Cooked quinoa can be used as breakfast cereal. You can also use the leftover cooked quinoa for this recipe. 
Put cooked quinoa in Greek yogurt and mix honey and cinnamon powder in it. Add blueberries, strawberries or other fruits for the toppings to relish. 
3.
Carrot Muffins: A Scrumptious Option for Cooked Quinoa Breakfast 
Muffins are portable to grab and fast to prepare. Best part is that you can make them in advance to save precious morning time. 
Grate carrots and add cooked and mashed quinoa, almond milk, egg, maple syrup, baking powder, nutmeg and cinnamon powder, coconut sugar etc. Bake them for 20-30 minutes and  enjoy these quinoa muffins. 
4.
Cereal Bars: One of the Easiest Vegan Quinoa Breakfast Ideas🌱
Cereal bars are delicious and convenient options to give a nutrient rich start to your mornings. These baked quinoa breakfast bars are one of my all time favorite recipes with quinoa. 
Mix cooked quinoa, oats, cinnamon, nutmeg, cocoa, baking powder, a pinch of salt and your choice of seeds and nuts. Firmly press the mixture in a baking tray and bake. Slice and enjoy once they cool down. 
5.
Scrambled Egg: A Wholesome Cooked Quinoa Breakfast 
This recipe includes two high protein sources- eggs and quinoa. To prepare this savory quinoa breakfast, cook quinoa in advance or use leftovers. 
Prepare egg scramble and add cooked quinoa in it. To enhance the flavors you can add salt, black pepper, garlic powder, cilantro and other herbs and spices. 
Breakfast Options Using Popular Vegan Ingredients
| Vegan Breakfast Ideas With Tofu  |
| Vegan Breakfast Ideas With Chickpeas |
6.
Scrambled Tofu With Quinoa: A Protein Packed Morning Meal for Vegans 🌱
This is one of the best fast vegan quinoa breakfast ideas. Cook quinoa after washing thoroughly. Now in a pan prepare some scrambled tofu and later add cooked quinoa to it. 
Tofu and quinoa are both mild, so you can play with many different flavors here. You can add your choice of vegetables, herbs and spices in the recipe.  
7.
Protein Rich Pancakes: Simple Cooked Quinoa Breakfast
For this recipe, you need to make a batter for the pancake by blending cooked quinoa with dairy or plant based milk and an egg. 
Add cinnamon, baking powder, sweetener and a pinch of salt. Pour the batter on a hot frying pan and enjoy your protein rich pancakes with your choice of toppings.  
8.
Overnight Quinoa: Hassle Free Start of the Day
Overnight quinoa is one of the best options for the people who have a busy morning schedule. This mason jar full of nutrients and taste is the perfect way to break your dawn. 
Add cooked quinoa in the jar with your choice of dairy or plant based milk along with honey or any other sweetener. Add seeds and nuts and keep it in the fridge for the morning. Top it with fresh or frozen fruits before serving.
9.
Savory Quinoa Porridge: An Excellent Twist to The Indian Wheat Dalia
Dalia is a common breakfast porridge dish in northern India. It is basically broken wheat and is loaded with fiber. Quinoa enhances the nutrients of this simple porridge dish. 
To prepare this, first roast quinoa in clarified butter for a pleasant aroma. For seasoning add garlic, onion and tomato. After 3-4 minutes, mix other vegetables and roasted quinoa. Add water and give it a boil to cook it on medium heat.  
10.
Quinoa Smoothie: Drink Up Your Nutritious Plant Based Breakfast🌱
This scrumptious recipe has a thick consistency like ice cream. For the smoothie you will need cooked quinoa, raspberries, kiwi, pecan or peanut butter, maple syrup, chia or hemp seeds and almond milk.
You can customize the recipe according to your preferences and taste. Put everything in the blender and serve chilled.
11.
Quinoa Banana Bread: One of Easiest Vegan Quinoa Breakfast Ideas
This is not only the healthier version of classic banana bread but is also softer and tastier. It can be cooked in 2 different ways with cooked quinoa or with quinoa flour. 
Blend quinoa, banana, eggs, flax seed meal, baking powder, baking soda, salt and honey. Pour the mixture in the baking tray and your nutritious and moist bread is ready to enjoy. 
12.
Quinoa Waffles: A Toothsome Way of Cooked Quinoa Breakfast 
When it comes about breakfast, nothing can beat fluffy, soft and sweet waffles.  To prepare the batter for waffles, mix cooked quinoa with plain greek yogurt, buttermilk, baking powder and flax eggs. 
Grease your waffle pan and start making delectable waffles. Top with honey or maple syrup and berries to enjoy.
13.
Quinoa Parfait: Easy to Make Cold Quinoa Breakfast 
Cold quinoa breakfast ideas are my new passion and best for hot summer days. This Greek yogurt based parfait is super easy to make. 
In a jar, layer Greek yogurt, honey and cooked quinoa. Also, add in a layer of homemade granola for the crunch. Lastly, add a handful of pomegranate seeds to give it a refreshing finish. You can use other fruits of your choice. 
14.
Vegetable Skillet: One of the Most Delectable Red Quinoa Breakfast Ideas
This one pan red quinoa and broccoli recipe is full of flavors and colors. Take olive oil in the pan and add minced garlic with white onion. Add small florets of broccoli and saute for 2-3 minutes. 
Then add red quinoa, chicken or vegetable broth, salt, chili powder, white pepper, and give it a boil until quinoa is perfectly cooked. 
Sprinkle parmesan cheese in the end and enjoy your breakfast bowl. You can replace broccoli with other vegetables too. 
15.
Egg Casserole: Appetizing Savory Quinoa Breakfast Option
This cooked quinoa breakfast idea is perfect for cold winter mornings. Whisk eggs with milk, salt, grounded black pepper and herb mix. 
Pour it on cooked quinoa and spinach mix and bake it for 20-25 minutes. Your wholesome breakfast is ready to cherish. Spinach can be substituted with any other seasonal vegetables. 
16.
Cheesy Mushroom Risotto: A Pleasant Cooked Quinoa Breakfast
Rice is the base ingredient for a classic risotto. However, replacing risotto with quinoa is not only equally delicious but it is also gluten free. Mushroom and cheese enhance the bland taste of quinoa. 
Cook washed quinoa in vegetable or chicken broth. On the side saute mushroom, garlic and onion in olive oil. Mix it with cooked quinoa and sprinkle cheese and season with salt and pepper to enjoy. 
17.
Strawberry and Chocolate Bowl: Puffed Quinoa Breakfast Cereal 
This scrumptious strawberry and chocolate bowl can be prepared in minutes with puffed quinoa granola. 
Put quinoa pops at the base of the jar and pour melted chocolate. Add strawberries on the top and then sprinkle cocoa powder. Your morning treat is ready to cherish. 
18.
Quinoa Fruit Bowl: A Simple Option for Busy Mornings🌱
This is one of the most delicious, nutritious and easy quinoa breakfast recipes. Cook washed quinoa and soak dry berries in warm water. Once quinoa half done pour almond milk for a rich flavor. 
Meanwhile, cut bananas, apples and other fruits of your choice. Mix quinoa with all the fruits and add honey or maple syrup for a sweet coating. Your Quinoa fruit breakfast bowl is ready to enjoy. 
19.
Ham & Cheese Quinoa Quiche: A Luscious Quinoa Breakfast Idea
These mini cups are easy to eat and full of flavors. Mix whole eggs, egg white, grated zucchini, cooked quinoa, cheddar cheese and diced ham for the batter. 
Pour the batter in a lightly sprayed mini muffin baking pan and bake for 20 minutes. This recipe is highly versatile and you can easily replace zucchini with mushroom, spinach or broccoli. 
20.
Lentil & Quinoa Porridge: Delicious and Protein Dense Savory Morning Meal 🌱
With many other healthy nutrients lentils are also a rich source of protein. To make this savory quinoa breakfast, roast lentil in clarified butter for a rich aroma. 
Now pour oil in a pan, add cumin seeds, garlic and onion. Saute them and then put lentil and washed quinoa. Season with salt and pepper. You can also add your choice of vegetable at this point. 
21.
Energy Bars: One of the Quickest Vegan Quinoa Breakfast Ideas🌱
These dates and seeds energy bars are one of the most handy vegan quinoa breakfast ideas. If you don't have enough time to prepare your breakfast then these quinoa bars are perfect for you.
You can either use puffed or raw quinoa for this recipe. Mix dates, pumpkin seeds, coconut oil, almond powder, pumpkin seeds, chia seeds and other nuts or seeds of your choice. Put it in the oven and once cooled down, cut into the desired size and shape.
22.
Savory Pancakes: Vegan & Easy Quinoa Breakfast for Busy Mornings🌱
This savory pancake can be prepared with quinoa flour or with cooked quinoa. You can add your choice of vegetables like grated carrot, cabbage, carrot or bell pepper to add more nutrients in it. You can also add rice flour in the batter for crispness. 
Season it with garlic powder, chopped coriander, salt and pepper. Pour the batter on a hot pan and make medium size pancakes. Serve them with tomato sauce or with coriander dip. 
23.
Overnight Puffed Quinoa Breakfast: A Hearty Way to Welcome the Sun
Quinoa contains all nine essential amino acids meaning it is a complete protein source for vegans and vegetarians. 
Combine puffed quinoa with kefir, chia seeds, maple syrup or honey, cinnamon and vanilla extract. Pour in a mason jar and keep it in the refrigerator. 
Top with berries and enjoy this one of the most delectable high protein quinoa breakfast ideas. 
24.
Mediterranean Salad: A Nutrient Rich Cooked Quinoa Breakfast Idea
This fiber and protein rich salad recipe is a great way to start your hectic day. Use any kind of cooked quinoa for this recipe. 
Take a large bowl and mix all the ingredients cherry tomatoes, Persian cucumbers, feta cheese, red onions, kalamata olives, baby spinach, cilantro, pine nuts and lastly Italian dressing. Toss well before serving. Leftover cooked quinoa is best for this recipe. 
25.
Boiled Egg & Avocado Quinoa Bowl: A Flavorful Beginning of the Day
For this wholesome quinoa breakfast idea you need cooked quinoa, boiled eggs and ripe avocado. Place all the ingredients in a bowl.  
Add pickled sauerkraut for a delicious tangy crunch. Make a seasoning by mixing lemon juice, olive oil, salt, pepper and oregano. Pour it and enjoy your protein rich quinoa breakfast bowl. 
26.
Chickpeas and Kale Salad: Easy to Assemble Vegan Quinoa Breakfast Ideas🌱
This super nutritious recipe is loaded with protein and other nutrients of chickpeas, quinoa and kale. You can use canned or pre cooked chickpeas for it. 
Take oil in the pan and add roughly chopped kale and garlic in it. Add chickpeas and boiled quinoa. Saute for another 3-4 minutes and sprinkle salt and pepper. 
27.
Quinoa and Roasted Vegetables : A Delicious Option For Relax Mornings🌱
This colorful and flavorsome savory quinoa breakfast needs little time to prepare. Therefore, make this on a relaxing holiday morning or on the previous night. 
Cook quinoa in vegetable broth for flavor. Remember, If you are not buying the pre-rinsed quinoa then it is crucial to wash quinoa thoroughly to remove saponin coating. Take your choice of vegetables like zucchini, carrot, beans, broccoli etc. 
Saute the vegetables in olive oil and add spices and herbs like garlic powder, cumin powder, turmeric, cilantro etc. Mix it with cooked quinoa and sprinkle lime juice before serving. 
These were my top favorite quinoa breakfast ideas. I would love to know your favorite too and which one you tried from these. 
Your messages and suggestions inspire me to come up with new ideas. Keep in touch through the comment section.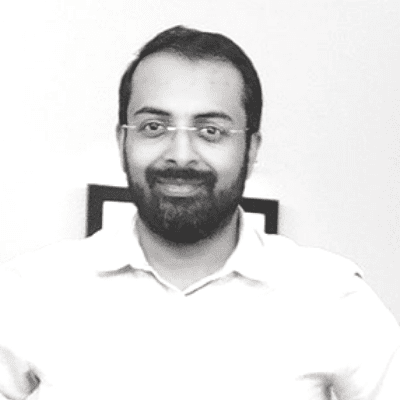 Hi! I'm Integrated Nutrition Coach Rohit Panwar. I hold twin Certifications from IIN, New York & SAFM, Massachusetts. I am a passionate vocalist of holistic lifestyle and have fully committed the past several years to educate & empower people towards their wellbeing. Despite a successful yet hectic corporate stint of 21+ years, I have prioritised nutriment in my life. I truly hope my personal journey from illness to wellness helps everybody reading this forge their own path.