Plant protein vs animal protein is among the blazing debates in the world. Seitan vs chicken is also part of this ongoing discussion, which I come across many times. 
As a nutritionist, I will discuss all the differences between seitan and chicken as two popular protein sources. It will help you to make a conscious decision. 
Seitan vs Chicken: A Nutritional Face-off 
Let's begin with a comparative look at seitan vs chicken nutrition, outcomes and much more: 
MAIN INGREDIENTS
Seitan

Wheat Gluten

Chicken

Fowls

TASTE AND TEXTURE
Seitan

Mild, Soft & Chewy

Chicken

Tender, Juicy & Chewy

RECOMMENDED QUANTITY
Seitan

50-100 grams

Chicken

100-150 grams

CALORIES
Seitan

135*

Chicken

165*

CARBOHYDRATES
Seitan

5.6 g*

Chicken

0 g*

FAT CONTENT
Seitan

0.6 g*

Chicken

3.57 g*

PROTEIN CONTENT
Seitan

26.5 g*

Chicken

31 g*

CALCIUM CONTENT
Seitan

53 mg*

Chicken

15 mg*

FIBRE
Seitan

0.3 g*

Chicken

0 g*

NUTRITIONAL DIVERSITY
Seitan

Good

Chicken

Very Good

BEST TIME TO EAT
Seitan

Morning & Noon

Chicken

Noon

DIGESTIBILITY
Seitan

Average

Chicken

Good

ORAL & BONE HEALTH OUTCOME
Seitan

Very Good

Chicken

Very Good

ALLERGY FRIENDLINESS
Seitan

Average

Chicken

Good

VERSATILITY
Seitan

Very Good

Chicken

Excellent

ENVIRONMENTAL FRIENDLINESS 
Seitan

Positive

Chicken

Negative

VEGAN FRIENDLINESS 
Seitan

Yes

Chicken

No
*Source: USDA; Quantity defined is 100 grams
What Are Seitan vs Chicken's Base Ingredients?
Seitan is a plant based meat alternative which is prepared with vital wheat gluten flour and nutritional yeast. 
It is also known as "Wheat Meat" or "Wheat Gluten". It can be prepared at home by rinsing away the starch from the wheat dough. 
Chicken is basically the meat of hens and roosters. Humans have been consuming fowl meat for many centuries.
 Even though all the parts and organs of chicken are edible, I'm using chicken breast here for comparison. 
Seitan vs Chicken Taste and Texture: Is There Any Difference?
Seitan and chicken both are neutral in taste. This allows them to absorb many different flavors of spices, sauces and marinades.  
Seitan is nuttier than chicken however they both have a chewy and soft texture. This makes seitan incredibly popular as a meat replacement or fake meat.
How Much of Seitan vs Chicken Is Sufficient in a Day? 
Your daily consumption of seitan and chicken varies with your age, gender and activity level. If you are a sports person or have an active lifestyle then you need more protein sources compared to others. 
As an adult with moderate activity you can add 3-3.5 ounces of seitan in your regular diet whereas 3.5-4 ounces of chicken can be consumed in a day. 
Is Seitan Lower in Calories Than Chicken?
Speaking of seitan vs chicken calories, there is not a huge difference. However, chicken has a little more calories when compared to seitan. 
Since the difference is not significant, you can pick either of them for your caloric needs. Though seitan is a better option for those who follow a low calorie diet. 
Seitan or Chicken Breast: A Better Pick for Lower Carbs
Carbs provide us energy for bodily functions and physical activity. It is basically made of fiber, sugar and starch. 
Seitan is a low carb food whereas chicken breast has no-carbs at all. Both of them can be added to a ketogenic diet.
Comparing Seitan vs Chicken Weight Loss Result
A low fat diet can aid in weight loss. Low fat diet controls your appetite and it is considered as a steady way to reduce weight. Both chicken and seitan are low-fat products, though seitan has fewer fat compared to seitan. 
Besides, they both are high in protein and help to curb hunger even further. They keep you full for longer which suppresses the urge to snack, that contributes to weight gain.
Is Seitan Higher in Protein Than Chicken?
Both seitan and chicken contain high amounts of protein. Chicken has slightly more protein than seitan, though the difference  is not substantial. 
However, the quality of protein is rather more important than the quality. Chicken is a "Complete Protein" meaning it contains all 9 essential amino acids to make protein. This makes chicken a better protein source compared to seitan. 
Seitan or Chicken: Which is Better for Calcium?
Calcium is a vital mineral for repairing and building the bones and for many other functions. Your calcium needs depend on many conditions such as age, gender etc. 
If you look at the table above, seitan is a better option than chicken for calcium. However, it is also not an ideal source of calcium. I will suggest including other calcium rich products to your regular diet with seitan and chicken to meet your calcium requirements.
Seitan vs Chicken as Fiber Sources
Fiber is a type of carbohydrate which is helpful to regulate your bowel movement and to control the sugar level in blood. Whole grains, fruits, vegetables, legumes and nuts are some of the excellent sources of fiber. 
Seitan and chicken, both are not considered good sources of fiber. Chicken doesn't contain fiber at all, whereas seitan has a very small amounts.
Seitan vs Chicken Nutrition: Which Is More Diverse?
We have already discussed the macronutrients of seitan and chicken. To compare nutritional diversity, let's check their micronutrient profile. 
Compared to seitan, chicken has more phosphorus, zinc and copper. Chicken is also richer in vitamin B12, vitamin B6, selenium and niacin. 
All these differences make chicken more diverse in terms of nutrients. 
When to Have Seitan vs Chicken in a Day?
Seitan and chicken are protein dense foods which take time to digest. Hence, the first half of the day is a better option to add them to your regular diet. 
I personally prefer to have chicken in the afternoon, though in some countries it is also part of breakfast. Seitan is also an excellent pick for lunch or breakfast. 
Seitan or Chicken: Better for Happy Tummy
Gut health plays a crucial role to keep you healthy and to develop your immunity. To enhance your gut health, it is important to have fiber rich food. However, chicken and seitan are not fibrous foods which means the body will need longer time to digest them. 
Compared to chicken, seitan is not considered as an ideal choice for your digestive system. It is a gluten based product, which is difficult to digest. 
How Seitan vs Chicken Affect Your Teeth and Bones?
Seitan and chicken both are protein enriched, which is known as an essential macronutrient for your teeth and bones. 
Since chicken is a complete protein it is a better choice to build your muscles and to maintain the strength of bones. 
On the other hand, seitan has more calcium which is required for strong teeth and bones. This proves that both these foods have their own significance for your teeth and bone 
Seitan vs Chicken Allergy: Which Is More Common?
Seitan is made of wheat gluten which can be difficult to digest. If you are gluten sensitive then avoid seitan completely. It can cause diarrhea, nausea, bloating, swelling and rashes on the skin. 
Chicken allergy is much less common than gluten allergy. Eye infection, skin rashes, coughing and wheezing are the few symptoms of chicken allergy. 
How Variedly Seitan vs Chicken Can Be Used?
Seitan and chicken both are highly versatile. Both of them can be cooked in multiple ways and they can be used in a wide range of recipes  like  sandwiches, salads, fajitas, curries or tortillas. 
You can marinate them to enhance the flavor and aroma. Seitan and chicken absorb the flavors of different spices and sauces easily. 
You must remember to consume cooked chicken to avoid any infection or food poisoning.
Seitan or Chicken: A Superior Option for Mother Earth
Production of 1 kg chicken emits 5.68 kg carbon dioxide whereas the same amount of seitan generates 0.52 kgs. This proves that compared to seitan, chicken has much higher carbon footprints. 
Besides that, chicken production also requires much more water than seitan. Hence, seitan has a lower impact on ecology. However, chicken meat has the lowest impact on the environment compared to other meats like pork or beef.
What to Choose Between Seitan vs Chicken as a Vegan?
Veganism is a type of lifestyle in which people use only plant based products. They follow a vegan diet without any animal based products.  Hence, chicken can not be part of this diet. 
Since seitan is a plant based product, it can be easily added to a vegan platter. Seitan is considered as a perfect meat alternative for vegans and vegetarians due to its chewy texture. 
In the end, I would say that, if you are a vegan or vegetarian then seitan is a fantastic protein source for you. However it is a  processed food which is not suitable for daily consumption. If you are omnivorous then incorporate both in your diet. 
In the battle of seitan vs chicken, your own preferences and limitations are the real winners. I hope this gives you a clarity about which one to pick between seitan and chicken.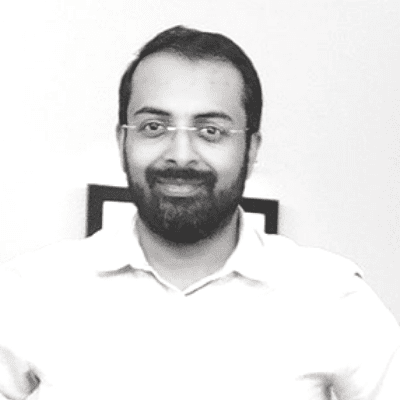 Hi! I'm Integrated Nutrition Coach Rohit Panwar. I hold twin Certifications from IIN, New York & SAFM, Massachusetts. I am a passionate vocalist of holistic lifestyle and have fully committed the past several years to educate & empower people towards their wellbeing. Despite a successful yet hectic corporate stint of 21+ years, I have prioritised nutriment in my life. I truly hope my personal journey from illness to wellness helps everybody reading this forge their own path.