Dairy-free products have never been so much in demand as in the last few years. The countless benefits they offer is the topmost reason behind this, but the various options in this category have also led to confusion among consumers. Sesame milk versus oat milk is one such concern faced by people.
In this blog, let's analyse both sesame and oat milk  in and out and know their comparative characteristics. This will help you pick the right one for your wellness.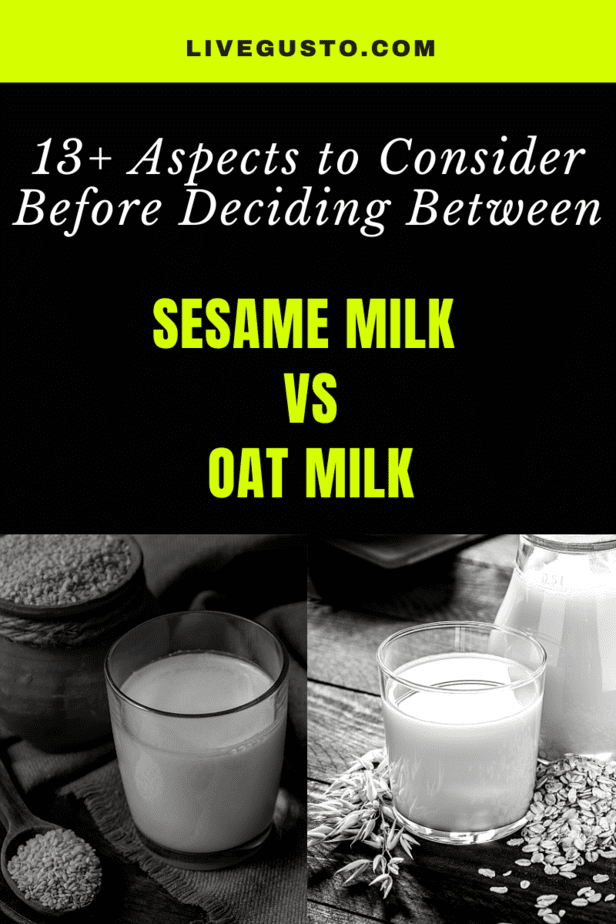 PEOPLE ALSO READ
| Sesame Milk versus Almond Milk – Which one is a Better Choice? | 
Sesame Milk Versus Oat Milk- 15 Important Metrics That Will Help You Take a Pick
Let's evaluate the better option by evaluation sesame milk vs oat milk nutrition and benefits:
BASE INGREDIENTS
Sesame milk

Sesame seeds & Water

Oat milk

Whole Oats & Water

TASTE
Sesame milk

Sweet & Earthy

Oat milk

Sweet & Creamy

DAILY INTAKE
Sesame milk

1 cup

Oat milk

1 cup

CALORIES
Sesame milk

90*

Oat milk

120*

FAT CONTENT
Sesame milk

5 g*

Oat milk

5 g*

PROTEIN CONTENT
Sesame milk

8 g*

Oat milk

3 g*

CALCIUM CONTENT
Sesame milk

292- 390 mg* 

Oat milk

22- 350 mg* 

RECOMMENDED TIME
Sesame milk

Morning Or Bedtime

Oat milk

Morning Or Bedtime

ENVIRONMENTAL IMPACT
Sesame milk

Positive 

Oat milk

Positive

VEGAN FRIENDLINESS
Sesame milk

Yes

Oat milk

Yes

ORAL HEALTH OUTCOME
Sesame milk

Very Good

Oat milk

Good

TUMMY HEALTH OUTCOME
Sesame milk

Good

Oat milk

Very Good

BODILY COOLING EFFECT
Sesame milk

Good

Oat milk

Very Good

BODILY HYDRATION EFFECT
Sesame milk

Good

Oat milk

Good

ADDITIVES
Sesame milk

Vanilla or dates

Oat milk

Honey or Dates
*Source: USDA; Quantity defined is 1 cup
I hope that this table is able to resolve your doubts and uncertainties related to sesame milk and oat milk to some extent.
Now let's discuss the two products briefly so as to know which will work in your favour.
What Ingredients Are Required to Make Sesame Milk Vs Oat Milk?
Sesame milk can be prepared by using soaked sesame seeds. These are blended with water and filtered. The filtrate obtained is sesame milk. The undissolved pulp contains a lot of fibre, hence instead of discarding it, you can use it in baked goodies like cookies and muffins.
Oat milk, as the name suggests, uses rolled or whole oats. For the preparation of oat milk, the soaked oats are blended with water. The mixture does not require straining but 
How Do the Taste of Sesame Milk and Oat Milk Differ?
Sesame milk can be prepared by using either hulled or unhulled sesame seeds. The unhulled seeds will yield a more earthy drink. The off-white-coloured liquid tastes a bit sweet and the texture is quite creamy and smooth. Coming to the consistency of this, that may vary depending on the quantity of water used.
Similarly, the hulls of oat grains are removed and then oat milk is prepared. Hence, the taste of this white-coloured liquid is sweet and creamy and the texture is smooth. It's a favourite plant milk of many people for coffee due to its creamier, thicker and less watery consistency than other plant milks.
Sesame Milk Versus Oat Milk- What Is the Suggested Daily Intake?
While sesame seeds have been part of Indian as well as Japanese, Middle East and Chinese cooking, the use of oat milk began in Sweden. Their milks are very nutritious as well as delicious, so they can be included in your daily diet. Now, the important question here is what is the suggested amount to be consumed?
The suggested amount of these two to be consumed on a daily basis is only 1 cup. However,if you would like to have a little more quantity, you can consume a maximum of 2 cups.
Sesame Milk Versus Oat Milk- What Is the Calorific Content?
Calorific levels in the foods and their intake in our daily diet play a very crucial role in providing energy to our body. But the intake is suggested in limited amounts so as to prevent weight gain, obesity and increased risk of heart diseases.
When we compare the calorific content of sesame milk and oat milk, then we observe that sesame milk has lower calories than oat milk. Hence, those people who want to choose less calorific foods can surely pick sesame milk. However, when buying a market version make sure to buy the unsweetened ones since sugar can increase the calories count significantly.
Comparing the Total Fats of Sesame Milk Versus Oat Milk
People are increasingly becoming aware of the consumption of high fat-containing foods and their ill effects. Hence, many are now switching to less or moderate fat-containing foods such as plant milks. 
The fat content of sesame milk and oat milk is the same. Also, both sesame milk and oat milk contain unsaturated fats that are considered good fats and help to lower cholesterol and reduce heart disease risk. Thus, it all depends on your personal preference on which one to choose between the two products. 
Comparing the Protein Levels of Sesame Milk Vs Oat Milk?
Protein is important because it is needed for body growth and many other vital functions. Along with this, proper protein intake along with fibre gives you the feeling of fullness and also helps in weight managementN.
On comparing proteins between sesame milk and oat milk, it is found that sesame milk contains appreciably more proteins than oat milk. Sesame milk also boasts all 9 amino acids (building blocks of protein) and is thus considered a fair competitor to dairy milk. Hence, sesame milk is a better choice when it comes to choosing a protein rich drink.
Oat Milk Vs Sesame Milk Nutrition in Terms of Calcium
Sesame seeds are a rich source of calcium which is necessary to strengthen bones and muscles. Now, the major concern is, do the homemade versions of sesame milk and oat milk contain calcium? The answer is yes for sesame milk, and no for oat milk.
If you do want to consume oat milk you can choose the market versons as they don't worry as  packed with calcium, making them a good competitor of dairy milk. However, the calcium levels may differ from brand to brand, so make sure you check the label before buying.
Which Is Better for the Planet- Sesame Milk Or Oat Milk?
The two dairy-free products sesame milk and oat milk are considered environmentally- friendly products, unlike dairy products that are neither ethical nor friendly for our planet.
The reason being the production of oats and sesame seeds requires relatively lower amounts of water, land and chemicals as compared to dairy production. Therefore, their carbon footprint is much lower than dairy.
Sesame Milk Versus Oat Milk- Are They Favorable for Vegans?
These two plant milks are produced using sesame seeds and oat grains which are plant-based. Hence, these are considered best for vegans.
Also, both these milks are also suitable for people allergic to lactose, dairy, gluten, nuts and soy. However, if we talk about availability, oat milk is much widely available than sesame milk, which  makes it a much conveient choice for vegans.
Know the Best Time to Consume Sesame Milk Versus Oat Milk
Sesame milk and oat milk can be consumed either in the morning to give you a good boost of essential nutrients or at night which will promote good sleep.
While sesame milk is considered best for milkshakes, smoothies and coffee, oat milk is a perfect addition to porridges apart from smoothies and coffee.
Sesame Milk or Oat Milk Which Is Better for Dental Health?
Sesame milk and oat milk contain essential minerals and vitamins like phosphorus in significant quantities. Phosphorus helps to build enamel and thus these two products are considered efficient for oral health.
The commercial packets of sesame milk and oat milk are also fortified with calcium and vitamin D which help to vitalize jaw bones, gums and teeth. Additionally, sesame milk also contains omega-3 fatty acids that are considered great in reducing gum diseases and tooth cavities. Thus, sesame milk is better for oral health when compared to oat milk.
Which Is More Beneficial for Digestion- Sesame Milk or Oat Milk?
Sesame milk boasts essential nutrients and minerals like copper, vitamin B, selenium, zinc, manganese, magnesium, potassium that are beneficial for a healthy digestive tract. Similarly, oat milk also contains vital nutrients effective to keep your tummy well.
These two beverages also contain fibre that helps to reabsorb water and thus makes the pooping easier. Thus, these two products are beneficial for digestion. In comparison to sesame milk, oat milk has a slight advantage in aiding digestion.
Sesame Milk Versus Oat Milk- Better for Body Cooling?
Sesame seeds are considered a warm food but the addition of water while preparing milk makes it a suitalble drink for summers as well. Oat milk is also made by using plenty of water, it works as a great refreshing drinks in the summer season. 
These both plant milks are excellent bases for ice creams and milkshakes. Moreover, you can add sesame milk and oat milk to your cold coffee and smoothies.
Are Sesame Milk and Oat Milk Useful for Hydrating the Body?
Sesame milk and oat milk both have an adequate amount of water in them, which helps to maintain the ideal water level in the body.
Sesame milk and oat milk contain essential nutrients like sodium and potassium in significant amounts. These nutrients  are effective in maintaining electrolyte balance in the body, and prevent dehydration.
What Flavoring Agents Are Best for Sesame Milk Vs Oat Milk?
Sesame seed milk can be used as a sweetened beverage by flavouring it with maple syrup, dates, coconut oil or vanilla. You can serve it as a savoury drink or in recipes by adding a pinch of salt, cinnamon, and some chopped dry fruits like almonds or pistachios to make it more delicious.
Oat milk can be drunk as such or you can flavour it by using natural sweetners like honey, maple syrup or dates. If you want to use it in salty recipes, then you can add a dash of sea salt, vanilla, and spices like cinnamon or nutmeg that will make it more palatable.
So, this is the end of the blog. I would like to conclude here that both sesame milk and oat milk have their own set of advantages. For example if protein and calcium intake is your preffered choice sesame milk is better but if you are looking for a drink that is easily available, oat milk definitely fits the bill. 
I hope that you liked my blog and gained some insights and clarity regarding sesame milk and oat milk. If you have any further queries, feel free to drop them in the comments section below.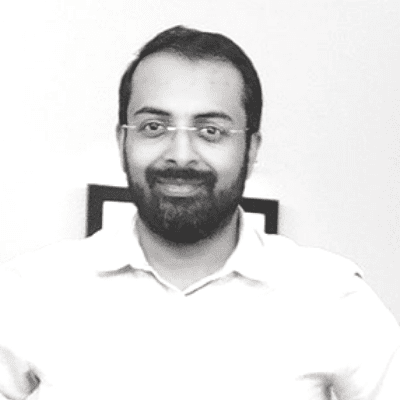 Hi! I'm Integrated Nutrition Coach Rohit Panwar. I hold twin Certifications from IIN, New York & SAFM, Massachusetts. I am a passionate vocalist of holistic lifestyle and have fully committed the past several years to educate & empower people towards their wellbeing. Despite a successful yet hectic corporate stint of 21+ years, I have prioritised nutriment in my life. I truly hope my personal journey from illness to wellness helps everybody reading this forge their own path.