A popular drink in Spain and Mexico, tiger nut milk is slowly gaining popularity in other parts of the world. So, it's obvious to wonder about tiger nut milk uses. 
Just like other plant-based milks, tiger nut milk can also be used in more than one way, This blog is all about the uses of this vegan, allergy-friendly milk form.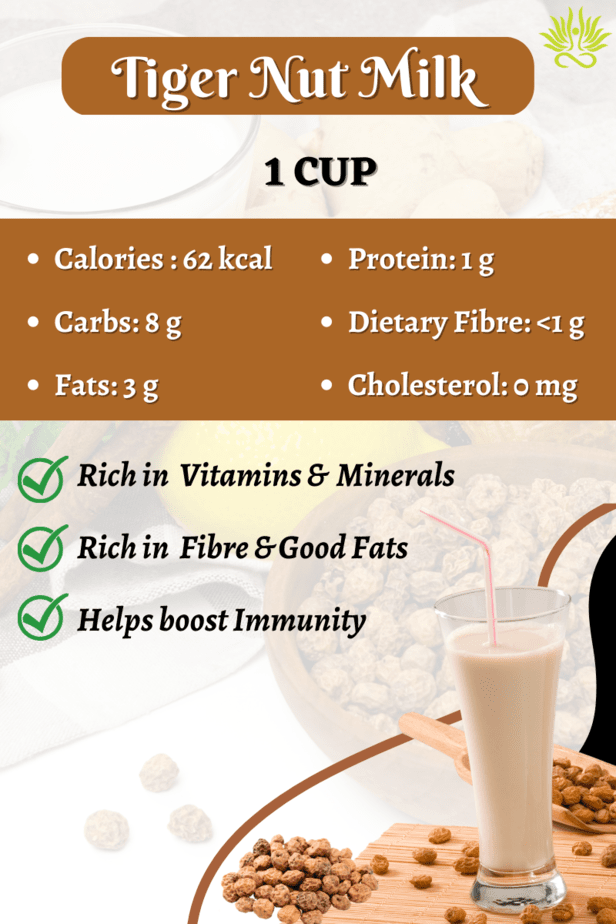 PEOPLE ALSO READ
| What are the Best Nut Free, Plant Based Milks? | 
12 Efficiently Delicious Tiger Nut Milk Uses 
Contrary to the name, tiger nut is actually a sweet tuber rich in starch and fat. They are rich in nutrients and have many benefits including being heart and digestion friendly.
So, here is how you can include milk made from tiger nuts in your diet –  
1. Drink Up Your Tiger Nut Milk 
Tiger nut milk has a sweet, creamy, rich and nutty flavour making it a delicious drink. This refreshing drink is quite popular in certain regions of the world. 
You can also add flavours such as cardamom, cinnamon or vanilla and maple syrup, if you'd like to experiment with the taste. 
2. Tiger Nut Milk Can be Your Dairy Free Nut Free Creamer 
This is one of my favourite uses of tiger nut milk. The creamy taste of tiger nut milk allows it to be a great addition to your tea and coffee.
To use tiger nut milk in coffee or tea, simply add a splash of the milk to your drink in place of dairy milk. You can use this plant milk in any type of drink – hot or iced, black or with added sweeteners.
3. Add Tiger Nut Milk to Your Cereal
Tiger nut milk can be a great alternative to nut based and dairy based milks in your morning cereal. Since it has a sweet, creamy and nutty taste,  it pairs well with many types of cereal.
It is rich in fibre, vitamins and minerals, making it a healthy addition to your morning meal. Just pour the desired amount of tiger nut milk over your cereal in a bowl and 
4. Make A Yummy Yogurt With Tiger Nut Milk 
Tiger nut milk can also be used to make yogurt just like other plant based milks. You would need an active yogurt culture for the purpose. 
In warm tiger nut milk, add the active culture yogurt and let it ferment for 6-12 hours in a warm spot. Refrigerate for a few hours and enjoy the thick creamy tiger nut milk yogurt 
5. Use Tiger Nut Milk to Make Kefir 
Since tigernut milk is rich in starch, it provides an excellent environment for the kefir grains to thrive. 
To make the kefir, pour the tiger nut milk into a jar or container with a lid. Add the kefir grains to the milk and stir well to combine. Cover the jar or container and place it in a warm, dark place for 24-48 hours to allow the kefir to ferment. The longer you allow the kefir to ferment, the tangier it will become. Once the kefir has reached the desired level of fermentation, strain the kefir grains from the milk using a fine-mesh sieve or cheesecloth. 
6. Use Tiger Nut Milk to Prepare Overnight Oats
One reason why overnight oats are catching up as a popular breakfast option is because they are easy to prepare and can be made it large batches and stored in the refrigerator. 
To prepare the overnight oats,  combine the oats, tiger nut milk, chia seeds, sweetener (agave nectar or maple syrup) in a jar. Cover the jar and refrigerate overnight, or for at least a few hours. In the morning, give the mix a stir and add some fresh fruits as toppings. If you don't want it too cold, warm it up in a microwave for a few seconds 
7. Smoothie & Shake It Up With Tiger Nut Milk
Tiger nut milk is a delicious and nutritious base for smoothies and milk shakes. It is nut free, dairy free, and soy free alternative. 
Tiger nut milk can be used to make a variety of smoothies. You can experiment with different combinations and flvours such as nuts, seeds, leafy greens, or superfood powders, etc. 
8. Prepare Delicious Ice Creams With Tiger Nut Milk
A great way to use tiger nut milk is to utilise it for preparing ice creams. It is an excellent base for making homemade vegan ice-creams. 
I generally use coconut cream, tiger nut milk along with the desired ice cream flavours to prepare ice creams with tiger nut milk.
9. Use Tiger Nut Milk As a Base for Your Curries 
Tiger nut milk can be used as a non-dairy alternative milk in curries and other dishes. It has a slightly sweet and nutty flavor that complements the spices commonly used to prepare curries. 
To use tiger nut milk in a curry, simply substitute an equal amount of tiger nut milk for milk called for in the recipe. 
10. Bake With Tiger Nut Milk 
Tiger nut milk can be used as a substitute for milk in most baking recipes. Replace the milk in the recipe with tiger nut milk in a 1:1 ratio. If the recipe calls for buttermilk, you can add a few drops of lemon juice or vinegar to  tiger nut milk.
However, you must remember that tiger nut milk may not behave exactly the same as dairy milk in baking. It may not provide as much structure to the baked goods, so you may need to make some adjustments to the recipe which will come with practice. 
11. Use Tiger Nut Milk as a Base for Soups
I keep experimenting with different types of plant milks in my recipes and in one of these experiments I used tiger nut milk for my soups. The result turned out to be good since the  creamy texture and slightly sweet, nutty flavor added depth and richness to the soup. 
However, when compared to dairy based cream version, tiger nut milk version of the soup was less thicker. You you might have to adjust the recipe, and to thicken the soup you may use may need to use a little more cornstarch or flour. You also need to whisk the tiger nut milk more continuously to prevent it from separating.
12. Make Sweet Treats With Tiger Nut Milk 
Tiger nut milk can be a good choice for making desserts because of its favour and allergy friendly attributes. I recommend starting with pudding and moving your way up from there. 
While using it in dessert recipes just replace the milk in the recipe with an equal amount of tiger nut milk. A combination of coconut milk and tiger nut milk is also a pretty great way to go. 
These were my top favourite tried and tested ways of using tiger nut milk. In case you have tried it in other recipes, I would love to know.   
Frequently Asked Questions About Tiger Nut Milk Uses
What can I do with tiger nut milk?
Ans.  There are many things you can do with tiger nut milk, including baking , cooking, using it as a base for soups, ice creams, etc. 
How long can Tigernut milk be preserved?
Ans.  Tiger nut milk can be stored in the refrigerator for up to 5 days when stored properly in a clean, airtight container. If you wish to increase its shelf life, freeze it an airtight container and use it for up to a month.If your tiger nut milk has a bad odour or flovour or looks clumpy, I would recommend discarding it.
How do you drink tiger nut milk?
Ans. You can drink it as such or add flavours such as cinnamon, vanilla, chocolate, etc. to it along with some sweeteners like agave nectar, maple syrup, date paste, etc.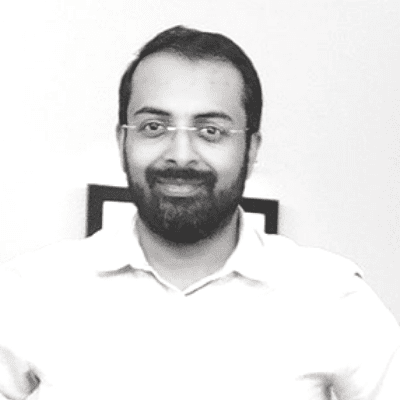 Hi! I'm Integrated Nutrition Coach Rohit Panwar. I hold twin Certifications from IIN, New York & SAFM, Massachusetts. I am a passionate vocalist of holistic lifestyle and have fully committed the past several years to educate & empower people towards their wellbeing. Despite a successful yet hectic corporate stint of 21+ years, I have prioritised nutriment in my life. I truly hope my personal journey from illness to wellness helps everybody reading this forge their own path.